Trying to choose between Everest Forms and Formidable Forms? In this post, we compare these WordPress form builders so you can decide.

Approximate read time: 6 minutes
Looking for a comparison between Everest Forms and Formidable Forms? Or maybe you are looking for an Everest Forms alternative?
It's one of the most common questions we receive. What's the difference between our WordPress form builder and some of the other ones on the market? It's something we've written about a lot and we're always happy to show you how our plugin stacks up!
Everest Forms Alternative
Today we are going to keep the tradition alive by comparing Formidable Forms vs Everest Forms.
If you haven't heard about WPEverest, they are plugin designers based out of Kathmandu, Nepal. They are part of the parent company ThemeGrill.
If you've tried Everest forms and are looking for an alternative, look no further! Let's compare these two form builders side by side. Then your job of choosing one will become a whole lot easier.
🤓 Read more: Best Free WordPress Form Plugins
What is Formidable Forms?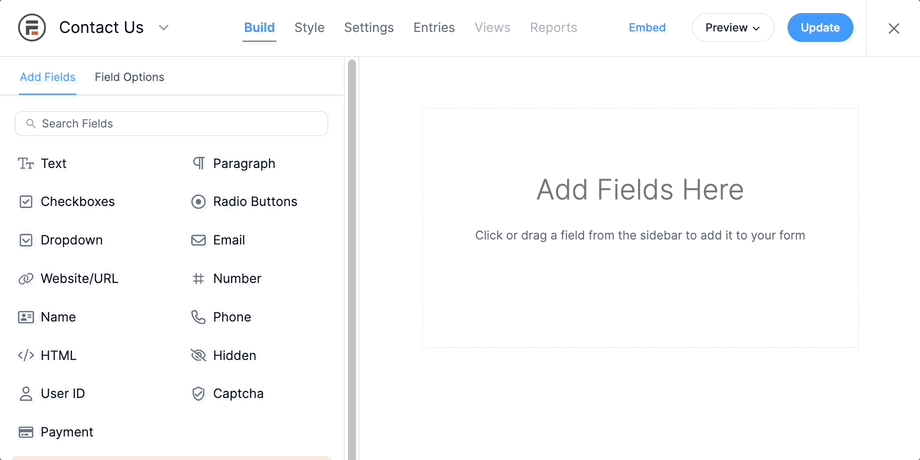 Formidable Forms is a drag and drop form builder that has many unique features. One of the things Formidable is known for is its ease of use. Beginners like it because of its easily accessible features. Pros like it because the advanced features and options allow for many form-making possibilities.
Simply put, it's easy for everybody to create simple contact forms. And it's possible for advanced users to create anything they can imagine!
Another major feature of Formidable that sets it apart: the ability to put your form data to work. With Formidable, you can use your data to create visual elements on your WordPress site. Want to create a survey and display the results on your website? That's just the tip of the iceberg.
What is Everest Forms?
Everest Forms is a form builder that operates on the same model as Formidable. They offer a generous set of free form-building features and allow users to upgrade if they want more.
Their plugin operates in a similar way to many WordPress form builders on the market. Simply drag and drop your form fields into the form builder to make a form.
Should you use Everest Forms? It all depends on the features you want. With that in mind, let's compare Formidable and Everest side by side.
What should you look for in a form builder?
In this comparison, we'll be looking at 4 main areas:
Ease of use
Support
Pricing
Integrations/add-ons
To find out who comes on top in the Formidable Forms vs Everest Forms comparison, keep on reading.
Ease of use
Formidable Forms has a very user-friendly interface with advanced options that won't distract new users. From the form builder, it's possible to build a form in just a few clicks. Formidable Forms has made a name for itself with its form-building interface. Every form field is found in one column, which helps make form building easy.
Everest Forms functions in much the same way. The main difference is that there are fewer fields and fewer options than Formidable Forms to choose from. This is true for both the free and premium versions of Everest Forms.
Since both form builders operate in much the same way, it's hard to pick the clear winner without getting really picky. Let's call this one even!
🏆 Winner: Tie
Support
When it comes to online support, size matters. Specifically, the size of the knowledge base. Formidable Forms has hundreds of knowledge base articles, so chances are a quick search will provide all the answers users need.
Everest Forms has only 42 articles. Also, the articles are a little bit sparse. Not only that, but the English usage in many of these articles leaves something to be desired.
That's not a low-blow - we are thankful that our own native language has somehow become the world standard. But the reality is that the Everest team is based in Nepal. That said, given that English is not their native tongue, their accomplishments are tremendous.
Everest Forms has a dedicated support forum for their free plugin users, which is a nice addition. Formidable handles their free users on their free WordPress plugin page, but some users might appreciate a dedicated free support channel.
Formidable Forms also has an active community where users can find answers, as well as find pro developers who know Formidable Forms extremely well.
It's hard to compete with a knowledge base with hundreds of articles. It's also hard to compete with a 100% native English support staff. Formidable wins for customer support!
🏆 Winner: Formidable
Pricing
Formidable Forms and Everest Forms both have free form-building features. They also both have a few tiers of premium plans. Let's take a look at the difference between the two in terms of pricing.
Formidable Forms
Formidable Forms has 13 form fields in its free WordPress plugin. It's premium plans unlock 25 more fields.
Besides form fields, Formidable has dozens upon dozens of field options and add-ons available for premium users.
Everest Forms
Everest Forms has 11 form fields in its free WordPress plugin. Their premium plans unlock 19 more. Strangely, there are two identical Total fields in Everest... for what reason, we can't be sure 🙂
If we're being picky, we should point out that the First Name & Last Name fields are really just text fields. Also, the Everest Forms Multiple Choice field is just a radio button field with fewer options.
With that in mind, Formidable offers much more value with its premium plans, which start at $99 per year for new users.
Everest does come with some interesting pricing options, however. They have a $49 Personal plan, although to be fair, this plan only offers slightly more than Formidable's 100% free plan.
They also have the option to purchase a Lifetime plan. But since the price of a lifetime plan is literally 4 times the price of a yearly subscription, you'd start saving money after your fourth year. And you'd be assuming all the risk until then since there is no guarantee Everest Forms will continue to operate forever.
Although Formidable Forms is slightly more expensive, the value for money spent is far greater than Everest Forms.
🏆 Winner: Formidable Forms
Integrations and add-ons
Everest Forms has 14 addons listed on its addon page. It's important to point out that many of these aren't exactly addons, they are really just sets of features. For example, they have an add-on for polls which adds common fields.
Besides that, they have a few notable add-ons, including Stripe, MailChimp, and Zapier integrations.
Formidable Forms, on the other hand, has no less than 30 addons (which we'll talk about in the section below). Included amongst the Formidable addons, you'll find everything that Everest Forms offers plus a lot more.
🏆 Winner: Formidable Forms
Formidable Forms vs Everest Forms: Which one wins?
Although there are some arguments to be made for Everest Forms (which we will detail below), Formidable Forms will be the WordPress form builder of choice for many more people.
There's never a one-size-fits-all solution, though. In the next sections, we'll talk about who should choose Formidable Forms and compare that against who should choose Everest Forms.
Why choose Formidable Forms?
If you want free forms for your website, Formidable's forever free WordPress plugin is a seriously powerful option.
But for those of you who need a little more power under the hood, Formidable Forms has a number of features to help you take your online forms to the next level.
Top Formidable Forms features
Want to integrate your forms with all the most popular third-party platforms on the market? Go with Formidable addons. If you want to use powerful platforms like Stripe, Paypal, Mailchimp, Zapier, Constant Contact, HubSpot, ActiveCampaign, and more... then you need Formidable Forms.
🤓 Learn more: How To Make a Mailchimp Contact Form in WordPress
Unlike Everest Forms, Formidable's calculated fields and math feature isn't limited to eCommerce. If you didn't know, there are tons of ways to use calculators on WordPress sites. You can create a virtually endless array of calculators with Formidable!
Take look at some of the options below:
Dozens of calculator templates and an intuitive drag and drop builder make Formidable one of the best WordPress calculator plugins out there.
One way to increase form conversions? Make your forms smarter. By only serving the information your users need, you can increase form conversions by as much as double. Question branching allows you to only ask the questions that matter. The result? More and more satisfied customers.
🤓 Learn more: How To Use Conditional Logic To Build Smarter Forms
If you have long forms (or multi-page forms), you need to give your users the power to make sure their submission is as accurate as possible. Not only is this a great feature for your users, but it's great for you as well. Unless you enjoy following up with customers who filled out the wrong information!
🤓 Learn more: How To Preview Form Answers Before Submitting
Why choose Everest Forms?
You're a basic/new user
If all you need are basic forms with a Mailchimp integration, you could get away with the cheapest plan that Everest Forms has to offer. There's no shame in that!
You like the Everest Forms interface
There are times when you install a WordPress plugin and no matter how much you try, the interface just bothers you. Although we think Formidable Forms has a great interface, personal preference might make you choose Everest Forms.
If you are only making simple forms, this could be a deciding factor. Go with your gut!
You want the cheapest option
In general, Everest Forms has lower pricing options than many other WordPress form builders. Just make sure you have all the form-building features you need before committing to a service plan. Both Formidable and Everest offer a 14-day money-back guarantee to protect your purchase.
Formidable Forms vs Everest Forms: Final Verdict
If you're a free user, both Formidable and Everest will work just fine. Are you an advanced user? Then the clear choice is Formidable Forms.
If you're looking to sell services online with WordPress, you can use premium plans from either service as well. Just be aware that Everest Forms lacks the integrations that Formidable has. The same is true for those who wish to make money online in any context with their WordPress sites.
We hope this Formidable Forms vs Everest Forms comparison has helped you get clear on the differences between the two form builders.
Formidable Forms is a great Everest Forms alternative. For more WordPress tips, check out the Formidable blog!
More form builder comparisons
---
Formidable Forms is the most advanced WordPress form builder on the market. Try our free plugin or our full-featured premium form builder today!