Looking to create a custom calculator in WordPress? We'll show you how to make a calculator to turn your site into a lead magnet! Here's how.
When you think about calculators, what comes to mind?
Nightmares of tax season? Flashbacks to a high school math exam? If you connect calculators with maddening math-based tasks, you aren't alone.
But we've got some good news! Calculators don't have to be scary.
And in this post, we'll show you why.
So, let's show you how to create a custom calculator for your website in a few easy steps. No coding or calculus required — all you need is this handy WordPress calculator plugin!
Why make a calculator for your websites?
Can an online calculator really have a big effect on the websites you build?
It sure can!
A report found that when people use interactive content, like calculators, they learn more, see the differences between you and competitors, and are likelier to share it with others.
Basically, interactive content helps people understand better, and they like it more.
Plus, online calculators can be great lead-generation tools. For example, imagine you're a travel agency, and you want to help travelers calculate their trip budget. By making a simple calculator form with just a few fields, you can instantly give them an idea of what to expect.
And that's not the only way creating a custom calculator can help! You can also use them for:
Normally, you'd have to hire a WordPress developer to create one for you based on the type of calculator you need. But a form builder plugin can solve all of that.
How to create a custom calculator
If you want an easy way to create custom calculators in WordPress, you can't go wrong with Formidable Forms.
It's the most advanced forms plugin for WordPress, making it simple for anyone to build an online calculator — no matter the skill level.
To begin, you'll need a Formidable Forms Business plan or above. So head to our pricing page and grab this form maker at an excellent price if you don't have a license already.
Got it and ready to go? Just follow these steps:
Step 1: Install and activate Formidable Forms
First, go to Plugins → Add New in the WordPress admin panel.
Next, search for Formidable Forms and click the Install button, then click Activate.
Then, go to Formidable → Global Settings and click Connect an Account.
You can now Connect to your account and Activate Formidable Forms Pro. Easy, right? Now it's time to create a calculator form!
Step 2: Create your calculator form
To make a new form, open your WordPress dashboard, then head to Formidable → + Add New

Next, pick one of our pre-built form templates or choose Blank Form to start from scratch.
For this example, we'll build a travel budget calculator by selecting Blank Form to create our custom calculator from the ground up.

After, give the form a name and click Create.
And now, it's time to add form fields. Thankfully, Formidable makes it easy with a drag and drop form builder. To start building, choose a field, and drag it to the form.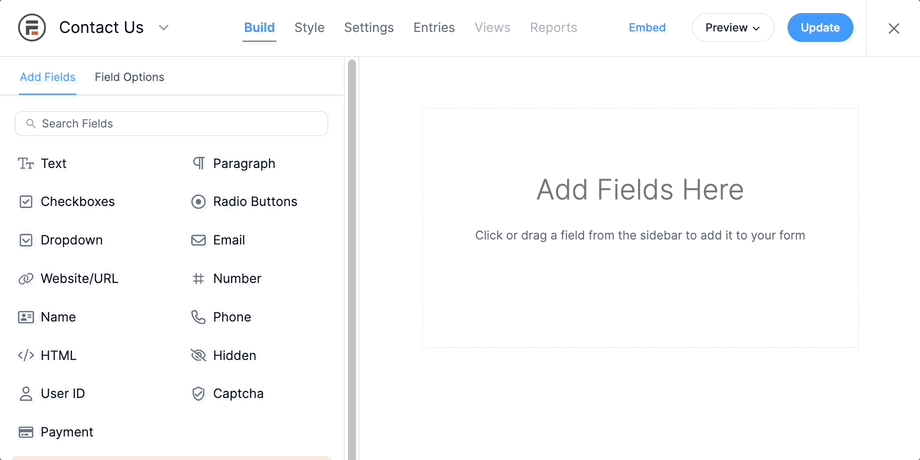 For a percentage calculator, add three fields: the number, the percentage, and the value.
That's it.
For our example, we'll add a couple of fields and then name them:
Text field → Destination
Number field → Number of travelers
2 Date fields → Travel Start Date/Travel End Date
4 slider fields → Accommodation/Food/Activities/Extras budget
You can adjust the field label in the left-hand tab under the Field Options.
Our form ends up looking like this:
Now, we need to add some total fields in there. It would help if travelers could get a total, as well as how much it costs per traveler and per day.
That way, visitors have a more thorough cost breakdown.
Step 3: Create a total field
This step is the only one that requires a little bit of math.
But don't worry, you won't be reliving your school days here! To get started, add a number field to the form for your calculated fields.
To ensure users can't edit the field, click the Read Only checkbox.
You can label it whatever you want. We'll stick with "Total Budget."
Next, in the Field Options, click Advanced, then click the calculator icon, and find Default Value. This is where you'll type in your equation.
For our example, we just want to add the Accommodation budget, Food budget, Activities budget, and Extras budget.
So, we'll add the shortcodes next to each field name: [382]+[383]+[385]+[384]. When we adjust each budget, the total field changes to show the new cost! Pretty cool, right?
But we want to make the form a little more in-depth. So, we'll add three more number fields: Length of trip, Per day, and Per traveler.
The formulas for each of these are pretty simple:
Length of trip: [379]-[378]+1 (End of trip - Start of trip + 1)
Per day: [376]/[386] (Total budget/Length of trip)
Per traveler: [376]/[367] (Total budget/Number of travelers)
Instead of making a Length of trip field, you could actually use a datepicker to automatically calculate the number of days between dates. You know, if you want to get fancy! 😉
But we'll keep it basic for now. Although, we will add Page Breaks to break up the form and make it less intimidating.
Once we work our magic, it'll look something like this:
Remember, this is just one example of what you can do with Formidable's calculator builder. And we're barely scratching the surface!
So, let's add some more functionality to our calculator.
Step 4: Add conditional logic
Formidable has many fields for you to play around with and make online calculators unique.
And there were a few ways we thought we could improve it.
For example, Formidable Forms is also a conditional logic plugin to hide or show fields based on what a user chooses.
In our calculator, we added a Radio field so users can select how they're traveling: flying, driving, or train.
Then, we added a few more Sliders so users can input more information to add to their travel budget.
Next, we added conditional logic to the forms so they only show when a user chooses that travel option.
This makes the experience much more interactive for site visitors and increases the chances they use your calculator.
Step 5: Style your calculator
A basic calculator works and will get people to use it.
But adding an eye-catching calculator to a website? That'll increase conversions in a big way.
And that's where Formidable's Visual Form Styler comes in.
With a simple click, you can change the entire style of the calculator using one of Formidable's pre-built templates.
Or, customize it yourself and handle every detail! The choice is up to you.
For ours, we're using the Sleek & Smooth template to make things quick.
And voilà! You've built a custom calculator to help your audience better prepare for their trip!
Step 6: Publish your calculator
Okay, so you've created your custom calculator, but how do you add an interactive calculator to a WordPress site?
Don't worry. It's super simple with Formidable!
Just open the post or page where you want to display your cool new calculator and click the black + to add a new WordPress block. 
Then, search for Formidable, and add the Formidable WordPress block.
Last, choose your calculator form from the dropdown menu, and you're finished!
Hit Update or Publish on the page/post, and you're ready!
Want to make your calculator even cooler?
There are a few quick and easy things you can do to add even more value to your custom web calculator. Both for you and your users.
These steps are totally optional, but they can take your calculator from a neat feature to a super useful tool that sets your site apart from others while also boosting brand awareness and revenue.
Add additional fields
Formidable has tons of form fields that let you expand the abilities of your calculators.
You can add repeater fields, accept credit card payments, collect email addresses, or even use AI in WordPress when you build an online calculator.
For example, we could add an AI field to our last page, where it shows us the totals. Thanks to the power of ChatGPT, our form can then instantly create a personalized itinerary based on the information a user enters in the form.
Yep, we're living in the future!
But we don't want it to make the robot run if someone doesn't want the itinerary. That'd just be a waste of time, credits, and the bot's battery!
So, we'll add a checkbox to our form, too, to ask whether a visitor wants a custom itinerary.
What's even cooler is your control over how the AI acts! All you have to do is set the Guide Prompt to know how to use the data, what to do, and what tone to take when responding.
Aren't sure what prompts to use? Check out these helpful AI prompt examples.
It's best to keep these prompts short but detailed. But once you figure out how to use AI, its power is pretty incredible.
Capture leads with calculators
Creating a custom calculator for WordPress is a great way to draw traffic to your site. But it doesn't automatically offer a way to connect with website visitors and turn them into subscribers or customers!
A calculator is actually a perfect lead generation tool, though.
So use it to your advantage! Add an email field and offer to send the results right to their inbox. Or add a phone number field and use it to reach out to new leads with a call or quote.
Since we're generating travel budgets and itineraries in our example, we're betting they'd love to receive these via email. So let's add an Email field to our form and set up an Email Notification action.
FYI — we also changed the submit button text to "Send my itinerary" because a clear call-to-action goes a looong way toward increasing conversions!
If we wanted, we could also use this opportunity to invite users to subscribe to our newsletter or reserve one of our upcoming tours. But this article's already getting pretty long and we know your time is valuable, so we'll skip it for now. 😊
Finally, follow the customer journey
Now that your website's calculator is live and attracting the masses, it'd be nice to know how everyone's finding your site and what they're doing on it, right?
If you want to know whether they're visiting specific pages or clicking certain buttons while ignoring others, you can use the Formidable User Flow feature.
By enabling this one add-on, you get a detailed report for every person who completes the calculator form.
Using this information, you can adjust the customer journey to maximize the visibility of the calculators you create.
And more visibility means a higher chance for conversions.
So these are just a few ways Formidable can help you. If you want even more, then check below.
Get online calculator superpowers with Formidable Forms
Now that you've learned how to make a custom calculator in WordPress, you only scratched the surface.
No matter what type of advanced or simple calculator you need, all the power to make it is now in your hands.
Need to make a price calculator? How about a loan calculator?
It doesn't matter the type of online calculator for WordPress you need. Formidable is the WordPress calculator plugin for the job.
Here are a few examples.
Grow your business with Formidable Forms
Let's imagine you or your client running a real estate business.
A website calculator is one of the most helpful things you can offer customers. You can give them a way to calculate their monthly payment and interest rate to know if they can afford a house.
And this applies to almost all industries!
Here are a few more examples of how you can use a calculator:
Physical trainers offering weight-loss or BMI calculators
Real estate agents help customers with a mortgage calculator
Businesses using PayPal order forms
Companies using ROI calculators to get better results
Business creating pricing based on large amounts with a measurement price calculator
Quote calculator for estimates
An online calculator is suitable for any website because it's excellent for visitors. Helping them means helping yourself and your clients.
You can also collect users' email addresses for email marketing and lead generation. All you need to do is require an email address to get the results of the custom calculator, and you're set!
Use Formidable as a cost calculator builder
Do you have an eCommerce site and want an easy way to show prices to customers?
Then Formidable Forms is the perfect price calculator for your website projects.
A cost calculator plugin is the only employee you need. And a good one simplifies things for you enough that you barely have to do anything.
Well, that's exactly what you get with Formidable and its web calculators:
Automatic cost estimation
WooCommerce integration
Pre-made calculator form templates
Visual Form Styler to create a stylish cost calculator
So, whether you're selling 100,000 products a month or 10, Formidable is here to help you.
Build an online calculator to help people manage finances
Imagine you own a car dealership and help customers find the best financing for their cars.
Formidable's car loan calculator template helps you get a calculator on a WordPress website, fast.
And that saved time means you start helping customers today.
Each customer who fills out the car loan calculator becomes a new business lead.
And this applies to any investment calculator type you need!
Power up people's fitness with a fitness WordPress custom calculator
Body Mass Index (BMI) is a term that gets thrown more than a football on Sunday.
But that's because people are looking to find out theirs.
And what better way to attract people to a fitness website than with a BMI calculator that's easy to use?
Well, Formidable helps you do that, too.
Formidable helps you create an online calculator that meets your needs. All of 'em.
All the calculator powers you need. One simple custom calculator builder.
Ready to build the best WordPress custom calculators?
As you can see, using WordPress to create a calculator from scratch can be complicated. It's possible, but it may involve figuring out formulas and doing some math.
But no checking lines of code, changing input types, and other difficult tasks.
If you're wondering, "How do I add a mortgage to my WordPress calculator?" Don't worry. We've got you covered.
You can easily add a mortgage calculator to WordPress with Formidable.
And, Formidable doesn't only handle custom calculators. Contact forms, quizzes, and anything else you can imagine are all possible with Formidable.
Now is your chance to make it happen. Get ready to make an online calculator!
So, wondering, "How do I create an interactive calculator for my website?" Well, we answered that question, too. And you can find all your interactive content needs in this guide. Now it's time to create a calculator website!
Also, follow us on social media on Twitter, Facebook, and YouTube for more great tips on how to make a calculator website!
Read more WordPress calculator blog posts