Want to make an online fitness calculator for your WordPress site? Learn how to make a BMI calculator in just a few steps!
Approximate read time: 7 minutes
Want to learn how to make a fitness calculator for WordPress? Great idea!
If you work in the fitness or nutrition businesses, you're well aware of how competitive the industry is. To stay competitive, you'll need a website and lots of quality content.
It's a lot of work, but it's worth sweating over.... the fitness market is massive!
For instance, RunRepeat estimates that the fitness industry in the U.S. will reach a total of 190.56 billion dollars in 2022.  If you want to get a piece of that action, you'll need to hustle.
In this article, we'll talk about what a fitness tracker calculator can do for your business. Then, we'll show you how to build one in 2 easy steps.
Can fitness calculators drive traffic to WordPress sites?
In short? Yes!
Want to stay competitive in today's online market? You need to get as much of your business online as you can. Besides building your own website, you'll need helpful content & tools to attract an audience.
Furthermore, a fitness calculator is an excellent tool to engage the health-conscious crowd. MarketandMarket estimates the diet and weight loss industry alone will reach 245.51 billion dollars in 2022. That's an even bigger slice of the fitness pie!
But first, what is a fitness calculator?
There are many kinds of online calculators for WordPress that can benefit a business website.
What is a fitness calculator?
A fitness calculator is an algorithm that helps track or measure health and fitness goals. These include BMI, weight, days exercised, heart rate, macros, blood pressure and so much more!
Adding a body mass index (BMI) calculator, calorie calculator or counter, heart rate or muscle mass tracker, a macro calculator tool, exercise calculator by weight, a bodybuilding protein calculator, or a weight gain monitor to your WordPress site will provide useful tools to help your customers reach their weight loss goals.
A bonus? Your users will love them!
Fitness calculators are great for both men and women, people who have a healthy weight, or people who are overweight or obese. They're for everyone!
Whether you want to calculate body fat percentages, body mass index, or daily caloric goals, you can design your Formidable Forms calculator plugin to act as a lead-generation tool that collects email addresses. This will help turn new customers into lifelong customers.
And big-name brands use them, too! For example, Ace Fitness uses several types of fitness calculators on its website. To stay competitive, give your customers the tools they need to lose weight or increase their physical activity.
WordPress calculators are not just for fitness
Fortunately, there are many ways to use calculators on WordPress sites. One way you can improve any marketing website is with price calculators.
Price calculators add eCommerce to your site and allow users to get the information they are looking for fast.
With Formidable Forms' calculator plugin, customers can select products & services they want, calculate total costs automatically, and pay for everything all from one WordPress form! Even better, the entire process can be automated - no need to sweat up a storm.
Formidable Pro also includes over a dozen calculator templates, including a BMI calculator and a Daily Calorie Intake calculator to help monitor calorie deficits. It also includes other advanced form-building features like conversational and multi-step forms. You can even learn how to make a mortgage calculator for your website!
Learn more: Best WordPress Membership Plugins
Why use the Formidable Forms fitness calculator plugin?
There are a lot of fitness calculator plugins in the WordPress plugin directory. With so many options, it can be difficult to choose which calculator plugin to use.
Here's why we recommend Formidable Forms' all-in-one plugin:
Increases Site Speed: Fewer plugins means faster load times and fewer HTTP Requests.
Easy to use.
Provides attractive designs.
Prevents bugs caused by too many plugins.
Reduces costs. Why pay for 6 plugins for every little thing you need when you can just pay for one?
Saves time. Fewer plugins mean fewer updates and site maintenance!
In short, to save precious time and keep your WordPress site trim, affordable, and appealing, you want to install as few plugins as possible.
And Formidable Forms' form builder can do it all. Create calculators, contact forms, and so much more all with one plugin.
So, let's get started making our online BMI calculator!
How do I create a custom fitness calculator? A 2-step tutorial.
In this guide, we are going to show you how to use the premium version of the Formidable Forms WordPress form builder plugin to make a fitness calculator in less than 5 minutes. You'll need Formidable Pro to take advantage of the online calculator forms feature.
The best news? Formidable uses a simple drag-and-drop builder that anyone can use with ease!
It's easy to get started. Plus, we've got a 14-day money-back guarantee because we love our product and know you will, too. Click the button below for a risk-free try so you can follow along with our easy-to-follow tutorial.
We also know your time is valuable! That's why we keep things short and sweet.
And if you're not ready to take the plunge, no worries. Check out our two-step tutorial below (complete with screenshots!) so you can see just how easy our plugin is to use.
How to create a fitness calculator in WordPress
Let's get started!
After you've downloaded and installed Formidable Pro, there are just two more steps.
Step 1: Select the BMI calculator template
To create a new form in Formidable, just open the tool in your WordPress sidebar and click on the "Add New" button in the top left corner.
A box will appear asking if you want to start a new document using a Blank Form or use one of the dozens of templates from the system.
To choose the BMI Calculator Template, start typing "BMI calculator" into the search bar. The BMI template will pull up beneath the box.
Then, you'll be asked to title your calculator and give a brief description of what it's used for or where you would like it on your website. Just type in whatever information will help you identify the calculator later.
Hit the "create" button in the bottom right and your form will be created!
If you use the template without any customizations, it will look like this when published:
All the calculations needed for a BMI calculator are already included in the template. Easy, right?
The published fitness BMI calculator simply requires height and weight and can calculate BMI for children and teens as well as the BMI for adults.
Still want a plugin? The Best WordPress Calculator Plugins
Step 2: Publish the fitness calculator on a WordPress site
Now there's just one more easy step and you'll be done! No sweat necessary.
All you need to do is publish your Formidable Forms Calculator. Not sure how to do that? No problem. We'll show you how below.
For this example, we will be using the WordPress block editor because it makes everything simpler. But don't worry, if you don't have the block editor, you can still copy/paste and embed the shortcode to add the calculator to any post or page. It takes just a tiny bit of HTML.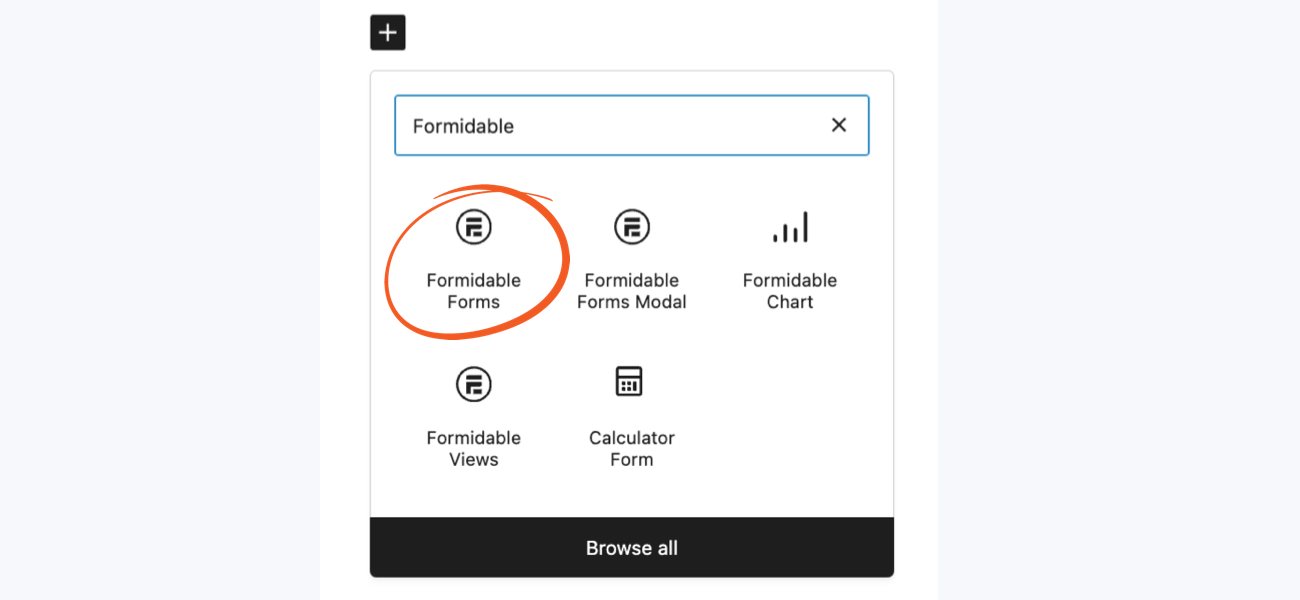 Using the block editor, you'll open the editor for the WordPress page or post you want to add the fitness calculator to.
Then you'll click the little + symbol to add a new block. Simply choose Formidable Forms from the widget blocks shown.
Next, a box with a dropdown will appear with a list of the available forms you've created. Choose the BMI calculator from the options.
And that's it! Super simple. As soon as you publish the post or page the form calculator is added to, it will be live!
Wrapping up
You're done! Congratulations!
You now have a beautiful BMI Calculator that took you less than 5 minutes to both make and publish with Formidable Forms' fast and easy template!
Now your audience can measure their BMI while you put your time into more important matters. The even better news? Formidable is a database plugin, too! That means you can download user results to a spreadsheet like Excel or Google Sheets, or just search the database for information right in WordPress!
This simple fitness tool could grow into something very powerful for your website... and something even more powerful for your MemberPress fitness community!
Until next time, keep sweating!
---
Unless you are still sweating to the oldies, you are going to need a WordPress calculator plugin. Get started risk-free with our free plugin or the full-featured pro version of Formidable Forms.
More calculator blog posts