Looking for the best Gravity Forms alternative for WordPress? This post will break down two form builders: Formidable Forms and Gravity Forms plugin.
Approximate read time: 9 minutes
You've got a difficult decision ahead of you.
Gravity Forms has the features you needed before, but now you're paying for extra add-ons. And the price is stacking up.
But you need to know if another plugin can provide the same features as Gravity Forms but also save you some money
Hint: there is.
Today's post will match up a popular Gravity Forms alternative that lets you build any custom form you want: Formidable Forms.
With this Formidable Forms vs. Gravity Forms breakdown, you'll know exactly which plugin is right for your WordPress site.
So, let's not waste time and dive right into it.
What's the best Gravity Forms alternative for WordPress?
We'll discuss the pros and cons of both WordPress plugins and what to look for in a form builder.
There are many options (Ninja Forms, Typeform, Fluent Forms, WPForms, and more).
But Gravity Forms and Formidable Forms stand out as the top options for responsive online forms.
So, let's look at what each plugin is.
👉 Read more: Best Free WordPress Form Plugins
What is Formidable Forms?
Formidable Forms is a powerful form builder with a simple drag and drop WordPress form builder.
Its builder helps you build beautiful forms without any coding knowledge. And you can create unlimited forms fast!
Then, it collects data through attractive forms. But it also handles what happens after it collects data from the form using its integrations and add-ons.
With some of the top features in the industry and a highly-rated support team, Formidable Forms is a top-notch plugin for form building.
🥰 Want to make the switch to Formidable Forms?
---
Use our Gravity Forms free importer and transfer all your data to Formidable in just a few clicks! Migrating to a new form builder has never been so easy.
What is Gravity Forms?
Gravity Forms is also a WordPress form builder plugin that uses a drag-and-drop form builder.
It helps you create simple forms from scratch.
It features some of the top services and add-ons in the business, which makes it a top choice. One thing to note is that most of these add-ons are 3rd-party, but we'll get to that later.
Get Your Gravity Forms Alternative!
Key features to look for in a Gravity Forms alternative
Ease of use
Support
Price
Integrations and add-ons
Ease of use
Like Gravity Forms, Formidable is easy to use with drag-and-drop functionality and has documentation to help you get the most out of the plugin.
Formidable Forms is designed to make building a web form straightforward, so anyone can pick it up. 
With a beautiful UI and styling options, you can make each form your own with little effort using our form editor.
If you would rather use a template, Formidable has a range of great form templates to use (even more templates than Gravity Forms).
On the other hand, Gravity Forms has a simple design.
And it allows you to choose exactly what to include in your forms. You can choose from a selection of pre-built form fields to build your form.
Please note that both plugins have advanced features and a learning curve for new WordPress users. 
This leads us to the next important key feature: support!
Support
Formidable Forms has a huge library of docs to help you build your form.
And the support team is one of the most highly rated. Plus, it has a wonderful community where you can ask questions and get quick answers.
Gravity Forms has a similar system.
They also have an online community where people can get help with add-ons from developers.
Pricing
If you're still asking, "Do I need Gravity Forms?" Look at how their pricing plans compare:
Formidable Forms pricing (freemium)
Not everyone has the cash to invest in WordPress plugins, particularly new businesses.
So Formidable Forms offers a free version. 
We want to give you a great Gravity Forms alternative. And providing a free plan is one way to do that.
But, if you want more, Formidable Forms is a freemium product. It also offers a premium version with many more features to fit everyone's needs.
Gravity Forms pricing (premium)
You may ask: "Is there a free version of Gravity Forms?"
Unfortunately, Gravity Forms is a premium plugin that doesn't offer a free version, so you'd need to spend money upfront or look for a free alternative.
Price comparison
Formidable Forms: Prices start with the free version and go up to the Elite package at $299.50 for the first year.
Gravity Forms: Prices range from $59 to $259 without any add-ons (or $600+ for views and editing functionality)
Here's an example of what you might pay to use Gravity Forms to create polls, forms, and surveys:
| | |
| --- | --- |
| Create survey forms | $259 (Gravity Forms Elite) |
| Radio button images | $49 (Gravity Image Choices) |
| Graphs and charts | $199 (GFChart) |
| Gravity Forms Total | $507 / year |
As an alternative to Gravity Forms' pricey plans, you can choose Formidable Plus, which will get you all that (including our new Views feature) for only $99.50 for the first year!
Or, let's imagine you want to build a directory or similar application:
| | |
| --- | --- |
| Create custom posts and forms with chained select | $259 (Gravity Forms Elite) |
| Display tables and lists and front-end editing | $159 (Gravity Views) |
| Graphs and charts | $199 (GFChart) |
| Scheduled listing removal | $129 (ForGravity Entry Automation) |
| Limit number of listings per user & Preview listings | $149 (Gravity Wiz) |
| Gravity Forms Total | $895 / year |
In this case, you'd get all this in the Formidable Business plan starting at $199.50.
So, for the money, Formidable is a better option.
Get Your Gravity Forms Alternative!
Features and integrations
Formidable Forms supports many features and integrations with your favorite apps.
Also, Formidable works with Zapier to offer even more integrations.
Gravity Forms has many features and integrations also. They feature some of the top options to have a great experience.
So, let's look at these a bit deeper.
Field types
Since there is no free Gravity Forms option, we'll start by comparing the form fields.
First, we'll compare the free form fields in Formidable to Gravity Forms' standard fields.
There are differences in how each plugin shows the field type, but these are included in both plugins. 
The free Formidable plugin includes all the form fields you need to create forms without paying a dime. And you can easily create spam-protected forms, too!
Next, let's take a look at the advanced fields each form plugin has to offer: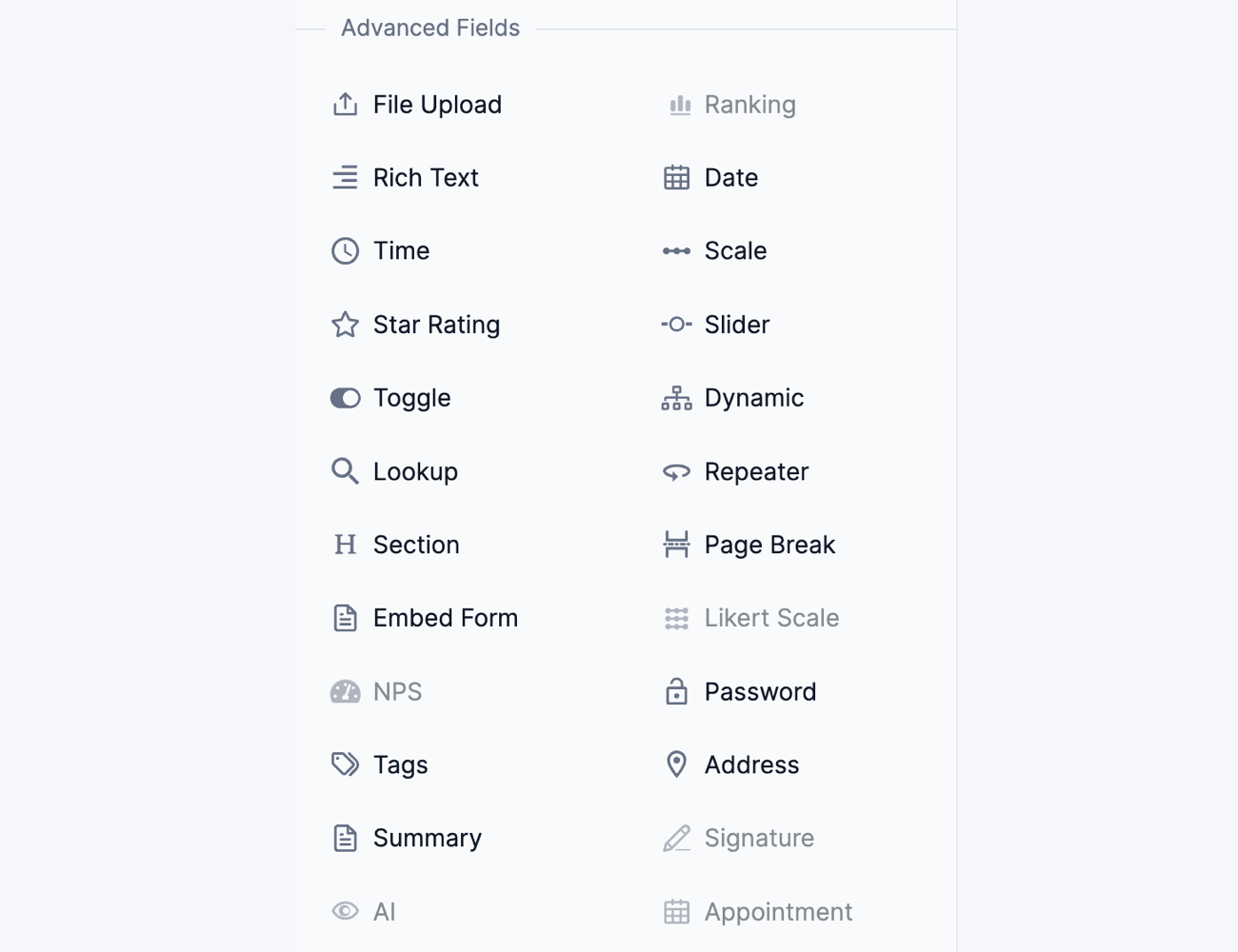 The advanced fields are also very similar.
Both plugins include pricing fields and can create posts, although they aren't included in the screenshots above.
Both plugins include file uploads, date, time, chained selects/lookups, quizzes, passwords, and more.
However, Formidable includes several additional fields.
For example, with Formidable Forms, you can add scale, slider, or toggle fields in your forms.
Plus, there are dynamic fields, repeaters, and summaries to preview before submitting.
You can also use Formidable's flexible features to replace radio buttons with images.
Last, both plugins feature multi-page forms, so you can make the form easier for visitors.
Dynamic fields for entry relationships
Formidable's dynamic fields are similar to chained select WordPress forms.
They allow you to create dropdowns, checkboxes, and radio buttons filled with categories or submitted entries in other forms.
Dynamic fields link data from multiple forms so users can make selections without duplicating information.
This also creates parent-child relationships, which Formidable Views can then use to display data with charts and graphs on other site pages.
Super handy, right?
Add-ons
Both plugins come with a variety of add-ons to supercharge the plugins.
You'll get things like conversational forms and quizzes. Those are included in-house.
But, with Gravity Forms, most of their add-ons are 3rd party.
That means not all their code is in-house, which can cause delays when troubleshooting bugs that may pop up. It also usually means a higher price tag, as each plugin adds dollars to the yearly price you have to pay.
For example, let's look at Gravity PDF options. If you want to convert forms to a PDF, that's extra money. With Formidable, PDFs are included in our plan with our Form to PDF add-on.
So, on to Formidable.
Formidable Forms creates its add-ons itself. This means fewer customer issues, and that's our primary goal.
So, less support and update issues mean fewer headaches for you.
We test everything to ensure it works; if there are any issues, we're on them faster than a cat after a mouse.
So, additional add-ons are wonderful. But you want to look at it deeper to ensure the plugin and add-ons reduce headaches.
Super handy, right?
Why choose Formidable Forms as a Gravity Forms alternative?
If you're reading this article, you're looking for an alternative to Gravity Forms. And Formidable is your best option.
Formidable matches or exceeds Gravity Forms on most features. And all that without the need for expensive third-party plugins. That means a lower bill every year!
What's more, Formidable has many more built-in features you can't find in Gravity Forms. You can switch to Formidable with a handy Gravity Forms importer to make things even easier.
So there's no need to worry about losing your data!
With the free Gravity importer plugin, you can migrate your forms and data in a few clicks.
Then you'll be able to take advantage of all these great Formidable features:
With Views, any website can have beautiful graphs and charts that show real-time data from submitted entries.
Consider using this for real estate listings, job boards, event calendars, and more! The possibilities are endless.
And now you can get Formidable Views for free with any Plus plan or higher. We meant it when we said we're an all-in-one plugin.
See how Formidable Views and Gravity View compare.
Users can update form submissions and posts from the front end of your site when logged in.
This means you can decide exactly what submissions are editable by a site's users.
It could be a View, a list of clickable entries with a shortcode, or a user's only entry.
Why have an elegant WordPress theme if ugly forms ruin it?
With Formidable Forms' huge library of styling options and templates, you have complete control to make everything look how it should.
Keep all the data and leads you to collect in one secure location with the ability to import and export data as you see fit. (Gravity importing is available for more money in the Gravity View plugin.)
With customizable HTML, you can fully control how your form fields look. You can add a CSS class to your form and move fields around however you wish.
Which is the best form builder plugin?
What are the results of our Gravity Forms vs Formidable Forms smackdown?
Get Your Gravity Forms Alternative!
Formidable and Gravity Forms include vital features for advanced forms like file uploads, conditional logic, conversational forms, captcha, ajax submit, subscription forms, and user registration.
In other words, both form builder plugins offer many features bound to fit your needs. But let's take a closer look.
If you're looking for free contact forms or advanced applications and need many features without paying a high yearly premium, Formidable Forms will be a better alternative than Gravity Forms to manage your forms.
Or if you're looking for an affordable all-in-one plugin option that provides beautiful charts and graphs with real-time updates, a large library of templates, and awesome support, Formidable is still an excellent choice for you to build make your forms.
But we'd be biased if we didn't admit that Gravity Forms does offer some integrations that Formidable doesn't.
Even though Formidable is one of the best Gravity Forms alternatives, it doesn't have all the form features Gravity Forms offers.
And remember, if you're using Gravity Forms and are ready to switch to Formidable, our Gravity Forms importer plugin and eager support staff can help make it a quick transition!
Whichever plugin you choose is up to you! We've also compared a few other WordPress form builder plugins if you're still looking for more information.
Form builder plugin comparisons
---
Did you know that Formidable Forms is one of the fastest WordPress form builder plugins available today? If you're not already using it, get started with our free plugin or the full-featured pro version!