See our side by side comparison of two great form builders - our very own Formidable Forms and Gravity Forms
When shopping around for an online form builder, you've no doubt got a lot of questions. Which one is best for me? Which one is better value for both simple contact forms and advanced forms?
We've already compared a few WordPress form builder plugins to help you decide.
Form builder plugin comparisons
What's the Best Gravity Forms Alternative?
It's a big decision to make if you rely heavily on the use of forms for your website. So, today we've put together a side by side comparison of our own software and another popular form builder: Gravity Forms. If you've heard of Gravity Forms, you may be wondering if there's an alternative form builder or vice versa.
We aim to be as objective and fair as possible here. We'll be talking about the pros and cons of both plugins and what to look for in a form builder. We want to simply help you make your mind up by providing you with accurate and fair information.
👉 Read more: Best Free WordPress Form Plugins
What is Formidable Forms?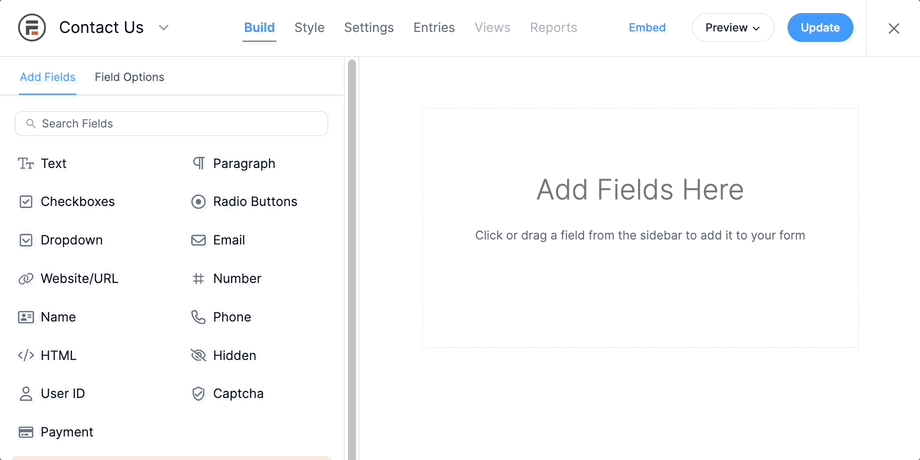 Formidable Forms is a complex form builder made easy with a drag-and-drop design. We want to make it easy for anyone to become a form building master. Formidable Forms is designed around and focuses on what happens with data after it has been collected.
🥰 Want to make the switch to Formidable Forms?
---
Use our free Gravity Forms importer and transfer all your data to Formidable in just a few clicks! Migrating to a new form builder has never been so easy.
What is Gravity Forms?

Gravity Forms is also a simple drag-and-drop form builder for WordPress. It differs from Formidable Forms in the sense that it's mostly designed around its 3rd party integrations.
Key things to look for in a form builder
Ease of use
Support
Price
Integrations and add-ons
Ease of use
Both plugins are designed to be easy to use with drag-and-drop functionality and have documentation to help you get the most out of the plugins.
Formidable Forms is designed to make the process of building a form straightforward so that anyone can pick it up. With a beautiful UI and styling options, you can truly make each form your own with minimal effort.
If you would rather use a template, we have a range of great form templates for you to easily download and use on your website. This saves you a lot of time if you would rather not build a form yourself.
Gravity Forms has a simple design that allows you to choose exactly what you want to include in your forms. You can choose from a selection of pre-built form fields to build your form. However, the UI is quite outdated.
Please note that both plugins have some advanced features and will require a bit of a learning curve for new users.
Winner: Tie
Support
Support is incredibly important for any company that offers software as a service.
With Formidable Forms, we have an extensive log of support documentation and a growing support team to help our users navigate through any potential problems that occur. Our support is highly rated by our users.
Gravity Forms offers a similar support documentation system and support ticket system like ourselves. They also have an online community where people can get help with add-ons from developers. Take a look at Gravity Forms ratings.
Winner: Formidable Forms (support is typically rated higher)
Pricing
Formidable Forms - Freemium
We know not everyone has the cash to invest in WordPress plugins, particularly new businesses. So we created a free version of Formidable Forms.
Formidable Forms is a freemium product, which means there is a free version and a premium version and it's totally up to you which one you choose.
Gravity Forms - Premium
On the other hand, Gravity Forms is a premium plugin and doesn't currently offer a free version so you'd need to invest straight away.
Price comparison
Formidable Forms: Prices range from free to $399
Gravity Forms: Prices range from $59 to $259 (or $600+ for views and editing functionality)
Here's an example of what you might pay to use Gravity Forms to create polls and surveys:
| | |
| --- | --- |
| Create Forms | $259 |
| Use Image Choices | +$49 (Gravity View) |
| Display Values | +$349 (Gravity Image Choices) |
| Graphs and Charts | +$199 (GFChart) |
| Total | $856 / year |
With Formidable, you get all the for only $149 per year.
Winner: Formidable Forms (for most cases)
Integrations and add-ons
Formidable Forms supports a number of integrations with your favorite apps. Take a look at our list of everything we support. Please note that many more integrations are available through Zapier.
Gravity Forms also supports a number of integrations, but with a larger selection than Formidable Forms currently offers.
Winner: Gravity Forms
Why choose Formidable Forms?
If you are already using Gravity forms and looking for an alternative, Formidable Forms could be your best option. Our plugin matches Gravity Forms on every feature without the need for expensive third-party plugins.
What's more, we have many more built-in features that you just can't find in Gravity Forms. To make things even easier, you can make the switch to Formidable with our handy Gravity Forms importer.
With our free Gravity importer plugin, you can migrate your data in just a few clicks. Then you'll be able to take advantage of all these great Formidable features:
Any data that's submitted in a Formidable form can be displayed on your WordPress site using Views in Formidable Forms Pro. This displays a list of all submitted entries and is useful for things like real estate listings, job boards, event calendars - the options are virtually limitless here.
Users can update form submissions from the front-end of your site when logged in. You can decide exactly what submissions are editable for your users. It could be a View, a list of clickable entries with a shortcode or a user's only entry.
We want our forms to become exactly what you had in mind. That's why we've built-in extensive styling options for you to customize your forms to your heart's content.
Do you need to use your entries? Or maybe you have leads on another service and would like them all in one spot? No problem.
No one size fits all. Customization is important to us as it is to you. Users can create custom post types from the front-end of their site, as well as regular posts. Once you've created a custom post, they will show up in your form's 'Create Post' > 'Post Type' dropdown.
If you need to add the details of multiple items in a form, Repeaters let you do that. Users can add a group of fields any number of times. For example, you could use this for listing the number of individuals living in a home, adding different contact methods, or listing qualifications on a job application form.
This is handy if you need multiple forms to interact behind the scenes. Dynamically populate field options and values with data from other forms. You can automatically retrieve values and use in a dropdown, radio or checkbox field. This is really useful for fields like country/state/city or year/make/model. These available options are filtered by a value selected in a prior field. Lookup fields can also be used in place of complex calculations for price estimates or quotes. They can be simply filtered down to a price or final value once a user has selected particular options.
Dynamic relationship entry
This allows users to create dropdowns, checkboxes, and radio buttons that are dynamically populated through submitted entries or categories. Dynamic fields can link entries together to allow users to make selections from data entered into other Formidable forms. Once linked, a parent-child relationship is created, allowing Views to show information from the linked entry, without duplicating any data.
Scale, slider and toggle fields
Change things up a bit with different types of form fields. With Formidable Forms, you can use a scale, slider or toggle in your forms for entries. These fields give users the option to display and use different types of submissions to give your forms some variety.
We want you to be able to customize your forms easily. With customizable HTML, you can take full control over how the form looks and what's visible to users or not. You can add a CSS class to your form or even move fields around how you wish.
Make use of submitted data by easily creating graphs or charts to display form entries on any page, post, View or widget. These will display live data and automatically update whenever a new entry is added or updated.
Why choose Gravity forms?
More integrations
Gravity Forms has an extensive range of handy apps it can integrate with. More of these can be unlocked but will require upgrades from its basic version to their Pro or Elite versions.
Gravity Forms also enables more 3rd-party add-ons to improve usability and options for your business.
Is Formidable Forms the Best Gravity Forms alternative?
Both Formidable Forms and Gravity Forms include the vital features for advanced forms like file uploads, conditional logic, ReCAPTCHA, ajax submit, and user registration. Although some of the following are third-party Gravity Forms add-ons, both form builders offer WooCommerce, Salesforce, Constant Contact, Authorize.net, PayPal, Stripe, Hubspot, and MailChimp integration, plus others.
Overall, if you're looking for free and simple contact forms or advanced applications where lots of features are needed, we would recommend Formidable Forms.
However, if you must have direct integrations and Zapier isn't an option for you, then we'd suggest Gravity Forms for their greater range of integrations.
We hope this breakdown has helped clear up any questions you had about either plugin. Whichever plugin you choose is entirely up to you and your own personal preferences and business needs.
If you're already using Gravity Forms and are ready to make the switch to Formidable, our Gravity Forms importer plugin can help with a quick transition.
More WordPress plugin posts
---
If you're interested in giving Formidable Forms a go, take a look at our fantastic range of form builder features for more information.