Are you considering using software like Typeform to create fun and interactive surveys and forms? Check out our top seven Typeform alternatives, so you can find the perfect tool for your unique budget and needs!
Forms, surveys, and quizzes are a great way to gain information about your customers. However, convincing your audience to engage with these web forms can be a challenge.
Fortunately, certain software enables you to create fun and interactive forms that are more appealing than the classic formats. For instance, Typeform allows you to create colorful, customizable forms and online surveys. However, this tool is just one of many options.
In this article we'll introduce you to Typeform. Then, we'll cover our top seven Typeform alternatives, and discuss their key features along the way. Let's take a look!
What is Typeform?
Typeform software makes it easy to create attractive and interactive forms, surveys, and quizzes without touching any code.
Additionally, with Typeform you can design a series of questions that are presented one at a time, on separate pages. This can be useful, since bombarding your users with a lengthy form can be overwhelming. So using this friendly, conversational format can increase user engagement:
Plus, Typeform questionnaires can be embedded on web pages, added to emails, or accessed via shareable links. That way, you can reach your audience wherever they are. The data you collect with your forms can then be used to generate shareable reports, allowing you to track your results.
The major drawback of Typeform is response limits even on the most expensive plan. It also lacks some of the flexibility you will find with some other Typeform competitors.
All-in-all, Typeform has the basic features you need to easily create surveys and forms with an impressive user experience. However, its limitations can be stifling for large or growing companies.
Top 7 Typeform alternatives
Typeform may not be the best option for everyone. So, let's check out seven of the best Typeform alternatives on the market!
1. Formidable Forms
Formidable Forms is a powerful WordPress plugin that offers both simplicity and advanced functionality. Our form builder includes form templates for common forms such as surveys, payment forms, and registration forms: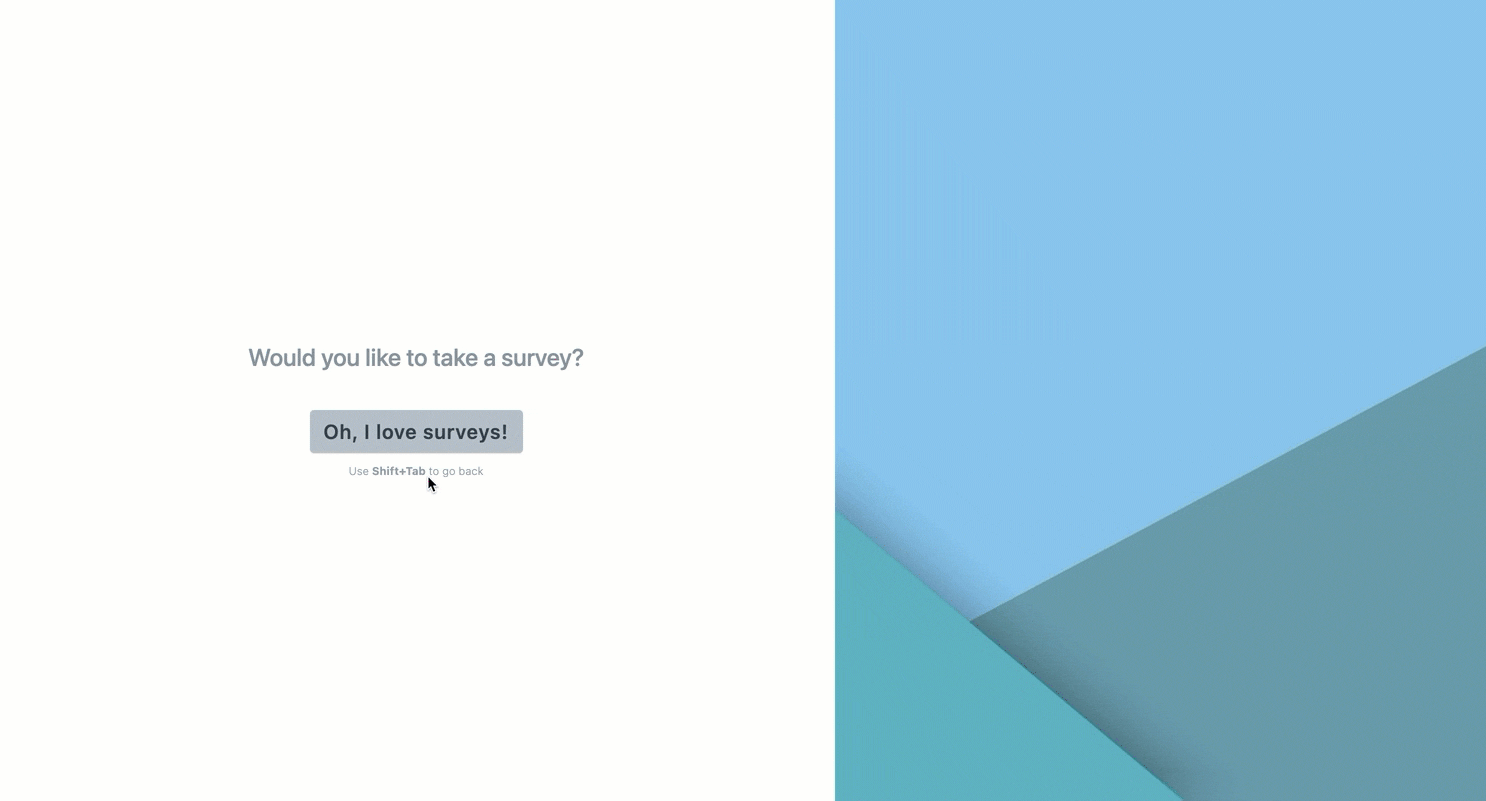 You can use Formidable Forms to create quick and simple forms in addition to more complex and multi-page elements. Plus, you can even allow users to easily add media to a form with built-in file uploads.
Additionally, using conditional logic, you can program follow-up questions based on previous responses to create a more interactive experience. That way, you're more likely to get meaningful answers. While Formidable Forms offers many sophisticated features, its drag and drop functionality and visual styler make it intuitive and user-friendly.
Features:
Advanced HTML control
Flexible ways of using form submissions
Built-in file uploads
14-day money back guarantee
Conversational and interactive forms
Pricing: Formidable paid plans start at $39.50 per year.
2. WPForms
WPForms is another WordPress contact form builder plugin, but that's not all this plugin can do:
WPForms offers templates for almost any scenario you can think of, including contact information, payments, surveys, newsletters, registrations, and more. These forms are responsive, which means they adapt to phones, tablets, and desktop computers.
With WPForms, you get notifications and entry management so you can react quickly to important submissions. WPForms also offers integrated payments and email marketing tools to really boost the functionality of its forms.
Features:
Variety of easy-to-use templates
Responsive design
Notifications and entry management
Integrated payments and email marketing tools
14-day money back guarantee
Pricing: WPForms offers plans starting at $39.50 per year.
3. SurveyMonkey
When it comes to survey software, SurveyMonkey is a global leader, boasting 20 million survey questions answered daily:
SurveyMonkey's basic plan allows you to create free surveys with up to ten questions. This means you can experiment with the software before buying in.
With a premium plan, you can unlock more advanced features including templates, General Data Protection Regulation (GDPR) compliant encryption, and more. If you want to create effective and easy-to-use surveys, this is a great option.
It is also important to note that SurveyMonkey does not integrate with WordPress websites. However, you can easily embed forms (or make them pop up) on your WordPress site.
Features:
Powerful survey generator
GDPR compliant encryption
Free surveys (10 questions maximum)
WordPress friendly
Pricing: SurveyMonkey offers a free plan, but it's somewhat limiting. Individual premium plans start at $16 per month (billed annually). It also offers team plans which start at $25 per month per user.
4. Jotform
Jotform allows you to create professional and customizable online forms. You can use these personalized forms to gather valuable information from your audience and even collect payments. All of this, without touching a single line of code:
One of the major selling points of Jotform is that it comes with over 150 integrations. These include project management tools, email marketing services, cloud storage apps, Customer Relationship Management (CRM) software, and more.
This makes Jotform a highly practical form building tool. With so many integrations, it provides a clear path for the information that you gather. That way, you can employ it directly into your current procedures in order to enhance your business. Jotform also has a WordPress plugin that allows you to safely embed your forms.
Features:
Over 150 integrations to make use of gathered data
Its own WordPress plugin
50% off plans for nonprofits and educational institutions
30-day money back guarantee
Pricing: Jotform offers a free plan, while premium plans start at $24 per month (when paid annually).
5. Paperform
Paperform is another visually impressive form builder. It has templates for common needs, so you can quickly and easily create essential forms. Alternatively, you can craft your own custom designs:
With Paperform, you can use a variety of different payment forms when creating memberships, charging subscriptions, or collecting donations. It also syncs with Google Calendar, giving you more control over your schedule and processes.
While you can indeed create beautiful forms with this tool, using it with WordPress is more complicated than other alternatives. In order to make the two compatible, you will need to connect Paperform and WordPress using Zapier.
Features:
Sleek visuals
Variety of payment collection options
Syncs with Google Calendar
14-day free trial
Pricing: Paperform's premium plans start at $20 per month (when billed annually).
6. Formstack
Formstack offers many of the same features as the other form builders on this list, but it doesn't stop there. In addition to beautiful forms, Formstack also offers a document generator and signature solution to further bolster your business:
With this survey tool, you can expect a codeless solution for creating forms, running surveys, and collecting payments.
Drag-and-drop functionality and conditional logic keep it competitive with many of the other options on this list. It may be a good choice if you're interested in the other business tools in the Formstack suite. Plus, it easily integrates with WordPress.
Features:
Standard tools like payment collection and conditional logic
Added tools available separately or bundled with a premium plan
14-day free trial
WordPress integration
Pricing: Plans for the Formstack form builder start at $50 per month (when billed annually). It also has a plan specifically for Salesforce users, as well as a Platform plan that has additional software bundled in.
7. LeadForms
LeadForms makes it easy to create fun, multi-step questionnaires with smarter follow-up options. LeadForms boasts that its interactive forms have conversion rates double or triple those of ordinary forms:
When you're using Leadforms, you can receive lead notifications right to your mobile device. That way, you can instantly react to customers and follow up from anywhere.
LeadForms undoubtedly offers fewer features than many of the other Typeform alternatives. However, it's likely sufficient for smaller projects where quick turnarounds are important. Furthermore, it works seamlessly with WordPress websites.
Features:
Tools for following up with quality leads
Notifications to your mobile device
7-day free trial
Pricing: LeadForms plans start at $47 per month.
Conclusion
Now you know how the Typeform competitors shape up. Hopefully you can easily select the perfect option for your needs and budget. Using one of these online form builders, you can improve your surveys and forms with fun and attractive designs.
A few alternatives were not mentioned above since creating forms with one question at a time isn't easy. The less-than-ideal alternatives include Google Forms, Zoho Forms, Gravity Forms, and more.
Let's recap our top seven Typeform alternatives:
Formidable Forms
WPForms
SurveyMonkey
Jotform
Paperform
Formstack
LeadForms
Are you ready to start building stunning forms for all your business needs? Check out our powerful form mqker plugin today!
Read about more form builder alternatives