Looking for a free Formstack alternative? We'll compare Formstack to Formidable Forms, the best online form builder for WordPress, to help you choose the best option for your website.
Looking to compare Formstack and Formidable Forms? Or are you are searching for an alternative to Formstack?
It's one of our most common presales questions: What's the difference between our WordPress form builder and the form building alternatives? Well, there's a lot to consider!
A good form builder plugin should be able to create online forms and surveys, have easy data collection tools, and use conditional logic to make smart forms. But they should also be more than that.
Excellent form-building plugins have a user-friendly interface. This means drag-and-drop features, an intuitive dashboard, and excellent customer support.
Which is why comparison articles can be a big help in deciding which form builder plugin to use on your website. If you're looking for other form-builder alternatives, be sure to check out some of these articles below:
Form builder plugin comparisons
Formstack Alternative
Let's start the form-building comparison between one of the Formidable Forms alternatives: Formstack.
If you're new to Formstack, it's a drag-and-drop form builder. It has a WordPress plugin integration, but you build forms and store form data on the Formstack server.
If you've tried Formstack already and are looking for something else, Formidable is an excellent alternative. in this post, we'll look at these two form builders side by side so you can decide which one is best for yourself.
? Read more: Best Free WordPress Form Plugins
What is Formidable Forms?
Formidable Forms is a drag-and-drop form builder with dozens of powerful features. This all-in-one plugin is known for its drag-and-drop interface, customizability, and the ability to do everything within WordPress.
That means no outside servers or databases to deal with.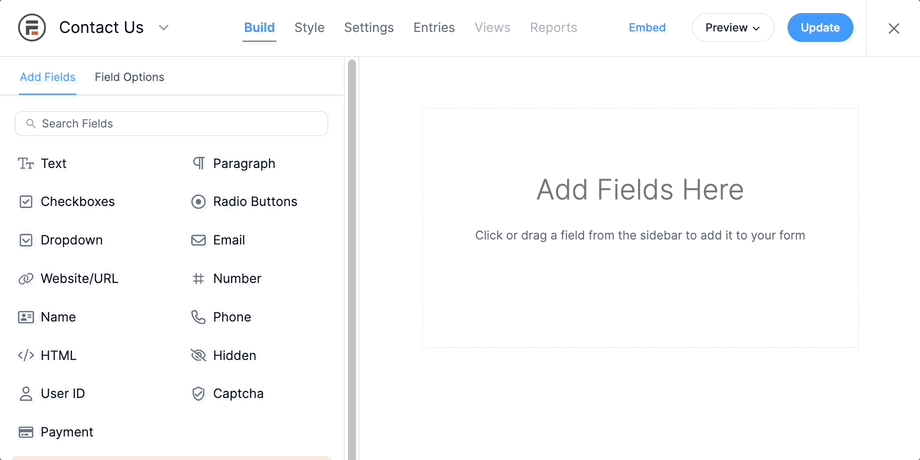 In fact, while Formidable's form builder looks very much like the one in Formstack, the ability to build everything from your WordPress admin is a huge difference.
Being a dedicated WordPress plugin also means that Formidable is regularly updated.
Formidable has plenty of advanced features, but it can also keep things simple. With Formidable, you'll be able to easily add simple contact forms. Alternatively, you can use Formidable to build more robust solutions, like multi-step forms or form conversations.
One thing that Formidable does that other builders can't?
Formidable can display form data anywhere on your site. That means you can collect data, images, and other media with your web forms and use that data to build your website in real-time.
Forums, community websites, membership sites, and many other possibilities exist because of this one simple feature. Formstack lacks this feature for a couple of reasons:
In Formstack, data is stored on Formstack servers and is not easily accessible.
Formstack doesn't have the features needed to manipulate your data to create anything other than reports (which are only viewable in a private website menu)
What is Formstack?
Formstack is a form builder that offers a range of form fields which should suit most users. It has some nice features, like the form builder, several integrations, and advanced security features.
So if both form builders give you the basics you need for form building and where the information is stored and the forms are built doesn't matter to you, how do you choose? Let's compare Formidable Forms and Formstack to find out.
What should you look for in a form builder?
We mentioned a few things every good form-builder needs above, but for this comparison, we'll be looking at 4 main areas:
Ease of use
Support
Pricing
Integrations and features
To find out who comes on top in the Formidable Forms vs Formstack comparison, read on!
Ease of use
When considering ease of use between Formidable Forms and Formstack, it's pretty hard to give either form builder the edge. They both function in pretty much the exact same way for building online surveys, contact forms, payment forms, and more.
This one comes down to where you prefer to manage your website. If you prefer it all in one place through WordPress, then Formidable takes the point. But if you prefer to have access to the forms outside of WordPress, Formstack is the winner.
Call this one a draw.
Support
Here's what we usually consider when it comes to support:
The size and usefulness of the knowledgebase
Easy access to a human support team
Ratings from existing customers
Both Formidable and Formstack have a huge amount of resources. Formidable has hundreds of knowledgebase articles and so does Formstack.
Formstack also has several guides that take users through the process of setting up different forms. While Formidable posts new tutorials on their blog along with an ever-growing amount of youtube videos.
Things differ further when it comes to human support. Formstack makes no guarantees about response time when it comes to their email support, which can leave users feeling abandoned.
Formidable however offers priority support to users on higher plans. Free support is even offered via the forum on the WP.org plugin directory to free plugin users. Formidable Forms also has an active community where users can find answers. Support wherever you want it!
As far as ratings go, we'll compare on GetApp.com. Formstack reviewers give it an average of 4.2 stars, while Formidable reviewers give 4.9. Many of the negative Formstack reviews refer to the lack of support and exponential costs as the main reason behind the poor review.
Pricing
Which leads us to pricing.
Formidable Forms has a free plugin, while Formstack does not. Let's run through the form fields offered by each plugin first, then talk about pricing in more detail.
Free form fields
Formidable Forms has 14 form fields in its free Formstack alternative. Formstack doesn't have a free plan (although they do offer a free trial for 14 days with no credit card required, which is nice).
Premium form fields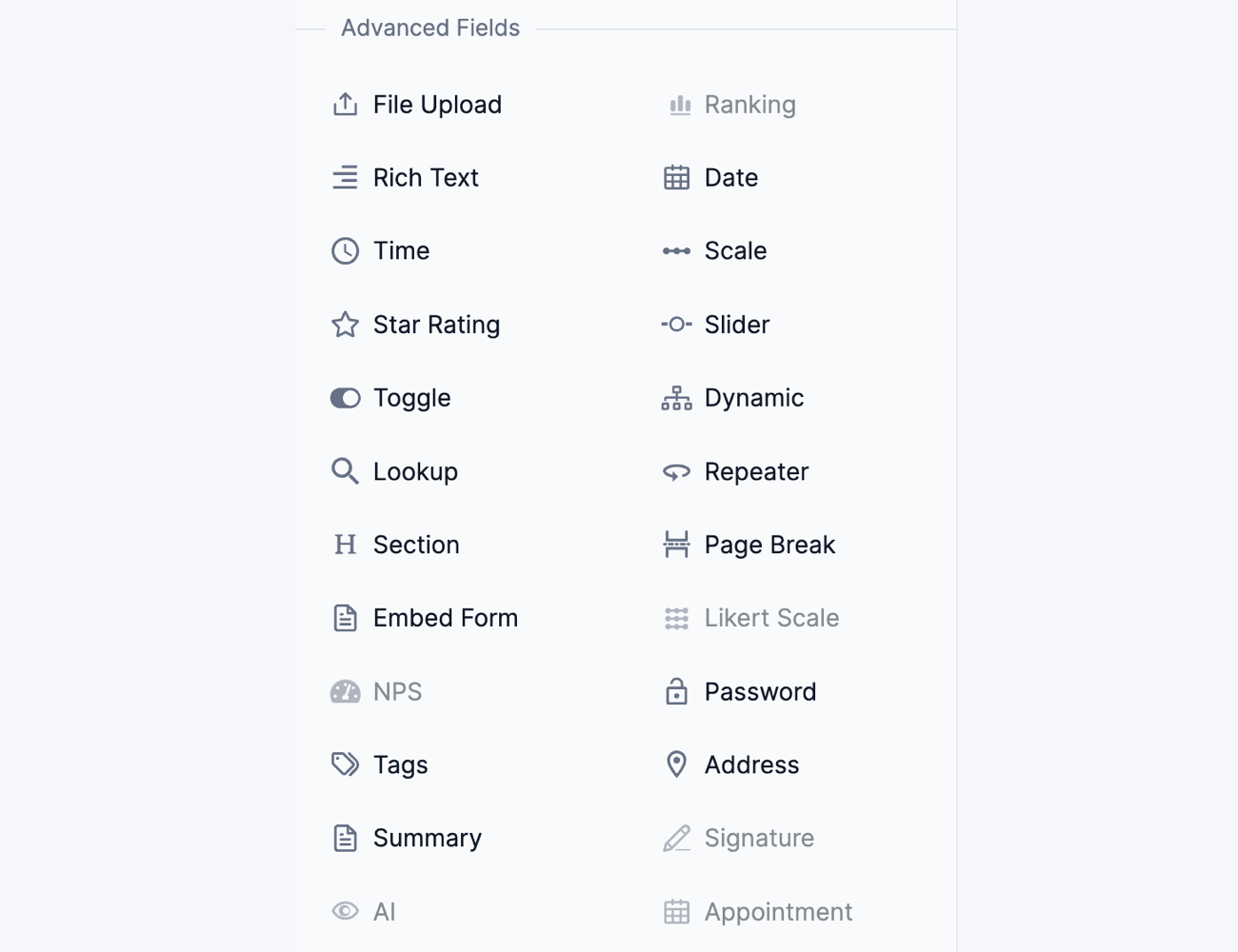 Formidable's premium plans unlock many more fields and features. And with Formidable always at work, you can be sure that the number of features will continue to grow.
Formstack has 18 total form fields in its form builder. However, there are no custom field options in Formstack, while Formidable allows you to create whatever fields you want (limited only by your web development knowledge).
The Formstack pricing model is where it all falls apart. The basic plan is $50 per month which has significant limitations and is higher than the top Formidable Forms plan. You'll be limited to 20 forms and 1000 total submissions. If you need more than 1000 submissions ever, you'll have to either upgrade or delete them.
For comparison, you could get Formidable's highest level plan with dozens more features, integrations, and unlimited forms for the same price.
Does Formstack stack up against Formidable? If we look at the pricing model, the answer is definitely not. If you are using the most basic Formstack plan and won't need many forms, submissions, or file storage space, then it might be a good option for you.
But why settle for less at the same price?
Integrations and features
When you evaluate the Formstack add-ons, their pricing model begins to make a bit more sense. They have a lot of integrations with enterprise-level custom solutions like Microsoft Dynamics, Pipedrive, and Marketo.
Formstack integrates with more than 260 different services!
Formidable Forms, on the other hand, has all the most popular platforms at your fingertips. All you need to do is install the correct add-on and you're good to go. Connect with the best CRM, email marketing platforms, eCommerce, and much more. Stripe, Paypal, MailChimp, Zapier, Hubspot, ActiveCampaign... all the platforms you use!
In this comparison, it really depends on what you are using your forms for. If you need one of the direct integrations Formidable doesn't offer, go with Formstack. If you run a WordPress website, Formidable makes sense.
Formidable Forms vs Formstack: Which one wins?
Although Formstack has more integrations, Formidable Forms generally comes with more features and at a more affordable price.
Does that mean that only beginners will find Formidable Forms useful? Not a chance! Formidable is called the most advanced form builder for a reason. Let's take a deeper look at what makes Formidable one of the top form builders for WordPress below.
Why choose Formidable Forms?
Formidable's free WordPress plugin is an extremely powerful option for free users. It's currently being used by more than 300,000 users around the world.
But advanced users can also find a lot to love when it comes to Formidable. This plugin has some serious power, with several features designed to maximize your online forms and make your WordPress website as strong as possible.
Top Formidable Forms features
Formidable Forms has one of the most advanced sets of calculator features of any form builder. You can use Formidable to perform simple total calculations for eCommerce with no problem.
Of course, if you want to perform calculations across your form fields, that's possible, too. But why stop there? Formidable comes with tons of calculator templates and can be used to compute advanced math equations.
If that's not enough, you can even use stored values to calculate. Or you can save the results of your calculations to use for later. You can also perform calculations within your Views... the possibilities are endless!
Formidable has an awesome suite of survey & poll features that make surveying your audience a breeze. Using Formidable's many more fields to create surveys is easy and, dare we say it, fun!
Advanced form fields like the star rating and Likert scale make it easier to get the best survey data possible. And Formidable's charts and reports feature makes it easy to create beautiful reports on the fly.
Why choose Formstack?
You need an enterprise solution
If your business or website is heavily built around other expensive enterprise tools, you may want to consider Formstack. Having said that, it's not always necessary to integrate forms depending on what enterprise software you use.
You like Formstack workflow focus
Formstack got its start by putting together workflow systems for marketing, human resources, and other business uses. Some of them are really just glorified form templates, but with some research, you could find out if their workflow solutions will save you enough time to justify the increased price they demand.
Formidable Forms vs Formstack: Final Verdict
For most users, Formidable Forms will be the form maker of choice. Of course, the only catch is that users would need to be on a WordPress website.
We hope this Formidable Forms vs Formstack comparison has helped you learn the differences between the two form builders.
Formidable Forms is a great Formstack alternative. For more WordPress posts, stay tuned to the Formidable blog!

---
More WordPress forms posts
Formidable Forms is the most advanced WordPress form builder on the market. Get started with our free WordPress plugin or one of our premium plans today!