Looking for a free WordPress contact form plugin? See how Contact Form 7 and Formidable Forms compare.
Today, we want to compare two big names in the form building world. Formidable Forms and Contact Form 7 are both popular plugins, but which one is right for you? Perhaps you've already tried out the latter and are looking for an alternative to Contact Form 7.
For Contact Form 7 alternatives, we've already compared a few different WordPress form builder plugins:
Form builder plugin comparisons
Contact Form 7 Alternative
We'll be discussing whether Formidable Forms is a good Contact Form 7 alternative.
? Read more: Best Free WordPress Form Plugins
What is Formidable Forms?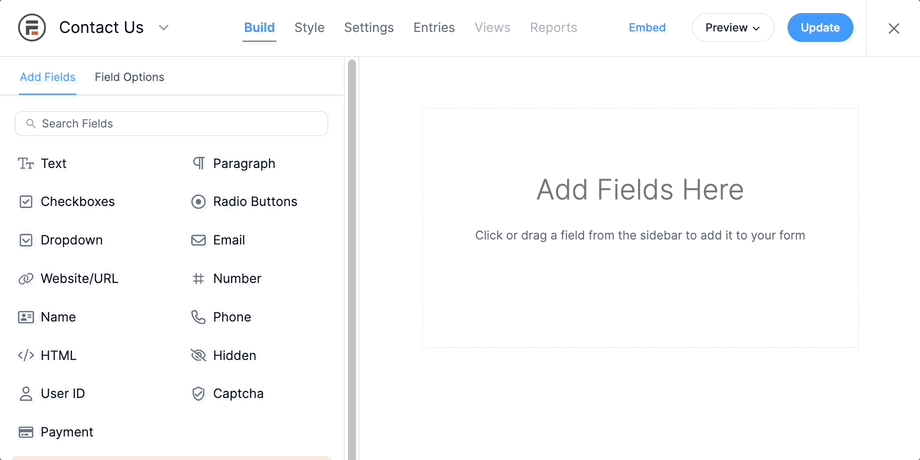 Formidable Forms is an advanced form builder, made simple with a drag and drop interface. However, for those who prefer to work with HTML, this form builder allows you to fully customize the HTML.
We believe that there should be no limits or barriers to what you can do with a form builder. We want to spark confidence to take on those big projects you may have thought were impossible.
You don't need heaps of coding experience or specialized resources. Everything you need can be solved with Formidable Forms.
What is Contact Form 7?
Contact Form 7 is one of the oldest and most popular form builder plugins out there. It's a free plugin that allows you to create multiple contact forms on your website.
Contact Form 7 is an HTML form builder which allows you to build a form straight from code. It provides a minimalist interface to allow you to just concentrate on the finer details of HTML.
What should you look for in an online form builder?
Unsure of where to start? We're going to explore 4 key areas that are important to consider when comparing WordPress form builder plugins.
Ease of use
Support
Pricing
Integrations/add-ons
We'll be discussing each area in relation to both form plugins. Who will come out on top, Formidable Forms vs Contact Form 7?
Ease of use
Contact Form 7 has quite a simple, paired back user interface. It uses a markup interface which means you need to use code snippets to build forms. This might be fine for some, but if you're new to HTML, it could be a bit intimidating for your first form. It also means that if you miss one little bracket or character, your basic contact form won't work at all. In this sense, it can be quite unforgiving.
There are a few pre-built selections at the top of the form builder for you to click to add. However, there aren't many to choose from so if you want something a bit more advanced, you better be prepared to write your own code.
The main downside to Contact Form 7's approach is that you can't see what the form is going to look like. There is no live preview, which can be a bit inconvenient.
Formidable Forms uses a drag and drop form builder interface instead. This means that you can simply click or drag a form field into the builder and drop it wherever you'd like. When you add fields, the code is there for you behind the scenes so you don't have to worry about it. However, if you prefer to deal with the HTML code, you can do that as well.
This is a much more visual way of building forms because you have a better idea of what it's going to look like. For this alone, Formidable Forms is much more user-friendly, particularly for new users. You can build a simple contact form within minutes.
Winner: Formidable Forms
Support
In order to get support for Contact Form 7, you need to head over to the WordPress forums. As the plugin has been around for a long time, you should be able to find help there easily enough. You can also find documentation and an FAQ section on their website.
However, as it's a free plugin, there is one clear problem. Free plugins in the WordPress Plugin Directory are not obliged to provide support or any guarantee of timely responses. Without a premium version, there may be no incentive to help.
Formidable Forms offers an extensive documentation library and a community to get support and even development help.
Formidable also offers support for Lite users through WordPress.org. However, there is also support for any bug reports and free users typically get a response within 24 hours too. If you were to upgrade to the premium version, there's a fantastic tiered ticketing system for support.
When it comes to support tickets, Contact Form 7 has only 27% closed support cases at the time of this article, whereas Formidable Forms has 100%. That means that unfortunately, a lot of Contact Form 7 support tickets go unanswered.
In terms of ratings, Formidable Forms has a higher rating at 4.7, than Contact Form 7's 4.1 out of 5.
Winner: Formidable Forms 
Pricing
Contact Form 7 is a totally free form builder solution you can use on multiple websites. This may be preferable to those looking to keep costs down.
Formidable Forms also offers a free form builder, with the option to upgrade. These prices range from $99 a year to the Elite plan at $399.
By upgrading, you get access to faster support, more integrations and features. This means that if you like the free plugin, there's always the option to get more.
Winner: Tie
Integrations
The Contact Form 7 plugin author doesn't offer integrations.
However, there are integrations available through downloading 3rd-party plugins. It means that if you want more features, you've got to be prepared to install a range of different plugins. The risk to this is that they could break or stop being developed or supported by the developers.
Third-party integrations available include payment processors like PayPal and Stripe. You can also use plugins like CFDB7-Database to save form entries to a database or MailChimp to connect your email marketing.
On the other hand, Formidable Forms offers a wide range of handy integrations. Formidable Forms integrates with CRM systems, payment processors, email marketing and newsletter tools and much, much more.
While you need the premium version to access integrations and add-ons, the benefits to your business with this increased functionality is well worth it.
Winner: Formidable Forms
Why choose Formidable Forms Lite?
With our free WordPress forms plugin, you can build simple forms with a range of field types to add to the form builder. Choose from email, number, URL, phone number, hidden fields, HTML fields and checkboxes. Simply drag and drop any field into the form builder. More form fields are available in the premium version.
Here's what else the Lite version has to offer:
Ease of use is a key feature of the Formidable Forms form builder. The simple drag and drop form builder makes building forms fast and easy, even for those with zero experience. It enhances the visual experience of form building and allows you to customize and be as flexible as you want with your design.
In the modern era, it's important to have mobile responsive contact forms. Formidable Forms is responsive to different uses and screen sizes. You can use forms on any sized device, without damaging the user experience.
Would you rather not build a form from scratch? With Formidable form templates, you can load a form with the fields you need for a specific application. Simply add or remove any fields you wish and save time.
It's good practice to ensure that any data submitted through a contact form is backed up in a database. If not, it's too easy to miss leads which can affect your whole business.
Formidable Forms keeps all data submitted through your contact forms in your WordPress database where they can be reviewed and exported. The premium version also allows you to edit and import entries.
However, Contact Form 7 does not store the submissions and leads anywhere. A separate 3rd party plugin is required if you want to do this. Not storing entries runs the risk of not knowing whether all the emails are received without any way to check.
V2 ReCAPTCHA integration
Formidable Forms supports v2 ReCAPTCHA for both free and premium form plugin versions.
At this point, Contact Form 7 only supports v3 ReCAPTCHA, which is not universally loved. Contact Form 7 has dropped v2 support without backwards compatibility. So, if you're looking for a Contact Form 7 alternative that supports v2 ReCAPTCHA, then try Formidable Forms out.
Formidable Forms has an easy-to-use visual form styler that lets you style forms as you wish. You can easily adjust sidebars, field labels, colors and submit buttons. There's no need for CSS or HTML knowledge to use this.
Why choose Contact Form 7?
Simple, paired down interface
If you like minimalism, then Contact Form 7 could be right up your alley. It has a very simple design, without too many distracting features. If you want to build simple forms quickly, then this could be preferable to navigating through lots of different features.
Access to lots of 3rd-party add-ons
While the Contact Form 7 author doesn't offer integrations, the plugin can work with a number of 3rd-party integrations.
Some great examples of 3rd-party integrations include conditional logic, PayPal and Stripe options, CF7 Autoresponder to manage leads and Contact Form 7 Storage which saves form submissions to your WordPress database.
Bonus: Why choose Formidable Forms Pro?
While the free Formidable form builder plugin is a great starting point, there are plenty more opportunities opened up by the premium version too. This is where Formidable Forms excels and offers so much more as a Contact Form 7 alternative. Here are some of the top features below to help you decide between Formidable Forms vs Contact Form 7.
Once you've collected data, what next? Formidable Forms has a key feature that allows you to control your data after it has been collected.
Views allows you to display all your collected data on your WordPress website in a variety of ways. It can be used for job boards, event calendars, real estate listings and many more.
Want to make better, more visual uses of your form data? You can use any form data to build custom graphs or charts.
You can display research results, surveys, relationships and patterns in data. These can be displayed on any View, page, post or widget. What's more, you can use live data which automatically updates whenever entries are created, changed or deleted.
Sometimes it helps for visitors to give multiple answers to the same questions. With Formidable Forms' Repeaters, users can add multiple rows of details at once. You could use it to list names for a sports team registration form, job history, and more.
Cascading fields allow you to fill one form, and filter through the options in another form. For example, if you sell used cars, let people select the 'Make' in one dropdown and then only show models relating to that make in the 'Model' field. This will save visitors from scrolling through hundreds of different models that aren't relevant to them.
Online forms have taken over the need for paper forms and this isn't likely to change. Formidable Forms allows you to ditch paper forms entirely and accept electronic signatures directly on your forms.
Web accessibility is crucial to any modern business and with Formidable Forms, it's easier than you think. Formidable Forms is built with Web Content Accessibility Guidelines (WCAG) in mind to help you build accessible forms that are screen-reader-friendly.
Is Formidable Forms a good alternative to Contact Form 7?
While Contact Form 7 has been around for a long time and built up a large user base, it suffers from being slightly outdated.
A simple design is one thing, but if you've come to expect multiple features and advanced capabilities from a WordPress plugin, then you could be let down by Contact Form 7.
Formidable Forms is a fantastic form builder plugin with a range of advanced features. There is little limitation to what you can do with the right tools. Even the free version has more capabilities and a better overall user experience than Contact Form 7. This makes it a great Contact Form 7 alternative.
Choosing a WordPress form builder plugin for the future
Contact Form 7 might be great for you in the beginning, but what if you want access to more advanced features?
The danger of starting with a basic builder like Contact Form 7 is that your business needs will inevitably grow. When this happens, you'll likely have to switch to a completely different plugin. This means you'll have to spend a lot of time redoing all your hard work.
Formidable Forms offers you a plugin that will grow with your needs which makes it a great Contact Form 7 alternative. Picking a plugin with more features, even if you don't need them right now, May be better than picking a plugin that doesn't offer a step up.
Starting with the Formidable Forms free forms plugin, it's easy to upgrade and unlock more benefits. This gives you much better flexibility for your future business needs.
We hope this Formidable Forms vs Contact Form 7 comparison has helped you make an informed decision for your WordPress form builder plugin.
More WordPress plugin posts
---
Learn about our full range of features and how they make Formidable Forms the best WordPress drag and drop form builder around.