Want to create Jotform-like forms right in the backend of your WordPress site? Here's why we think Formidable Forms is the best Jotform WordPress plugin alternative.
Approximate read time: 6 minutes
Picking a form builder that's right for you isn't an easy task. Finding the right match depends on your budget, the features you need, and the CMS platform that powers your site.
If you have a WordPress website, there are dozens, if not hundreds, of form builder plugins to help you create quizzes, surveys, and forms without code. 🔌 But some are certainly better than others.
Today, we'll look at two of the top form builders around, comparing Jotform with one of the best Jotform alternatives, Formidable Forms. In particular, we'll pay close attention to the differences between these two tools when it comes to WordPress.
Before we jump into comparing these two tools, let's clear up a common question about making online forms first.
🆚 Online form builders vs form builder WordPress plugins
Online form builders like Jotform, Google Forms, or Typeform are quick and easy to set up and use. They're essentially external platforms or software that aren't tied to your website.
This makes them a flexible option if you want to use forms in multiple locations without necessarily having them on your webpage. Or if your site isn't on WordPress.
WordPress plugins require a little more setup but integrate directly with your website. They let you build forms right in WordPress and make it easier to customize the display and design of your forms, too.
Plus, a WordPress form builder plugin makes adding your forms to pages or posts faster. Most of the time, you won't even have to worry about those pesky shortcodes or conflicts with your WordPress theme.
Now that you have a better idea of what you need, let's dive into the details and determine which solution is right for you!
👋 Introductions: Jotform & Formidable Forms:
Let's learn a bit about these two top form-building tools before seeing how they stack up against each other.
What is Jotform?
Jotform is an online form builder that allows you to build forms without installing another WordPress plugin.
Simply open the Jotform website and use their form builder to start building. It's easy to use, thanks to the drag-and-drop interface. It also works well even if your website isn't on WordPress.
There is a Jotform WordPress plugin, too, but it only allows you to insert forms already created on the Jotform site. You can't make forms in WordPress with Jotform, and its embedding and customization options are limited.
What is Formidable Forms?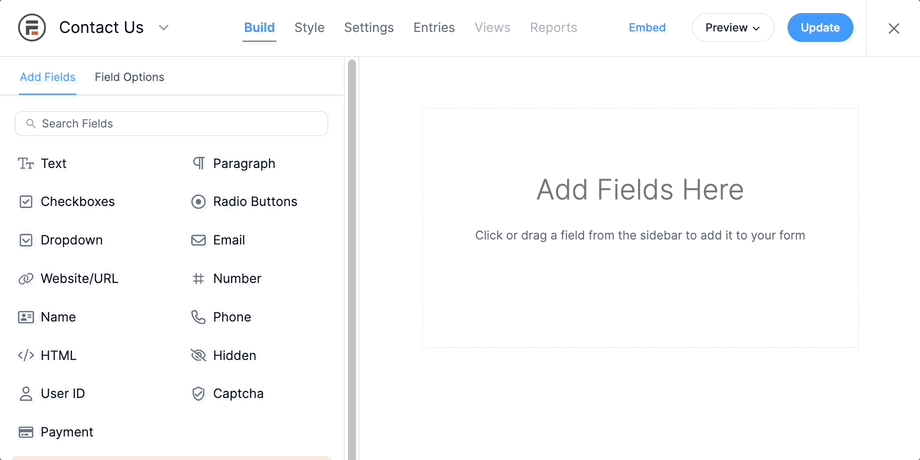 Formidable Forms is a highly customizable WordPress form builder plugin. Like Jotform, it uses a simple drag-and-drop form builder to let you create forms inside WordPress.
With Formidable Forms, there are no limits to what you can do. Make quizzes, surveys, conversational forms, and more, all without needing to code. And without ever needing to leave WordPress!
⚖️ Feature comparison: Formidable Forms vs Jotform for WordPress
Alright, it's time for our thrilling head-to-head comparison of Formidable Forms and Jotform for WordPress! Let's find out which has the key features you need.
Ease of use
🎂 Jotform takes the cake here, but only just!
Formidable Forms is a simple-to-use WordPress form builder. You can start with a blank form and add whatever form fields you want, or use one of our WordPress form templates to make beautiful forms at the click of a button.
This approach offers a very user-friendly way of building forms that don't limit you if you want more control and customization.
Jotform is an online form builder which is simple to use and quick to set up. You can start building a form straight away. All you have to do is sign up. You then have a choice to export your form in a number of different ways, from a simple link to an embed code or integration with another platform.
Customer support
🥇 The fantastic customer support medal goes to Formidable Forms!
Formidable Forms offers a wide range of user guides and documentation to help you get started or troubleshoot any issues.
There's a tiered ticketing system, so response times depend on your plan. It's worth noting that even Formidable's free users typically receive responses within 24 hours (during the week).
Formidable also has an online community forum full of answers and ideas from fellow Formidable users. You can get support from other users or even hire a developer to help out there.
Jotform's support is essentially just a contact form. You can upload a URL or screenshot to better support your request for help. They also have a forum of other users where you can get the help you need.
WordPress Compatibility
🏆 Formidable takes the trophy for this one.
If you want to make forms like Jotform right from WordPress, Formidable Forms is the way to go. It lets you build your forms right in the backend of your website rather than going to an external platform to create your forms and then having limited options for embedding the form into WordPress.
But does Jotform work with WordPress?
Technically, yes. Jotform even has a WordPress plugin. But, as we said earlier, it only lets you embed the forms you already created in your Jotform account. You can't make or edit your Jotform forms in WordPress directly.
Third-party integrations
🏇 Jotform is in the lead, but Formidable isn't far behind.
On their paid plans, Jotform offers 100+ integrations with other apps. You can connect loads of different payment options, CRM systems, email marketing platforms, social media, and cloud storage.
But don't count out Formidable Forms. It offers nearly as many integrations with different apps, including PayPal and Stripe payment options, Zapier automations, connections to the most popular CRMs, and email marketing services like HubSpot, Zoho, Salesforce, Mailchimp, and Active Campaign.
💰 Pricing: Jotform vs Formidable Forms
🏅 There's no question that Formidable Forms is better than Jotform when it comes to cost.
Formidable Forms offers a free version to get you started, with the option to upgrade. Formidable Pro prices range from $39.50 per year to the Elite plan at $299.50.
Jotform also offers a free plan with the option to upgrade for more features. You can also choose to pay monthly or annually for premium plans. Monthly plans range from $19 to $99 per month. Annual plans range from $189.96 to $990 per year.
While the flexibility to pay monthly is a plus, you pay a lot more overall by choosing Jotform over Formidable. Jotform's cheapest monthly plan works out to $228 a year overall, over five times the cost of Formidable's lowest plan.
🧑‍⚖️ Which is better, Jotform or Formidable Forms?
Formidable Forms is great if you want to make forms in WordPress and do more with the form data you collect. And save money while doing it all, too!
Jotform is great if you want to quickly build forms and use them in places other than just on your website. Or if you aren't using WordPress. You can publish forms through email, social media, or through simple links.
We hope this Formidable Forms vs Jotform WordPress comparison has helped you learn more about each form builder and find a great Jotform equivalent for your WordPress site.
🧐 Curious to learn more about Jotform competitors? Here's a complete list of our favorite alternatives to Jotform.
Form builder plugin comparisons
---
Did you know Formidable Forms is the most powerful WordPress form builder available? If you aren't not already using it, try out our free plugin or get the pro version of our form maker plugin packed with awesome features!