Shopping around for a form builder for your WordPress website? In this post, we compare Formidable Forms vs Jotform.
Picking a form builder that's right for you isn't an easy task. That's why we want to help you get to grips with the different form builders out there.
We'll be comparing Formidable Forms with Jotform. We've already compared a number of different form builders, both plugins and online builders, which you can see below.
Form builder plugin comparisons
JotForm Alternative
Whether you're new to form builders or are looking specifically for a Jotform alternative, this post is for you.
We'll be discussing the similarities and differences and whether Formidable Forms is a good Jotform alternative.
? Read more: Best Free WordPress Form Plugins
What is Formidable Forms?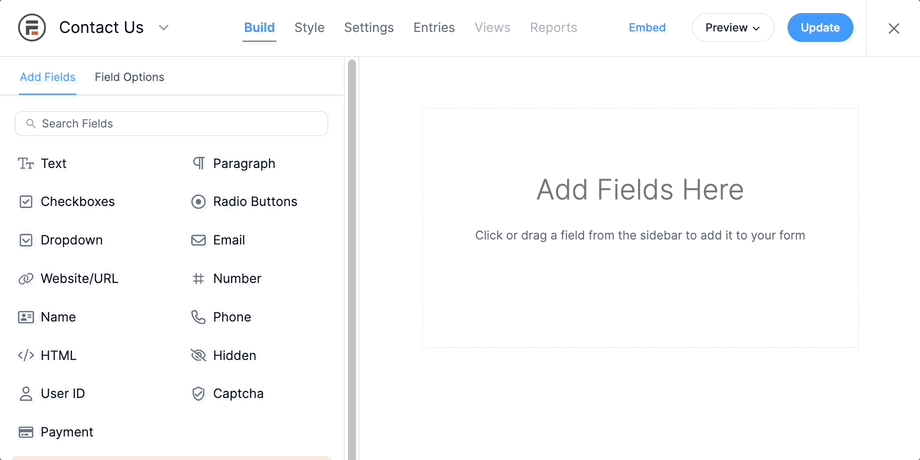 Formidable Forms is a highly customizable form builder plugin that uses a simple drag and drop interface.
With Formidable Forms, there are no limits to what you can do with a form builder. We want to help you gain the confidence to take on those bigger projects you may have thought were impossible.
There's no need for coding experience, everything is easy to set up and build with Formidable Forms.
What is Jotform?
Jotform is an online form builder that allows you to build forms without the need to download a plugin. It competes in the drag-and-drop form space with Formidable, WPForms, and Typeform alternatives. You can simply open the form builder on their website and start building. It's easy to use with a drag and drop interface.
What should you look for in a form builder?
We'll be looking at 4 areas that are important to consider when comparing WordPress form builder plugins and other online form builders.
Ease of use
Support
Pricing
Integrations/add-ons
Who will come out on top, Formidable Forms vs Jotform?
Ease of use
Formidable Forms is a simple to use, drag-and-drop form builder. You can start with a blank form and add whatever form fields you want, or simply start using one of our templates.
This approach offers a very user-friendly way of building forms, that isn't limiting to those who want more control and customization.
Jotform is an online form builder which is simple to use and quick to set up. You can start building a form straight away, all you have to do is sign up. You then have a choice to export your form in a number of different ways, from a simple link to an embed code to integration with another platform.
Winner: Jotform
Support
Formidable Forms offers a wide range of documentation articles to help you set things up and troubleshoot any issues. There is a tiered ticketing system, with response times depending on what plan you're on. However, we typically respond to free users within 24 hours.
As an alternative to a community forum, Formidable actually has an online community based over Slack. Slack is an instant messaging app which provides a much more convenient alternative to Jotform's approach. You can get support from other users or even hire development help there.
In terms of ratings, Formidable Forms currently has a 4.7 stars out of 5 on WordPress.org. You can take a look at reviews there.
Jotform offers support through a contact form mostly. You can upload a URL or screenshot to better support your request for help. They also have a forum of other users where you can go to get the help you need.
Jotform is currently rated at 7.6 out of 10 on Trustpilot, where you can take a look at their reviews. That means proportionally, Formidable has an overall much higher rating.
Winner: Formidable Forms
Pricing
Formidable Forms offers a free form builder to get your started, with the option to upgrade. Formidable Pro prices range from $99 a year to the Elite plan at $399.
Jotform also starts off free, with the option to upgrade to higher plans. You can pay monthly or annually. Monthly plans range from $19 to $99 a month. Annual plans range from $189.96 to $990 per year. While the flexibility to pay monthly is a plus, you will be paying a lot more overall. Their lowest monthly plan works out at $228 a year overall, which is over double the cost of Formidable's lowest plan.
Winner: Formidable Forms
Integrations
Formidable Forms offers a wide range of integrations with different apps. The plugin integrates seamlessly with CRM systems, payment processors, email marketing and newsletter tools and much, much more.
While you need the premium version to access integrations and add-ons, the benefits to your business with this increased functionality is well worth it.
Jotform offers a lot of integrations with other apps on their paid plans too. You can connect a great deal of different payment options, CRM systems, email marketing platforms, social media and cloud storage. Overall, Jotform offers a lot more options to integrate with third-party apps.
Winner: Jotform
Why choose Formidable Forms?
For the rest of the post, we will be going into the features that either plugin has to offer. We'll be focusing on the features that make each stand out.
Formidable Forms allows you to do more with your form data after you've collected it.
Formidable Views are a way to display data in a variety of ways. You can build event calendars, real estate listings, job boards and much more.
When you need visitors to give multiple answers to the same questions, Repeaters has your covered. You can add multiple rows of details at once. For example, to list details for a sports team registration form or job history for an application form.
Cascading fields allow you to lookup data from one form to populate another. An example is if you sell used cars, you can let people select the 'Make' in one dropdown and then only show models relating to that make in the 'Model' field. There's no need for visitors to scroll through every model on your site if they're not relevant to them.
When user-submitted forms need editing, it's a bit of a pain to have to do it all yourself.
Instead, let users edit their own submissions to keep them up to date. With Formidable's front-end editing tool, you can choose which submissions users can edit and which they can't.
Why choose Jotform?
Multiple payment options
Jotform's large range of payment field options stand out. They currently offer 33 different types of payment fields including PayPal, Stripe, Chase, Square, Authorize.net many more.
If you're looking for flexible payment options to offer your website visitors, then this will be a key thing to bear in mind.
Tooltips
Tooltips are handy messages that appear when a visitor hovers over a field. With Jotform, you can use tooltips on any type of field so you can provide a lot of help for visitors filling in your forms.
Form templates
While Formidable also offers plenty of handy templates, Jotform offers a much bigger library of them. They offer over 10,000 form templates for multiple different scenarios. You might not even have to build a form with them when there are so many templates.
Which is right for you? Formidable Forms vs Jotform
Formidable Forms is great if you want to do more with your data after you've collected it. It's what makes Formidable Forms stand out because features like Views aren't commonly offered by other form builders.
Jotform is great if you want to quickly build forms and use them in places other than just your website. You can publish forms through emails, social media or through simple links too.
Online form builders vs form builder plugins
Another way to help you decide is to ask yourself: do I want an online form builder or a form builder plugin? This final question will help you decide between Formidable Forms and Jotform.
An online form builder is quick and easy to set up. It's not tied down to your website and is a flexible option for those wanting to use forms in multiple locations.
A plugin has more setup but also integrates closely with your website. If you run a WordPress website, then it helps to have forms that are already built in WordPress. This makes them faster to add to pages or posts. In many cases, you can add a form to a page or post in just a few clicks. Plus, you only have to set a plugin up once.
We hope this Formidable Forms vs Jotform comparison has helped you learn more about each form builder. Both plugins work well, it's just down to your priorities and circumstances to choose the one best suited for you.
More WordPress plugin posts
---
Interested in giving Formidable Forms a try? Take a look at our range of plans, or find out more about our features and how much they can boost your website's effectiveness.