Want to send data from a WordPress website to Google Sheets automatically or on-demand? Behold: the WordPress Google Sheets integration that can buy back your time.
Our WordPress Google Sheets integration is unique because it helps with two important stages:
Data Collection: Collect data via customizable forms
Data Export: Send that data to Google Sheets easily
If you're looking for a Google sheets integration that:
Requires no coding,
Works flawlessly,
And is easy to set up & use…
Then look no further… here it is! All you need is Formidable Forms & our Google Sheets plugin.
---
---
Export Data to Google Sheets Easily
Simply put: this solution creates a Google Sheets integration with WordPress. After a quick set up, you'll have a direct link from a WordPress site to Google Sheets.
Here's how it works:
Connect a WordPress site & a Google Sheets account
Create a form to collect data
Link the form to a Google sheet
Work with your data in Google Sheets however you want
Each form you create can be linked to its own Google Sheet. As the form is filled out, the data is added to the selected sheet as a new row automatically!
If you already created forms and have collected data you'd like to send to Google Sheets, no problem! You can easily send the existing form entries after connecting the form to its own sheet with the push of a button.
And by the way, Formidable Forms allows you to export data manually at any time. You can export the data as a CSV file, then import that data into Google Sheets. All you need to do is open the document like you would any other spreadsheet file!
Note: This Google Sheets plugin doesn't currently support two-way sync. The information flows one-way from WordPress to Google Spreadsheets.
Collect Data via World-Class Forms
What data were you planning to send to Google Sheets? Most other WordPress plugins focus on analytical data sources like page views & clicks. But since that data can easily be fetched from Google Analytics, why double up?
Instead, picture this: collect data from ANY form you publish to the web. Then, send that data automatically (or manually) to Google Sheets.
Go ahead! Conduct a survey and send the data to a Google Sheet. Once the data is there, the sky's the limit. With this integration, you can easily create any forms to collect whatever data you need.
Forms are easy to work with too. Put them on any post and page with the WordPress block editor and you're set! No need for clunky embed codes. But you can also use handy shortcodes to place forms anywhere - in any theme or any page builder!
Think of a world where every piece of collected customer feedback is accessible in a Google sheets in real-time, whenever it's needed. No more fiddling around with exporting data and crafting reports by hand. Just set up forms in the WordPress dashboard, connect them to Google Sheets, and you are done.
The cherry on top is an super fast and easy-to-use drag-and-drop form builder. Unlocking the power of data from a WordPress website can truly be this effortless: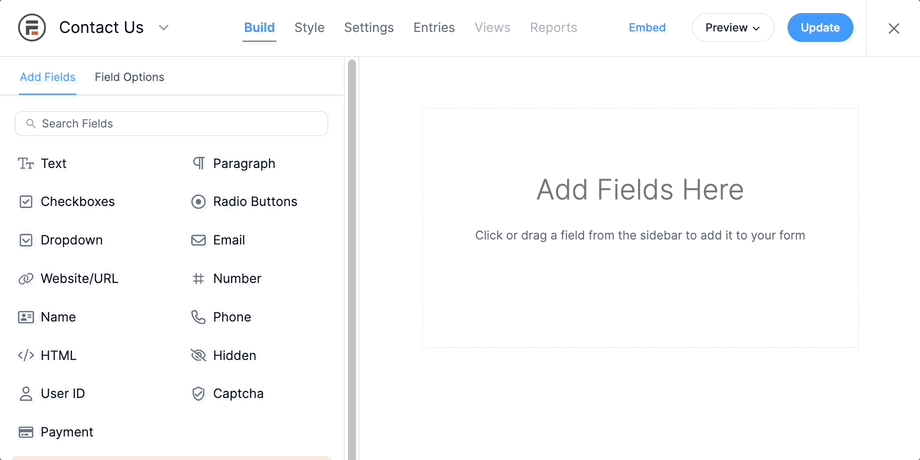 Why send WordPress data to Google Sheets?
Data automation is becoming standard, so this shouldn't be a surprise: over 50% of commercial enterprises use automated processes.
Here's the trouble: there are a lot of things to automate.
For those of you looking to get data from WordPress to Google Sheets, you know how powerful this is. Here are some examples.
↩️ Merge data from different sources into a single Google Sheet
You've got data in different places. If you can control all that data, then it could be merged into the same Google sheet. With this integration, you are now able to send data from WordPress forms too!
If you're creating marketing reports, it's not hard to imagine collecting data from your email platform, CRM, and WordPress all in the same sheet.
✨ Create automatic reports in Google Sheets
When your data is connected to Sheets, all the marketing reports you need can be automatically generated! Simply set up charts and reports how you want, then pull the raw data from another tab to generate them.
Using this method, creating a dashboard in Google Sheets is possible! When you get a new product review or survey response it will go directly to the sheets you define.
Send data to Google Data Studio via Google Sheets
It can often be difficult to get data into Google Data Studio. But if you have a dynamic Google sheet that is auto-collecting data from a WordPress site? Things just got a lot easier!
Create a searchable database in Google Sheets
Some people just love working in Google Sheets. And we can't blame them!
Imagine if you were able to collect all of customer reviews in a single sheet. Then you could search, sort, and do whatever spreadsheet magic you wish.
Note: it's also possible to create a searchable database in Formidable without connecting to Google Sheets. But if you want to use advanced formulas, then you may need a spreadsheet.
Here's how it works
Automate sheets… Google Drive… connect data there… my head is spinning!
Luckily, integrating with forms makes this very easy. It's as simple as pushing the publish button! Getting started from the WordPress dashboard is a piece of cake.
In a nutshell, here's how the integration works:
Each time a form is submitted, a new row is added to the sheet you define.
You can even map each form field to columns you define in a sheet.
Send form data to Sheets automatically or at any time on-demand.
Setup is easy too. Just follow these steps:
Step 1: Create Google API project
Step 2: Create a Google Spreadsheet Form
Step 3: Create the Google Sheets form action
The Google Sheets form action is the star of the show here. To create one, just click the button on the form settings page like so:
Then your action will be created - voila!
From here you can set the action name (3), the action trigger (4), the file and sheet you want to send data to (5,6) and which headers to map data to (7).
That's it! No files to publish. No coding at all. Just an intuitive interface that will save you tons of time.
Ready to get started?
You can try Formidable for 14 days, and if you don't love it we'll give you 100% of your money back. After all, it is the most powerful form builder around! Try it today - or get your feet wet with the fabulous free version.
This feature is included in the Formidable Business plan and higher.
New Customer Offer
Save up to $200
on your first year of Formidable Forms!
Get the Deal
14 day money back guarantee