Sick of struggling with surveys on your site? Here's how to create a survey in WordPress for free the easy way, plus a tool to supercharge your survey.
Approximate read time: 4 minutes
So you want to create captivating surveys for your WordPress site? Good news! It's easy to do, and you don't need to know how to code.
In this article, we're sharing the secrets of how to turn a simple form builder into a mighty survey tool for WordPress. 💪 Forget the days of complicated survey creation, expensive third-party platforms, and embed codes that never seem to work.
Simply drag and drop your survey questions into a form, and presto! 🪄✨ In just a few clicks, you'll have a beautifully crafted survey ready to gather insights and engage your audience.
Are you ready to supercharge your WordPress website with excellent, easy-to-make surveys?
Let's go!
Does WordPress have a survey tool?
WordPress does not have a built-in survey tool, but there are tons of WordPress survey plugins and online survey builders for adding surveys to WordPress sites.
Some of these survey tools are free; some are paid. And, of course, some are better than others.
Our favorite happens to be a WordPress survey plugin 🔌 called Formidable Forms.
Formidable's free survey plugin lets you make basic WordPress surveys for free — and includes unlimited responses!
And the premium version of Formidable offers more advanced survey question fields like NPS questions, Likert Scales, Star Ratings, and sliders. You also get real-time data analysis for survey responses! 📊
Get Our Advanced WordPress Survey Maker!
Curious how Formidable compares to other WordPress plugins like Gravity Forms or WPForms' survey plugin? Check out this roundup of the 10 best WordPress survey plugins.
Why use WordPress for surveys instead of survey platforms?
We often get asked, "How do I embed a survey in WordPress?".
These people probably used a third-party platform like SurveyMonkey to create their survey. And the answer usually involves a bit of code.
But the real question is: why use another platform when you can make a survey in WordPress?
Online survey platforms often come with limitations on the number of surveys, users, questions, and responses. 📋 😕 Plus, you'll have to handle some code and have little control over styling your survey.
On top of that, there are another three good reasons to steer clear of survey platforms if your site runs on WordPress:
🐌 More HTTP requests: External scripts slow down your site.
💰 More expensive: Survey platforms often cost more than WordPress plugins.
🚫 Not self-hosted: You may face data export restrictions with survey platforms.
Using a WordPress plugin like Formidable Forms solves these issues. Keep control of your survey data, reduce costs, and optimize your site.
How to create a survey form in WordPress for free
Let's start by creating a simple survey using the free version of our WordPress survey form builder.
Step 1: Install and activate Formidable Forms Lite
First, install Formidable Forms Lite on your WordPress site.
To do this, head to your WordPress Dashboard, and go to Plugins → Add New.
Next, search for "Formidable" and click the Install button. After it's installed, click Activate.
Or, click the button below to go directly to our free plugin page on WordPress.
Step 2: Create a survey form in WordPress
Now that you've installed Formidable, let's make our survey form.
From your WordPress dashboard, go to Formidable → Forms and click + Add New at the top of the page.

Pick Blank Form to build a survey from scratch.
Would you rather use one of our online survey templates to build your survey faster? Upgrade your form maker to our Business or Elite plan!
Name your survey form and then click Create to start building it.
Step 3: Add survey form fields
This brings you to Formidable's drag-and-drop form builder. Its visual editor makes creating your survey super simple!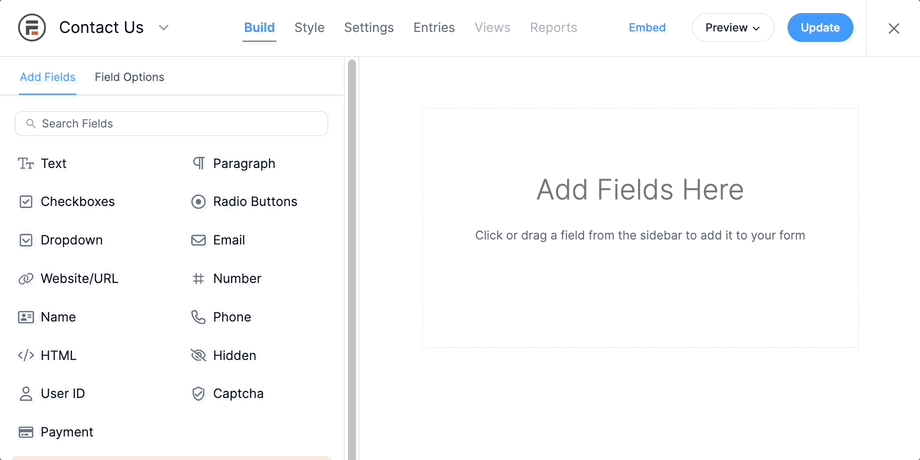 With this poll plugin, you can use the following form fields to create a survey for free:
Text field
Paragraph field
Dropdown field
Email notifications
Checkboxes
Radio buttons
Just drag and drop a form field to add that type of survey question to your form.
You can then click on a form field to adjust field options and personalize field descriptions, placeholder text, and more.
Then, click Update when you're done!
Step 4: Publish your survey form
Once you're happy with your survey, it's time to publish it!
Simply go to the WordPress page or post where you want to insert the survey and click the + add a new block in the editor.
Select the Formidable Forms block, then pick your survey form from the dropdown.
Need to insert your survey in a sidebar, footer, or other widget area on your website? No problem! Just copy and paste your survey's shortcode wherever you need it.
To find your form's shortcode, go to Formidable → Forms and click the embed icon <>.
And that's it! 🥳 Congrats, you now have a simple survey on your WordPress website for free!
Supercharge your WordPress survey form
Find your free survey form a bit basic? If you want to really upgrade your surveys, this next part's for you!
Now that you know how to create a survey in WordPress, it's time to kick it up a notch. Pick up a Formidable Forms pro license to unlock our advanced poll and survey options 🔓.
Our premium plugin gives you access to many more survey question types, including:
Star ratings
NPS survey fields
Smart forms with conditional logic
Plus, you get access to 15+ survey templates for WordPress and survey reports, charts, and graphs for survey results.
You can also take your survey form a step further by turning it into a modal survey or popup survey in WordPress.
So, are you ready to make some super surveys? Get our powerful WordPress form maker now.
---
Formidable Forms can handle your surveys plus a whole lot more. It's a WordPress form builder on steroids! If you're not already using it, get started with our free plugin or check out our full-featured premium plans.
Read more on how to create a survey