Want to put a survey on your WordPress site? In this post, we'll show you how to create a survey in WordPress for free in just a few clicks!
Approximate read time: 6 minutes
Wondering if you can create a survey within WordPress? The answer is yes! With a form builder, you can insert surveys into a WordPress site with ease.
In this article, we are going to show you how a WordPress form builder can become a powerful survey tool for your site. Building an online survey is actually not that difficult.
Just drag and drop your survey questions into a form. Voila! You've made a survey in just a few clicks. It really is that easy.
While it's true that there are dedicated WordPress survey plugins available, a survey is just a web form in disguise. Since every website relies on forms, there's no reason to have two plugins that do the same thing!
As a rule, if you want to speed up WordPress sites, you should always try to limit the number of plugins you have installed.
That doesn't mean that WordPress plugins made only for surveys are all bad. It's just that a solid form builder always has all the features that a WordPress survey plugin has.
In this tutorial, we'll show you how to create a survey online using our free WordPress plugin, Formidable Forms. Before that, let's quickly cover some survey basics.
👉 Skip ahead: How to add a survey form in WordPress (4 steps)
Why create a survey online using WordPress?
In this article, we're learning how to put a survey on a self-hosted WordPress website.
We already talked about form builders, but what about an external survey platform?
We're often asked: can I embed SurveyMonkey surveys on a WordPress page? The short answer is yes. But would you want to?
The trouble with online survey platforms is that they often have limits on the number of surveys, users, questions, and survey responses.
Besides that, we can think of three big reasons to avoid survey platforms:
More HTTP requests
More expensive
Not self-hosted
1. More HTTP requests
We mentioned earlier that too many plugins may slow load times. If you want to reduce HTTP requests on WordPress sites, you'll also need to limit external scripts.
Survey platforms need to place code into your site to function. This could slow your site down considerably.
2. More expensive
Most survey platforms are more expensive than a WordPress plugin. They are often more expensive if you have more users as well.
Formidable Forms, for example, only becomes more expensive when you need additional site licenses.
3. Not self-hosted
The best part of WordPress is that it is a self-hosted solution. That means that you control your data. Survey platforms are hosted in an external cloud.
This could pose no problems at all. But many survey platforms have restrictions on data exports. Some only allow you to export data with their most expensive plans.
A WordPress plugin like Formidable Forms lets you keep your data no matter what.
? Formidable does more than any other survey form builder.
---
Learn why Formidable the most powerful WordPress survey plugin available!
What kind of survey questions can you add to a survey form?
With a form builder like Formidable Forms, there aren't any limits to the types of survey questions you can add to a survey form.
With that in mind, let's quickly review the most common types of survey questions:
Open-ended questions: A question that leaves things open. Good for learning things you wouldn't think of on your own.
Closed-ended questions: Question requiring one-word answers. Typically a yes or no question.
Rating questions: Ask your audience to rate something. Ask for a rating from 1 to 5, or ask how many stars they would give.
Likert scale questions: A common type of question that usually asks how a person feels about something.
Multiple-choice questions: A survey question that gives people a few options to choose from.
Demographic questions: These questions can give your survey results more meaning by allowing the data to be segmented.
Most surveys consist of these types of questions, including the ever-popular NPS survey.
👉 Check out our Net Promoter Score template!
How to add a survey form in WordPress (4 steps)
Finally - let's learn how to make a survey in WordPress!
We can do this in just four steps:
Install and activate Formidable Forms
Create a survey form
Add survey fields
Publish your survey form
1. Install and activate Formidable Forms
In this tutorial, we are going to show you how to make a survey with our free WordPress plugin. Who doesn't love free? 😀
In truth, there are a lot of survey and poll add-ons to choose from. We just think a form builder is better. Try making a contact form with a survey-only plugin!
Our free plugin comes with a ton of options, but If you're serious about surveys, you might consider one of our premium plans. Formidable Basic starts at less than $7/month (billed annually).
The best part is you can try our plugin risk-free for 14 days. If you don't like it, we'll give you your money back - no questions asked.
Formidable Forms is about more than surveys. Our premium plans have lots of WordPress form features!
👉 Learn more: install & activate Formidable Forms Premium
Formidable Forms survey features: Free vs Paid
Here are the features we will show you today. These survey-building features are found in our free plugin:
Text Question Field
Paragraph Question Field
Dropdown Field

Email Notifications
Checkboxes & Radio Buttons

Using the above features, you can make a great survey.
Of course, if you want to make an epic survey with advanced options, here's a snapshot of our premium survey features:
Star Rating Field

Button Options

Scale Field

Whew! That's a lot. Just remember that you can make a pretty powerful survey with our free plugin. Now let's continue making a survey for your WordPress site.
2. Create a survey form
Now that you've installed Formidable, let's create our survey.
Go to Formidable → Forms and click + Add New at the top of the page.

Click Create Form under Blank Form.
Give your new survey form a name and click Create to start building it.
Or, if you prefer to start from a template, the Survey Form template is a good generic example to start from.
👉 More info: How to Create a Form in WordPress
3. Add survey fields
Once you've created a new form, we should add some survey fields.
By now you should be looking at Formidable's drag-and-drop form builder. From this interface, form design is simple.
In the free version, you'll be limited to the free fields we mentioned above.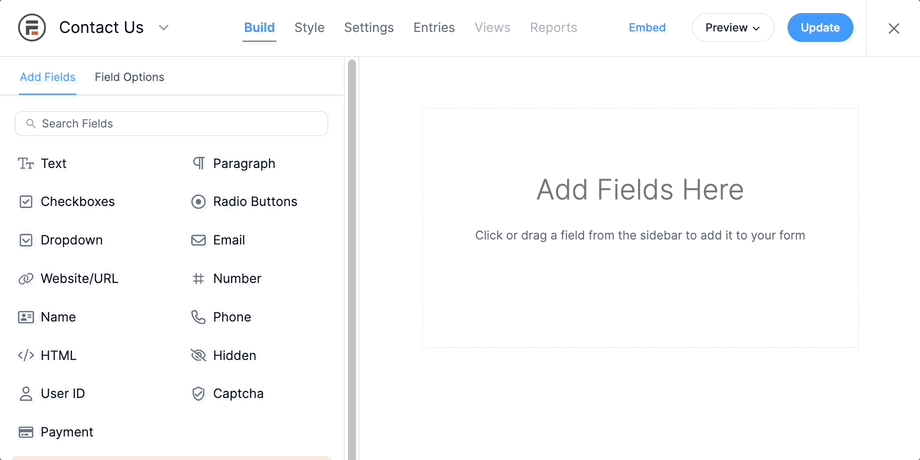 Go ahead and add your survey questions here, adjust field options, and click Update when you are finished!
4. Publish your survey form
Once you're happy with your survey, it's time to publish it. Here's how: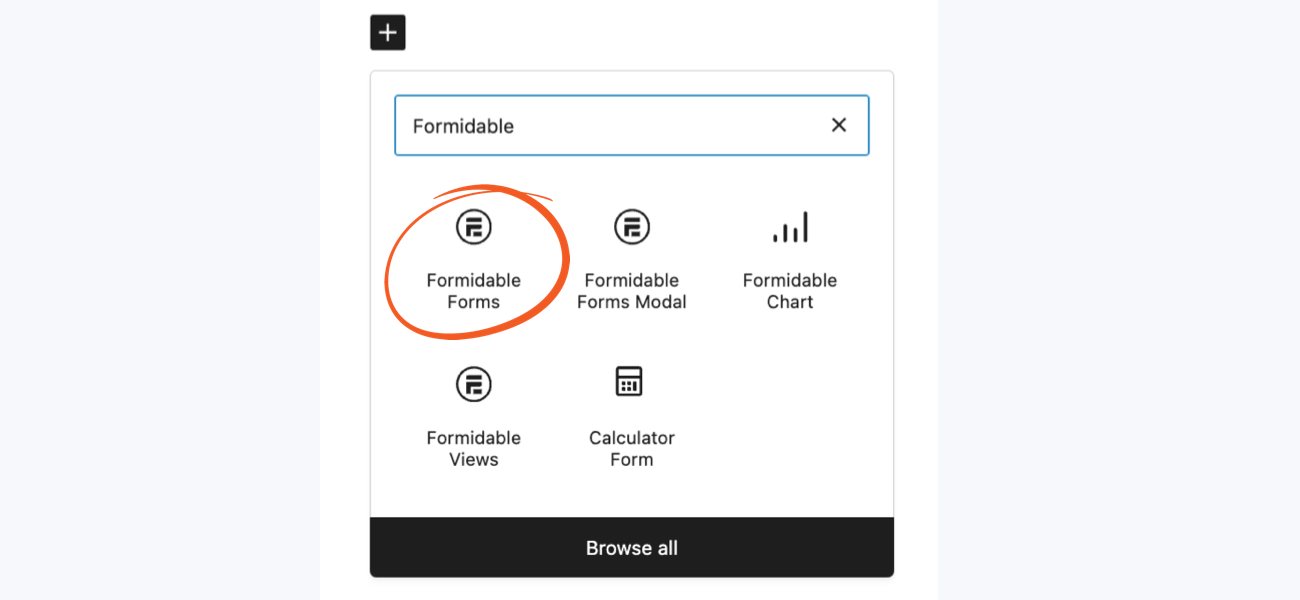 Wrapping up
That's all there is to it! Be sure to dig into the other options found in the Settings tab of the form builder. One thing you might consider with a survey form? Sending an email notification to all your survey respondents.
We hope you've enjoyed today's article. You're now one step closer to becoming the survey master you've always dreamed of being.
Want to get even more out of your surveys? Make a popup survey on WordPress.
Until next time!
---
Formidable Forms can handle your surveys plus a whole lot more. It's a WordPress form builder plugin on steroids! If you're not already using it, get started with our free plugin or check out our full-featured premium plans.
Read more survey & poll articles