Wondering how to create an online questionnaire for your WordPress website? With the right tool, it's easy! Follow along with this step-by-step tutorial for building a free online questionnaire.
Approximate read time: 4 minutes
Hoping to make an questionnaire for your WordPress site? With the right online questionnaire builder, it's easier than you think.
A questionnaire is a powerful tool for collecting focused information from visitors. In concept, they are a little different than a survey. Despite their differences, they can both be built in the same way.
Today we'll show you how to use a drag-and-drop form builder to create an online questionnaire in WordPress. The best part? It's totally free using our plugin, Formidable Forms.
First, we'll briefly cover how questionnaires differ from surveys. Then, we'll show you how to make an online questionnaire in just a few easy steps. Let's get to it!
What is the difference between a survey and a questionnaire?
There is a lot of confusion around the question "What are surveys and questionnaires?" Aren't they the same thing? If you thought so, you aren't the only one. Let's define these two terms.
A survey is a data collection tool, aimed at a wider audience. The goal of a survey is to look for behavior trends and data. Survey questions tend to be broader in focus.
A questionnaire is designed with a more narrow focus. The goal is usually to collect data from an individual with a singular purpose in mind.
👉 Learn more: How To Create a Survey in WordPress
Online questionnaires vs surveys: examples
Here's a questionnaire you may have taken before: a medical in-take questionnaire. When you go to a doctor's office for the first time, they may ask you to fill out a form. This form is designed to get your specific health information.
A survey has a broader goal of finding out how people feel. Imagine if that same doctor's office asked you to rate your visit and give your opinion on the doctor and the administration process. That's a survey!
Of course, these worlds often overlap. For example, remember that medical in-take questionnaire we talked about before? There is some useful data that can be analyzed if you collect enough of them.
If you analyze the data, you could learn why people are coming to visit your doctor's office. But you still wouldn't know anything about their opinions or attitudes. A questionnaire has a different focus than a survey.
We can also see how something can be both a survey and a questionnaire. Take the example of an NPS survey form. A Net Promoter Score is calculated by asking customers about their experience with your brand.
If we consider this as a survey, you're able to take a broad look at customer attitudes. But we can still consider this a questionnaire if the questions are focused around the individual.
How to create an online questionnaire in WordPress (3 steps)
By following our step by step approach, you'll learn how to create an online questionnaire on WordPress websites:
Install and activate Formidable Forms (it's free!)
Create and publish your online questionnaire
Enhance with Formidable premium (optional)
1. Install and activate Formidable Forms free online questionnaire builder
The first thing to do is to install Formidable Forms. We have a free WordPress plugin, so just head to the WordPress.org plugin directory and search for us there. Install and activate our plugin and you'll be set!
Besides questionnaires, Formidable can do a lot more. Use it to create a quiz that automatically displays the quiz result after a user finishes. Or you could create a poll and do the same thing!
You may not have thought about it, but using web forms is a great way to enhance blog posts. Having great content like quizzes and polls will attract more traffic & increase social shares.
👉 Learn more: Best WordPress Quiz Plugins
2. Create and publish your online questionnaire
Now that you've installed Formidable, let's make our questionnaire.
Go to Formidable → Forms and click + Add New at the top of the page.

Click + Blank Form. This is your new questionnaire, so name it whatever you want and click Create.
Add questionnaire fields
A questionnaire usually consists of a series of questions - of course!
To start adding questions, you just need to drag and drop fields from the left column over to the right.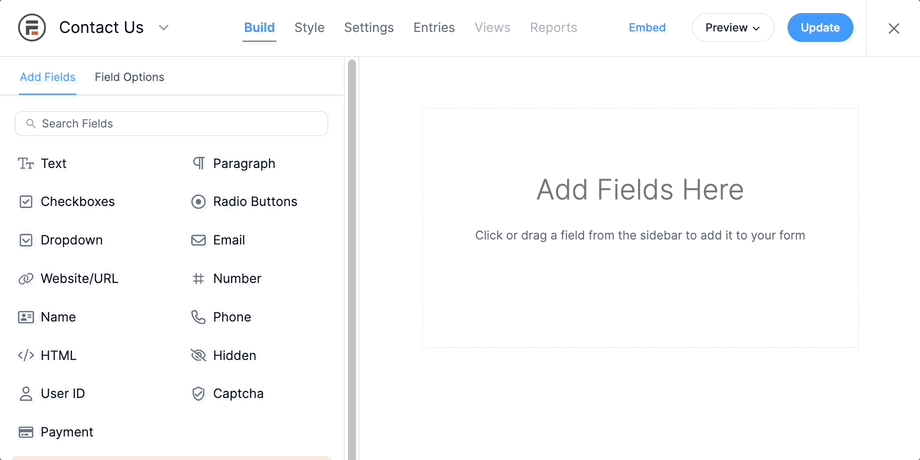 If you are using our free plugin, you could add questions using the following fields:
Text Question Field
Paragraph Question Field
Dropdown Field
Checkboxes & Radio Buttons
It's always a good idea to go for an engaging mix of questions. Nobody likes taking a boring questionnaire! You can add some multiple-choice questions too. Just don't add too many or it will start to feel like an exam.
And if you want to build your email list, you could add an email field as well. Of course, you'll probably want to ask people for their names as well.
With Formidable premium, you'll unlock even more powerful fields, like the star rating, Likert scale, sliders, and much more.
Publish your questionnaire
After you are finishing building your questionnaire, be sure to click the Update button, then go to the Settings tab.
Here's where you'll find the shortcode for your questionnaire. Copy this shortcode and paste it into any page, post, or widget. Voila! There's your questionnaire.
Of course, you might want to have a look around the settings to see what you can tweak. If you're stuck for ideas, check out our knowledge base. It's got hundreds of help docs to guide you.
Something simple to consider: the results page. Do you want users to go to a different page after they finish your questionnaire? Do you want to show them a specialized message based on their responses? It's all possible with Formidable.
3. Kick your questionnaire up a notch with Formidable premium (optional)
Some of you may be wondering how to make interactive questionnaires on WordPress sites. With Formidable Premium, there are several features that can really enhance the questionnaire experience.
Plus, you can try our premium plugin
risk-free
for 14-days! If you don't like it, we'll give you your money back - no questions asked.
One thing to keep in mind: Formidable does much more than just create questionnaires. Our premium plans have tons of advanced features! Use Formidable on your site to handle every contact form, signup form - even all your eCommerce forms.
With a multi-page form and a progress bar, your users will always know how many more questions remain. This will send form conversion rates through the roof!
With a questionnaire, there are no right answers. But there is a way to get better answers. By using smart forms with conditional logic, you can set up your forms to only ask the most important questions.
Formidable comes with a number of survey form templates, which can be easily edited to suit your needs.
Ready to create an online questionnaire?
That's it! As you can see, building a questionnaire using Formidable Forms is pretty easy. Our free plugin version is powerful enough to get you started. For those looking for more power, don't miss Formidable premium!
Thanks for stopping by. Remember to keep it locked to the Formidable blog for all things WordPress. Bye for now.

Learn more about questionnaires & surveys
---
While you can definitely create an online questionnaire for free using Formidable, our survey builder can take your forms to a whole new level. Check out Formidable premium today to get started.