Are you looking for a WPForms alternative? Read our comparison of Formidable Forms vs WPForms to help you decide on the best plugin for your project.
With so many WordPress form builders to choose from, how do you pick the right one for you?
Today, we've got a form builder comparison for you. We will be comparing a big name in the form building world – WPForms. Let's see how it compares with Formidable Forms and whether it is the best WPForms alternative.
👉 Read more: Best Free WordPress Form Plugins
What is Formidable Forms?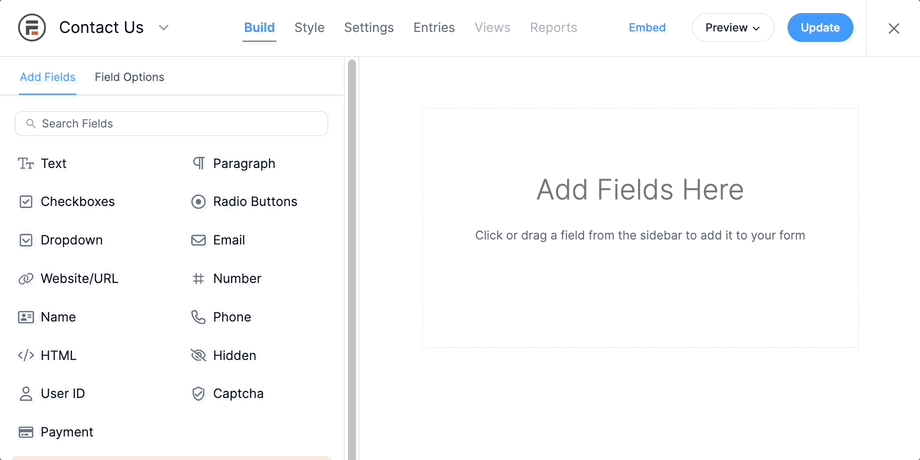 Formidable Forms is an open source drag and drop form builder. Unlike other WordPress form plugins, it gives you control over how to use collected form data.
It's an advanced form builder that lets you build complex forms for your WordPress website. It's also simple to use, no matter your level of HTML or coding experience. However, Formidable was designed to remove the limits for advanced WordPress users.
What is WPForms?
WPForms is a popular name in WordPress form building. It operates in a similar way to Formidable Forms because it's simple to use and has a drag and drop interface. WPForms is easy to learn and navigate because of its clean layout and emphasis on the user experience.
WPForms is designed beginners, while Formidable Forms is for more experienced users. However, both groups can find success with either plugin.
What should you look for in a WordPress form builder?
While there are many different topics we could cover, we want to get the basics down. We will be looking at four key areas to think about when choosing a form builder.
Ease of use
Support
Pricing
Features and integrations
Which one will come out on top: Formidable Forms vs WPForms? Keep reading to find out. Or for the quick version, here's a brief feature comparison:
WPForms
Formidable Forms
Free version saves form entries
No
Yes
Spam Protection: Token, reCaptcha,
Honeypot, Block list
Yes
Yes
Calculator forms
No
Yes
Create web applications
No
Yes
Front-end entry editing
No
Yes
Repeater field
No
Yes
Customize form HTML
No
Yes
Conversational forms
Yes
Yes
Offline form saving
Yes
No
Form abandonment partial entries
Yes
No
Quizzes
No
Yes
WooCommerce integration
No
Yes
Style forms
No
Yes
Ease of use
Both Formidable Forms and WPForms have a clean and clear drag and drop interface. They're designed to be easy to use for beginners and experienced users alike. You can build a simple contact form within minutes on either plugin.
While these plugins are easy to use, they don't limit those who already know a thing or two about form building.
WPForms is particularly easy to learn and use with its clean layout, simple user interface, and limited options. That makes it very user friendly for beginners in particular. If you're using the free WPForms, you should know that you won't have access to the form entries unless you upgrade.
The Formidable form builder has a simple, clean layout that's easy for site owners and developers alike. The best part is the simplicity without sacrificing flexibility and power.
Support
Formidable Forms has a lot of documentation available to help you get the most out of all the features and integrations. The tiered ticketing system means support response time is based on whatever plan you're on.
The bug reports and free-level users generally get a response within 24 hours. You can learn more about support and take a look at Formidable reviews on WordPress.org.
One thing that sets Formidable Forms apart is the community. We run a community forum for user-provided support, advice, and even development help.
WPForms runs a similar tiered ticketing system, with those on higher plans receiving faster support turnaround. They also have extensive documentation to help you learn more about the plugin and how to improve your forms.
You can take a look at WPForms reviews on WordPress.org to learn more.
Pricing
Both Formidable Forms and WPForms operate with a freemium model. This just means that there's a free version and a premium version.
Besides the lite version, Formidable Forms offers four paid forms plans to choose from. Prices range from $79 for 1 site, to $599 for an unlimited number of sites. Plus, if you'd like to build web apps, prices start at $279.
WPForms also has four paid plans to choose from (WPForms Pro, Plus, etc.). Prices range from $79 for 1 site to $599 for an unlimited number of sites.
Features and integrations
Formidable Forms offers a wide range of integrations and 3rd-party add-ons. It supports payment options like Stripe and PayPal, and CRM systems such as Salesforce, eCommerce tools, and email marketing platforms.
Formidable Forms offers more than just form-building capabilities. It can act as a multi-functional tool that streamlines different areas of your business from one place.
WPForms offers many similar integrations and add-ons, including brands such as OptinMonster and MonsterInsights. You can integrate with email marketing services, CRM systems, payment processors, and many more.
In terms of integrations, it's difficult to see who comes out on top. Both plugins offer great integration options.
Free fields
The free version of Formidable includes extra fields: User ID (links a user to an entry), website/URL, phone, HTML, and a hidden field. These are all paid fields in WPForms, except the User ID field that is unique to Formidable. The free WPForms version includes a number slider and a prebuilt checkbox for GDPR agreement.
Overall, the fields available in the free versions of WPForms and Formidable are pretty comparable. But you'll still get more value with Formidable as a WPForms free alternative.
Premium fields
In the paid plugins, Formidable includes a few fields that WPForms doesn't. These include a rich text field, scale, toggle, dynamic relationships, lookup, embedded/nested form, quiz score, tags, and repeater fields.
Repeater fields
Repeaters are a great way for your users to add details about several things at once. You can allow them as many rows as they need. It's perfect for adding job history in an application form or team mates in a sports registration form!
Look up data from other forms
When you need multiple forms to interact and share data behind the scenes, cascading Lookup fields can help. With Lookup fields, you can populate fields in your form with data from completely different forms. You can automatically retrieve values for dropdown, checkbox or radio fields.
For example, your users can search for car models by selecting the 'Make' in one dropdown field. This will then show only 'Models' related to the 'Make' selected. This is a time-saving alternative rather than showing all Models from all Makes on the website.
Why choose Formidable Forms as a WPForms alternative?
The feature that makes Formidable Forms stand out the most amongst the competition is the Formidable Views. Views allow you to display data you've collected through forms in a number of ways. It's commonly used for things like job boards, event calendars, and real estate listings.
Display data in graphs or charts
Another way Formidable Forms helps to do more with collected data is through graphs and charts. You can display form data in graphs or charts on any page, post, widget, or View. These charts work with live data, which automatically updates whenever new entries are received.
Sometimes your users need to update their own form submissions. Making this easy to do can be a great help which saves time for you and your users. With the front-end editing tool, you can choose which submissions are editable for your users. This could be a list of clickable entries, a View, or a user's only form entry.
You should have full control over how your form looks and functions. With customizable HTML, you can customize CSS classes, move form field descriptions, add custom javascript, and more.
Form calculations let you quickly set up basic and advanced calculations. If you sell products or services online, it helps to have an easy way to run calculations based on form selections. You can even connect this to payment forms to make the buying process even smoother.
Why choose the WPForms plugin?
Offline form saving and submission
We've all had that moment of panic when we try to submit a form and the connection suddenly goes. WPForms has this covered with an offline form submission add-on. This allows your users to save their form progress and then submit them when the internet connection is restored.
Form abandonment add-on
Anyone who builds forms will know just how frustrating it is to see forms being abandoned. WPForms has a form abandonment add-on for saving partial entries for following up with prospects that don't finish the form. This helps you improve your leads and traffic on your website and prompts users to continue with the form.
👉 Google Forms Alternatives: Typeform vs WPForms vs Formidable Forms
Which is right for you: Formidable Forms vs WPForms?
Either plugin is great based on ease of use, support, pricing, and the integrations.
Both options will help you create any type of online form. From solutions like order forms, donation forms, and surveys (like SurveyMonkey), to user registration forms and email subscription forms (like Wufoo). They let you create complex forms with conditional logic, star ratings, and post submissions. Both have lots of pre-built form templates available to deploy in clicks.
WPForms is great if you're new to building forms. The options are more limited to make it easy to learn.
However, if you want more control over using your data, Formidable Forms is a better WPForms alternative. The Views, graphs, and charts make it easy to display data in a number of interesting ways. Imagination is the only limit!
Another thing to bear in mind is that WPForms lacks many advanced features. This includes form calculations, cascading lookup fields, Repeaters, quizzes, and some automation and integrations. If you think you'll need any of those features, Formidable Forms is better suited to you.
We hope this Formidable Forms vs WPForms comparison has helped you make the best decision for your needs. Good luck in your search! We've compared other WordPress form builder plugins if you'd like more info.
---
Want to give Formidable Forms a go? Have a look through the list of features and integrations to learn more about what we can do for you. Get started free!
Read more form plugin comparisons