Do you want a way to make your forms quicker and easier to fill in for your users? You need lookup fields by Formidable Forms.
A lookup field gives you the power to let multiple forms interact behind the scenes. This allows you to dynamically populate field options & values with data from other forms. Your forms can automatically retrieve values & use them as options in a dropdown, radio, or checkbox field.
With lookup fields, you can create a dependent drop-down list (or chained selects) the easy way! Use data from another form to populate dropdowns, perform calculations, or display text in a new form. The resulting possibilities are limitless.
Lookup fields are included in all premium Formidable Forms plans.
Save up to $200
on your first year of Formidable Forms!
Cascading dropdown with lookup fields
Here's another example of lookup fields in action. Import vehicles & setup a year-make-model form in minutes. Why force your users to type everything manually?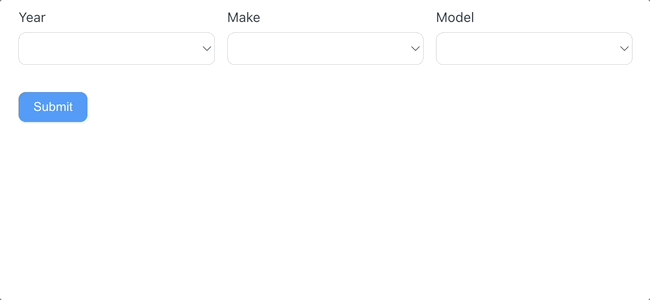 Lookup fields as simple or complex as you need
Lookup fields can also take the place of complex calculations for price estimates, quotes, and payment forms. Instead of complex calculations, simply filter down to a price or final value. As the user selects options from Lookup fields, it will ultimately display a final value in a text field.
How can you use cascading lookup fields?
Used properly, lookup fields will save your users a lot of time & hassle. Create user-friendly forms that lead to increased conversions & happier customers overall.
In some cases, cascading lookup fields can also take the the place of complex calculations needed for price estimates, quotes or payment forms.
Instead of using calculations, you can simply filter down to a final value or price. This works by taking a user selection in a form & using it to pull over relevant data from another form.
Precise Shipping Info
When entering contact or delivery information in a form e.g. state/city
eCommerce Functions
When you want to trigger automatic quotes tailored to specific user selections e.g. postage price based on location.
User Management
Pull customer lists from signup forms
Customer Feedback
Let users specify an order through an order list when leaving a review/complaint
How do our cascading lookup forms work?
Our Cascading lookup form fields are advanced but very easy to use. In no time at all, you could have two or more forms working together seamlessly behind the scenes.
There's no need to have tons of coding or HTML experience in order to build smart forms with Formidable Forms. Everything you need is simple to use and right at your fingertips.
All you need to do is add a lookup field to our drag and drop form builder then select the forms & fields you wish to use in your target list.
Ready to create the most advanced lookup forms imaginable? Formidable Forms is the answer. Revolutionize your website & user experience with Formidable lookup fields.
---
Start building advanced lookup forms today & empower your customers to do more. Get Formidable Forms now.