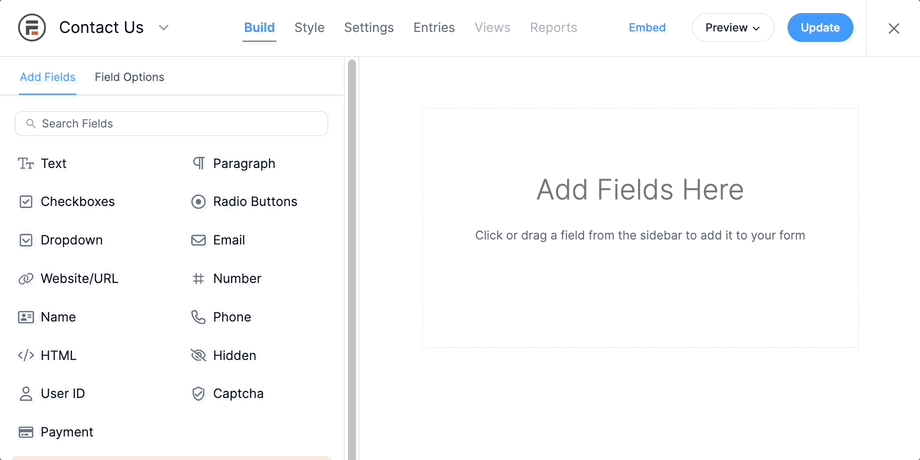 Do you want advanced forms that pull real results on your WordPress site?
Many business owners are easily put off by the thought of fiddling around with HTML and CSS to get the results they need. While you're busy growing a business, do you have time to learn new coding skills?
Sadly, this means that many people don't build the forms they would like and miss out on the big projects that require more advanced forms. This can lead to slower business growth, lower conversion rates, and stagnant profit figures. All because of the lack of technical know-how to build complex custom forms.
Luckily, Formidable Forms has a simple solution that will work wonders on your website and help you achieve the business and sales growth you want. Building forms and collecting form submissions in WordPress is fun with Formidable.
Drag and drop builders make complex WordPress forms simple
Formidable Forms is the most advanced WordPress form builder plugin that makes building forms simple. The refreshingly simple and easy-to-use form builder includes an intuitive drag and drop interface.
There's no need to code your forms from the ground up. You don't need years of CSS knowledge or back-end maintenance experience. (But you still get access to the form HTML if you want it.)
With the Formidable form builder, simply click or drag a new field into a form to build custom layouts that perfectly match your website needs. Add each element into the form, brick-by-brick. The simplest forms such as contact us forms can be built in minutes.
To save even more time, pull out one of our pre-built form templates. They are ready to use out of the box, but if you want to change it, just click to add or remove any of the fields. It's all fully customizable and flexible to your individual needs.
Drag and drop web forms you can rely on
Our form builder makes building complex sites easy. From directory sites to eCommerce and beyond - Formidable Forms powers over 300,000 WordPress sites across the world.
You don't need advanced HTML, CSS, JavaScript, and PHP knowledge to take advantage of this level of customization and functionality. Now it's available to all Formidable Forms users.
Also, you can use Formidable's Conditional Logic feature to create interactive online forms. Plus, there are lots of other features and add-ons to do much more.
All the drag and drop form elements you need
Create simple forms, complex forms, and any type of form you can imagine! Our free WordPress plugin can get you started with several powerful form fields. Once you outgrow the free version, you'll find there truly are no limits to what you can create.
Other contact form plugins cannot compete. Formidable allows you to create order forms, survey forms, and a lot more. We stand by our plugin with a 14-day money-back guarantee, so you can feel free to compare us against Ninja Forms, WPForms Lite, or any other drag and drop contact form for WordPress.
This feature is included in all Formidable versions.
New Customer Offer
Save up to $200
on your first year of Formidable Forms!
Get the Deal
14 day money back guarantee