Do you want to safely collect credit card payments from your own site without a full eCommerce solution? This Stripe WordPress plugin helps you do exactly that!
Create a Stripe payment form with any fields you choose, and set it to collect one-time or recurring credit card payments. In just a few minutes, you'll be collecting Stripe payments directly on your WordPress site.
Who is responsible for such wizardry? None other than Formidable Forms! Our form builder gives WordPress sites the power to set up Stripe payment gateways with ease. But there are many more features that ecommerce sites will love too.
Let's take a look at everything Formidable Forms + our Stripe Add-on can do!
---
---
? Why do you need a Stripe Plugin in WordPress?
Ask yourself the following questions:
Do you know how to do advanced coding?
Can you code API so that two apps can communicate with each other?
Do you feel your head starting to hurt?!
The fact is that setting up Stripe and WordPress from scratch is a challenging task. It's not impossible, but it would take a seasoned developer many hours to accomplish.
That's why we created our Stripe plugin. Why reinvent the wheel every time you want to sell something online? Now everybody can create an eCommerce website!
And if you are a busy developer, you can simply white label our solution - don't worry, we won't tell ?
? What does Formidable Forms' Stripe plugin do?
If you are building an eCommerce site in WordPress, here's what you need:
A form builder to create payment forms.
A connection to a payment processor (Stripe).
Access to several popular payment methods (credit card, Google pay, etc.).
Conditional automation to trigger ecommerce events (autoresponder emails for example).
If you can handle the above, then you can start accepting payments on your site. Good news! Formidable Forms' Stripe payments plugin can handle all that and more.
Sure there are other options to get eCommerce on your site. A plugin like Easy Digital Downloads can work. You can also use the WooCommerce Stripe payment gateway that is built into WooCommerce.
So why use Formidable, then? Two words: Flexibility & Simplicity.
With the above two alternatives, there are some major limitations. Unless you are only selling downloads you'll need more features. And if you choose WooCommerce, sometimes you'd be paying more than double the price of Formidable for the same functionality.
If you want more for less, Formidable Forms is here for it! Let's see how this mighty form builder works, shall we?
? How does our WordPress Stripe Plugin work?
Do you want an easy and powerful way to collect payments via Stripe on your WordPress site? Welcome ?
Here's how you can begin accepting credit card payments in WordPress:
Connect your WordPress site to your Stripe account
Create a payment form
Set up payment methods
Choose what happens after successful payment
Connect your WordPress site to your Stripe account
Connecting your WordPress site could be very difficult - OR - extremely easy. If you prefer the easy option, you're in the right place.
Unlike most payment plugins for WordPress, Formidable has a special advantage: we are official Stripe Partners. That means online stores using Formidable will have special privileges!
One of those privileges is easy set up. No need for confusing API keys or code. A few clicks will allow you to connect Stripe to WordPress with no trouble at all.
Create a payment form
Formidable's Stripe add-on lets you build custom payment forms on your WordPress website. The best part? It couldn't be more simple.
You build forms using Formidable's handy and easy-to-use form builder. Just drag and drop the fields you need, configure them, and publish.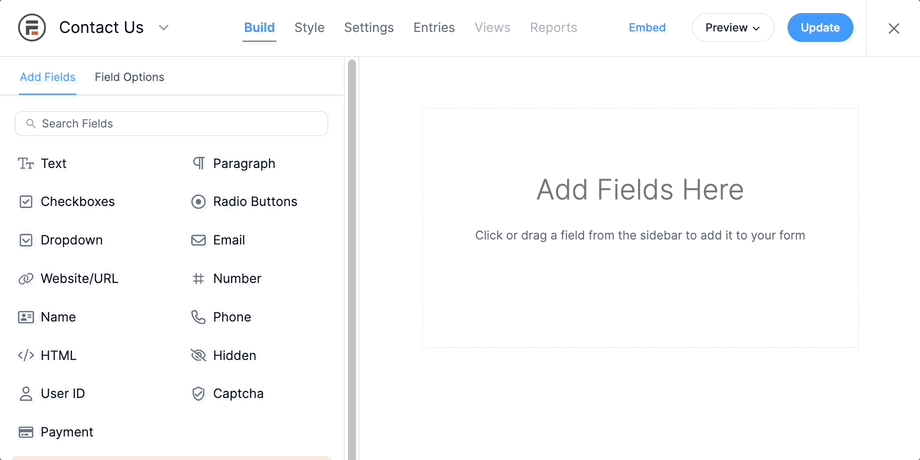 After you create your payment form, you'll set up your form actions. These are actions that are taken when a form is submitted. There's a number of options you can configure. Here, you can set up recurring or one-time payments too.
And by the way, if you ever hit a snag, we've got you covered in two ways:
A huge library of help docs (for Stripe and the many other features found in Formidable).
A dedicated and wonderful support team (these folks are seriously top-tier).
Plus, we also have several tutorial articles on our blog all about Stripe! Check them out here.
Set up payment methods
Want to use payment methods like credit cards, Apple Pay, and Google Pay? That's all possible with Formidable Forms. But we're taking it one step further too.
You might be used to creating payment buttons or buy now buttons. But why add an extra step for your users? With Formidable Forms, our Stripe payment forms include a feature called Stripe Link.
How do you use it? Just turn it on and leave the rest to us!
Stripe link allows your users to pay with the methods they have set up in their Link account. If they don't have a Link account, the user will create one on the spot. Their information will be connected to their email address for future use.
That means it will be easier for customers to come back and make repeat purchases. All they'll need to do is enter their email - that's it!
Learn more: How to Add Payment Gateways in WordPress
Choose what happens after successful payment
After payment goes through, what next? With Formidable Forms, you can set things up in a variety of ways.
For example, you can trigger an email notification action after payment successfully goes through. Emails can be sent to the customer or to you or a member of your team. Plus, you can connect to several of the top email services like MailChimp, ActiveCampaign, and many more!
In fact, there are dozens of integrations and features that can be configured to make almost anything happen after payment clears. And if that's not enough, you can use Formidable with Zapier for near unlimited possibilities.
One more thing: no matter what you create, when you use Formidable, your payments will be secure with PCI compliance, Secure 3D, and Strong Customer Authentication (SCA).
? How to get started with the Formidable Forms' Stripe Plugin
Getting started with Formidable and our Stripe Add-on is easy. All you need to do is head to our pricing page, download and install the plugin, and go!
Don't hesitate to get started either. Our 14-day money back guarantee lets you try everything out risk-free. If you don't like our solution, we'll refund your money, no questions asked. Let's build your next eCommerce site together.
This feature is included in the Formidable Business plan and higher.
New Customer Offer
Save up to $200
on your first year of Formidable Forms!
Get the Deal
14 day money back guarantee