With WordPress ACH payments, you can reduce payment processing costs for your online business and make checkout more convenient for your customers. Here's how!
Approximate read time: 5 minutes
We all know accepting online payments is important, but the fees can be crushing.
3% here, 5% there. That adds up to a lot of money lost to credit card companies and other payment gateways. 💸
But there's a better option for businesses based in the United States. 🇺🇸 It's called ACH payments, and it offers a lot of advantages compared to other payment methods.
Let's take a closer look at ACH and its benefits first, then we'll help you set it up on your site.
🤓 Already know all about ACH payments? Skip ahead to how to accept WordPress ACH payments.
What is an ACH payment?
An ACH, or Automated Clearing House, payment (aka an eCheck) is a way of electronically moving money from one bank account to another without a wire transfer or debit/credit card payment. 🏦
ACH is a bank-to-bank network in the United States commonly used for direct deposits (salaries) and direct debits (recurring subscriptions and monthly expenses, like rent or streaming services).
😴 But enough boring bank transfer talk!
How collecting ACH payments helps your business
Accepting ACH payments on WordPress boosts your bottom line in a few ways:
💰 Cut costs - ACH payments offer lower fees than credit/debit cards or digital wallet payments.
📈 Increase income - Easily accept payments from any customer with a US bank account. Plus, with ACH, you experience fewer failed payments too!
🔁 Set up recurring payments - Automatically debit subscription fees or other recurring charges. No more manually processing payments each month and no risk of expired card issues for customers.
Those are some pretty big benefits! Ready to take advantage of all that WordPress ACH payments have to offer?
How do I accept WordPress ACH payments?
To accept ACH payments on WordPress, your business must be based in the United States. You also need a Stripe merchant account and a Formidable Forms pro license key.
Accept WordPress ACH Payments with Formidable!
If you don't already have the plugin, here's how to install and activate Formidable on your website.
Then, all you have to do is toggle a few buttons, add an ACH payment form to your site, and watch the money roll in! 🤑
Step 1: Install and activate the Formidable Forms WordPress Stripe add-on
From your WordPress dashboard, head to Formidable → Add-Ons.
Search for the WordPress Stripe payments plugin, then click Install and Activate.
Step 2: Connect your WordPress site to Stripe
Don't worry; this is way easier than it sounds thanks to Formidable's easy Stripe integration. 🔌
Go to Formidable → Global Settings → Stripe.
Choose whether to use Stripe in test mode or as a live site, then click Connect to Stripe.
If you opt to start in test mode (always a good idea), you will need to return to this page later to turn off test mode and connect your site to Live Stripe.
Enter your email address to log into Stripe with your existing account or instantly create a new one.
Step 3: Activate ACH payments in Stripe
On your Stripe dashboard, head to Settings → Payment Methods.
Here, you should see a list of all the Stripe payment options available to you.
⚠️ Not seeing the list? You may need to select your platform (Formidable Forms) from the dropdown menu first.
Scroll down to the bottom of the list until you see the Bank Debits section. Click to Turn On ACH direct debits on your website, and you're good to go!
Lastly, let's head back to your WordPress website to add the ACH payment method to your payment form.
For more details on ACH Stripe payment methods, see our knowledge base article.
Step 4: Make a WordPress ACH payment form
Once you're back to your WordPress dashboard, go to FormidableForms → Forms → Add New to make a new form.
Next, click to create a payment form from scratch by selecting Blank Form or pick the Credit Card Payment form template instead to save some time.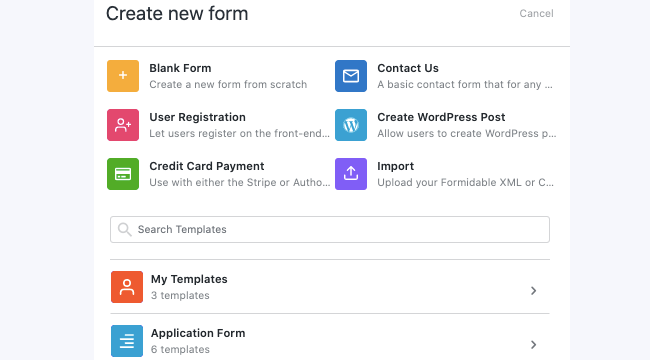 As soon as you name your form and click Create, it opens our WordPress drag-and-drop form builder.
Just pick the field you want from the form field tab on the left side and drag it into your form on the right side of the editor.
For a step-by-step guide to making your payment form, check out this post on how to create a Stripe payment form in WordPress.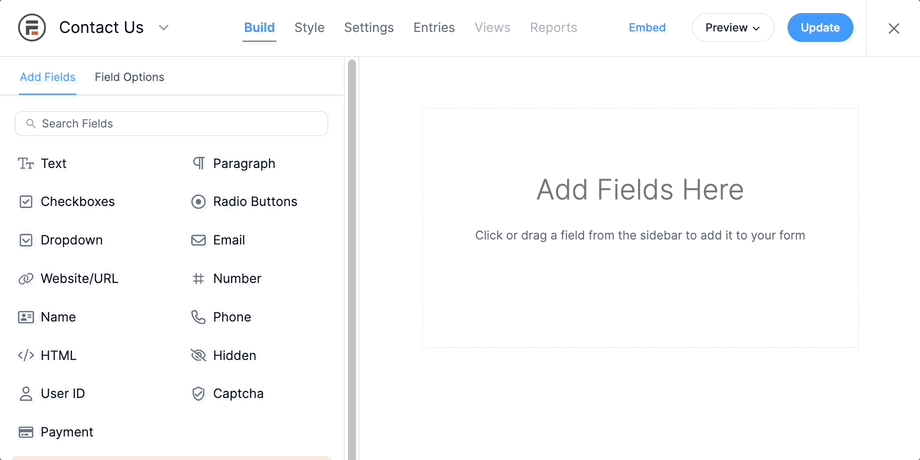 If you didn't use the Credit Card Payment template, be sure to add the Payment field to your form so users can enter their payment information! 💳
When you've finished building your form, click Update and then go into the form Settings tab.
Under Actions & Notifications, click the Collect a Payment tab. Then turn on the Enable Stripe link and additional payment methods option.
And finally, click Update again to save your form.
You did it! 🥳 You can now accept ACH payments on your website!
Just publish your payment form on the WordPress page or post of your choice, and you're all set!
The easiest way to accept WordPress ACH payments
So forget having to create a Stripe account, add a WP simple pay account, pay a monthly fee for Authorize.net, and pay for Gravity Forms plus its third-party payment plugins.
Instead, you can take payments through WordPress with Formidable Forms and free yourself from all kinds of costs and hassle. 😀
And it isn't only ACH payments you can accept by combining Stripe and Formidable. With our one plugin, you can accept more than 15 different Stripe payment options.
Oh, and did we mention Formidable works with both Stripe and WooCommerce too? 🤩
Yeah, our WordPress form maker does it all!
Read more on accepting payments in WordPress
---
Did you know that Formidable Forms is the best WordPress form builder available today? If you're not already using it, get started with our free plugin or the full-featured pro version!