Ready to boost your online earnings? Discover how to create a free Stripe payment form with Formidable Forms, no coding required. Start collecting payments today and unlock your business potential.
Approximate read time: 5 minutes
If you want to make money online, setting up an effortless online payment form and streamlined checkout process is key. And one of the best and easiest ways to accept payments on your website is by integrating Stripe, one of the world's most trusted online payment methods.
Plus, you can do it for free!
In this article, we're going to show you how to create a free Stripe payment form using Formidable Forms. It's a powerful free online payment form plugin that also helps you create newsletter signups, contact forms, calculators, and more.
Don't have Formidable yet? Click the button below to install the plugin!
Got the plugin? Great, let's get you earning online!
How to create a free online payment form in WordPress
To create a free payment form with Stripe integration, you just need the free Formidable Forms plugin plus a WordPress website! And no, you don't need any coding knowledge. 😉
Here's how simple it is:
To follow along with this tutorial and start collecting payments online for free — whether credit card payments, bank transfers, or digital wallet charges — check out the four steps below!
Step 1: Connect your site to Stripe
After installing Formidable Lite, head to Formidable → Global Settings → Stripe.
Select when to process one-time payments and then click to Connect to Stripe.
Since Formidable is an official Stripe partner, you only need to enter your email address to sign in to an existing Stripe account or create a new one.
Once you successfully log in or sign up, the wizard will take you right back to your WordPress dashboard.
And that's it! You've added a payment gateway to your website! 👏 Now you're ready to make an online order form.
Step 2: Create your Stripe form
So, how do you create a Stripe payment form?
From the backend of your WordPress website, go to Formidable → Forms and click + Add New.
To keep things fast and free, pick the Blank Form option to create your form from scratch. Don't worry, it's super simple!

Want to make things even easier? Upgrade to Formidable Pro for access to hundreds of pre-built form templates, including calculator templates, donation form templates, payment form templates, and payment authorization form templates.
Next, give your new form a name and click Create to open the drag and drop form builder.
Here, simply drag and drop form fields into your form. Change the order, layout, labels, and more. All in the click of a button!
To create a basic Stripe payment form, you'll want to add the following fields at least:
🪪 Name field
✉️ Email field
💳 Payment field
As soon as you insert the Payment field, you'll see the message "⚠️This field is not set up yet." You can ignore this for now — we'll take care of it in the next step!
When you're done making your form, save it by clicking the blue Update button in the upper right.
Step 3: Set up your form to collect payments
Alright, here's where the magic happens! 🪄
At the top of the form builder, go to Settings → Actions & Notifications. Then select Collect a Payment.
Scroll down to set up the payment details, including payment amount, currency, one-time vs. recurring payment, free trial options, etc.
While you're on this screen, it's also a good idea to Enable Stripe Link and additional payment methods. This lets you accept more payment options on your website, which is always a win with customers, and it provides strong customer authentication features, too!
👉 Learn more about Stripe Link.
After your form actions are all ready to go, it's time to move on to the final step!
Step 4: Embed the payment form on your website
Almost done! Just a few more clicks to create a free payment page, and you'll be on your way!
The last thing to do is to open the post or page where you want to collect payments. Click the + icon to add a new block in the page editor and choose the Formidable Forms block.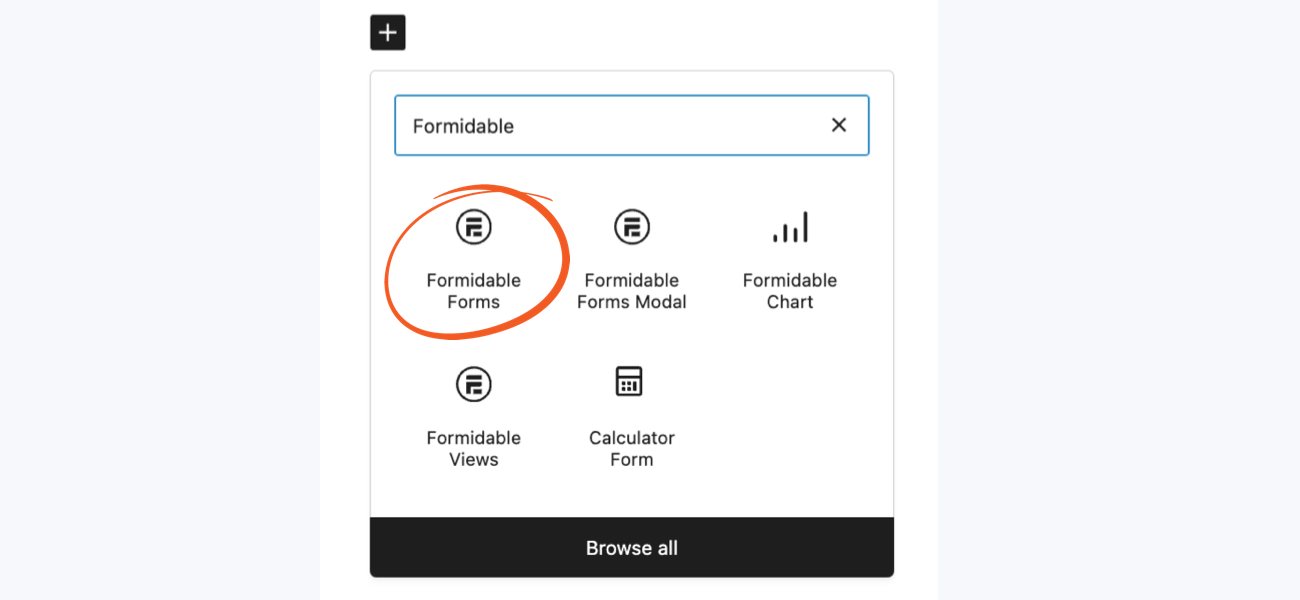 Select your form in the dropdown, then Update or Publish the page. And there you go! You can now receive free payments online! 💸
Ready to make your free Stripe payment form?
Way to go, you made it through! That wasn't so bad, right? 😊
In just a few simple steps, you turned your website into a money-making machine!
Thanks to Stripe and Formidable Forms, you now have an affordable, hassle-free online payment solution that works great for both you and your customers.
So, are you ready to start accepting Stripe payments today? Grab Formidable and get earning!
For more online payment info, check out our tips and tutorials over on Facebook, Twitter, and YouTube.
---
Did you know Formidable Forms is the fastest WordPress form builder available today? If you're not already using it, get started with our free plugin or try our full-featured form maker!
Read more from the Formidable blog