Wondering how to create order forms in WordPress? A form builder plugin can help! Let's learn how to create a simple order form in this step by step guide.
Need to create a simple order form? Well, you're in luck! With a form builder plugin for your WordPress site, you'll have everything you need to start taking customer orders.
Oh, you need to create advanced order forms too? No problem! Our solution has payment gateways like PayPal and Stripe built-in. It also gives you the ability to send emails automatically after your order form accepts payments.
The best part is this: even if you aren't super technical, we promise you'll be able to start collecting orders on your site in no time! If you can control plugins from your WordPress dashboard, then you can handle this.
So today, we're going to show you how to create an order form on your WordPress site. We'll be using our very own plugin, Formidable Forms. Before we show you how to build your order form, let's take a closer look at Formidable to see if it's right for you.
The best order form plugin for WordPress
What makes Formidable Forms the best forms plugin for building order forms? If you want a powerful plugin that is also easy to use, Formidable is exactly that. Here's why:
Pricing fields
A form builder is only as good as the field options one can build with. Formidable Forms has all the payment fields you need to manage orders. It all starts with pricing fields: product, quantity, and total. With these fields, you'll be able to create order forms that behave just as you'd expect with very little effort.
Even more order form fields
Advanced order forms might need some more powerful fields. Formidable has those too! The most useful fields for order forms include:
Text & paragraph fields
Date fields (with date picker calendar)
Toggle fields
Repeater
File upload field
Much more!
Advanced field calculations & math
Did you know you can create order forms that calculate prices within an entire form? Yep! Here's a simple example:
Cascading lookup fields to avoid math
There may be order forms that have set prices based on the users' selection. One way to set these up? Use cascading lookup fields. It takes a bit of work to set up, but this method is often less complicated and more reliable than doing math.
Dynamic forms with conditional logic
If you want to make your forms more functional, you only need to show users the more relevant parts. In the case of an order form, you may ask users if they have a different billing and shipping address. Using conditional logic, you can choose to only show the 2nd address field to users who have different addresses.
The best payment gateways for online payments
It has been said that 40% of online buyers feel better purchasing from an online merchant who offers multiple payment gateways. Formidable Forms has all the major gateways including PayPal, Stripe, and Authorize.net.
Account registration during the ordering process
Two birds, one stone! Collect order and register a new user all at once with Formidable's user-registration add-on.
Learn more: The Best Online Order Form Creator for WordPress
Who can use the Formidable order form builder?
The short answer to the above question: anybody! But if you checked out the features above, you might have noticed something... there are a whole lot of possibilities!
What about my existing WooCommerce setup?
Some of you may be wondering one thing though. What if you already have a WooCommerce setup? WooCommerce is great, but there are some pesky details that can slow down a budding entrepreneur.
We're happy to say that Formidable Forms can actually integrate directly with WooCommerce, giving you great power and flexibility where WooCommerce falls short. Here are a few more bits of info about our WooCommerce add-on:
Are there any limits?
Sometimes you buy an app or a plugin and find out later there are some serious limits to what you can do. Limits on email notifications, number of orders, and features are common.
With Formidable Forms, you'll actually get the opposite of limits! In fact, even our free WordPress plugin allows you to create unlimited forms. But when you get one of our premium plans, you'll end up with more than you'd think.
For starters, Formidable Forms is a form builder. That means you can build order forms, contact forms, and everything in between! Since we listed so many features above already, we will spare you the details. Just be rest assured you'll be getting way more than just an order form builder.
What kinds of order forms can I create?
Remember when we said there were no limits? We meant it! You can use Formidable to sell digital downloads, physical products, written articles, subscriptions, and whatever else you can think of.
Our knowledgebase and blog are full of articles that can help you get started. For example, learn how to create a custom t-shirt WooCommerce order form in no time flat. If you are running a restaurant, check out our guide on making a pizza order form, an online restaurant menu, or a food order form.
Feeling hungry yet?
How to create order forms in WordPress
Before we get started with this, let's consider that there are probably two major types of order forms. Ones that collect money, and ones that don't. For our tutorial today, we'll show you how to build one that uses payment gateways to accept money.
We'll follow these steps on our way towards creating a WordPress order form:
Install and activate Formidable Forms
Install and activate the PayPal add-on
Create a new form
Add order form fields
Publish your form
1. Install and activate Formidable Forms
To get the most out of our form builder for order forms, you'll need the Business plan or higher. This plan unlocks the PayPal add-on, among many other features.
Button to business pricing
The best part is you can try our plugin risk-free for 14-days. If you don't like it, we'll give you your money back - no questions asked.
2. Install and activate the PayPal add-on
In your WordPress admin, go to Formidable → Add-Ons and click the Install button for the PayPal forms plugin for PayPal Standard.
Now that the PayPal forms plugin is activated, go to Formidable → Global Settings and click the PayPal tab.
Insert your PayPal email address and update any other settings. For live sites, make sure the PayPal environment is set to Live. If not, all users will be asked to create PayPal accounts.
For this to work properly, you'll also need to set up instant payment notifications within PayPal. For more info on that, go here.
3. Create a new form
Go to Formidable → Forms and click Add New at the top of the page.

Click the Blank Form option.

Give your new form a name and click Create to start building your form.

4. Add order form fields
Now we want to add some form fields to our form. The good news is this is very easy. Just drag and drop the fields you want from left to right. That's it!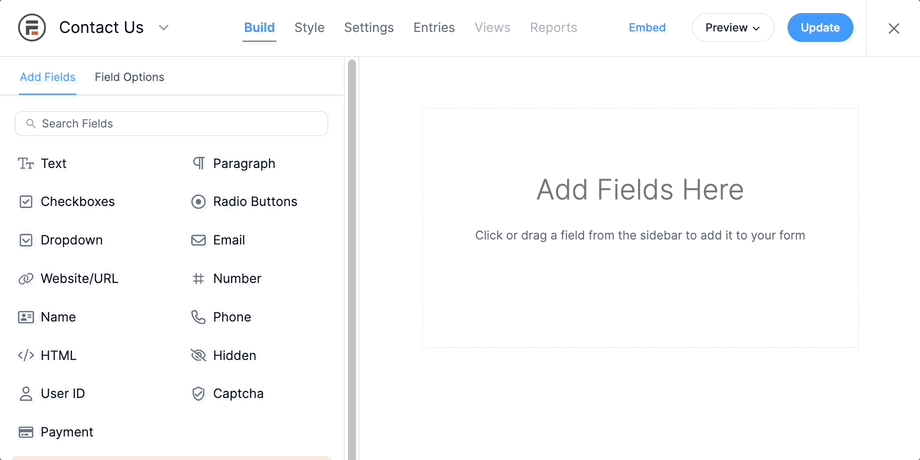 Add the fields you need and click Update to save your form. Since this is an order form, the fields you add will depend on what you are ordering. Ask yourself these questions to get started in the right direction:
Are your prices set? If so, you could use a dropdown or a radio button field to let users choose from predefined choices.
Are people able to buy multiple items? If yes, you might need to use field calculations to add up prices based on the selections made in the form.
Do products have more than one variable? If you are selling t-shirts, there could be a few variables like quantity, size, and others. In this case, you might consider using pricing fields.
There are many ways to create an order form, so hop to it! Experiment and see how everything works together. Hopefully, this will be the 1st order form of many that you build.
5. Set up your form to accept PayPal payments
Once you are happy with your order form, the last step before publishing it is to configure the PayPal form settings. Of course, if you don't want your form to collect payments, you can skip this and consider your newly created form done!
To set up PayPal as your payment option, we are going to edit our form actions. To do that, Click on Settings → Form Actions → PayPal.
The next steps you take to configure your payment settings will depend on a few different variables. To see all your options, check out our knowledgebase article on PayPal for more details.
And don't forget that our support team is standing by to assist if you ever hit a snag!
6. Publish your form
Now all that's left to do is publish your order form. In Formidable, there are many ways you can achieve this:
Insert the form shortcode manually
Using a Gutenberg form block
Use the Formidable widget to display a form in a sidebar or any widget area
Wrapping up
There you go - order forms aren't that complicated are they? All it takes is the right plugin and a little determination. We hope you've found this tutorial useful. Stick to the Formidable blog for all things WordPress! See ya.
Read more articles about order forms
---
Not using Formidable Forms yet? Take a look at more form builder features. Formidable can help you create the forms you need with an easy drag and drop form builder.