Wondering how to create an order form in WordPress? A form builder plugin can help! Let's learn how to create a simple order form in this step-by-step guide.
Are you selling a product or service? Then your order form is the most essential part of your website. If customers can't place orders, you don't have much of a business.
But you don't know how to code an order form.
And payment forms may look simple on the surface, but they're not underneath.
We've come to help, though. With this post, you'll learn how to create a simple order form in WordPress in a few steps.
But before we get there, let's discuss why your WordPress product order form is so important.
Wait, why do I need a WordPress order form builder?
WordPress order forms are your primary source of business from your website. That much is simple.
But have you ever used a payment form and had issues with it? The layout was strange; sometimes, the buttons didn't work, or your payment wouldn't go through.
We have, and we ended up leaving the site without the product.
You don't want that, do you?
And that's where a form builder comes in. These builders make it simple for you to create a beautiful form and ensure everything works properly. No code needed.
This saves you time, money, and, most importantly, stress.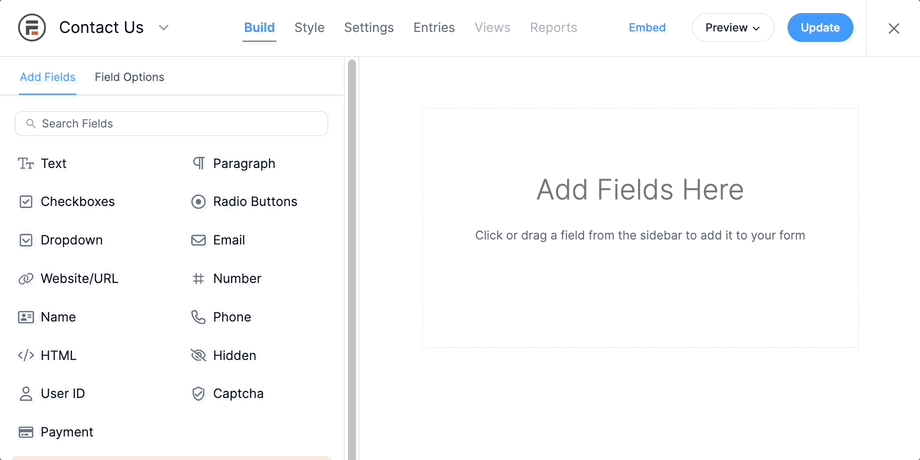 You could hire a programmer to develop something for you, but that's expensive. And it has to be compatible with your website's theme.
If that theme updates, you're at risk of breaking your form. So, we hope you have that programmer on speed dial because you'll be calling them often.
But a form builder is a much better (and cheaper) option.
And the best form builders don't just build WordPress simple order forms. That would be too boring.
There are plenty of options: WPForms, Gravity Forms, and more.
But, the best order form plugins offer features that complement users' needs. And one form builder does that better than all the others.
Formidable Forms.
Read on to see how to make an order form with our simple form builder.
How to create an order form in WordPress
Okay, but your primary concern is actually creating a WordPress online order form, right?
So, we'll show you how to do that. We're warning you, though. It's incredibly easy with Formidable.
There are three steps:
For a preview, here's the type of order form you can create in Formidable:
Let's get into it.
Step 1. Install and activate Formidable Forms
So, we'll be upfront with you. You'll need our Business or Elite Plans to add PayPal or Stripe integration. PayPal comes in Business, and Stripe comes in Elite.
We understand some hesitation in having to pay for a form plugin. But, the functionality it offers will pay for itself with the increased orders you receive.
Plus, you have 14 days to try it. If you don't like it, get your money back.
Once installed and activated, you'll want to set up your payment integration. No matter the method you choose, setup is simple.
In your WordPress dashboard, go to Formidable → Add-ons, find your add-on, click Install, then Activate.
Next, go to Formidable → Global Settings → PayPal, Stripe, etc.
For PayPal, enter your email address and update your settings.
For Stripe, click Connect to Stripe and follow the instructions.
Okay, you've got your payment systems connected.
Next, let's head into creating an order form.
Step 2. Create an order form in WordPress
You have two options when creating your form:
Create your own personalized form
Use one of our pre-built templates
For our purposes, we'll cover using a Blank Form.
Go to Formidable → Forms and click Add New. Here, you'll see a handful of our templates. Choose or search for Blank Form.
Name your form, give it a description, then click Create.
Now we'll want to drag some fields to our form. The choice depends on what you want to create that suits your needs.
For us, let's include a name, email, phone, address, and some radio buttons for the item the customer wants.
Want to know something really cool?
You can use Formidable's calculator abilities. So, the total of the customer's order is shown at the bottom above the submit button.
This provides an easy way for the customer to see what they're buying and automatically updates as they add, change, or remove items.
Seriously, did you know a form builder could do this much?
Once you're finished with your form. Click Update. You can preview it if you want to see what it looks like by clicking Preview.
Next, we want to connect your payment integration. To do this, go to Settings → Actions & Notifications. Select your payment integration and adjust the settings. That's it!
Step 3: Display your order form
Now, displaying your form is simple. Go to the post or page you want to show the form and add a WordPress block. Then, search Formidable.
Choose the Formidable block and select the form you created from the dropdown menu.
Update the post/page, and that's it! Your form is now visible to your website visitors.
We said it was simple, didn't we?
Why Formidable Forms is the best plugin for your online order form in WordPress
Having a working form is essential, but it's also the easiest part of what Formidable does.
As we mentioned, the best form builders do more than only build forms.
So, what if you receive a wholesale order? Or what if you want to adjust other form options?
That's where Formidable Forms comes in.
We want to give you features that make your job easier and more effective. So, here are just a few of the features that complement your product order form in WordPress.
Create an order form in WordPress quickly
You're running a business, not learning code development. You don't have the time to learn a new piece of software.
So, don't.
Formidable Forms drag-and-drop builder takes no time to learn (it takes even less time with our order form template in WordPress).
You simply click on your field options and drag them to the form. That's it.
Like magic, you have a new form created in seconds.
And you're not only using order forms on your website if we had to guess. So, no matter what form you need, it's ready.
Payment, survey, contact form; it's all made easy with our simple form builder.
Customization is just as easy. Change the color of your form, the border size, buttons, and anything else you can see. All it takes is a couple of clicks of your mouse.
And creating a payment-specific form is even easier with our eCommerce pricing fields.
But, what do you do with that information once you receive your order?
How about saving it into a PDF 📁?
Send your order forms to a PDF
Want to have your order form entries put into a PDF as soon as the form submits? That's easy with Formidable's PDF add-on.
The better question is what you want to do with your PDF after it's created.
Download it for your records, send it as an email notification, or display it as a link; these are all options with our plugin.
Not many form builders offer this functionality, but Formidable does.
Link to other services easily
What do you use for accepting payments? Stripe, PayPal, Authorize.net? We have a payment options integration ready to handle whatever way you collect orders.
But it doesn't stop there. You can continue to use that data!
Use QuickBooks? We have a connection for that.
Google Suite? It's here for you.
We have thousands of integrations at your fingertips; you just need to connect yours.
Conclusion
We don't know about you, but we're excited! We love teaching people everything Formidable Forms can do, and this is just one of many possibilities.
Today's post taught you how to create a WordPress order form (with payment) for your WordPress site. But you can make a WordPress order form without payment also. And you can display simple confirmation messages for customers.
That's the power of Formidable Forms, the best WordPress order form plugin.
But we bet that order forms aren't the only thing on your mind. If you're looking to create order forms, you probably want a way to keep track of the orders themselves.
And there's no better way to do that than by converting your form entries to PDF.
Last, if you're on social media, follow us on Twitter, Facebook, and YouTube for more WordPress tips!
Read more articles about order forms
---