Looking for the ultimate online order form creator for WordPress? Formidable is the feature-packed WordPress order form builder your website needs.

On the hunt for an online order form creator? If you run a WordPress website, you're in luck. Formidable Forms is the most powerful WordPress form plugin available. It's a total website solution that can create contact forms and order forms alike.
In this post, we're going to show you all the features that make Formidable the WordPress order form builder of choice. We'll highlight what makes this plugin the simplest choice for online stores worldwide.
Your next online order form WordPress plugin
There are hundreds of different applications to choose from when it comes to online sales. How do you know which WordPress order form plugin is best? It's all about the features.
Simply put, you want a powerful tool that is also easy to use. Your online store may start small. But as it grows, you need an online order form builder that can grow with it. Formidable Forms is flexible, easy to use, and packed with advanced features.
In this feature rundown, we'll show you why Formidable is the online order form creator built for serious web businesses. Soon you'll see why Formidable makes things easy for both you & your customers.
Virtually unlimited form fields and options
If you build it, they will come. Well, it kind of depends on what you're working with. With Formidable, you'll have all the form fields needed to make a customer order form shine.
Pricing fields
If you are selling products in an eCommerce marketplace, check out our pricing fields. It doesn't get any simpler than this. Add your products directly into Formidable, set price & other variables - that's it!
For even more control, add a quantity field and total field so users can buy as many products as they want. Set a maximum or minimum purchase amount. Easy.
Check out the product order form demo or the girl scout cookie order form to see how it works. You can even create custom WooCommerce order forms.
Tons of form fields for perfect order forms
Want to add even more product options? Use dropdown fields or checkboxes to restrict users to preset options.

Text and paragraph fields can be used for more inputs and number fields and URL fields for specific input types. This lets your audience tell you exactly what they need in the easiest way possible. Delivery instructions, special requirements - you name it.
Date fields can be used for reservation forms. Allow users to set their pickup date, desired delivery date, travel date, or whatever you choose!
Toggle fields allow users to easily select optional extras. Allow buyers to easily flip between two color choices.
Repeaters allow easy and quick entry of details for multiple products, or multiple travelers in a group. This is great for pizza order forms and other food order forms.
The file upload field allows your users to upload documents or artwork for their custom orders. Want to allow users to upload to Dropbox, Google Drive, or Box? Just connect your order forms to Zapier and you are set.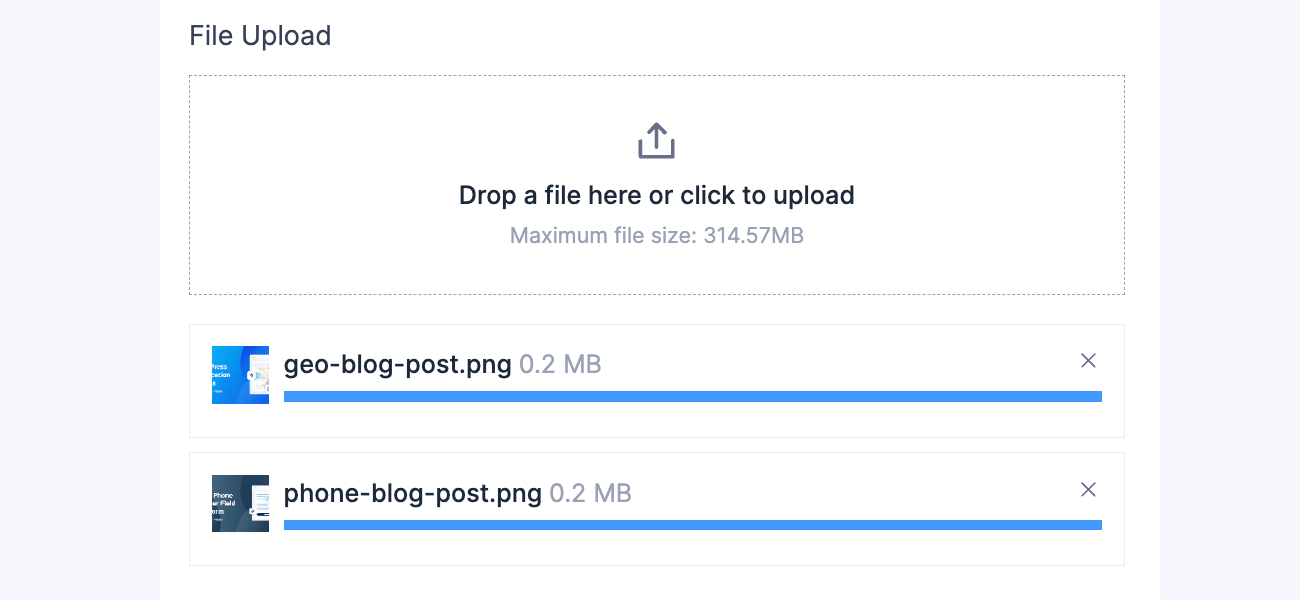 Simple order forms that calculate however you want
We already talked about Formidable's standard pricing fields. Those will be able to power simple WordPress order forms easily. But as we said, Formidable is the best online order form creator - so how could we stop there?
Formidable offers two other methods to calculate total prices in order forms. While each has its own unique benefits, these methods are completely different.
Advanced field calculations & math
The first additional method uses field calculations and math. Separate values allow you to assign a price to each option in your purchase form. These values can be used in calculations to display a total.
This means you can build online order forms that calculate prices across your entire form. How does this work? You could add to a total based on variables that your customer defines. Take a look at the fundraiser order form or the example below:
By allowing your customers to calculate the area of their yard, you can easily provide them with an instant online quote. The total area of their yard can be set up to change the total price of the grass-laying service.
You could even allow customers to add some extras using checkboxes or radio buttons. Each extra option checked will add to the total price. The sky is the limit!
Cascading lookup fields to avoid math
The second additional method avoids calculations & math in favor of cascading lookup fields. This method is fantastic for online forms where the math is complex. In real-world situations, it can be hard to get math that covers every situation.
Bulk discounts, shipping costs, and service charges may be charged at rates that often seem random. When these rates have no direct relation to any of the figures in your form, math calculations are tough to implement.
Cascading lookup fields allow you to return a value without using math for ultimate flexibility. You could build a form that references a price sheet too. That way, you can update your price sheet and your forms will automatically follow.
Maybe you run a hotel or B&B where prices change seasonally? Maybe you want to combine set prices along with calculated add-ons. There is no end to what's possible with Formidable's online order form creator.
? Read more: Build a WordPress Quote Request Form Using Lookup Fields
Conditional logic for dynamic order forms
Want to make your online order form more powerful? Use conditional logic! Display options based on events.
The longer and more complicated your form is, the more people will avoid it. But sometimes additional details and options are needed. With conditional logic, you get the best of both worlds. Sounds a good deal, right?
Selections in the form make new fields or sections visible! For example, do you have a minimum order quantity before you offer custom branding or packaging? You can hide these extra options with conditional logic until the order quantity field exceeds the threshold.
Optional customization of products is another area that conditional logic is useful. In these cases, you can hide the customization section of your form when it first loads. If your user selects the "Customize" option, additional fields will become visible. This simplifies your form, improves user experience, and leads to more conversions overall.
Online payments from the best payment gateways
Did you know that offering a choice of payment gateways can improve sales? Research has shown that 50% of regular online shoppers would cancel their purchases if their preferred payment method was not available!
That's not all though. According to a recent survey, 40% said they feel better purchasing from an online merchant who offers multiple payment gateways.
Formidable has add-ons for PayPal, Stripe, Authorize.net, and additional 3rd party add-ons for other payment processors. That means that customers can use credit cards, online funds, or their debit cards with no limits.
There are options to set up payments as charitable donations with some gateways. Some of the payment options even support recurring payments and subscriptions.
Online account registration during the order process
Here's the best thing about Formidable Forms: it's not just for online order forms. That means your entire website can flow with a truly integrated approach.
Registration forms can be set up to trigger within an order form. This solves a few problems. First of all, your order forms are allowed to stay simple and focused on orders. Why complicate things for the buyer?
Second, your customer registration form conversions will go through the roof if an order form has already been submitted. In fact, customers have come to expect a registration form to follow an order form.
Registration and account sign-up forms allow you to collect vital information that directly affects your customer orders. You can collect email addresses to connect with buyers again in the future.
Plus, you can subscribe your customers to newsletters in the registration process. Integrate your forms with whatever email service you use too: Mailchimp, ActiveCampaign, Hubspot, and more. All this made possible by Formidable.
The ultimate WordPress online order form?
There is no one-size-fits-all order form template. But with Formidable, there isn't an order form that you can't build. Besides, the perfect order form today won't be suitable for every future application. Because of this, a flexible WordPress form builder plugin is essential.
If you need to create a WordPress order form that is amazingly flexible, Formidable Forms is hard to beat. The flexibility of Formidable combined with its advanced features, allows you to create forms perfectly tailored to each project.
Read more of our online order forms posts
---

We offer a 14-day money-back guarantee! Get Formidable Forms premium with confidence!