Did you know you can build your own food order form from scratch for ultimate control and customization?
Creating an easy-to-use order form can be beneficial for any restaurant business, but it isn't always easy to know where to start. Between building the food menu, adding prices, and accepting payments, things may become complicated.
Fortunately, creating a take-out order form can be simple if you have the right tools. With the help of Formidable Forms, you can create an easy-to-use and effective way for customers to place orders.
In this article, we'll cover a few reasons you might want to build an online food order form. Then we'll show you how to create one in three steps. Let's go!
Why you should consider using a digital food order form
Food delivery is a booming industry. According to statistics, consumers spent $14 billion on pizza delivery orders alone in 2020. So more and more restaurant owners are looking to offer take-out services, or streamline their ordering systems to make life easier for their customers and staff.
A simple way to do so is by creating a WordPress restaurant online ordering form. This tool will enable your shoppers to place and pay to order food directly from your website, rather than having to contact the store by phone. There are a few advantages to this strategy.
First, a written restaurant order form may be more accurate than an order communicated over the phone. Reducing order errors can improve your customers' experience and secure repeat business.
Similarly, some customers don't like to speak on the phone. As such, an online ordering form can make it easier for them to reach out to your restaurant.
Furthermore, online ordering can also help with your advertising efforts. Users will likely provide email addresses to get receipts for their orders. You can use this as an opportunity to build an email list of interested customers you can market to in the future.
One solution for moving your take-out ordering online is to use a food ordering app such as GrubHub or UberEats. However, online ordering services such as GrubHub can charge up to a 30 percent fee. Thus, you can lose plenty of profits by working with them.
Fortunately, Formidable Forms offers an affordable alternative. Check out a bakery order form demo. It's a simple food order form with delivery options:
Formidable Forms offers a simple and effective way to create an online food order form. Plus, with the help of our PayPal add-on, you can also accept payments for a seamless experience.
How to build a restaurant take-out order form
Before you begin, make sure to have Formidable Forms installed and activated. You should also have the PayPal add-on set up. If you don't have a WordPress website yet, check out our recommendations for the best WordPress hosting.
1. Create your food order form options
First, you'll need to create a new form. Go to Formidable → Forms → Add New. You'll then see a few template choices: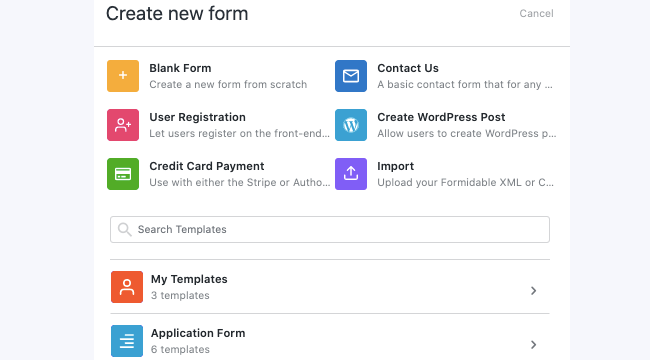 A template is a pre-made form that you can edit. This can save you time. For example, if you're building a pizza order form, you might want to start with the Pizza Takeout Order template. You can take a look at the other order form templates as well.
Alternatively, you can choose the Blank Form option and start from scratch. Once you've made your choice, you'll be presented with the form editor:
Next, you'll need to add fields to collect menu order data. For example, customers should be able to pick the dishes they want and add notes.
You'll also want to include fields for menu items, pricing, and contact information. Simply drag and drop the items from the left-hand menu into Add Fields Here space on the right. You can also click on them to customize the contents. Here's an example:
We used a Product field and a Total field for our meal options. These will calculate the final price from the online food order form. We also used a Repeater field so users could order more than one of each item.
You may also want to click on Preview to make sure everything looks the way you want it to. Then save your work.
2. Add user information fields
Once you've added the food options, you can add customer information fields. For user data, you'll probably need to collect at least a name and contact information.
Personal information like this is the main difference between a simple food order form and a simple restaurant menu. However, you can also add other fields such as a User ID. This can be useful if you plan on running a loyalty program.
You can drag, drop, and customize fields, just like in the last step:
If you're creating an online delivery form, you should also collect a physical delivery address. An email address can even help you build a mailing list and update customers on their orders.
However, we recommend that you keep it as simple as possible. Users may get impatient when filling out a long form. Only using the fields you need will help improve their experience.
3. Enable your form to accept payments
Next, you can add a way for users to pay. We'll be using the Paypal add-on. If you prefer credit card payments, you can use Stripe payments in the form instead.
Go to Settings → Actions & Notifications → PayPal. Then, fill in the form that appears with your info. Be sure to set the Amount field to Total:
The Submit button – or in our case, the Order Now button – will direct users to a PayPal form. You may also want to add a confirmation email feature. This can help keep your customers up-to-date on their order status.
If you'd like to include text SMS message updates, go right ahead. Be sure to request a phone number, and a checkbox to get permission.
Here's what our example looks like in its final form:
If you're happy with the results, save your work. Then, publish the form. You can now accept digital food order forms through WordPress!
Conclusion
An online food order form can help you reach more customers, but it can also be intimidating to create. Fortunately, Formidable Forms is the only WordPress order form plugin you need to make the task easy. With a bit of customization, you can create a stellar take-out form to boost your sales.
In this article, we covered three steps to building a WordPress restaurant online ordering form:
Create a new form that includes your menu options.
Add fields to collect customers' personal information.
Enable your users to pay by PayPal.
Formidable Forms can help take your restaurant to the next level in dozens of ways. Check out some of our other features today!
Read more about restaurant order forms