Do your visitors need to know you received their message? Learn how to send confirmation emails with an autoresponse to the form submitter.
WordPress contact forms do more than ever before: create posts, perform calculations, add a subscriber to a list. All this and more is possible with a Formidable contact form. But even with these amazing features, the ability to send confirmation emails to the person who submitted the form is still one of the primary functions of most contact forms.
How do you send confirmation emails from a WordPress contact form?
This step by step tutorial guides you through the process. It explains important settings that if configured wrong, could prevent your emails from being delivered. Make sure this doesn't happen to you!
Step 1 - Build your WordPress form
Build your Formidable form like you normally would. Include an email address field and confirmation field if you'd like.
Your form can be multi-page and full of conditional logic. It can have lots of other form actions like payment collection or addition to a mailing list. Custom confirmation emails can be included no matter the size of your form!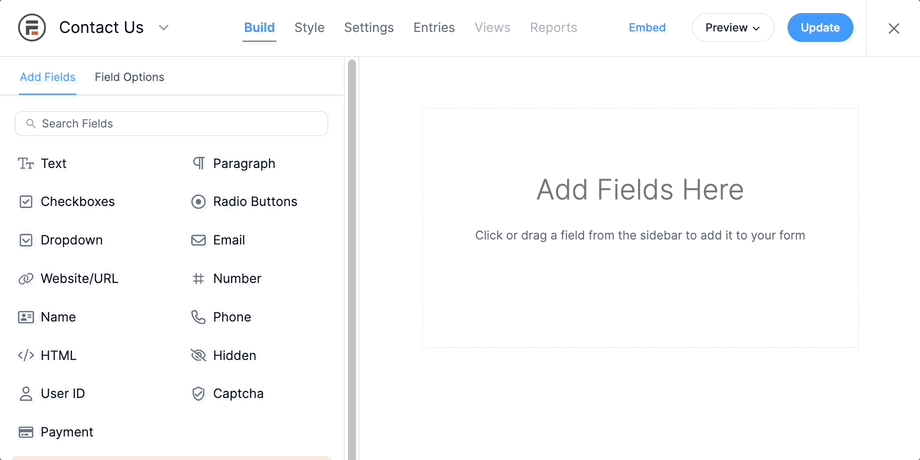 Step 2 - Setup the email notification
On your form settings page, click on the Form Actions tab. Here you can build the message to suit your unique needs.

Set your TO address to go to your visitor. Click into the TO box, then click on your email field in the sidebar. This will insert a shortcode like [25] to reference your email field. "25" will be replaced with the ID of your email address field.
Add your CC or BCC addresses and a REPLY-TO address if you wish.
Don't forget to add a custom subject line.
Add your message. Email actions come pre-configured with the [default-message] shortcode. This will insert all of the form fields into the email message. Configure it with the shortcode parameters and add a message to your client before it.
Read more: How to Send Auto Replies to Multiple Recipients From a WordPress Contact Form
Customize your autoresponder message
To completely customize your confirmation email, remove the [default-message] shortcode. Now add your custom message. If you don't want to include any HTML in your message, check the box to "Send emails in plain text." Read more information about custom email messages in our knowledge base.
In the "Customization" panel to the right you will see a list of all the fields in your form. Simply click on a field to insert it into your email message.
Add all the HTML you would like for confirmation emails that are crafted to match your branding and beautifully customized!
Step 3 - Protect your confirmation emails from spam filters
Do you get drastically less spam emails today than you did a few years ago? I know I do!
A worldwide crackdown on spam and much stricter spam detection has lightened up your inbox. Spam detection rules are often introduced by the biggest providers, like Gmail and Hotmail. These standards are then quickly adopted by the rest of the internet.
The default PHP method used by WordPress to send emails often leads to falsely detected spam. These false positives are then deleted before delivery. To prevent this, setup your email in a way that shows spam filters that it's a legitimate message.
Six simple steps to make sure your Formidable emails are properly configured
Your FROM address MUST match the domain of your website. It is often best to setup a dedicated email for this, like noreply@mydomain.com.
Your TO address should never match your FROM address. This looks unusual and can trigger spam deletion.
If you specify a REPLY-TO address, it should never match your TO address.
While you can include multiple addresses in your TO field, it is best to use the CC and BCC fields for additional recipients.
Many spam filters are triggered by too many recipients in one email. For large lists (50 or more recipients), consider a service like Sendgrid or SendInBlue.
Minimize the links you include. Email messages with lots of links may trigger spam filters.
Step 4 - Use an SMTP plugin to send confirmation emails
Even with all this configured properly, some users on shared hosting still have issues. There is another step you can take. When you send your email messages via SMTP it adds an extra layer of authenticity. This helps messages pass spam filters.
Plugins like WP Mail SMTP (and many other similar ones) replace the default WordPress mail function. Instead, these plugins connect with the SMTP server in your email server and send emails via an official mailserver.
Read more: WordPress not sending emails? SMTP to the rescue!
Many of these plugins will also connect with transactional email services like SendGrid, MailJet, SendInBlue etc which further improve delivery rates.
Build your confirmation emails today and discover the power of Formidable forms!