Want to create a searchable database on a WordPress site? The right WordPress plugins make adding a searchable database to WordPress easy!
Approximate read time: 5.5 minutes
If you're like most business owners, you've got tons of data coming in from users on your website every day. Hidden inside those numbers and statistics are the secrets to potential income. But what is the best way to manage all that data?
Build a searchable database!
But first, let's note the difference between a normal WordPress database and a searchable database:
What is a WordPress database?
A WordPress database is a digital storage bank of information. When a user fills out a form, the responses are stored in the website's backend.
All WordPress sites have a database built into every installation. But the basic database doesn't have many tools to search or analyze the data it stores. In other words, WordPress will collect and hold the data for a website, but making heads or tails of what it means is up to you.
A searchable database allows you to store, search, and connect all information. It is the best way to take all the valuable data pouring into your website and turn it into actionable trends.
And that leads to the question: How to add a searchable database to WordPress websites?
After all, what good is a database of information if you can't find the data you need?
Searchable Database Options for WordPress
The easiest solution? A searchable database plugin for WordPress! Or at least a plugin that will help you make one!
A good searchable database WordPress plugin will have these core elements:
Methods to input data (forms and/or data import)
A user interface or dashboard to search, sort, and filter data through forms, fields, and search functions
Tools to visualize data & build data relationships
So to get you started, we'll show you 3 of the most common ways to create a searchable database in WordPress. Let's get to it!
How to make a searchable database in WordPress
To start, here are the database creation methods we'll cover today:
1. Code the database yourself from scratch
Ready to test your coding skills?
Fair warning: it takes a lot of expertise to code a searchable database in a WordPress website.
Luckily, the WordPress admin has a MySQL database with phpMyAdmin installed by default with your WP config!
But here's where you need to ask yourself: Will your database be as huge as websites like Facebook, Twitter, or YouTube? Or are you building something smaller in scale?
If you're not planning for massive scaling in the future, custom coding may not be worth the hassle or money it costs to hire a programmer.
We'll guess you're looking for an easier solution!
After all, why spend time and money reinventing the wheel? Let's move on to the next method for creating a WordPress search database: plugins.
2. Use a powerful form-building plugin
As mentioned above, customizing a database might be challenging unless you are a big-time code wizard.
There is another way to get the searchable database you're hoping for. You can use an advanced WordPress form builder plugin!
But first, what's the difference between a form-building and a database plugin?
Form-building plugins do more than just databases! You can build contact forms, conversational forms, landing pages, and more with an all-in-one form builder plugin.
Conversely, WordPress database plugins can only do one thing.
Save yourself time and effort and download the drag-and-drop plugin from Formidable Forms. The free version of the plugin will give you a ton of the searchable database features you need.
For example, here's more about Formidable's approach to database management:
Methods to input data
Form builders are all about data collection. So you can be sure Formidable has you covered there. Create a form, add your fields, and publish it on any WordPress blog post or page. You're done!
Creating forms is simple, too. Just drag and drop form fields into the form building area: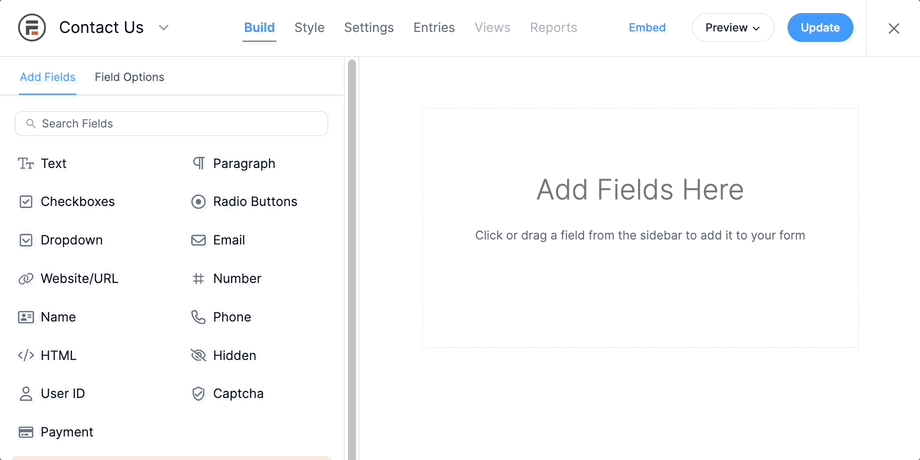 Search, sort, and filter data
Wondering where all the collected data from form entries go? In Formidable, all input data is stored in your WordPress database.
But don't worry about having to hack the code in your WordPress site to find it.
The Formidable Forms plugin has a fully developed user interface where you can manage entries from the back end.
That creates a WordPress database with an interface that can:
| | |
| --- | --- |
| search / filter | edit |
| hide | add |
| show | delete |
| sort | view data |
For most WordPress users looking to create a searchable database, this will be all you need. The simplicity of a database that's like having a database in Excel.
But what if you're using forms to create posts, pages, or other post types? What happens with the data, then?
Good news. Formidable Forms hates database duplication as much as you do. This means the entries are stored with regular WordPress posts and custom fields.
It also means you can edit the data from wherever you'd like, and it'll be the same no matter how and where you use it.
The standard admin area in Formidable allows you to quickly view data tables, import data from CSV files, Google Sheets, or Microsoft Excel spreadsheets, and filter search criteria to help you find data.
And if you are looking for even more customization, you can check out Formidable's tools for advanced data visualization below.
Learn more: How to Create a Custom Search Form in WordPress
Visualize data & build data relationships when you create a searchable database
With features like Lookup Fields, Formidable makes building dynamic field relationships much simpler.
For example, lookup fields let you create cascading fields for long lists (sometimes called chained-selects or dependent drop-down lists) like an auto dealership form: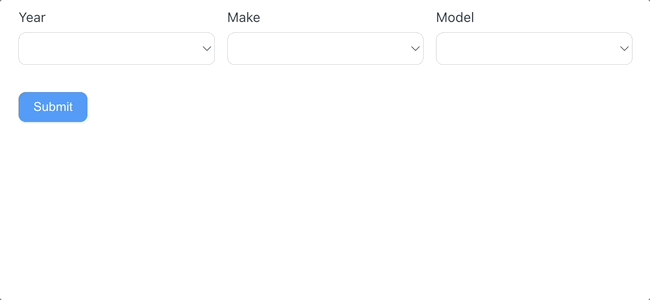 In addition, every searchable database needs different methods of retrieving and displaying data. You can easily do this with Formidable's Dynamic Fields.
Take this example of a student database that filters by class:

And there are more ways to make dynamic relationships.
For starters, you can input data into database forms with dependent fields. Furthermore, you can create a searchable database to access the data and perform calculations.
You can also build data relationships between multiple forms.
Real-time updates and frontend charts and listings
But one more tool that Formidable has makes it easy to visualize your data. It's called Views.
This handy feature allows you to take any data and display it visually however you see fit. For example, you can display your data in listings, menus, and charts.
Even better, you can have the data your website shows to users updated in real-time based on form submissions. This allows you to create a custom and targeted experience for each user.
With Formidable's unique Views, you can create a WordPress searchable database better and faster than you thought possible.
Formidable Views - Your data, your way
---
With Views, create relationships that automatically display form data as soon as it enters your database.
3. Install a WordPress database plugin
The final option takes us back to the WordPress.org plugin directory. This time, you'll look for a WordPress database plugin.
Guess what? There are a lot of them!
Some honorable mentions include Participants Database and wpDataTables. If we had to choose, it would be the latter.
Fortunately, wpDataTables has a Formidable Forms add-on that makes it easy to use the best of both WordPress plugins (plugins WP).
The data collection tools in Formidable are great, and wpDataTables has a lot of easy options to display your data.
For more info, check out this awesome video:
Wrapping up
You've now learned how to create a searchable database for your website. Which option will you choose?
Good luck adding a database to your WordPress site! If you'd like more information about databases, we recommend learning how to easily save form entries to your database.
Learn more about WordPress database possibilities
---
It's easy to get started with Formidable Forms. Try our premium form maker risk-free with our 14-day money-back guarantee.