Looking for the searchable database plugin WordPress users can rely on? This WP database plugin has everything you need and more!

Want a WordPress searchable database plugin? There are a number of options you'll find on the WordPress.org directory. These include popular plugins like SearchWP, Participants Database, and wpDataTables.
While the above options can do a lot, the ultimate WordPress plugin to create searchable databases is lightyears beyond. In fact, this plugin can do a lot more than create a searchable database in WordPress.
Introducing Formidable Forms. That's right, it's a WordPress forms plugin! Not what you were expecting? Let's think about what a searchable database plugin should do:
Provide tools for defining fields and uploading and importing data
Include tools to display data from the database in a variety of ways.
In today's post, we'll show how our plugin can give WordPress websites a serious boost. Formidable doesn't replace the default WordPress database, it extends it. You'll have the power to import data and search it with ease.
Tools for uploading & importing data
When using Formidable Forms, you can upload data to your WordPress site in a few ways:
Manually input the data
Using CSV files & XML files
Submitting forms in the front-end of your site
We often take this for granted over here, but Formidable Forms comes with fully functional data tables in the backend of WordPress. From this UI, you can easily input data into your database manually.
And if you saw the image above, you may have noticed a button for importing entries too. Using this feature you can import CSV and XML files, as well as export them. Just make sure your form has the custom fields you need and you'll be set!
And if you want users to upload data to your site, but don't want them poking around the back-end, that's possible too! Create a form with front-end editing enabled, and users will be able to upload whatever data you want them to.
There are tons of possibilities here. Users can upload images directly to your WordPress document library. They can upload blog posts or whatever post types you use on your site. Or they can simply upload long lists of data.
Tools for searching, filtering & displaying data
Back-end user interface
Lookup fields, chained selects, dynamic fields
Advanced views to display data
With your data uploaded, now you need a way to access it. The built-in Formidable UI has you covered! There are a ton of options ready to go:
Then you are able to take things further with a powerful search tool:
And of course, you can sort your database easily too:
You'll even be able to edit entire entries easily from the back-end:
These are all standard features built-into the core Formidable plugin (even our free version). But there are even more form-building features that can take your database even further.
Advanced tools allow you to build dynamic field relationships inside a database. Using Lookup Fields allows you to create chained selects (also referred to as cascading fields or dependent drop-down lists):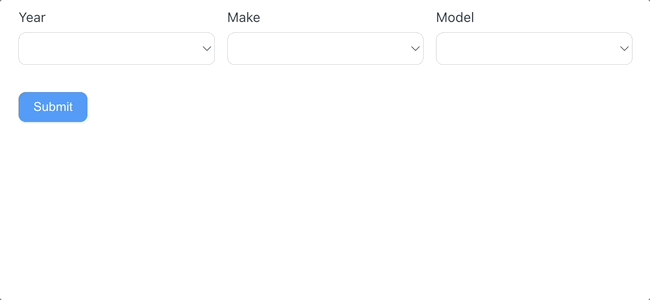 Here's an example of a dynamic data relationship in action:

Finally, there's the powerful Views feature. Views alone allow users to create custom databases with data displayed exactly how you want it.
For example, add a file upload field to a front-end form, collect audio files, and automatically add them to an audio library. Views give you the tools to define the layout and define how the data will be displayed within that layout.
When you use Views, you can create almost anything imaginable online. Create a small personal database or a powerful web application to rival industry-leading CRM platforms!
This is only the beginning...
Formidable Forms is much more than a database plugin... and it's much more than a forms plugin too! With the above features, it's not hard to see how Formidable can replace a directory plugin, for example.
Our humble plugin includes dozens of integrations and extensions. One of our most popular is our WooCommerce form builder, which allows users to take control of their products in ways they never thought possible.
---
But instead of taking our word for it, why not get Formidable and see for yourself? With our 14-day money-back guarantee, there's no reason not to.
Learn more about our searchable database plugin