Want to learn how to save custom form data into a database in WordPress? Then this step-by-step guide is for you!
It sounds scary, right?
Custom forms, data, and databases. 😱 It's like lions, tigers, and bears to non-techies.
But thankfully, it's surprisingly simple to make WordPress save form data to a database.
And that plugin is Formidable Forms, one of the best WordPress form builders available.
Let's learn how it can help you save form data to a database in WordPress without knowing how to code.
How do I save entries from a WordPress form to a database?
There are two different ways to get WordPress form data into a database.
You could manually connect a WordPress form to its MySQL database using PHP. But, if you don't have much experience with HTML, SQL databases, and SQL queries, we'd warn against using this method as it's easy to break your site. 🚧
Basically, if you understand the phrase Global WPDB Insert, you'll be okay.
Did that all sound like gibberish to you? 😵‍💫 Then take the easy route and let Formidable Forms handle the tough stuff for you.
Formidable has a built-in database that collects all your submitted data in one place.
That means as soon as a user submits a form, Formidable automatically stores entries in a database in the backend of your WordPress website. 🗃️
You just need to make your form, and Formidable takes care of the rest.
And yes, you even get this with Formidable's free plugin.
Wait, so you're saying that it saves me tons of time and doesn't cost me anything to have WordPress store form data in a database? 😮
That's right! Click the button below to try it out now!
Today, we'll show you how to use our WordPress plugin to save form data to a database. And we'll also give you some ideas for getting even more out of your data.
So go ahead and install and activate Formidable Forms, and let's get started!
How to save form data in a WordPress database with Formidable Forms
With our WordPress form builder, saving to a database only takes two simple steps:
Create your WordPress form
Publish your form and collect data
Keep reading to follow along with our WordPress form to database tutorial 👇
Step 1: Create your WordPress form
Once you have Formidable Forms installed on your WordPress site, head to your WordPress admin, then go to Formidable → Forms and click + Add New.

You can use one of our form templates or choose Blank Form to start from scratch. Name your form, and click Create to begin building or editing your form.
Next, customize your form however you want with the user-friendly drag-and-drop builder. 🏗️
We'll make a basic contact form with an email and text field for this example.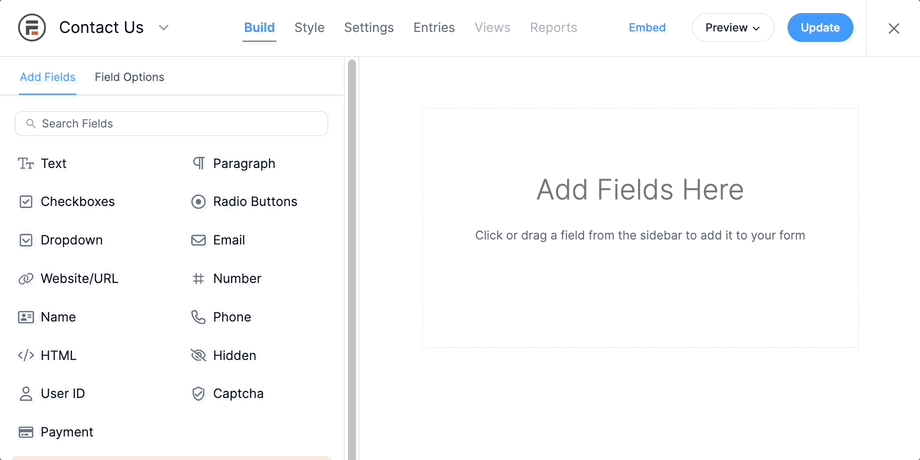 When you're done adding form fields, make sure you click Update to save your changes. 💾
Now let's get it on your website!
Step 2: Publish your custom form
First, go to the WordPress post or page where you want to display your form.
Add a new WordPress block in the editor. Search Formidable and click the Formidable logo to insert the Formidable block.
Choose your form from the dropdown menu, then click Update or Publish on your post/page.
And that's it! Visitors will now see your form on your website! 🎉
💡 Want to insert your form into a sidebar, footer, or widget area instead? Go to Formidable → Forms to find your form ID, and then copy and paste the shortcode wherever you want.
Now, when a user completes your WordPress custom form, it automatically saves to the database!
How do I view forms submitted to the database in WordPress?
What's the point of using WordPress to create a form and save it to a database if you can't view and use your data?
Luckily, Formidable makes it really easy to find and filter form data. From your WordPress dashboard, go to Formidable → Entries.
Here, you can easily filter and search the information stored in the searchable database table.
Or upload any existing data by going to Formidable → Import/Export. All you need is the XML or CSV file:
Then, adjust and add to any of the inserted data — all from Formidable's WordPress dashboard.
Do more with your WordPress custom forms database
So, now you've created your form in WordPress and saved it to your database, what's next? 🤷
Well, with the Pro version of our form maker, there's a lot more you can do with your form data.
Here are a few of the most popular features of Formidable Forms Pro:
View and display results as charts and graphs
Build a directory from form entries
Automatically create custom PDFs from form entries
Instantly export WordPress forms to Google Sheets
And that's just the tip of the iceberg. Discover all the features of the best online form builder.
View and display results as charts and graphs
Easily add eye-catching infographics and reports to your website. 📊 Show survey takers real-time results on form submission or quickly get the graphics you need for professional presentations.
Learn more about Formidable's WordPress charts, reports, and graphs capabilities.
Build a directory from form entries
Did you know you can use the information stored in the database to create entire websites?
For example, think of an employee directory.
Thanks to Formidable Views, you can automatically collect employee information with an onboarding form and then display these responses as a beautiful employee directory!
That means you can make an entire directory website using only a form builder.🤩
And that's only one small example of how Formidable Views puts your data to work. You can also use it for real estate listings, business directories, registration forms for class rosters, and just about anything else you can imagine!
Learn more about what Formidable Views can do for you.
Instantly export WordPress form data to Google Sheets
Wish you could quickly connect your WordPress forms to Google Sheets? Formidable's WordPress forms - Google Sheets integration makes it simple.
Send your contact form data, order history, and more directly to Google Sheets, all in a click.
Automatically create custom PDFs from form entries
Sometimes, having a paper copy is better.
It doesn't get corrupted or deleted. It's just there. Maybe it's collecting dust in your filing cabinet. 🗄️ But it's there.
And that's another mouse click with Formidable's Form to PDF feature. You can send all your form entries to a PDF that you can download, print, or send as an email. The choice is yours.
Plus, you can also automatically create custom PDFs from form entries, including certificates, invoices, and signed contracts. Instantly send them as an email attachment to your users, to other team members, or simply save them for your own recordkeeping.
So how will you use your WordPress forms to save to a database?
Having a database is essential for keeping your data organized and safe.
If you aren't sure how to store form data in a database in WordPress, using a WordPress form plugin to save to a database is the best and easiest option.
There are plenty of plugins available (Gravity Forms, WPForms, and more). But, none offer all the advanced features of Formidable Forms.
Now that you know how to use WordPress to save a form to a database, leave us a reply below and let us know what you're doing with your data! We love hearing what you create with our plugin!
Ready to go a step further? Learn how to create a searchable database in WordPress!
Read more about databases!