Want to save form data to the database in WordPress? With the right plugin, saving your WordPress form data to a database is easy.

If you want to use WordPress to save form data to your database, you're in luck. It's a lot easier than you might think!
But before we get into that, why would you want to save your form data to a database? There are a few reasons that come to mind:
You've been using a cloud-based form solution like
You are trying to code web forms manually
Your WordPress form builder has no form data menu
Let's break these down a tiny bit more so you can see what we are talking about.
Where do online forms store entries?
If you've been using a cloud-based form solution (like Formstack or SurveyMonkey), you may know this: you don't own your data. Depending on the platform you use, you may even need to pay to export it!
That's a shame because you can actually use WordPress to store form data in a database... the same database that is built-into every WordPress site by default! Good news: we'll show you how to do that in a minute.
Why code your own forms? We did it for you!
Are you a developer? It might be tempting to code your own forms and work with the WordPress database. But why would you do that?! You could save hours by using an advanced WordPress form builder.
Form plugins make saving data and form entries easy. Stick around and we'll show you!
Not all WordPress forms are created equal
When you create a form in WordPress, the form entries usually end up stored in the database. But if you can't access that data from the WordPress dashboard, you're in trouble.
The entries are in your WordPress database, but the problem is you'll need to go into the database manually.
You can crack-in with database tools like phpmyadmin, but unless you know what you are doing things can go wrong quickly. If you've never worked with the global wpdb then keep reading. We can help you store form data the easy way.
How to save WordPress form data to the database
As we hinted before, WordPress has a MySQL database built-in by default. But unless you know PHP, it will be difficult to customize. Instead, let's use a plugin that allows you to collect, store, and utilize your form data with ease!
That plugin is Formidable Forms. And when it comes to forms and form data, we've got you covered. The best thing about Formidable is that even our free version lets you save form data!
Whatever data forms can accept, Formidable can store in your WordPress database. Let's see how it all works:
Collect form data
Store form data
Use form data
1. Collect form data
With Formidable, you'll be able to store everything from contact form data and beyond. It all starts with building a form. And using our drag and drop form builder, it couldn't be any easier: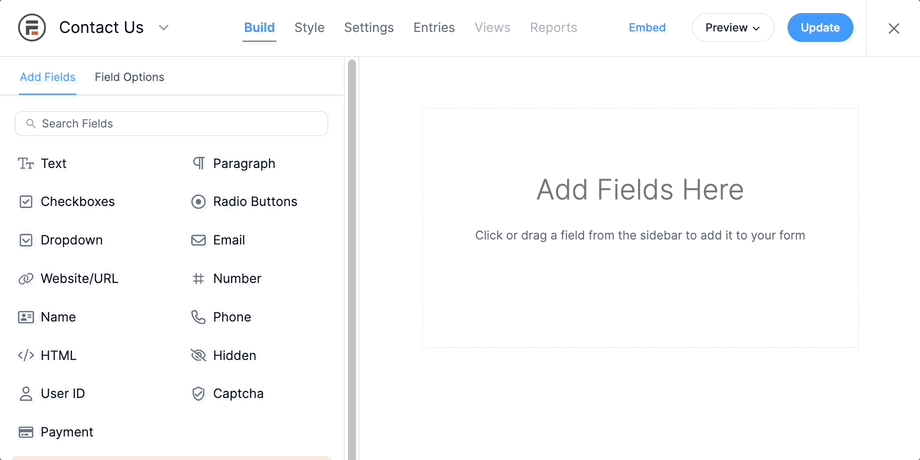 Once you've created your form & published it - you are done! Seriously - here's a simple example. Save your contact form, and every time a user submits it, the contact form entry is stored in your database.
So actually... I guess the only thing you need to do is get Formidable Forms! Sure, we have some great premium plans. But our free plugin lets you collect and store unlimited form data too.
By the way, you can also add form data manually:
And import/export your data in bulk using CSV and XML:
Learn more: How to create a form in WordPress
2. Store form data
The back-end of Formidable functions just like a database table. It's easy to access your data.
You can use our powerful search tool:
Sort by any data field:
And edit individual entries too:
Learn how Formidable Forms outclasses the average searchable database plugins for WordPress.
3. Use form data
After you've collected and saved your WordPress form data, you might think that's it. But did you know your data can be used to create entire websites?
Many people are shocked when they hear this. Others don't quite understand what it means! But it's actually fairly simple. Consider an online directory website.
A directory collects data from users who want to publish content on their site. A user submits a form with their data, and the website automatically creates a new page based on that data.
See how that works? The form data was used automatically to create a new page! Your users can input type text, upload images, and much more. All that data can be used to create whatever you want on your page.
This feature is called Formidable Views. And there's almost nothing like it on the market for WordPress.
Learn more: Use WordPress to display form submissions
Wrapping up
Long story short, if you want your WordPress form data in your database, you don't need to do much. Just download the right forms plugin and you'll be set for life!
Formidable won't get between you and your data as some of the other guys do. Even if you get a Formidable plan and decide not to renew, your data is safe. Just export it and say bye. We'd be sad to see you go though!
We hope this article has inspired you. Good luck with your form data!
Read more of our posts
---
Try Formidable Forms risk-free for 14-days with our 100% money-back guarantee. Get our WordPress forms plugin today!