Looking for an easy way to make WordPress generate a PDF automatically? Formidable Forms WordPress PDF generator plugin has all the features you need. Let's go!
Approximate read time: 8 minutes
Want to instantly create downloadable certificates, invoices, or contracts right on your website? You need Formidable PDF, the custom WordPress PDF generator plugin that does it all!
In this post, we'll show you why using Formidable PDF is the best way to make and display PDFs on WordPress and how you can create a PDF in WordPress with the plugin.
Ready to get started? Here's what we'll cover:
Who needs a WordPress PDF creator plugin?
Simply put, if you want to generate a PDF after a user interacts with your website, then the Formidable PDF generator plugin for WordPress is just the ticket. 🎟️
Here are some everyday use cases:
Non-profits: Generate printable PDFs for donation receipts or customizable thank-you letters for donors.
Businesses: Automatically make PDF invoices, contracts, or agreements.
Government agencies: Create official PDF documents, such as permits, licenses, or certificates.
Schools and Training Programs: Generate PDF certificates or awards.
Online organizations, e-commerce stores, and professional firms take note: Formidable PDF is here to revolutionize the way you do business online!
If you've ever needed to maintain a paper trail or to generate and send PDFs by email, then you'll love our WordPress plugin.
Online organizations, ecommerce stores, and professional firms take note: Formidable PDF is here to revolutionize the way you do business online!
If you've ever needed to maintain a paper trail or to generate and send PDFs by email 🧾, then you'll love our WordPress plugin.
Let's take a peek under the hood and see what this thing can do, shall we?
But first, we want to clear up one common mix-up.
Wait! ⚠️ Are you looking for a PDF converter instead?
If you need to convert a page or post into a PDF format, that's easier than you'd think. There are a number of ways you can do this without a WordPress plugin:
Chrome print to PDF
Chrome browser extension
Website PDF converter
Adobe Acrobat
For most people, pressing the 'Print to PDF' button in Chrome will do the job. But if you want a truly seamless PDF, opt for the FireShot Chrome Extension. You'll be able to convert any WordPress page or post to PDF in only a few clicks! It's also the easiest option if you're using custom post types.
Now that we've cleared that up, let's take a closer look at Formidable: the WordPress plugin / PDF generator you've been after!
How does Formidable's WordPress PDF generator work?
If you'd love to create a custom fillable PDF form for any situation, a WordPress PDF generator is exactly what you're looking for. So how can Formidable Forms help you do this? 🧐
It all starts with a form. Luckily, they're easy to build using Formidable's drag-and-drop form builder: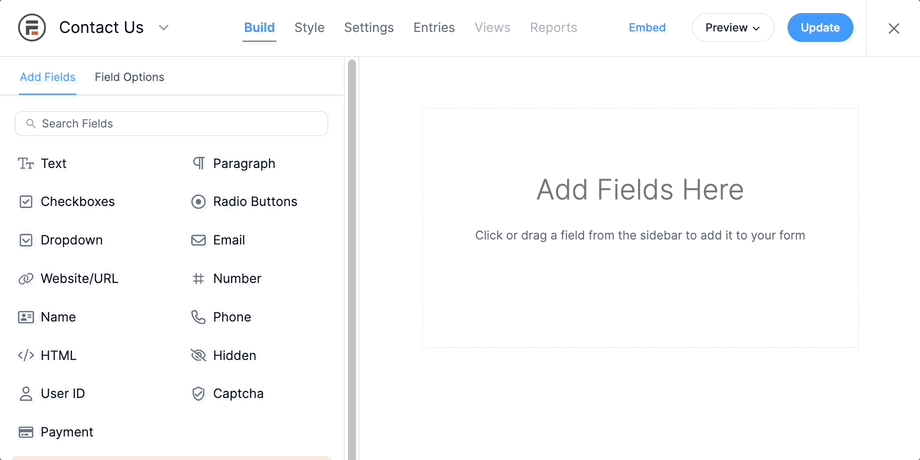 In fact, Formidable Forms is a world-class form builder for WordPress all by itself. Just download our PDF Add-on, and voilà! 🪄 It's now also a PDF generator WordPress plugin.
Once you've created the PDF form and installed the add-on, the power is at your fingertips! ⚡
Get Our Custom PDF Generator Now!
Now, let's see what all this supercharged PDF creator WordPress plugin can do.
How to generate a PDF in WordPress
Formidable's WordPress PDF generator can instantly turn your form submissions into custom PDFs.
Here's how: 
1. Manually export form submissions as PDF
If you want to convert a WordPress form to PDF, it's easy. You can download PDFs straight from the WP admin. Just head to the Entries tab within any form and select Download as PDF.
Really, that's it! ☺️ The file will then open in your PDF reader or viewer for you.
2. Automatically send a PDF file as an email attachment
Formidable already offered the option to automatically send a PDF as an attachment by email, but now you can send your new-and-improved custom, dynamically created PDFs! 📩
As soon as a user submits your form, the generated PDF file's instantly sent to the email address entered in the form.  
This feature makes it easy to automate your processes and can save you tons of time — no more need to manually email invoices or awards to your users!
3. Generate a downloadable PDF file
Let your users download a PDF with a single click. Simply add a shortcode to your WordPress posts, pages, or email notifications to insert a file download link or create a PDF download button.
Hmm, shortcode… 🤔 That sounds complicated. It isn't! You only need to copy and paste it from your Formidable Forms plugin.
It should look something like this:
[frm-pdf id=x]
In place of the "x," just insert the id of your PDF form provided in Formidable. This quick trick even works with page builders like Elementor or Divi!
4. Use the Views Builder to create a custom PDF 
Make your file look the way you want by using the PDF editor and builder under the Views tab.
Drag and drop content blocks to change the layout of your document in our WordPress PDF builder, then click the + to select, then automatically add data from your form fields:
Use columns to design the PDF structure
Insert your logo (or even a user-uploaded image) with an image block
Create a header/footer by adding blocks to the top or bottom of the page
Add a signature to your PDF wherever you choose
As you can see, the Views add-on essentially turns Formidable into a custom PDF generator for WordPress. Pretty cool, right? 😎
5. Personalize a PDF template
Already have a design in mind for the document you'd like to create? Customize one of our PDF templates for WordPress to make it in half the time!
For example, if you'd like to make an award PDF, start with our ready-to-use Certificate Template. Right out of the box, you'll get:
A pre-made form for collecting entries and signatures
Two different designs (Views)
A PDF with editable text
A shortcode to copy/paste a link to download the PDF
Options to adjust font and document size
We also have handy, ready-to-use templates so you can use WordPress to generate PDF invoices, contract agreements, and letters of recommendation.
Plus, even more PDF generation features
Along with the above-mentioned features, Formidable Forms' PDF add-on lets you design your PDF document the way you want, dynamically pull in data from your forms to fill in your PDF, and then share them with your users in a whole host of ways.
So what else can the Formidable PDF builder do?
Custom Headers
Custom Footers
Sign PDFs in WordPress
WPML / Polylang Translation
RTL Support
Pre-Built PDF Templates
1. Custom Header 🧑‍🦲
Creating a custom header to appear on all your automatically created PDFs is easy. Just add a text or image block to the top at the top of your PDF builder to add your company name, logo, banner image, or whatever else you can think of.
Change the font size and color as you please, or change the background color if you want. Any change you make will instantly appear as a header on your custom PDF.
2. Custom Footer 🦶
In the same way that you can customize a header in the PDF builder, you can also create and customize a footer. Insert a single block or a column section at the bottom of the layout builder, then add any text(s) or image(s) you like.
3. Sign PDFs in WordPress ✍️
Want to add a signature to your PDF automatically? This add-on makes it easy! Simply ask for a signature on your form and then add it wherever you choose in your PDF layout.
4. WPML / Polylang Translation 🌐
Need bilingual or multilingual forms and PDFs? We've got you. Formidable's integrations with WPML and Polylang mean you can show your visitors forms in their native language and then automatically generate PDFs in that language.
5. RTL Support ⬅️
Looking to create forms and PDFs using right-to-left languages (or fonts) like Arabic or Hebrew? No problem. Formidable's form builder and PDF generator come with RTL support.
6. Pre-Built PDF Templates 📄
No time to spend designing your downloadables? You can use and customize one of our ready-made PDF templates in just a couple of clicks.
So, why choose Formidable PDF?
Sure, there are a lot of WordPress PDF plugins that can create PDFs or embed PDF files into your website such as Fluent Forms, Gravity Forms / Gravity PDF, or Contact Form 7.
But they don't all let you create customizable PDF files from form entries.
Plus, Formidable PDF offers all these powerful form options and an easy-to-use drag-and-drop PDF editor. Not to mention all the extra features you get with Formidable; it can go way beyond creating pretty PDFs.
More than just a PDF generator for WordPress
Clearly, Formidable Forms offers all kinds of amazing ways to create custom PDFs in WordPress, but it can do so much more too!
Instead of installing multiple different plugins (and slowing down your WordPress site) to create forms, manage contacts and submissions, and make use of that data, Formidable Forms Pro offers solutions to all these problems and then some.
Still not sure? You can try any of our premium version plans risk-free! We offer a 14-day money-back guarantee for our premium plugins, and there's also a free version of the Formidable Forms plugin so you can play around if you like.
To start making custom PDFs from form entries in Formidable Forms, all you need are Formidable's PDF and Visual Views add-ons which are both included in Formidable's Business Plan.
Read more: PDFs with Formidable!
---
Did you know that Formidable Forms is one of the fastest WordPress form builder plugins available today? If you're not already using it, get started with our free plugin or the full-featured pro version!