Want an online form builder with a database included? There is no better choice than Formidable Forms. Check out these advanced features!

If you are looking for an online form builder with a database, look no further. Formidable Forms is here!
Today we are going to take you on a tour of our form builder plugin. Our free plugin has tons of advanced features to help you create custom web forms with ease. And our premium plugin gives you even more power.
What they both have in common though? A built-in database for your form data. You can skip the HTML, CSS, and PHP - our form building software is plug and play. Design forms that look great and perform flawlessly - without any custom coding.
Our forms don't even require complicated embed codes either. Copy and paste a simple shortcode and you are good to go. If you want an online form builder with a database built-in, all you need is a WordPress site & Formidable Forms.
Intrigued? Let's get some basics out of way before we dive into the database features that set Formidable apart from the competition.
How does Formidable Forms work?
Formidable makes creating forms a breeze. We created a form builder that allows you to build forms by dragging and dropping form fields from left to right. Just like this: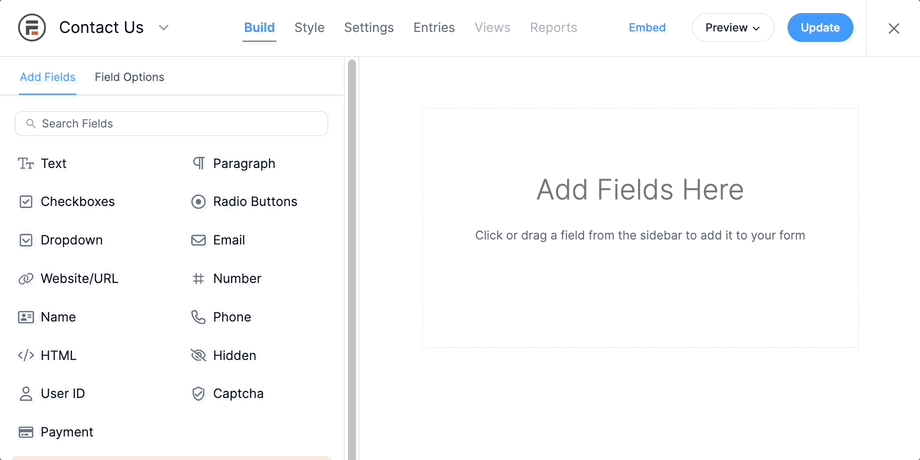 Even our free form builder has a ton of features to choose from. It's something we've covered in detail here: Best Free WordPress Form Plugins.
There are many decent form plugins (like Ninja Forms, Google Forms, or WuFoo for example) with great features. The problem with most? You need to pay a lot to get those features.
Formidable's free online form builder packs in a ton: 13 form fields (up to 28 with premium) and additional tools like visual form styling and form notifications.
And if you go with one of our premium plans, you can take advantage of even more features:
Your form submission database awaits
If you want to create a searchable database, Formidable Forms has you covered. It's simple: every time a form is submitted on your website, the data goes into your WordPress database on your server.
Many online form builders actually keep your data in the cloud - on their servers. This makes it difficult to put your data to use. Not only that, but many online form builders have restrictions on exporting the data too.
Formidable has a powerful back-end interface to make sorting, filtering, searching, and exporting your data simple. There's no use storing your form entries in a database unless you can access them, right?
What's more, a database is critical if you want to build websites that depend on user submissions. If you want user-generated content (like blog posts), file uploads (like user profile photos), or registration forms (to auto-generate user profiles), you need total control of your data.
Now that you control your data... use it!
Collected data can even be used with Formidable Views to generate entire websites. If you want to create a job board or create custom search forms, you need direct access to your data.
There are tons of applications for this. For example, calendars:
And real estate listings:
And really... anything that uses data from your form submissions! Many of our users build custom directory listing sites, membership profiles, and we've even had a doctor create a patient management system!
What more could you want from an online form creator?
Formidable is more than a form builder. It's web design software. It allows you to create forms, manage data, and use your data all at once. With a little effort, Formidable Forms can help you handle all your business processes directly from your website.
Connect your forms to everything: your database, payment gateways, your CRM, email marketing services, and much more. Plus, you can use our Zapier integration to make virtually anything happen after a form is submitted.
So what are you waiting for? Give our free plugin a try or get Formidable premium now. All plans come with a 14-day money-back guarantee, so there is no risk. See you soon!