Which form builder should you choose for your WordPress website? If you're looking for a WuFoo alternative, we compare two big form builders: Formidable Forms vs WuFoo in this post.
When it comes to deciding which WordPress form builder to choose, things can get tricky. There are so many options out there now that it can leave anyone a little overwhelmed. Which one is right for you?
Following on from our series of form builder comparisons below, we wanted to share another one with you today.
Form builder plugin comparisons
WuFoo Alternative
This time, our comparison is our own Formidable Forms vs WuFoo. It doesn't matter whether you're new to form building or are looking for a WuFoo alternative, this post is for you. Keep reading to see what we think of the two form builders compared side by side.
? Read more: Best Free WordPress Form Plugins
What is Formidable Forms?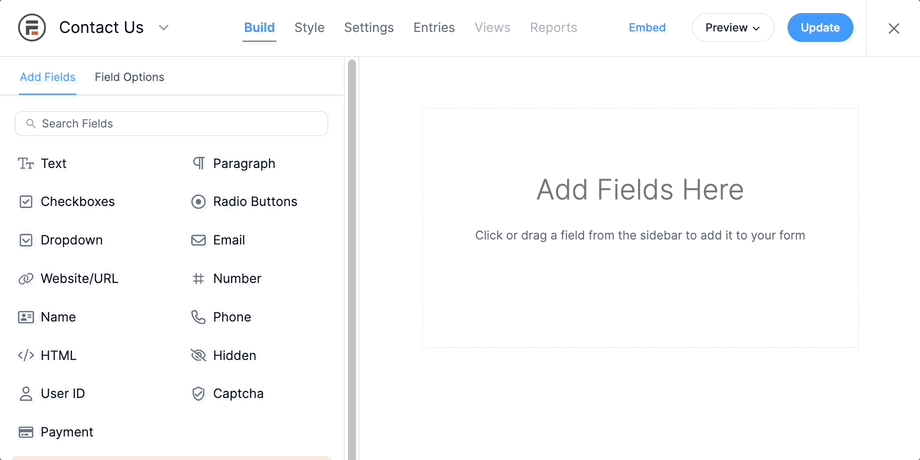 Formidable Forms is a WordPress form plugin and a big name in the drag and drop form builder world. It's an advanced form builder that lets you build everything from simple contact forms to complex forms with lots of functionality. It's designed to be easy to use, so it doesn't matter whether you have form building or HTML experience.
Formidable Forms' speciality is in the amount of control it gives users over data after it has been collected.
Our aim is provide a tool that sparks confidence for business owners to take on bigger and better projects than they thought were possible.
What is WuFoo?
WuFoo is an online form builder that differs from Formidable Forms in the way that it's a hosted service as opposed to a WordPress plugin.
It's designed to make creating forms very simple and therefore appeals to beginners and those who want a simplified form building experience.
WuFoo allows you to share any forms you build with others thanks to its cloud-based functionality.
What should you look for in a form builder?
We could go on all day about the tons of different areas to consider, but for the purpose of this post, we'll be looking at 4 basic areas. These are key things to consider when looking for a form builder.
Ease of use
Support
Pricing
Integrations/add-ons
To find out who comes on top in the Formidable Forms vs WuFoo comparison, keep on reading.
Ease of use
Formidable Forms has a clean and clear form building interface that's very user-friendly. Everything you need is available within just one or two clicks.
WuFoo has a very simple layout where you can also drag and drop form fields into the form builder. It's a bit quicker to get started with WuFoo because everything is based online. There's no need to download and install plugins. All you need to do is login to your account and start building forms from there. However, that means you've got to go back to WordPress to do anything with them.
With both form builders, after form fields have been dropped into the builder, you can click on the fields themselves to start customizing each one in the sidebar.
Winner: Tie
Support
Formidable Forms provides quality support in a number of ways. There is an extensive library of documentation available to help you learn and get the most out of the plugin.
The support offered is a tiered ticketing system, which means that response time correlates to whatever plan you're on. However, even those on our free plan can usually expect a response within 24 hours, as well as support for any bug reports. You can learn more about support and take a look at our reviews through WordPress.org. Formidable is currently rated as 4.7 out of 5 on WordPress.org.
Formidable Forms also has a very active community. This instant messaging community hosts user-provided support, advice and even development help. If there's something you want to build with your forms but aren't sure how to go about it, you can find a developer for hire through there.
WuFoo also has a great deal of documentation in their Help Center to help users get started and learn more about the platform.
They offer a support system based on email support, with faster response times for those on higher paid plans. Take a look at some of WuFoo's reviews to find out more. WuFoo is currently rated as 8.1 out of 10 on that review site (compared to out 4.7/5), which means that Formidable has a higher proportion of good reviews.
Winner: Formidable Forms
Pricing
Formidable Forms and WuFoo both operate with a freemium model. This means that there is both a free version and a paid-for premium version. For both form builders, there are several paid plans to choose from.
Formidable Forms
Formidable Forms' paid plans range in price from $99 to $399 for an unlimited number of sites per year.
WuFoo
WuFoo offers four paid plans which you can either pay for on a monthly or annual basis. Their prices range from $19 to $249 a month or $169 to $2,199 annually.
The good part about using an online form builder is that you often have the flexibility to pay monthly. The downside here is that it can get pretty pricey with WuFoo. Their lowest monthly plan ends up as a total cost of $228 for the whole year, which is much higher than Formidable's lowest annual plan.
Winner: Formidable Forms
Integrations and add-ons
Formidable Forms has a range of integrations and third-party add-ons to expand on what the form builder is capable of. It offers links with payment options such as PayPal and Stripe. There's also support for plenty of email marketing platforms, CRM systems, eCommerce tools and more.
This allows Formidable to go beyond simple form building. Formidable Forms acts as a multi-faceted tool that simplifies and streamlines different areas of your business. You can manage everything from just one place.
WuFoo has quite an extensive list of integrations available, and many more on offer through Zapier. They offer payment processors, bookkeeping software, CRM systems, email marketing platforms, website builders as well as project management apps.
This means they can offer a streamlined service that connects hundreds of apps, much like we do. However, WuFoo offers many more integrations with third-party apps than Formidable Forms does currently.
Winner: WuFoo
Which one wins in Formidable Forms vs WuFoo?
It's inevitable that form builders will share some features. However, for the rest of this post, we'll be discussing the features that either form builder has that the other doesn't.
We'll first be looking at whether Formidable Forms is a good WuFoo alternative. Then we will talk about WuFoo's advantages in being an online form builder.
Why choose Formidable Forms?
Views make Formidable Forms stand out amongst the competition. Views are a way to dynamically display data you've collected through forms. For example, it's commonly used for things like event calendars, job boards, and real estate listings.
Besides Formidable Views, another way to display collected data is through graphs and charts. Data can be displayed in this way on any page, post, widget or View. Our graphs and charts also work with live data, which automatically updates whenever new entries are submitted.
With user submitted data, sometimes it's easier to let people update their own data. For example, if a user needs to change their address after moving, it's better to let them do that themselves.
Front-end editing means you can choose which form submissions can be edited by your users. It could be a list of clickable entries, a View or a user's only entry.
When you need to get multiple details in the same section, Repeaters makes this easy. You can let users add in a group of fields any number of times. This is handy when you need multiple details for a family trip, or you want to accept certifications for a college or job application form.
Utilizing data from other forms saves you and your users time in putting it into the form manually. Cascading lookup fields allow you to populate dropdown, checkbox or radio fields in your form with data from other forms.
A common example of this is on a car sales website. Users should be able to search for a car by 'Make' and 'Model'. However, when a car make is selected, the next dropdown should ideally only show models relating to that make. Don't make users search through every single model on your website, lookup fields will pull over the right information automatically.
Want to have full control over how you form is laid out? Customizable HTML makes it easy to build a form from the ground up or just customize individual fields wherever necessary. You can customize CSS classes, move fields to different places and have total control over field visibility to your website visitors.
When selling products or services on your website, you can save everyone's time by including form calculations. This allows users to see exactly how much everything will cost. With Formidable Forms' calculation, you can quickly set up basic and advanced calculations for your forms. You can go one step further and link this to payment options to improve the buyer experience.
Advanced field types
Formidable Forms offers a range of advanced field types to get more out of your forms. These field types include multi-select fields, password fields, HTML fields and also slider and toggle field options. This improves the versatility of the forms you can build with Formidable Forms.
Own your collected data
With Formidable Forms, you have full control over collected form data. This allows you to do much more with it once it is collected, for example you can display it through Views. With an online service like WuFoo, you have a limited amount of control and ownership over your data.
No limits to what you can do
With Formidable, there are few limits to what you can do. That means, there is the potential for unlimited users, unlimited form entries and unlimited API calls. With WuFoo, there are limits on the number of users and entries each paid plan will accept. With Formidable, you're only limited to the number of sites you can use Formidable on in the lower plans.
Why choose WuFoo?
Easy online set up
The great thing about using an online form builder is that there's very minimal setup. All you need to do is sign up for an account and purchase a plan. There's no need to download, install and activate a plugin. This can make it preferable to those who want faster setup without having to deal with things like API keys.
Share forms with others
The first thing you can see on their website is the headline "Build and share online forms." With WuFoo, you can share your forms in a number of different ways including through a link.
An advantage to using online-based forms is you can easily embed your forms on any website and integrate them with other applications through API.
Form templates
Online form builders tend to be quite template-reliant. This is good news if you want to save a lot of time with form building, perhaps not if you want more control over form design.
While Formidable Forms has plenty of templates to choose from, WuFoo's sheer number of templates on offer was still worth including here.
They currently offer over 400 different form templates to choose from. That means there's bound to be something for everyone.
Online form builder vs form builder plugin?
The next question you may have is whether to choose an online form builder or a form builder plugin.
WuFoo's online form builder is easy to use and quick to set up. You simply need to login. Their cloud-based setup might also be better suited to you if you want the ability to share your forms.
As Formidable Forms is a plugin, there is a little set up involved, but you only have to do this once and it takes just a few minutes. One of the advantages of using a plugin over an online builder, is that it becomes much easier to integrate your forms with WordPress if the builder is already attached to your WordPress site.
Interested in reading more about choosing between form builder plugins like Formidable and online form builders like WuFoo? You can read our post on hosted forms vs WordPress form plugins.
Formidable Forms vs WuFoo: Final Verdict
Both form builders have great features and usability built in.
Formidable Forms is a good choice if you want more options to display collected data. Our Views, graphs and charts allow you to do more with your data by turning it into an interesting feature or even an application on your website.
Formidable Forms offer advanced functionality and powerful form customization, which makes it great for those with bigger projects.
WuFoo's range of templates means you might not even have to build a form at all. However, WuFoo does indeed lack a lot of the advanced functionality and field types that Formidable offers. There's no way to use Views, or customize the layout of your forms. Form actions and settings are also limited.
If you want more control over your forms, then Formidable Forms will likely be a better fit. If you want simple software and don't need advanced features then WuFoo could be the choice for you.
The last thing to bear in mind is that while Formidable has more features, it's also more affordable than WuFoo when comparing annual prices.
We hope this Formidable Forms vs WuFoo comparison has helped you get clear on the differences between the two form builders. And if you'd like to learn more, check out our Typeform WordPress plugin comparison or find out more about Typeform alternatives for conversational forms.
More WordPress plugin posts
---
Formidable Forms is a great WuFoo alternative. To give Formidable Forms a try, take a look at our full list of features and integrations to learn more.