In this article, we'll take a look at the Formidable Forms and Typeform WordPress plugins. Find out which is best for your project, based on ease of use, WordPress integration, and price.
There are a lot of options for creating forms in WordPress. You can choose from dozens of plugins, as well as third-party hosted services such as Typeform.
However, although Typeform can be used to build forms on WordPress sites, it's not designed for the WordPress blogging platform. Therefore, it can be useful to compare Typeform with other WordPress-specific options, such as Formidable Forms.
In this post, we'll compare Typeform vs. Formidable Forms in three areas: ease of use, WordPress integration, and price. Let's get to it!
Comparing the basics
What is Formidable Forms?
Formidable Forms is an infinitely powerful drag-and-drop form builder plugin. Formidable enables you to create highly customizable forms, polls, surveys, quizzes, calculators, conversational forms, and even full web apps: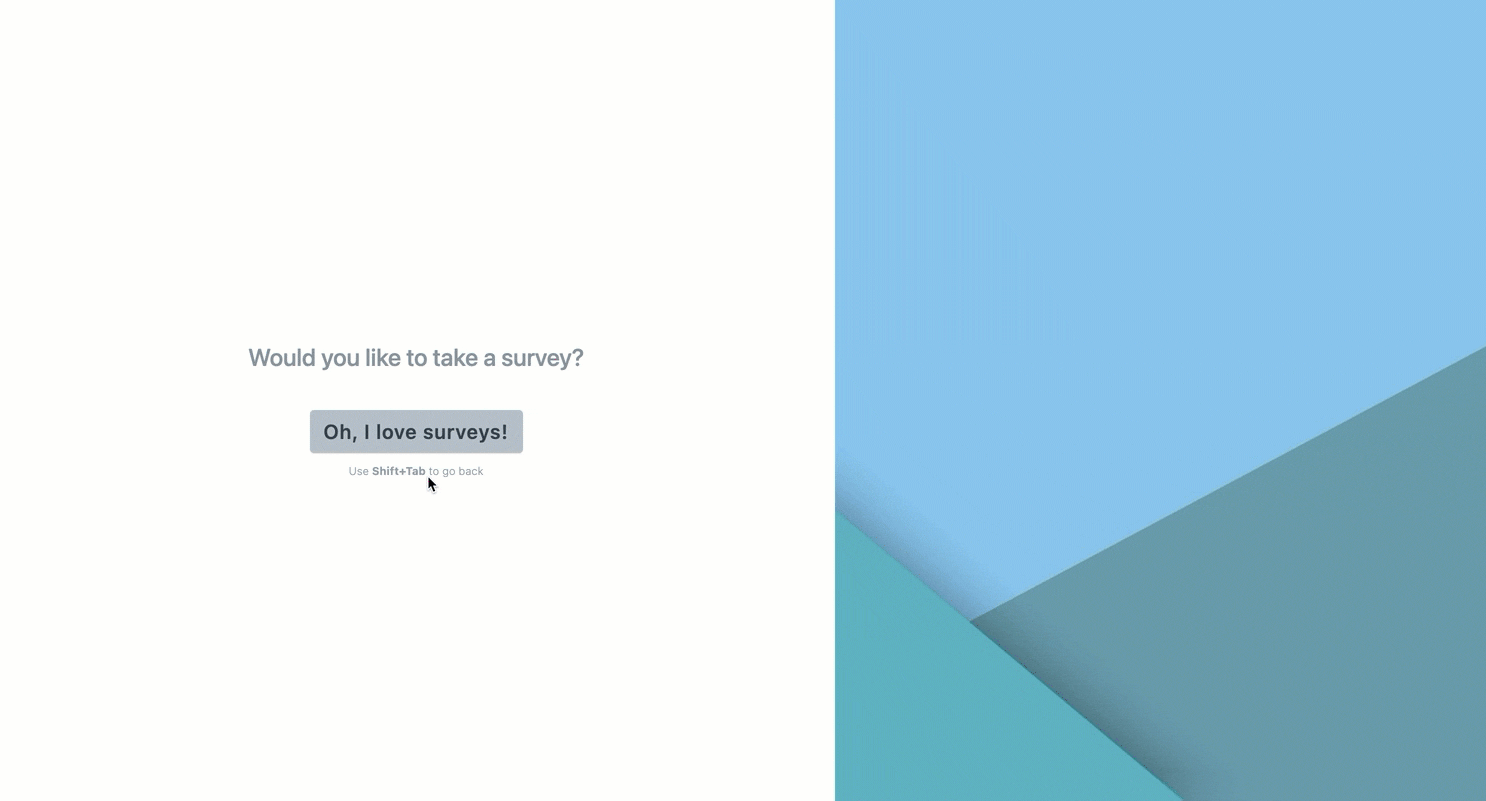 You have complete control over how form elements and data are used and customized. And you can even modify the HTML or export forms to other sites.
And all this right on your WordPress site, since it's specifically designed for WordPress users.
What is Typeform?
In a nutshell, Typeform is a platform that enables you to create interactive forms. You can use these forms independently or place them on your website or blog.
Typeform creations are usually full-page, multi-step forms. This makes them ideal for online surveys, collecting user data, contact forms, and more:
While you can create a Typeform WordPress form, it is platform-agnostic.
Typeform vs Formidable Forms for WordPress (3 key differences)
So which of these tools is right for you? To help you make that decision, we'll compare Formidable Forms vs. Typeform WordPress plugins in three key areas.
1. Ease of use
Formidable Forms WordPress Plugin
If you're using Formidable Forms, you can create your forms right in the WordPress dashboard. When you add a new form, the plugin will prompt you to choose from an extensive library of templates: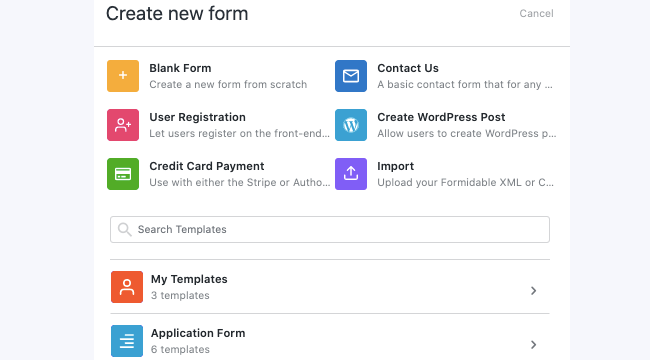 After you select one and enter the form builder, you get access to extensive field options. When compared to Typeform, Formidable Forms gives you more freedom to create many different types of forms:
Unlike Typeform, Formidable Forms also enables you to create both single-step and multi-step forms with custom layouts. That means you can have as many elements and fields as you want in one form on a single page. It also means you can use a form conversation design for your project if you want, instead.
Formidable Forms also includes a style editor that you can use for great contact form design. This editor gives you full control over how your forms look:
Typeform WordPress Platform
Creating forms using Typeform is relatively simple, though you'll have to do it outside of WordPress. When you log in to your Typeform account, you get the option to edit existing forms or create new ones.
When creating a Typeform survey or form, you can start from scratch or choose from a set of form templates. These templates tend to be very stylish and colorful. You'll want to carefully choose your design to match your site's style:
If you choose a template, Typeform will then display the list of pages/slides it comes with.
It's important to note that you can only include one question or element per slide. This creates a more conversational feel. It also means on forms with multiple elements, users will need to click through individual pages for each of them:
When modifying a field, Typeform enables you to choose from over a dozen options. Depending on what field you use, Typeform will automatically change the way users can respond. You can also change the template for any specific slide, or modify its design by customizing individual elements:
2. WordPress integration
If you run a WordPress website, you'll probably want to know whether the application you're using is WordPress compatible.
Is Formidable Forms WordPress compatible?
Formidable Forms is designed for WordPress users. When you're using WordPress's Block Editor, adding forms to your posts and pages is easier than ever. You never have to leave the dashboard to use the plugin or to configure any of its features:
With Formidable's WordPress application builder, you can manage databases, design your forms, and easily use the data on your website. This also adds powerful options for front-end editing by linking form submissions to the users who submitted them.
That's something you just can't get in a non-WordPress solution.
Can you integrate Typeform with WordPress?
The short answer is yes, but not without a few caveats.
Typeform is WordPress compatible. But connecting Typeform to WordPress means you'll need to embed forms using codes the platform provides you with. Typeform gives you several options for embedding your forms:
Alternatively, you can use the Typeform WordPress plugin. This plugin works with the WordPress Block Editor, which makes it convenient. However, it's worth noting that some users have found it unreliable.
The main downside of using Typeform with WordPress is that you can't edit forms or view submissions without accessing the service separately. Similar to 3rd-party plugins like MailChimp, the Typeform plugin simply allows for the integration of forms into posts and pages.
Furthermore, once you embed the online form on your site, if you want to update your form you'll need to return to the Typeform website.
3. Pricing
Pricing is another area where Formidable Forms and Typeform differ greatly.
While both applications offer various pricing tiers, the flexibility of each form builder's plans makes a big difference
Typeform pricing offers a free plan that enables you to create up to ten forms but limits you to ten responses per month. The Basic plan costs $25 per month. It supports up to 100 responses per month, and charges you for any additional entries:
If you expect your forms to get a lot of traffic, Typeform's costs can add up pretty quickly.
On the other hand, Formidable Forms also comes in a free version that doesn't limit how many forms you can create or how many responses you can receive. If you need access to additional features and templates, you can pick up a premium license starting at $39.50 per year.
That's less than $3.30 per month, which ends up saving you $260 in the first year alone.
Formidable vs Typeform WordPress Conclusion
Overall, if you are looking for:
Simple multi-step forms with pre-built slides
Uniquely styled form templates
Forms for social media platforms outside of WordPress
Then Typeform could be the platform for you.
However, if you'd like:
To own your data and use it in flexible web apps
Extensive customization as well as a powerful template library
Unlimited forms and responses
The ability to manage forms and data within the WordPress dashboard
If you want to test Formidable Forms for yourself, you can check out the free version. When you're ready to take advantage of more advanced features, sign up for a Formidable Forms plan!
See more Formidable Forms comparisons