Wondering what is the best free form builder to use on your WordPress website? Here's a list of some of the best free WordPress form plugins.
Adding a contact form to your WordPress website is a must for any business.
It provides a convenient, familiar way for your customers to get in touch with you online, and it can help keep your inbox spam-free. Contact forms are also an effective lead-generation tool. And when done right, they can be the most valuable part of your website.
But you might be wondering: How do I create a free WordPress form? We recommend a form builder plugin!
If you're looking for the best free form builder for WordPress, you're in the right place!
Get the Best Form Builder Now!
What is the best free form builder plugin for WordPress?
Luckily, there are plenty of WordPress form plugins that can help you design and build a contact form for free. They have different strengths and weaknesses, so which plugin should you use?
Because the truth is that most of these plugins can create many types of forms. Examples include registration forms, order forms, and signup forms. In fact, the top form builders can build any web form imaginable. And if you're worried about paying for an expensive form builder: free is an option!
But sorting through the WordPress.org plugin directory can be draining. That's why we're here to help!
In this list, we'll take a look at 6 of the best free WordPress form plugins available. We'll also list their pros and cons so you can decide which is the best for you. Read on - your best WordPress form plugin awaits!
FREE WordPress Form Plugins
In today's post, we'll take a look at the best WordPress contact form plugins in detail. We'll go through each online form builder's data collection, form styling, and more!
1. Formidable Forms
Formidable Forms is a free WordPress form plugin that enables you to create perfect contact forms.
There's a unique built-in form styler, which lets you match your forms to your WordPress theme. With the styler, you can customize colors, fonts, borders, and more without writing any code. Your forms are fully responsive and mobile-friendly, so they look great on any device.
Formidable Forms is the most advanced WordPress form builder plugin available today, but even its free Formidable Lite plan has an intuitive interface. The drag-and-drop functionality makes building customized forms quick and easy. This feature also makes it easy for users of any skill level to build forms.
If you're looking for more advanced features, such as building a calculator or survey tools, you'll find them in the premium version of Formidable Forms. These select features provide valuable tools for any business.
Formidable can even be used as a website app builder like a WordPress directory plugin, with all the features you'd need to create an entire directory website.
Create Better Forms with Formidable Business!
But if you're not ready to commit, don't worry. There is plenty you can do with the free Lite version of Formidable Forms.
Free features
Build unlimited custom forms like a questionnaire with the drag-and-drop builder.
For quick or common forms, choose from a selection of pre-made templates.
Build accessible WCAG/A11Y-compliant forms.
Customize the look and feel of your forms using the styler.
Create autoresponders.
Get spam protection.
Save form entries to a database.
View your entries in your WordPress site's backend.
Import and export forms and styles.
Export entries to a CSV file.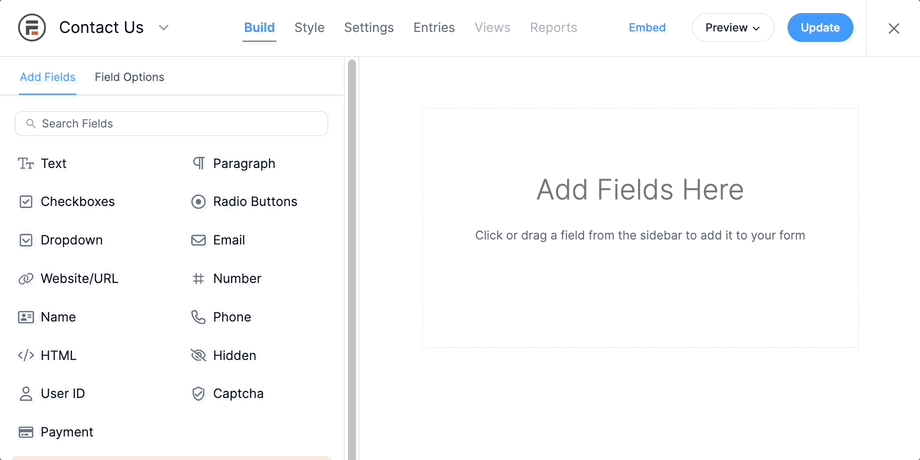 If you need any kind of contact form for your WordPress site, Formidable Forms has you covered. Its robust features, ease of use, and powerful Lite version put it firmly at the top of any list of the best free WordPress form plugins.
The premium version adds many more features. You can create online exams and quizzes, payment forms, conversational forms, and directories, plus more. It's also extremely customizable, with more than 125 hooks, and comes with forms that allow file uploads and gated content.
Pros
The most powerful and advanced WordPress form plugin available.
The simple drag-and-drop interface requires no coding knowledge.
Customizable forms look great on all devices and complement your WordPress theme.
Multiple features allow you to expand beyond basic contact forms.
Integrates seamlessly with popular email marketing platforms.
A Slack community for Formidable Forms allows you to "crowdsource" ideas and know-how.
When your need for contact forms turns into a need for an application builder, you won't need to switch to another plugin.
Cons
Complete beginners might be overwhelmed by all of the Formidable Forms options.
Pricing
Formidable Lite is completely free while its premium plans range from $39.50 for the first year to $599 for their Elite plan. It also comes with a 14-day money-back guarantee to try out its free options.
2. WPForms
WPForms is a user-friendly, free WordPress form builder. Like Formidable Forms, it offers a drag-and-drop interface, meaning you don't need to be an expert in coding to create attractive and functional forms.
But sometimes plugins that say they're free come with a bunch of caveats. So, is there a free version of WPForms? Yep! So if you're looking for a basic WordPress form builder, the WPForms Lite plugin is an appealing and user-friendly choice.
Going further, this plugin is particularly useful for those who are new to building forms. WPForms sacrifices some of the more advanced features you'll find with other plugins on this list in favor of overall ease of use.
That being said, if you need more than just a basic contact form builder, you may be better off using a more flexible, full-featured option, like Formidable Forms.
Free features
Drag-and-drop form builder interface.
Pre-made templates for basic contact forms and suggestion forms.
Import and export forms.
Employ a reCAPTCHA field to block spam.
Link the plugin with your Constant Contact account.
You can also customize the templates to suit your website's needs; however, some fields (such as a website URL field) aren't included in the free version. Also, the Lite version of WPForms doesn't save form submissions to the database. This makes the email notifications ultra-important.
In addition, the premium version adds a lot of great features like instant NPS fields, lots of email integrations, conversational forms, and more. Even so, WPForms presents its dashboard in a very simple way with minimal options.
Pros
Simple to use functionality is beginner-friendly.
The free version includes premade templates for basic contact forms.
You can use a reCAPTCHA field to block spam.
Integrates with Constant Contact.
It offers a premium version with some great features for beautiful forms.
Cons
You can't save form entries with the free version.
The free version includes fewer options than other form plugins.
Forms are less customizable in order to keep the options minimal.
Pricing
WPForms Lite is free, while paid plans range from $79-$599 a year. This plugin also comes with a free trial.
👉 Read More: Formidable vs WPForms
3. Contact Form 7
Contact Form 7 may be the grandfather of all free WordPress form plugins. It's the oldest plugin on this list and one of the most popular too. This plugin is free, and you can install it on as many sites as you'd like.
However, Contact Form 7 is not recommended for beginners. It lacks a simple drag-and-drop form builder, so you must have basic knowledge of HTML to use the plugin. If you forget to add a character here or a bracket there, your form won't work at all.
There's also no way to see a live preview of your form before it's published.
Despite these drawbacks, Contact Form 7 remains a popular contact form plugin for WordPress due to a few important features:
Free features
Many free add-ons (though you'll have to download them from a third party).
Many types of form options
If you like to tinker with code, Contact Form 7 will do the job. But you can save a lot of time and trouble by using one of the more feature-rich plugins on this list.
Pros
Totally free.
Several free add-ons you can download to expand functionality.
Infinitely customizable forms for developers.
Cons
Requires some HTML knowledge to use, making it better suited for advanced users.
Lacks the expansive functions and features of other form builders.
No drag-and-drop form building.
No live preview.
You must rely on third-party developers for additional features.
Since it's completely free, the chances of getting help when you need it is slim.
Pricing
Free
👉 Read More: Formidable vs Contact Form 7
4. Ninja Forms
Is there a free version of Ninja Forms?
Like many of the other WordPress form builder plugins on this list, Ninja Forms is a "freemium" product. That means it's free to download and use, but premium options are available with additional functionality.
So let's take a look at some of the biggest strengths that come with this plugin's free download.
Free features
Intuitive drag-and-drop interface.
Easily integrate your WordPress Ninja forms with popular email campaign services such as MailChimp, Constant Contact, and Campaign Monitor.
Enable both reCAPTCHA and honeypot anti-spam options.
For creating more than just basic contact forms, the premium add-ons offer more functionality, such as conditional logic, multipart forms, and payment gateways. Once you've purchased all the add-ons you need, you may spend more than if you'd just bought a more comprehensive form plugin.
Pros
The drag and drop form builder allows for easy side-by-side fields.
Extensive add-on options cover direct integrations that other plugins don't provide.
Cons
Add-ons for each individual feature can become expensive.
Not all add-ons are compatible with versions 4.0 and up.
👉 Read More: Ninja Forms vs Formidable
Pricing
Free + options starting at $99 a year.
5. Everest Forms
Everest Forms is a free WordPress plugin that lets you drag and drop fields to create responsive forms. It also boasts being meticulously designed for all levels of users.
When it comes to features, Everest forms comes with plenty.
Free features
Create multiple column forms.
Enable reCAPTCHA for spam protection (and GDPR compliant forms)
Lightweight and faster operations than some competitors.
100% mobile responsive design.
11 Form field options (less than Formidable and others)
However, like Formidable, it does come with a responsive design, advanced email settings, and editable form validation and success messages.
👉 Read More: Formidable Forms vs Everest Compared
If you need more features, the premium version includes features such as a form style customizer, integration with MailChimp and PayPal, and conditional logic.
Pros
Easy drag-and-drop interface with two or three-column forms.
Free with a variety of features.
Cons
Only two template options to choose from.
Pricing
Free + plans starting at $48.30 a year.
6. Jetpack
Jetpack is a popular plugin for a good reason: it is made by Automattic, the same company that created WordPress. It offers a full suite of services for WordPress websites. If WordPress hosts your site, you already have access to all of the Jetpack features.
Its widespread availability is why we included it in our list of best form plugins.
Because, while it technically isn't a form builder (much less one of the best forms plugins for WordPress), anyone with WordPress can add a basic contact form to your site with Jetpack. However, you won't find form builder options for things like adding custom fields, and you'll have to install and use the Akismet plugin for anti-spam protection.
Free features
Installed and ready to go as soon as you register.
Comes with basic form fields.
Add forms to WordPress sidebars, widgets, and image galleries without any coding.
That said, it does come with other features unrelated to posting a form in WordPress.
Pros
A simple, free option that may already be installed on your site.
Has a built-in suite of many different free services.
Cons
No premade form templates.
You must use Akismet for spam protection.
No options for customization.
It only allows for very simple contact forms.
Bulkier than you need
👉 Read More: Formidable Forms vs Jetpack Compared
Pricing
Free
Which is the best free WordPress form plugin?
After evaluating the most popular WordPress contact form plugins, Formidable Forms is the best option. It offers the most features and customization options while remaining easy to use and intuitive.
In addition, its drag-and-drop interface means you can fully customize your forms without writing a line of code.
Create the Best Contact Form Today!
---
More free form builder comparisons for WordPress
When you're looking at the best free WordPress form plugins, there are plenty of good options to choose from. Some focus on ease of use, others on functionality or add-on options. Unfortunately, we couldn't go over them all in this post.
For other examples, you can check out these form builder comparisons with FormStack, Google Forms, Caldera Forms (no longer supported), and Gravity Forms. There are also other options like Forminator, HappyForms, and Cognito Forms.
Providing a contact form to your site visitors will improve communication for your business or organization overnight. Whichever WordPress form-building plugin you use, a contact form will give you a competitive and professional advantage.
Download Formidable Forms and add the perfect form to your business website today!
---
Read more about WordPress form plugins