Trying to decide between Caldera Forms & Formidable Forms? In this post, we compare these WordPress form plugins to help you choose.

Approximate read-time: 6 minutes
Looking for a comparison between Caldera Forms and Formidable Forms? Or maybe you are looking for a Caldera Forms alternative?
We get this question all the time. What's the difference between our WordPress form builder and the other ones out there? Actually, there are a lot of differences! Take a look at the form builder alternatives we've already written about:
Form builder plugin comparisons
Caldera Forms Alternative
So here we are again, continuing the theme by comparing Formidable Forms vs Caldera Forms in this post.
If you don't know much about Caldera forms, it's a WordPress forms plugin with a drag and drop interface (which we will review below).
If you've tried Caldera forms already and are looking for an alternative, Formidable might be the one. Let's compare these two form builders side by side so you can decide for yourself.
👉 Read more: Best Free WordPress Form Plugins
What is Formidable Forms?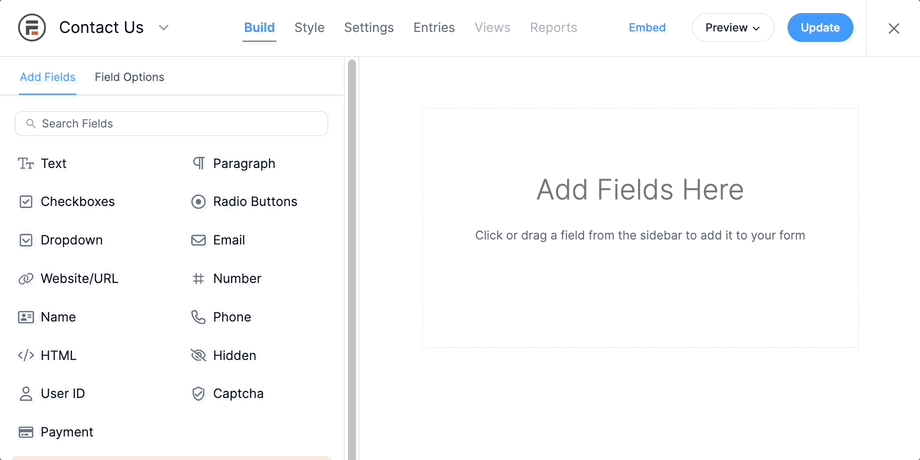 Formidable Forms is a drag and drop form builder with dozens of powerful features. One of the things Formidable is known for is its intuitive interface. If you're new to WordPress forms, you'll enjoy Formidable's easily accessible features. If you are a WordPress veteran, you'll love Formidable's advanced features and options.
In a nutshell, it could not be easier to anything from contact forms to complex multi-step forms. And it's possible for advanced users to create anything they can imagine!
Formidable is one of the only form builders with a focus on displaying data anywhere on your site. That means you can collect data with your forms, then display it however you want. One example: create a poll, then display the results in real-time after a user submits their response!
What is Caldera Forms?
Caldera Forms is a form builder with a similar premise to Formidable. They offer several free form building features with the option to upgrade for more advanced features.
Their plugin functions based on a top-down drag and drop user-interface. It can take some getting used to, but it serves the same purpose as many similar WordPress form plugins available.
Should you use Caldera Forms? It's all about the features and how much they cost. Let's compare Formidable and Caldera side by side to find out.
What should you look for in a form builder?
In this comparison, we'll be looking at 4 main areas:
Ease of use
Support
Pricing
Integrations/add-ons
To find out who comes on top in the Formidable Forms vs Caldera Forms comparison, read on!
Ease of use
Formidable Forms has such an easy-to-use interface that it can deceive advanced users. The fact is that we spend countless hours tweaking our UI. Since we launched Formidable in 2010, there have been several big UO updates, each building on the last. The result? One of the best and most intuitive form builders on the market.
Caldera Forms does indeed have a drag and drop user interface. But we'd be hard-pressed to call it intuitive. True, we are biased. But our testing resulted in confusion right from the start. The kind of feeling that makes you want to uninstall a plugin within 5 seconds of using it.
Long story short: can you build a form using Caldera? Yes. Is it easy? Not really.
🌟 Winner: Formidable
Support
When considering online support, there are a couple of key things to include:
The knowledgebase
Access to a human support team
Specifically, the size of the knowledgebase. Formidable Forms has hundreds of knowledgebase articles, so chances are a quick search will provide all the answers users need. Formidable also has a dedicated human support team that handles hundreds of requests per week. Formidable's support satisfaction rating is usually 100% every week.
Caldera Forms has just over 100 knowledgebase articles. That's a hefty amount, but many of the articles are outdated and oddly detailed in a way that doesn't make much sense. Then there are several knowledgebase posts that are very sparse, making for an odd mix.
One good thing that Caldara Forms offers: dedicated human support for their free plugin users. Formidable handles their free users on their free WordPress plugin page, which may feel like an extra step for some.
Formidable Forms also has an active Slack community where users can find answers, as well as find pro developers who know Formidable Forms extremely well.
Although the system Formidable has built to navigate its knowledgebase is superior to Caldera, we have to give them points for providing direct support to free plugin users, with no strings attached, straight from their website. Still, when you dig into the support documentation offered by Caldera is convoluted and outdated.
Since we've got the home-field advantage, we'll call this a tie.
🌟 Winner: Tie
Pricing
Formidable Forms and Caldera Forms both have free form building features. Formidable has a few premium plans which give access to more features. Caldera Forms operates on similar model where they package addons features together. Both companies work on a pay-per-year model.
Formidable Forms
Formidable Forms has 13 form fields in its free WordPress plugin. It's premium plans unlock 25 more fields for a total of 38 form fields.
Besides form fields, Formidable has dozens upon dozens of field options & addons available for premium users (we'll cover those in more detail below).
Caldera Forms
Caldera forms has 32 fields in total. All of them are available in their free version, with the exception of custom fields. Take that number with a grain of salt, however, because there are several fields that are really just specialized text fields.
One advantage that Caldera Forms has over Formidable is that they offer unlimited site licenses even with their cheapest plan ($99 per year). Having said that, the number of addons unlocked with Caldera's premium plans cannot come close to Formidable.
Formidable's most basic premium plan has almost all the features that Caldera's most expensive plan contains. That's saying a lot because Caldera's most expensive plan is $500 per year.
Formidable also offers a 14-day money-back guarantee, something we couldn't see Caldera forms offering.
🌟 Winner: Formidable Forms
Integrations and addons
Caldera Forms doesn't really have any addons per se. They have a number of features that you unlock with higher levels of their premium plans. This creates an issue though. It means that users are forced to bloat their site with add-ons that they may never use.
In terms of integrations, they have up 14 (with their highest tier plan) including Stripe, MailChimp, and Zapier integrations.
Formidable Forms, on the other hand, has no less than 30 addons (which we cover below). Included amongst the Formidable addons, you'll find everything that Caldera Forms offers plus more.
Formidable's integrations seem limitless when compared to Caldera's, with 32 fully-functional integrations.
🌟 Winner: Formidable Forms
Formidable Forms vs Caldera Forms: Which one wins?
Although there are some users who can benefit from Caldera Forms, Formidable Forms will be the WordPress form builder that many more people will choose.
Still, there are some great things in both plugins that users will gravitate towards. In the next sections, we'll discuss who should choose Formidable Forms and compare that against who should choose Caldera Forms.
Why choose Formidable Forms?
For free users, Formidable's forever free WordPress plugin is a very powerful option.
But for those who need a little more, Formidable Forms has several features to help you make the most of your WordPress site and your online forms.
Top Formidable Forms features
Here's the deal: Formidable Forms integrates with all the top platforms. Period. From CRM to email marketing platforms, dozens of platforms work flawlessly with Formidable. Stripe, Paypal, MailChimp, Zapier, Constant Contact, Hubspot, ActiveCampaign... the list goes on and on.
👉 Learn more: How to Create Constant Contact Forms in WordPress
One feature that Formidable takes very seriously: data collection. We've built an entire suite of survey and poll form features that make collecting data from your audience extremely easy.
There are a number of ways to collect data with Formidable Forms. And once you've got the data, you can use it to your advantage by displaying it in a variety of ways on your site.
Take a look at some of our survey-related blog posts to learn more:
👉 Learn more: Reports, Graphs, and Charts in WordPress
Again, we know we are biassed when we say that our drag and drop form builder is the best. But we also know just how many hours we've spent honing it to perfection. Many form builders make the claim that they can build forms in a matter of minutes. Few of them can actually back up those claims. Formidable is one of those few.
Are you a developer? If so, why don't you go ahead and take credit for our hard work? Seriously! We've built our form builder with a white label feature so you can name it whatever you want. That way, your customers will think you made it customized just for them!
Why choose Caldera Forms?
You don't want to spend any money
If your website isn't really a money-making enterprise, it can be hard to justify investing in it. Caldera claims to offer the most features of any free form builder plugin. Depending on how you look at it, that may be true.
One word of caution though: if your website starts growing, you may need to transition to a paid option. This can become very cumbersome if you've spent a long time laying foundations that won't stick.
You like the Caldera Forms interface
Hey, who are we to judge? Just because we don't like the Caldera Forms interface doesn't mean you won't. Maybe we're just too into ourselves? Give it a try and by all means, stay with it if you like it.
You know exactly which features you need
The features of all the plans that Formidable and Caldera offer don't overlap exactly. That means you could find that either one has exactly what you need at a price cheaper than the other can offer. Take a look and do your homework before you commit!
Formidable Forms vs Caldera Forms: Final Verdict
For most users, the clear victor is Formidable Forms. Caldera Forms could work for you in some cases, especially if you find that you don't need advanced features.
For those of you who want to sell services or products on their WordPress sites, both plugins work with the top eCommerce platforms with one notable exception: Caldera forms does not integrate with WooCommerce, whereas Formidable does. This could be a major deal-breaker for those who are already invested in a WooCommerce solution.
We hope this Formidable Forms vs Caldera Forms comparison has helped you learn the differences between the two form builders.
Formidable Forms is a great Caldera Forms alternative. For more WordPress tips, check out the Formidable blog!
More WordPress plugin posts
---
Formidable Forms is the most advanced WordPress form builder on the market. Get started with our free WordPress plugin or one of our premium plans today!