Trying to decide between Jetpack & Formidable Forms? In this post, we compare the two WordPress form builders to help you choose.

Approximate read-time: 6 minutes
Looking for a comparison between Jetpack Forms and Formidable Forms?
We are asked all the time to talk about the difference between our WordPress form builder and all the other options out there. In fact, we've already written a number of articles comparing our plugin to other options:
Form builder plugin comparisons
Jetpack Forms Alternative
So, today we'll do the same thing with Formidable Forms vs Jetpack. Jetpack has many powerful features that are not limited to form building.
But if you've tried Jetpack forms and are looking for an alternative, you're in the right place. Let's compare these two form builders side by side so you can see which one is best for you.
? Read more: Best Free WordPress Form Plugins
What is Formidable Forms?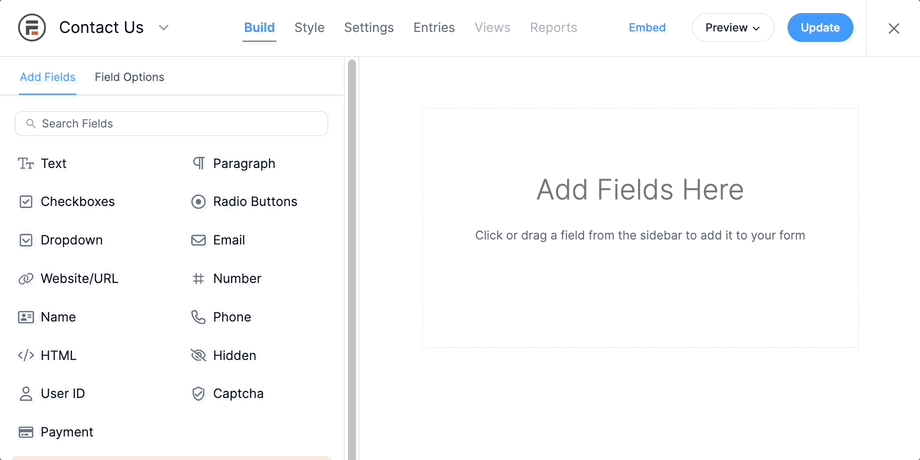 Formidable Forms is a drag and drop form builder suitable for advanced users and beginners alike. It's designed to be easy-to-use for everyone. So although it has many advanced features, those won't complicate things for those who just need to create simple contact forms.
Beyond data collection (the main purpose of any form), Formidable gives users the power to create data-driven applications. Formidable affords users more ways to collect and use their data, simply put.
What is Jetpack?
Jetpack itself is a plugin with many features. It bills itself as providing "security, performance, and marketing tools for WordPress sites".
One of its many features is Jetpack forms. And although Jetpack forms will be useful for some users, it doesn't have many advanced features.
One obvious plus is that its form building features are completely free. Jetpack forms is really designed as a value-add to the full Jetpack plugin.
What should you look for in a form builder?
There are many ways to slice a form builder. To keep things simple, we'll be looking at 4 basic areas:
Ease of use
Support
Pricing
Integrations/add-ons
To find out who comes on top in the Formidable Forms vs Jetpack comparison, keep on reading.
Ease of use
Formidable Forms has a clean and clear form building interface that's very user-friendly. Everything you need is available within just one or two clicks. Formidable Forms has made a name for itself with its form building interface. Every form field is easily accessible in a single column. This layout helps to streamline the form building experience.
Jetpack forms must be built inside a page or a post using a form block. Fans of the WordPress Gutenberg system will like this interface. However, it is limited in one major way: forms are built by adding blocks with an existing Jetpack form block.
I know what you are thinking... blocks within blocks? That could get complicated. And it does.
Unfortunately for Jetpack, it's hard to compete with a dedicated form building interface like Formidable's.
? Winner: Formidable Forms
Support
Formidable Forms has an extensive knowledge base where years' worth of documentation can be searched. It also has 24-hour support on its own website and inside the WordPress plugin directory itself.
Formidable Forms also has an active community where users can find answers to their questions, as well as find experienced developers who know Formidable inside and out.
Jetpack is no slouch when it comes to the support they offer either. They have a massive knowledge base and support for anybody with a WordPress.com account as well.
To be fair, Jetpack only has 2 knowledge base pages dedicated to its form features compared to well over a hundred by Formidable. Since we have the home-field advantage, we'll call this a tie 🙂
? Winner: Tie
Pricing
Formidable Forms and Jetpack both have free form building features. Since that's the case, let's compare what's in each free version to see who has the edge.
Formidable Forms
Formidable Forms has a generous 13 form fields in its free WordPress plugin. One other difference in Formidable is in its data collection ability. All the entries are stored inside the Formidable UI, so you can see, search, and scan through each entry whenever you want.
Another notable difference: hidden fields and user ID fields. With these fields, forms can include data that cannot be seen or modified by users when a form is submitted. There are multiple advanced uses for this, but basic users won't notice much difference.
Jetpack forms
Jetpack has 11 form fields to choose from, although to be fair, some of those are doubles. The name field is really just the same as a text field. And the checkbox group is only needed because there aren't very many field options in Jetpack forms.
One severe downside to Jetpack forms is that form entries are stored in the WordPress database. This isn't great unless you are a WordPress super expert. And chances are that very few WordPress super experts are using Jetpack forms.
That's not to say that the entire Jetpack plugin is a waste though. Just that its form features are not overwhelming.
? Winner: Formidable Forms
Integrations and add-ons
Formidable Forms has a range of integrations and third-party add-ons to expand on what the form builder is capable of. It offers links with payment options such as PayPal and Stripe. There's also support for plenty of email marketing platforms, CRM systems, eCommerce tools, and more.
This allows Formidable to go beyond simple form building. Formidable Forms acts as a multi-faceted tool that simplifies and streamlines different areas of your business. You can manage everything from just one place.
Unfortunately, Jetpack forms have no integrations available.
? Winner: Formidable Forms
Formidable Forms vs Jetpack Forms: Which one wins?
We try our best to be fair and balanced in every way. And we are hard on ourselves to a fault. But we have to give this one to ourselves. Formidable Forms is a much better WordPress form plugin than Jetpack forms.
It's not an entirely fair matchup considering that Jetpack includes forms as a throwaway feature. The main focus on their plugin isn't web forms. But still, we are asked enough that we decided to pen this article.
Why choose Formidable Forms?
If you want to take advantage of our forever free WordPress plugin, we are glad to have you!
But one thing that Formidable has over Jetpack is our advanced form features. And seriously, there are a lot of them!
Top Formidable Forms features
Forms collect data & save it in your WordPress database (also viewable in the Formidable UI). But what if you want to display that data? Formidable Forms is the only WordPress form builder plugin with Views built-in to display form data on the front end of your site.
Formidable Forms is the most advanced WordPress form builder plugin that makes building forms simple. The refreshingly simple and easy to use form builder includes an intuitive drag and drop interface. The best part is that there's no coding required.
Reduce form friction and increase conversions, you need multi-page forms. By splitting your forms into smaller chunks, you can increase form conversions by more than 200%!
Do you need to create eCommerce solutions quickly and easily? With Formidable pricing fields, your online shop is mere clicks away! Formidable pricing fields make it easy to build and manage your online store. Create responsive, mobile-friendly forms that work across all the devices your customers use.
Why choose Jetpack forms?
You're a basic/new user
If you are a basic or new user, Jetpack forms could be all you need. Maybe you just need to create one contact form for your humble WordPress blog? If that's the case, you'll do fine with Jetpack.
Jetpack could be the only plugin you need
It's fair to say that some WordPress websites could get by with just one plugin: Jetpack. That's kind of what they are going for. This is a great option if you are trying to speed up WordPress or if your site has too many plugins.
Formidable Forms vs Jetpack: Final Verdict
Both form builders will work fine for new or basic users.
But if you have something bigger planned for your WordPress website, you'll need a powerful form builder like Formidable. Want to sell services online with WordPress? Formidable can help.
Want to build multi-step forms in WordPress? Formidable can do that. Unfortunately, Jetpack forms are only suited for the very basic user. Which could be fine if you aren't trying to make money online with your WordPress site.
We hope this Formidable Forms vs Jetpack forms comparison has helped you get clear on the differences between the two form builders.
Formidable Forms is a great Jetpack forms alternative. To give Formidable Forms a try, take a look at our full list of features and integrations.
More WordPress plugin posts
---
Formidable Forms is one of the leading WordPress form builder plugins on the market. Try our free plugin or our full-featured premium plans at no risk with our 14-day money-back guarantee.