Want to add a simple contact form to your WordPress website? Create one in a few easy steps using a drag-and-drop form builder!
Approximate read-time: 4.5 minutes
Wondering how to create a custom contact form in WordPress? With the right drag-and-drop form builder, it's easy!
In this step-by-step guide, we'll show you how to make an easy contact form on WordPress sites. All you need to create a contact form from scratch is a WordPress website & the free version of Formidable Forms' WordPress forms plugin.
Let's get to it!
Why create a custom contact form in WordPress?
Before we learn how to set up contact forms in WordPress, let's talk about why it's important.
Actually, there are many reasons to add a contact form to your WordPress site! Luckily, adding a contact form is easier than clicking the submit button. But why should you do it?
Ever heard of a little thing called spam?
Publishing your email address on your site is one of the best ways to invite spam. That's why many of the best WordPress contact form plugins have spam protection features like captcha & ReCaptcha.

Besides spam prevention, it's also helpful to control how your audience contacts you. You can require users to submit the information you need by adding relevant fields.
One simple example: eCommerce. By asking customers for their order number in a contact form, you won't need to email them back to ask them for it. Unless you need to communicate with every user, a simple contact form is very helpful.
And eCommerce isn't limited to just products. You can sell your services with WordPress too. The first step? Creating a simple contact form.
Steps to creating a simple contact form
With our free WordPress plugin, creating contact forms could not be easier. Drag-and-drop form builder plugins add the ability to create forms with just a few clicks.
Here are the basic steps to creating a simple contact form:
Install Formidable form builder plugin
Create your first contact form
Set up contact form notifications
Embed the form on a contact page on your WordPress site
Follow the steps below to learn how to use our form maker on your WordPress site!
1. Install Formidable's form builder plugin
The first thing we want to do is install and activate a WordPress form builder plugin. We're going to go with user-friendly Formidable Forms.
The best thing about Formidable? For contact forms, it's completely free! Setting up a contact form on WordPress sites is easy with Formidable (as you'll see below).
If you are looking for advanced features, you need to look no further than the Formidable premium plans. In this tutorial, all you'll need is the basic free WordPress plugin.
Here's how to install the free version of Formidable Forms:
Go to your WordPress Dashboard, and go to the Plugins → Add New page.
Search for 'Formidable' and click the Install button. After installing, click the Activate button.
2. Create your first contact form
Now we are going to learn how to make a simple contact form. Since you've installed Formidable, creating a new form will be easy! Stay in your WordPress admin and look at the sidebar on the left side of your screen.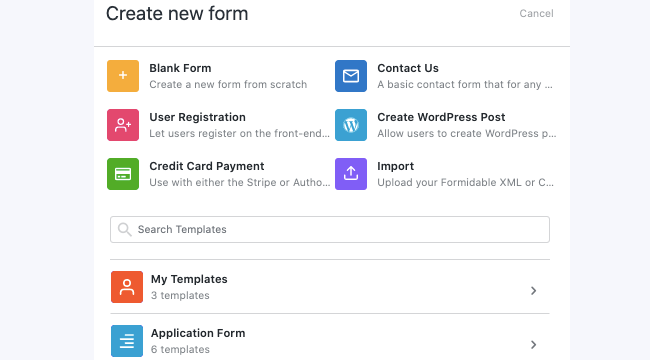 First, go to Formidable → Forms and click Add New at the top of the page. Then, choose Blank Form.
Next, Give your new form a name and click Create to start building your contact form.
You can even use one of the pre-made form templates to help build your form quicker. And don't worry, if you want to customize your forms, we have all the tools you need and an excellent support team ready to help!
Once, you've created your form, you'll need to add the form fields you want.
Just choose the fields you need for a contact form then drag them over to the right. You can drag the fields around to adjust the order of the fields as you like.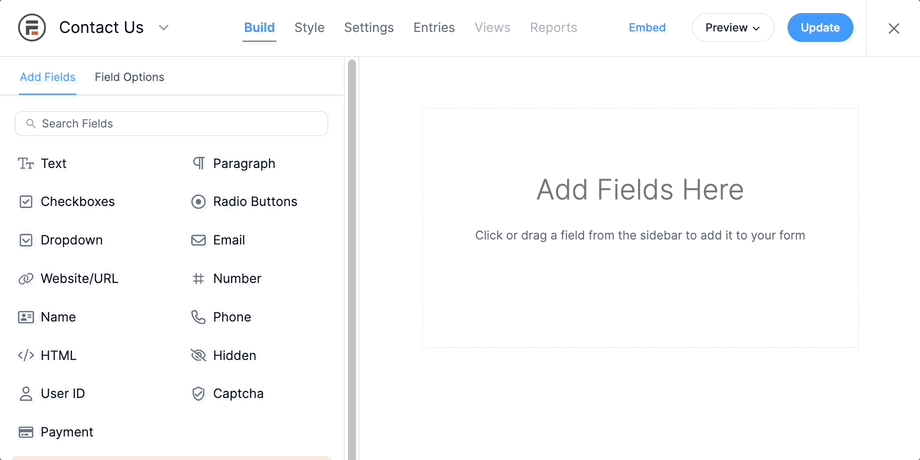 For a simple contact form, consider adding these field types:
First and last name
Email address
Message field
As you can see in the image above, to add these fields, all you need is to click on your single-line text field, then change the Field Label in the Field Options section in the sidebar.
Using the above method, you could also add another text field so users could add a subject to their message.
And don't worry about making changes later! With our form builder, you can go back and edit your contact form at any time. Even after you have already published it!
3. Set up contact form notifications
What's one of the best reasons to use contact forms? The ability to send confirmation emails!
And frankly, a form that doesn't send a confirmation email is a lost opportunity. Why leave your potential customers wondering if you've received their message?
Besides, a confirmation email is statistically one of the most important emails you can send a client.
In Formidable, setting up an email notification is very easy. Taking an extra minute to set this up makes it so you don't need to send email manually anytime someone submits a form. WordPress will do it for you!
To do this, go to your Settings page and click on the Actions & Notifications tab. From there, you can create a notification email that fits your contact form.
4. Embed form on a contact page on your WordPress site
In your WordPress dashboard, click on Pages → Add New. Create a new page and title it "Contact Us" or whatever you'd like.
Now that you've created one, we are going to learn how to embed a contact form in your WordPress site. You can use these methods to place a contact form on any page, post, or widget area.
To publish your new contact form you can either:
Use a form block
Insert the form shortcode manually
The easiest way to add a form is with the form block. If you use WordPress's super convenient block editor, simply click the + in your post editor and type in Formidable. The widget block will come up.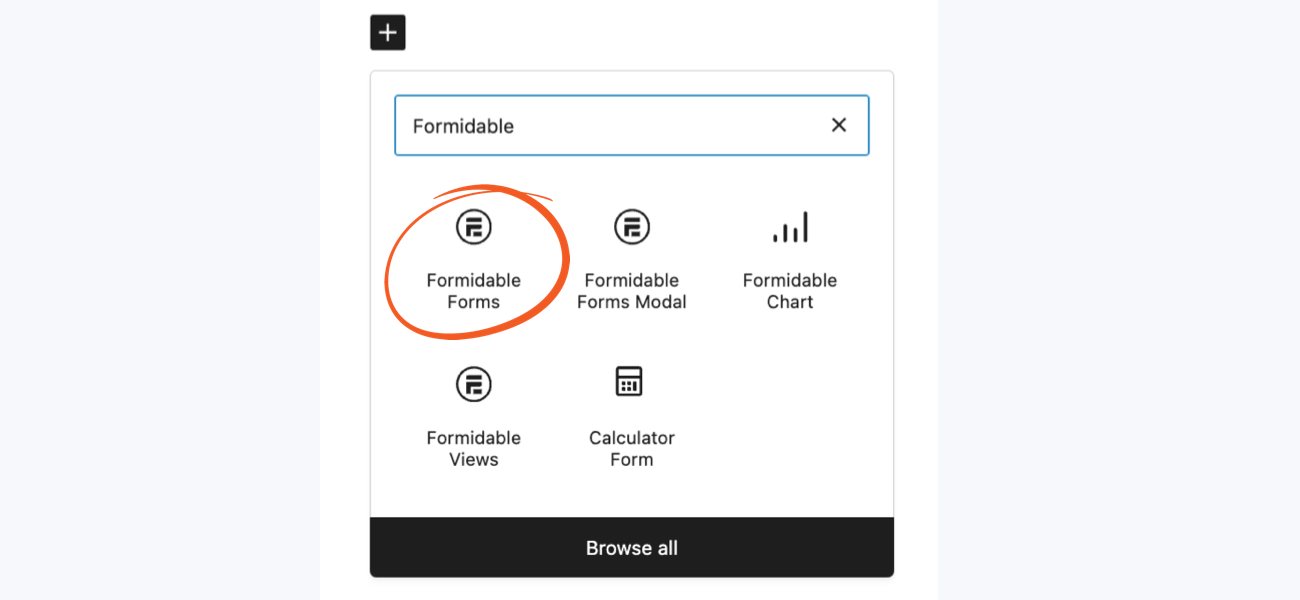 Select the widget and a dropdown will appear where you can choose the contact form from a list of forms you've created. And that's it!
If you don't have the WordPress block editor, never fear. You can follow these simple instructions to embed the form on any website using a shortcode!
One last thing: be sure to test out your contact form once you've published it. Check that the notification emails work properly and consider personalizing the default success message that displays after form submission.
What's next after simple contact forms?
Congratulations! In less than ten minutes, with zero coding knowledge & minimal computer skills, you made a beautiful contact form for your WordPress website. Simple contact forms have never been so simple.
But wait - there's more!
Even the simplest contact form can do MORE! Formidable Forms has many awesome features that make it stand out from the crowd. As your online presence grows, you can add the following features:
Views: Display form data in custom graphs, charts, and listings without any PHP.
Cascading Lookup Fields: Filter the options in the next field and automatically add values to fields.
Premium Form Features: Integrate with MailChimp and perform dozens of other actions with powerful form features.
Advanced auto-responders: Send out custom offers & promotions to users at set times each week or month.
Calculated Fields: Integrate instant price estimators and perform advanced calculations.
eCommerce Pricing Fields: Turn your site into an online store with Stripe forms, PayPal forms, Authorize.net forms (and more) payment options.
Conditional redirect: Direct users to products/information relevant to their query.
We hope you enjoyed today's article. For more WordPress tips, stay tuned to the Formidable blog.
---
If you're not already a part of the Formidable community, why not check out the free version of Formidable Forms today? Even better - take advantage of our 14-day money-back guarantee to try out Formidable Forms completely risk-free!
Read more about how to use forms