Looking to make a Mailchimp contact form in WordPress for your website? Learn how a Mailchimp contact form can add contacts to your audience automatically.
Did you know email marketing has the highest return on investment for small businesses?
Whether you're a small business or not, there's a lesson to be learned here: email marketing is essential for your website. Email is an important part of your marketing strategy.
And Mailchimp is one of many email services that hope to be your solution.
If you tried to create a Mailchimp form, you know using its built-in form builder isn't a fun experience. It's confusing to use at first, and customization options aren't the best.
But, there's good news: a better solution exists!
This post will show you how to make a Mailchimp contact form using one of the most powerful form builder plugins: Formidable Forms.
We'll cover three areas:
Let's start it off.
Why make a MailChimp contact form?
Don't overlook a contact form's effectiveness if you want to grow your Mailchimp audience. Your Mailchimp Contact Us form can generate leads in bunches if correctly set up.
And this can lead to more transactional emails in the future.
Connecting your form to Mailchimp can make your life much easier. Rather than manually adding contacts to your audience, you can automatically add them and tag them at the same time.
Best of all, you can apply a tag based on the post or page they signed up. This is key for segmenting your audience to filter out what they don't want to see.
Why send a product sale to them if they didn't sign up to see it?
One idea is to subscribe visitors to an automated email marketing campaign on form submissions. So, this automation can be made specifically for customers who use your contact us form for Mailchimp. Assigning groups is another form of segmenting.
A potential customer is different from a newsletter subscriber. Why treat them the same way?
Segmenting contacts is an easy way to improve your customer experience today.
Why Formidable Forms for your Mailchimp contact forms in WordPress
Formidable is the most powerful form builder in the plugin world. Its features, integrations, and ease of use make it a Swiss Army knife in plugin form.
First, customization is easy. Easily design your form to look how you want it. Borders, buttons, backgrounds; it's all here.
Easily set the input type hidden if setting up a password field. Or create a Likert Scale for a quick visitor survey.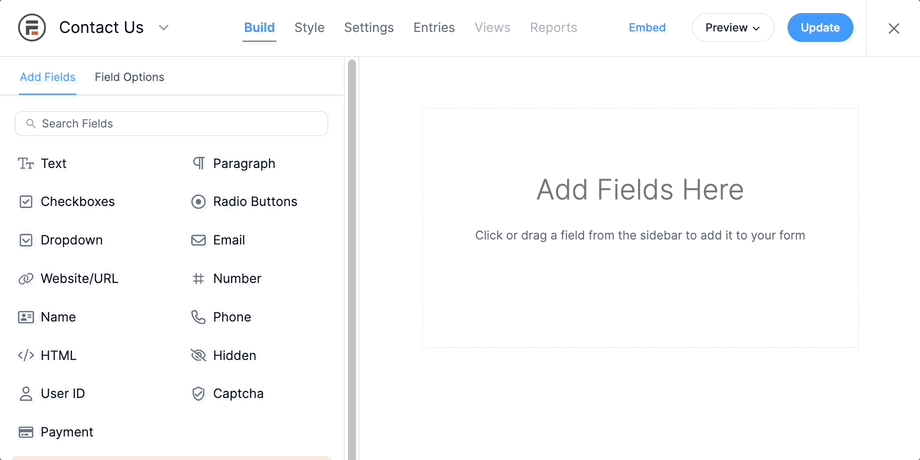 Next are our amazing contact form templates. You have a pre-made form to save time on your setup process with a couple of mouse clicks. Contact, registration, payment, we've thought of it all.
And it's easy to embed your Mailchimp contact form on your website.
Last, Mailchimp signup forms are easy with Formidable. You can even go beyond Mailchimp's form abilities. As we mentioned above, Formidable offers segmenting options that Mailchimp doesn't.
So extra data from your app for signup doesn't have to waste. You can use it to learn more about your subscribers and help them better.
Formidable even makes displaying a Mailchimp contact popup form easy to show.
Put simply, creating forms is fun with Formidable and Mailchimp.
What you need to get started
Your Mailchimp account
Formidable Forms plugin
You need to have Formidable Forms Plus plan to get Mailchimp integration. But, given its features, it's a pretty good value:
And, you can try it out. You have 14 days to get a refund if you don't like it. No questions asked.
How to add Mailchimp to WordPress contact forms
From start to finish, setup should take less than 10 minutes.
Here are three simple steps to follow:
Find your Mailchimp API key
Install the Formidable and add your API key
Create a new contact form in Formidable and adjust Mailchimp settings
Step 1 - Find your Mailchimp API key
First, we have to integrate your contact forms from Mailchimp. We'll do this by getting your Mailchimp API key.
To find your API key, log into your Mailchimp account, and go to Account → Extras → API Keys.
Click Create A Key if you don't have one already.
Keep your Mailchimp API key handy for a few minutes since you'll need it in the next step.
Step 2 - Install the Formidable and add your API key
You'll need to install and activate Formidable Forms if you haven't already.
Then, you'll need to install and activate the Formidable Mailchimp WordPress add-on. You'll find the Mailchimp add-on in the Add-Ons section of Formidable.
Next, go into your WordPress Dashboard → Formidable → Global Settings and click the Mailchimp tab.
Insert your Mailchimp API Key from step 2 and click the Update Options button. Your website is now connected to your Mailchimp account!
Let's move on to step 3.
Step 3 - Create a new contact form in Formidable and adjust Mailchimp settings
To get started, you'll need to create a contact form (or signup form).
You can save time by using the Contact Form template. Our pre-made templates make it easy for you to get started quickly.
When editing your contact form, click on Settings → Form Actions. You'll see the action Add to Mailchimp.
Select the Mailchimp list where you would like to add subscribers. And, you're finished!
Take your Mailchimp contact form and embed it on your site
Making a contact form for Mailchimp is just the start. The next step is to embed the Mailchimp form in WordPress. All you need is the form code.
Once you embed your contact form for Mailchimp on your site, you can start getting leads for your email list. Embedded forms are a great way to begin connecting with visitors.
We hope this article has inspired you to get started with Formidable Forms. Be sure to look at our full range of features and integrations - Mailchimp is just the tip of the iceberg.
Also, if you have social media, follow us on Facebook and Twitter for more from our marketing library!
Read more: Using MailChimp with Formidable