Wondering how to add MailChimp signup form to WordPress? With these simple steps, you can have your MailChimp forms running on your website today!
Wondering how to embed a Mailchimp signup form WordPress? If you've looked at Mailchimp's documentation, it's unclear how it's done.
We looked at it ourselves and were left scratching our heads. Why isn't it simple to add Mailchimp forms to your WordPress site?
It's not as complicated as the documentation makes it look, though.
This post will show you how to get your custom Mailchimp signup form WordPress on your website. Then, you'll see how form plugins can simplify this process. And it'll make your forms look more beautiful than Mailchimp's forms!
But first, we need to clear up the different WordPress options so you get the right answer.
Why your WordPress version matters for Mailchimp
If you've started a website, this is a confusing difference. The only difference you can see is the ending, but that's a small difference if you ask us!
But, there's more to it than that.
WordPress.com is a web service that helps you build your website from the ground up. It even hosts your website, so you don't have to find hosting.
WordPress.org, however, doesn't have these features. It's simply a way to get the software so you can build the website yourself. This means you must find somewhere to host your website and do all the leg work.
How do I add my Mailchimp WordPress subscribe form with WordPress.com?
If you're using WordPress.com, the process is simple. WordPress.com has a Mailchimp block built into its software.
So, the process is as easy as going to your post or page, adding a block, and searching for Mailchimp.
From there, you'll connect your Mailchimp account and choose the Mailchimp audience you'd like email addresses to be added to.
As easy as baking a cake. But, we think baking a cake is difficult, so we may need a better analogy.
There you have it. If you're using WordPress.com, your work is done.
But, if you're like most people (around 80% of all websites), you're using WordPress.org.
How do I add my WordPress Mailchimp subscribe form with WordPress.org?
This is where Mailchimp's documentation gets confusing. There are a few ways to do this, but none are obvious.
Mailchimp recommends using a plugin for your WordPress Mailchimp signup form. And in the next section, we'll discuss one that makes the process easy.
But, before we get to that, let's show you the ways you can do it with Mailchimp:
Install a form plugin
Insert Mailchimp's embedded forms
Install a form plugin
This is Mailchimp's number one option for your Mailchimp email signup form WordPress.
For this, go to your plugins page on your WordPress site. Search 'Mailchimp,' and you'll see a huge results list.
All these work similarly and require you to connect your Mailchimp account.
From there, your contact forms will show up on your website. And anyone who signs up will be added to your email list.
If you're not a fan of how Mailchimp's forms look, take a peek at the next section for something amazing 👀.
Insert Mailchimp's embedded forms
Each time you create a form, Mailchimp creates a piece of code you can use on your website.
Under your Audiences tab on your Mailchimp account, select Signup Forms. Next, choose Embedded Forms.
Customize your form how you like, then copy the code at the bottom of the page.
You can paste this into any post or page on your website, and your Mailchimp embed signup form WordPress will appear.
Anyone who signs up using this will be added to the Mailchimp list you chose when making the form.
Want your Mailchimp forms to look even better? Use this 👇
Okay, so now that we've covered how to get Mailchimp's forms on your website, let us introduce you to a less complex (and better-looking) form builder.
Formidable Forms.
With Formidable Forms, showing your Mailchimp forms on your website is much simpler.
Once you buy and install Formidable Forms, which you can do on our Pricing page, it's just two easy steps:
Get your Mailchimp API key
Set up your form settings
Step 1: Get your Mailchimp API key
First, go to your Mailchimp account and get your API key. On your Mailchimp account, go to Account → Extras → API Keys. Click 'Create A Key' if there isn't one already.
Next, in your Formidable Forms plugin, go to Formidable → Global Settings → Mailchimp. Insert your API key in this field.
Step 2: Set up your form settings
Go into the form you're using to add users to a mailing list.
Click Settings → Actions & Notifications → Mailchimp.
Next, select the Mailchimp list you want subscribers to be added to. Finally, select the email address, along with any other required options.
From this menu, you can:
Add any tags you'd like your subscribers to have
Select what you'd like the form to do when the user clicks submit
Select if you want subscribers to be added automatically or if they should confirm first
These are a few options available to you in your forms. For even more, look at the next section.
Why Formidable Forms can take your forms to the next level
Imagine you want to capture more information on your subscriber beyond name and email. You can't get that from a Mailchimp subscribe form WordPress.
That's where we come in.
With Formidable Forms, the options are endless. Get your subscribers' phone numbers, birthdays, addresses, and more. And, it's as easy as using a drag-and-drop system!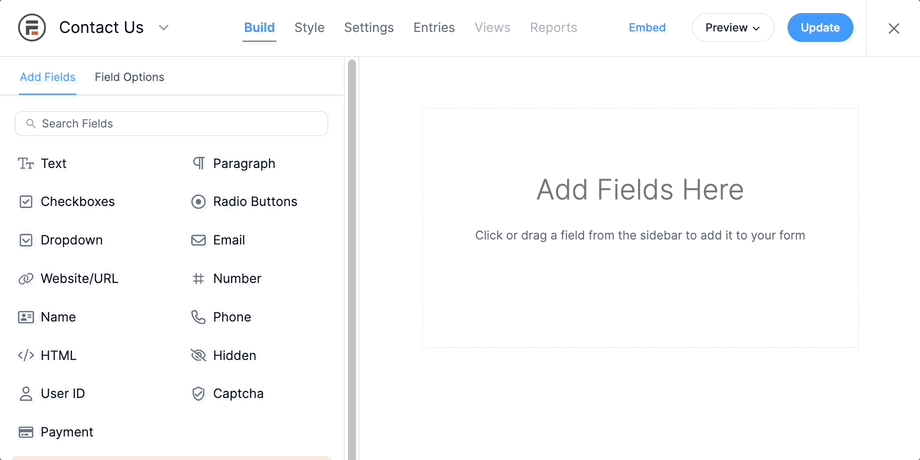 But your power doesn't end there. Oh no, you're Superman now.
Do you want to give your subscribers different tags depending on the area of your site they signed up? Formidable Forms can do that.
How about subscribing users to different groups to make it easy to segment? Formidable's form fields make this a breeze.
Plus, your forms are 100% responsive, and you can style your Mailchimp form how you want. So no worries about whether it looks good on a website or mobile. The answer is both!
Mailchimp's subscription forms fall short of the functionality in this area.
With our Plus plan, you get all the Mailchimp functionality and more.
Here are a few of the features you may find helpful:
And that's not even half of the options available with our Plus plan.
And, if you're unsure, we've got a 14-day money-back guarantee. If you don't like what we offer, contact us, and we'll get your money back in your wallet.
Or, try out the Lite version of Formidable Forms. We're sure you'll like what you see.
Conclusion
Adding your Mailchimp signup forms to WordPress is confusing, especially with its documentation. But it can be made simple, and this guide helped with that.
But, if you're left wondering how to add Mailchimp subscribe form WordPress, think of Formidable Forms.
With Formidable Forms, the process is simple from the beginning. Following our easy steps, you can create a Mailchimp form and get it on your site quickly. And it'll look beautiful while you do it.
If you want to learn more, check out our guide to adding a Mailchimp popup to your WordPress website!
Also, check out our list of features to see the full power of Formidable Forms.
Find more great WordPress plugins we recommend