Looking to create a MailPoet signup form in WordPress? Get full control over your form design on your WordPress site!
A beautiful and functional newsletter signup form can turn casual website visitors into loyal subscribers. If you want more of those, you're in the right place!
By the end of the guide, you'll be able to create a form to grow your subscribers in MailPoet. If you aren't already a MailPoet user, you should be! We'll talk a bit more about them below.
What is MailPoet?
Before we delve into building a better form, let's look at the plugin we are working with. MailPoet is an email newsletter plugin for WordPress that allows you to create & send newsletters from your WordPress admin dashboard.
MailPoet also features a sending service, which ensures emails hit the inbox, not the spam box. The sending service comes free with their premium plan for those with 1,000 subscribers or less. That makes it an excellent alternative to email platforms like MailChimp.
Why not use the MailPoet form editor?
The MailPoet form editor is great if all you want is a simple form with a signup field and a few standard fields. A Formidable form, however, allows you to create more complex forms. With Formidable, you can also use advanced custom fields and have greater control over form placement and styling.
Note: MailPoet does support custom fields in their form editor, but options are limited compared to Formidable forms. Creating a MailPoet newsletter signup form in Formidable is also easier and faster.
Step 1: Create a new Formidable form
Since we already have documentation on how to create a form in WordPress, we won't dive into every setting. Here are the basics:
1. In your WordPress dashboard, go to Formidable Forms and click Add new

2. Now you can set a template for your signup form. In this example, we used a blank form.
3. After clicking on the Blank Form button, enter the form name and form description that you want to use and click Create.
Once that's done, the basic form has been created! Now it's time to add the fields required and connect the form to MailPoet. Soon your signup form can be used to sign up to your subscribers' list.
Step 2: Create a MailPoet signup form
Every signup form and opt-in form needs a place for the end-user to enter their email address. In the form builder, click or drag and drop the Email field onto your form.
Once done, you'll see that in your form like this: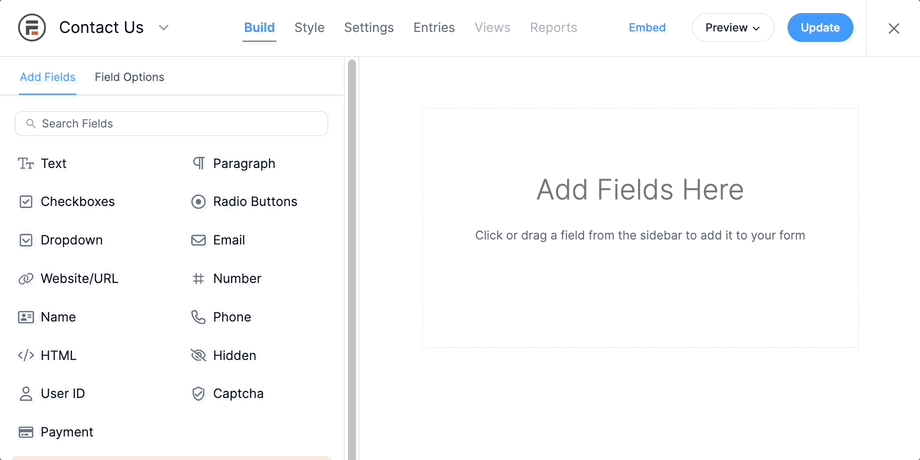 You can also add other fields to your signup form and connect them directly with MailPoet. For example, a name field or a separate first name, last name field.
Click on the email field on the right-hand side in the form preview area and it'll open up the field settings.
As you scroll, there are also settings for the messaging of the field. First, check the required box and the unique box.
The 'required' box does exactly what it says: it makes the field required. This is mostly useful if your form has multiple fields to ensure the user enters their email address.
The 'unique' box checks that the email entered by the user isn't already registered, and if it is, it'll reject the signup with an error message.
As mentioned, scroll further down and you'll see the settings for placeholders and custom messaging. Change these as required.
Step 3: Connect your form to MailPoet
Once you're happy with your form fields, click on Settings in the form builder.
The first section is the 'general' section. Scroll down and you'll be able to change the 'on submit' message. As we're creating more of an opt-in form, it's best to change the default message to something more relatable such as "Thanks for signing up to our newsletter!"
Now comes the exciting part: connecting your form to MailPoet! Click on Actions & Notifications.
Here you'll be able to connect your form to MailPoet. First, you'll notice one action is enabled by default. The default Send Email action sends an email to the site admin, notifying them of a new form submission and the relevant content submitted with the form.
Click on the MailPoet action to add it to your form. You can then configure the action, which consists of mapping the fields you created in your Formidable form into MailPoet to create your MailPoet signup form.
Available Actions
Action name - A reference to what the action does (e.g., Adds new subscribers to MailPoet).
Trigger this action when - For the purpose of the MailPoet integration, you can leave this as When the entry is created because subscribers will manage their email address directly in MailPoet.
List - Select a list to add new subscribers too. The lists are created in and managed by the MailPoet plugin, not Formidable.
Email - Which field from your Formidable form should MailPoet use as the field for the email address.
First Name - Which field from your Formidable form should MailPoet use as the field for the first name.
Last Name - Which field from your Formidable form should MailPoet use as the field for the last name.
Send Confirmation Email - Yes or no. Sending a confirmation email to the new subscriber is always recommended. Why? The user has to click a link to confirm their email address, which helps to prevent spam and fake signups.
With that all set, click on Update and your form will be saved and ready to use!
In three easy steps, we've set up and configured a Formidable form to be used as a MailPoet Signup Form. Allowing you more control over your styling and to neatly integrate with your other Formidable forms, managing all your websites forms in one plugin, rather than spreading them around multiple plugins.
Wrapping up
Formidable and MailPoet make for a powerful pair. What we've displayed in this article are only the very basics of what can be done.
You can build out highly complex forms and then connect the email data to MailPoet, allowing you to get leads and use MailPoet as more of a customer relationship manager (CRM).
Already a MailPoet user? Take your signup forms to the next level with Formidable! Did we mention it's free to get started? Start maximizing your opt-ins today.