Want to create a MailPoet form in WordPress? This MailPoet WordPress tutorial will teach you how to create the perfect MailPoet form design for your website!
Approximate read time: 3.5 minutes
Looking for a simple way to add a MailPoet form to your WordPress website?
Well, you've come to the right place. This post will show you how to use MailPoet in WordPress easily create, design, and show your MailPoet form so you can start getting subscribers today!
And you only need two plugins: the MailPoet WordPress plugin and Formidable Forms.
Let's get started.
What is MailPoet used for in WordPress?
MailPoet is an excellent email service that works straight from WordPress.
That means no switching between tabs to manage email lists, form editors, or send newsletters. You get an entire email marketing service is available right in the WordPress dashboard:
However, the MailPoet form builder may be limiting.
You can customize basic fields and add some styling, but it doesn't have much for customization.
After all, it's focused on providing email solutions, not form-building!
That's why pairing the WordPress plugin for MailPoet with a form builder gives you the best of both worlds.
And we recommend using Formidable Forms as your MailPoet form builder 👇.
How to create a MailPoet form in WordPress
With Formidable Forms, you get a ton of great features, like:
So that's why we recommend Formidable (that and it's our product, so we think it's really incredible 💯).
So, you need Formidable's Plus Plan to get MailPoet integration. So grab the plan, install it, and activate it, and then it's five simple steps:
We're assuming you already have MailPoet installed. If you don't, download and install it from WordPress.org first.
Step 1: Connect your WordPress MailPoet account with Formidable
First, go to Formidable → Add-Ons in your WordPress dashboard, and click the Install button for the MailPoet Newsletters add-on.
Once that's done, you can head to Formidable → Forms for the next step.
Step 2: Create your MailPoet signup form
In the Forms menu, click Add New to get started.

Next, you can choose one of Formidable's pre-made templates to speed things up or select Blank Form to start from scratch. For example, you can easily create a MailPoet contact form using Formidable's Contact Us template.
Next, give your form a name, and click Create.
The plugin will take you to its drag-and-drop form builder, where you can add any fields.
Simply drag them to the canvas from the Add Fields section on the left. You can customize the field in the Field Options tab.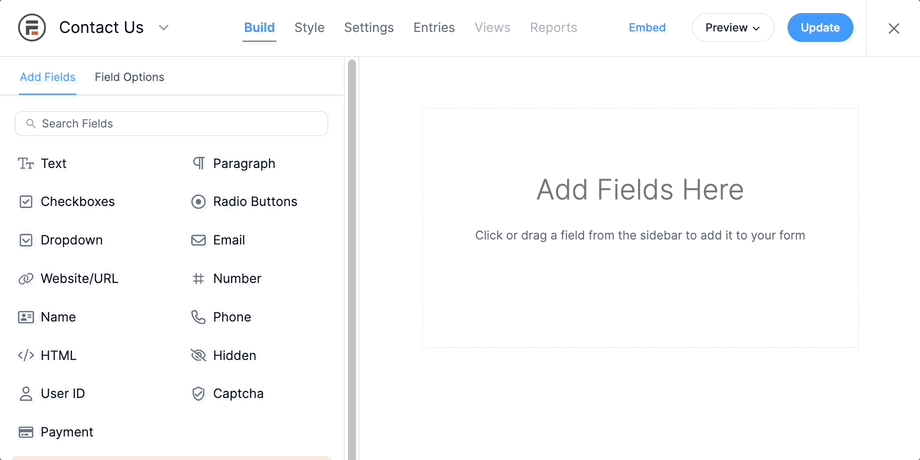 Feel free to continue customizing your form as you need. Once you're finished, click Update to save your changes.
Next, we'll head to the Style tab to customize the design of your form.
Step 3: Customize your Mailpoet form
With Formidable's Visual Styler, you have complete control over your form's design.
Adjust font sizes, borders, padding, and more from one menu.
Click the three dots in your Style tab, then Edit for your Default Style to begin.
Next, you can customize your form by choosing the category on the left and adjusting its settings.
Continue to customize until you find something you like. For example, you can even upload a background image to make your form more unique!
Once you're finished customizing your form, click Update to save your changes.
Next, we'll head to the Settings tab to customize our MailPoet settings.
Step 4: Set up MailPoet in the form settings
In your Settings tab, click the Actions & Notifications tab.
Next, find the MailPoet form action to create a new one.
Then a form action tab will open below, and you can use it to customize your settings.
Match the fields to your form's fields so they fill correctly, and choose the List they'll be subscribed to.
Once you finish customizing your settings, click Update to save your changes.
Now it's time for your form placement so WordPress users see your form!
Step 5: Display your form
Head to the page or post where you want to show your form.
Next, add a new WordPress block and search for the Formidable block.
Choose your form from the dropdown menu, and then update the page.
Your form is now live and ready to collect entries for MailPoet!
Ready to create your MailPoet subscribe form?
And that's how you set up MailPoet in WordPress!
With two simple plugins — the MailPoet plugin for WordPress and Formidable Forms — you get everything you need to jumpstart your mailing list to 1,000 subscribers and more! And this post showed you how to create, customize, and add a form to MailPoet for your WordPress site.
Whether you want MailPoet subscription forms, popup forms, or a call to action, you've got the plugins to do it.
By the way, if you enjoyed this post, you'll love all the tips and tricks from our Facebook, Twitter, and YouTube!
Read more about WordPress forms!
---
If you're not already using Formidable Forms, get started with our free plugin or the full-featured pro version!