Need to accept file uploads in your WordPress contact forms? We'll show you how easy it is.
There are plenty of good reasons to accept file uploads and user-submitted content on your WordPress site. It allows users to provide vital information to go alongside a form.
For example, if you were to host a photo competition that needed photo submissions, you'd need a way for users to upload them. It'd be handy to accept file uploads directly in the form when they submit their application.
Maybe you're looking to accept job applications. Give applicants the option to upload their resume or certifications in the application form.
The best way to start accepting files like this is to make it easy to directly submit files through your WordPress forms.
Why accept file uploads through WordPress contact forms?
Do you need to collect files from clients and have been relying on emails? There is a better way!
Sending a separate email with file attachments isn't ideal. This is pretty time-consuming and inconvenient (two words you don't want associated with your business).
So, when a user submits a resume, photo, image or a guest post, don't make them leave your website to do it.
Ideally, you want to keep people on your website as long as possible. You'll want them reading your blog posts, shopping online or learning more about your services. Encouraging people to invest their time in your website first is the best way you can boost website conversion rates.
Formidable Forms has a simple solution that you can set up in just a few minutes. Our WordPress front-end file uploader lets your users upload files and photos to your online forms in seconds.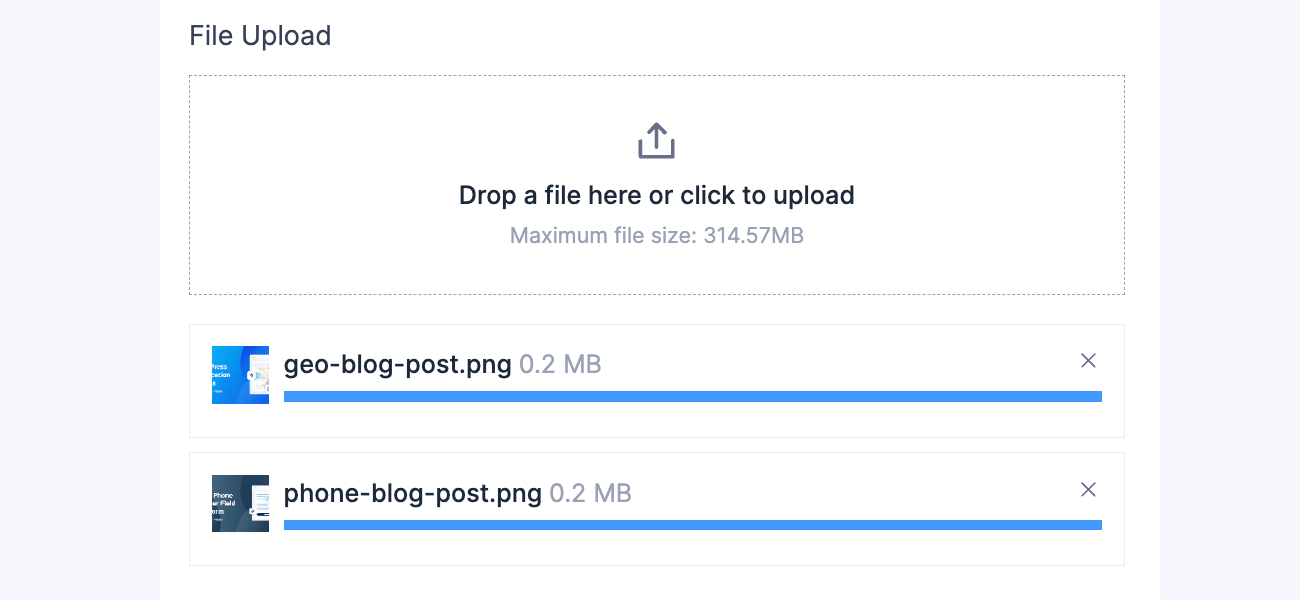 Step 1 - Create a WordPress contact form for file uploads
If you haven't yet, install and activate Formidable Forms Pro. Don't have a license yet? You can sign up in just a few minutes to unlock tons of fantastic benefits of using our WordPress forms plugin.
Got everything all set up? The first thing to do is start building the contact form you want to use to accept file uploads.
To do this, you will need to go to 'Formidable' in your WordPress dashboard. Click on 'Forms' and 'Add New'. This will pull up a few options to choose from. You can either start with a blank form or with one of our form templates. Looking to accept job applications? User profiles with a photo? We've got a template just for you.
Already have a contact form for collecting file uploads? All you need to do is load up the form you want to use in the form builder. To do this, instead of clicking on 'Add New', find the form you want to use under 'Forms' and click on the form title.
Step 2 - Add a file upload field to your WordPress contact form
Once you've built your form, add a File Upload field. We've made our form builder simple, so it will only take a minute.
Our drag and drop design means you can add or remove any field you want from your form. In this case, you'll need to add a field called 'File Upload'. You can find this in the sidebar list in the 'Add Fields' box under 'Advanced Fields'.
Just click to add or drag and drop the file upload field into the contact form, wherever you want it.
Step 3 - Change the file upload form settings
Once you've built the basic layout of your form, it's time to change the settings so that the file uploader works exactly how you want.
To change all the settings for the file upload field, click on the field in your contact form. On the left, you should now see your 'Field Options'.
This will pull up plenty of different options ready for you to customize. Don't skip this part! There's a lot of time you could save if you control exactly how the file uploader works.
You can check the option to accept multiple file uploads if you want. This saves a lot of back and forth, as everything can be uploaded in one easy contact form.
You can also make the form field required so that users can't submit the contact form without attaching their file. This saves you from dealing with incomplete forms, or even chase up users for the missing information.
There is also the option to change the text displayed for your visitors. For example, you could say something like "Please upload your resume." This ensures the form instructions match your brand and the typical language used throughout your website.
Step 4 - Control the type of file uploads to accept
If you want more control over the type of files you accept, you can customize all this in the Field Options too.
You can specify what type of file extensions you want to automatically reject the ones that don't match. For example, you might only want to accept jpeg (or other acceptable file types) for photo uploads and not pdfs.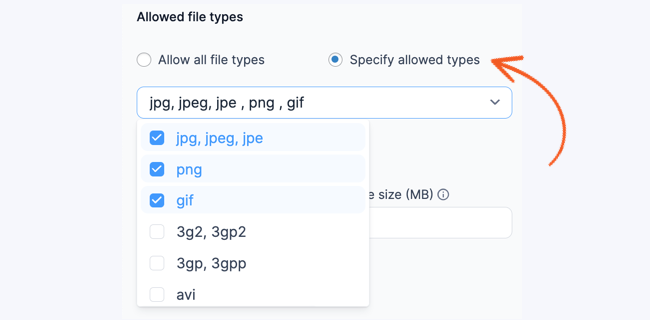 You can do the same for file size too, by setting a max file size. Do your website a big favor by preventing people from uploading huge files that slow it down.
Alternatively, you can resize files automatically before upload. This saves the user time from having to go away and resize or compress the file to try another upload. It also saves you from resizing photos or compressing files on your end.
If you want to keep your WordPress media library clean, select the option to delete files whenever an entry is changed or deleted. This saves you from having to manually clean up the library and makes the uploaded files easier to find.
These customization options are entirely up to you so take a look through them and choose the best ones for you. You can potentially save yourself a lot of bother by specifying exactly what type of files you want to accept.
Step 5 - Save and publish your WordPress file upload form
Happy that your file upload form is tailored closely to your needs? It's time to save your progress and publish the form on your WordPress website.
This could be on a special landing page, a post or page or in a WordPress sidebar if you want to catch visitors' attention.
Creating a WordPress contact form with file uploads is just as easy as it looks. In no time at all, you could be accepting uploads for client designs, job applications, guest blog posts or photo submissions. This frees up your time to spend on the submissions and whatever you want to do with them.
No more time wasted trying to get people to submit the right kind of files. No more finding files lost in a heap of emails. Everything is uploaded to one place, on your WordPress site through your WordPress contact form file uploader.
Read More: 6 Options to Look for in a WordPress File Upload Form
Want to expand into more user-submitted content? With Formidable, it's so simple to accept user submitted posts and pages as well as file uploads for sharing in your WordPress forms. You can even give your users the option to edit their submitted posts with our front end editor.
Not currently a Formidable Forms user? Our WordPress front-end uploader is included in the core Formidable Forms Pro plugin and is one of our most popular features. It's such a simple solution that will save you so much time and hassle.
Read more about how Formidable Forms has the best features of any WordPress form builder plugin.