Have you been looking for a way to track marketing campaigns using WordPress? Then this is the guide for you! We'll show you how to do it today!
Approximate read time: 5 minutes
Tired of flipping between tabs to see how your digital marketing campaign is performing?
Yeah, so are we.
That's why we like to have a way to track our marketing campaigns using WordPress. And that's why we create this post so you can have one, too.
In this article, we'll explain why campaign tracking is necessary, what to track, and how to track it. And we'll show you two different ways: one for Google Analytics and one that dives a bit deeper into the customer path.
So, let's get into it.
Why is campaign tracking necessary?
Knowledge is power, and that's especially true in marketing.
The more you know about your campaigns' performance, the more you can improve them. And you get a few key insights from campaign tracking:
Test the effectiveness. By tracking key performance indicators (KPIs), you can see which campaigns are working and which need improvement.
Optimize your campaign. Target the campaigns that aren't working, and optimize them using what is working. Then, monitor their progress and adjust as needed.
Increase conversion rates. Seeing the patterns and behaviors of your visitors allows you to tailor your website to them. And that means increased conversion rates, which is excellent for your business.
Use your resources efficiently. Knowing where to put your time and effort is essential to help you succeed. And campaign tracking tells you exactly where to focus your resources.
So, all of this is great to know.
But it means nothing if you don't know what metrics to track.
Crucial campaign stats to track
There are many things you can track many metrics, but not all are essential.
In fact, by tracking only a few, you can get most of the information you need.
So, here are a few campaign metrics to track
Conversion rate
Makes sense, right?
Knowing how many people that arrive on your website, read your email or consume your content are converting is crucial.
After all, what's the point of visitors if they're not turning into subscribers or customers?
No matter your end goal, knowing how many people are completing it is crucial.
Traffic
Just because you want people converting doesn't mean getting more exposure isn't good.
After all, if you don't have any visitors, who can you possibly convert? So, it's crucial to track your traffic and where it comes from (search engines, social media, etc.).
Also, your total page views are an excellent metric to know.
Click-through rate (CTR)
How many people click through to your campaign compared to how many see it?
This can be from a search engine, email, social media, or any other channel. But you need to track how you're performing.
After all, if only 0.1% of people who see your campaign click it, you may need to adjust your campaign.
Return on Investment (ROI)
How much are you making compared to what you're spending?
That's the ultimate goal of any business — to maximize your ROI. So, one of the best ways to do it is to keep track of it!
A great campaign tracker helps you know how much revenue you're generating and you can compare that with your investment into your business.
How to track marketing campaigns using WordPress
There are two ways to track your marketing campaigns using WordPress:
Using UTMs and MonsterInsights
Using Formidable Forms User Flow add-on
Both tools are excellent ways to use WordPress for marketing campaigns but are great for slightly different purposes.
Let's show you both, and you'll see what we mean.
Tracking marketing campaigns using WordPress using MonsterInsights
MonsterInsights is one of the best WordPress plugins for tracking campaigns.
That's especially true when you couple the power of MonsterInsights with Urchin Tracking Modules (UTMs).
UTMs are pieces of code that help you track visitors. Using UTMs, you know how visitors arrive at your site and more about their behavior. This is great if you have multiple channels like email campaigns, social media, or marketing automation campaigns.
They act as campaign monitors so you can get all the information you need, and MonsterInsights supercharges that ability.
So, sign up for one of MonsterInsight's plans to get access to their premium features.
Then, install and activate MonsterInsights. You will need to connect it to your Google Analytics account so you can get access to all of the data.

Once you're connected, it's time to create your UTM codes.
So, inside your WordPress dashboard, go to Insights → Tools and click the URL Builder tab.
There are two required fields:
Website URL
Campaign Source
Your Website URL will be the link you direct users to. And the Campaign Source is where your traffic comes from (Facebook, Google, etc.)
You can add more information to get more specific insights (like the marketing channel):
Medium (like email, social, etc.)
Name (like winter_sale)
Term (keywords for your ads)
Once you set these up, scroll to the bottom and copy the URL.
Now, you can paste this link where you need it!
These links are excellent for email newsletters, sale popups, and social media posts!
Then, you just have to wait for visitors to arrive and check your analytics.
You can view the report in MonsterInsights or Google Analytics by checking your reports and searching for your UTM tag.
So, that's one way to track your campaign or email marketing analytics on your WordPress site.
If you want a deeper look into your customer's step-by-step process, we have the perfect marketing strategy tool.
Tracking marketing campaigns using WordPress and Formidable's User Flow
Formidable Forms is WordPress's most advanced form builder.
But it doesn't stop at just being a form builder. It has the features to be the perfect marketing tool for you. And its User Flow feature is a perfect example of that.
Like MonsterInsights, you'll have to pay to access its premium features.
So, head to the pricing page and grab a plan before we get started.
Get Your Campaign Tracker Now!
Once you have Formidable installed and activated, head into your WordPress admin. Next, go to Formidable → Forms, and click Add New to begin building your form.
Formidable's drag and drop from builder makes building a form that looks good in any WordPress theme easy. So feel free to get creative or use one of the pre-built templates to get you started quicker.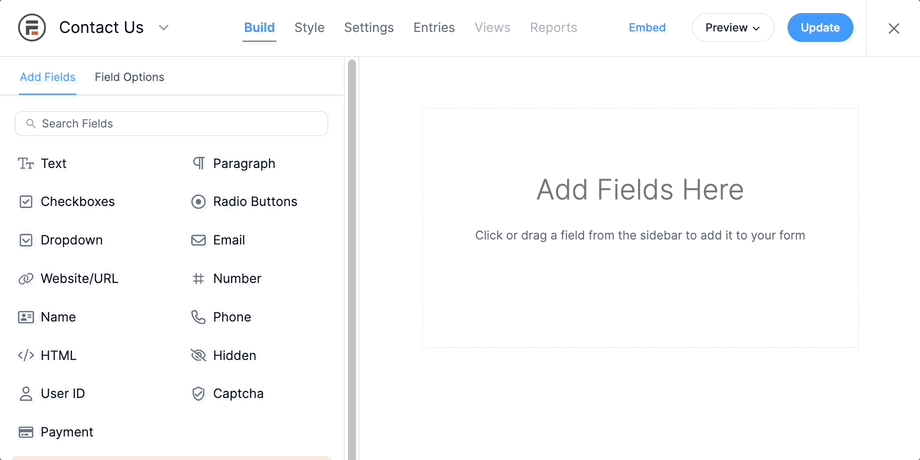 Next, you can display your form then it's time to wait for entries.
Once you receive them, you can access the User Flow report by going to Formidable → Entries and choosing View on an entry. Then, inside, you'll see the submission details and their entire user path to your form.
Using this report, you can adjust where your form is displayed, see which forms are getting more traffic, or if you should add a form to a page.
Even better, Formidable gives you additional features like landing pages, email list forms, and integrations to spread your data and get deeper analytics into the information.
So your WordPress website gets a complete marketing solution in a straightforward form builder.
Not bad, eh?
Get Your Campaign Tracker Now!
Ready to create a campaign in WordPress?
Now that you know how to track marketing campaigns, you're probably eager to create a campaign and campaign tracker.
Check out our guide on setting up a campaign tracker for a more detailed how-to. And leave a comment letting us know if this post helped you!
Last, follow us on Facebook, Twitter, and YouTube for more great WordPress tips & tricks.
Read more about campaign trackers
---
Did you know that Formidable Forms is one of the fastest WordPress form builder plugins available today? If you're not already using it, get started with our free plugin or the full-featured pro version!