Wish your website could easily accept more payment methods? This WordPress plugin unlocks tons of Stripe payment options, from bank transfers to Cash App. Let's see how this Formidable Forms feature can help you earn more online!
Approximate read time: 5 minutes
It can't be that hard to accept online payments nowadays, right? But between competing credit card companies and incompatible international banking networks, it's surprisingly difficult to process all these different payment options 🤑.
You must either use a patchwork of payment platforms or accept that you can't serve everyone.
But not anymore!
Thanks to our WordPress Stripe Payments plugin, you can now connect Stripe to your web payment forms and instantly benefit from more than 15 Stripe-supported payment methods in one single integration.
Whether based in Bangladesh or Belgium, you can easily increase your income and reach customers worldwide 🌐.
So, are you ready to start making more money online? Here's what you need to know to start accepting more Stripe payment options today:
What Stripe-accepted payment methods can I use with Formidable Forms?
Formidable Forms' Stripe integration supports all of the most popular payment methods. This includes 3D Secure payments with major debit cards and credit cards like Visa, Mastercard, Discover, and American Express, as well as:
Digital wallets, including Alipay, Apple Pay, Cash App Pay, Google Pay, PayPal, and WeChat Pay
Buy now, pay later options such as Affirm, Klarna, and Zip
Direct bank debits through ACH, Bacs, BECS, and SEPA
Bank redirects, including Bancontact, iDEAL, and Sofort
💡 Good to know: Which payments Stripe accepts vary slightly depending on the country of your Stripe merchant account. Some card networks or digital wallets may not be available in your region.
Now that we know about all these payment possibilities, let's find out how to put them into action!
What do I need to add these Stripe payment options?
You only need a Stripe merchant account and a Formidable Forms Pro plan to add these additional Stripe payment methods to your WordPress forms.
Don't have a Stripe merchant account yet? That's okay! You can create one and set it up in the Formidable Forms Stripe Payments integration. We'll show you how to do this a little later, but you need some basic information about your business to create your Stripe account, such as address, corporate structure, and tax number, if applicable 🗄️.
Already have a Stripe merchant account? Good for you! 🤓 It will be even quicker and easier for you to add all these extra Stripe payment options!
How do I add these payment methods to my Stripe account?
Once you have your license and have installed Formidable Forms on your WordPress website, adding new Stripe payment options to your forms only takes a few simple steps.
Step 1: Install and activate the Formidable Forms WordPress Stripe add-on
From your WordPress dashboard, head to Formidable → Add-Ons. Find the Stripe add-on, then click the blue Install and Activate buttons.
Step 2: Connect your WordPress website to Stripe
Adding a payment gateway to WordPress can be a real challenge. But don't worry, because we've made it as easy as possible for you.
Go to Formidable → Global Settings → Stripe.
Make sure the Use Stripe test mode option is checked, then click the Connect to Stripe button under TEST.
You need to do this once for testing and then come back later to turn off test mode and Connect to Stripe again when you're ready to go live.
Next, you're prompted to log in with your existing account or create a new Stripe account on the spot.
You're doing great, we're nearly through!
Step 3: Activate the Stripe payment options you want
From your Stripe dashboard, go to Settings → Payment Methods.
Here, you have a list of all the Stripe payment types you can accept: credit cards, recurring payments, virtual wallets, and bank transfers. 
Just click the button on Stripe to add a payment method to customer selections.
For the best checkout experience for your customers, activate Link too — it offers one-click checkout and is required to process all these additional Stripe payment options.
And that's all you have to do in Stripe! Thank goodness!
Now let's head back to your WordPress site and create a payment form so you can start making money online.
Step 4: Make a payment form in WordPress
Back in WordPress, go to Formidable → Forms → Add New to create a new form.
Now, select to build a payment form from scratch with a Blank Form or get a headstart with the Credit Card Payment form template.
Let's take the quick and easy route for this example and use the template.
After we name our form, it's time to get creative and create (or customize) it.
We're pretty happy with the template's design and won't make any changes.
But you can use the drag-and-drop form builder to add any form fields, edit their layout, and personalize texts and headers.
Since this is a payment form, don't forget to add the Payment field so users can enter their payment details.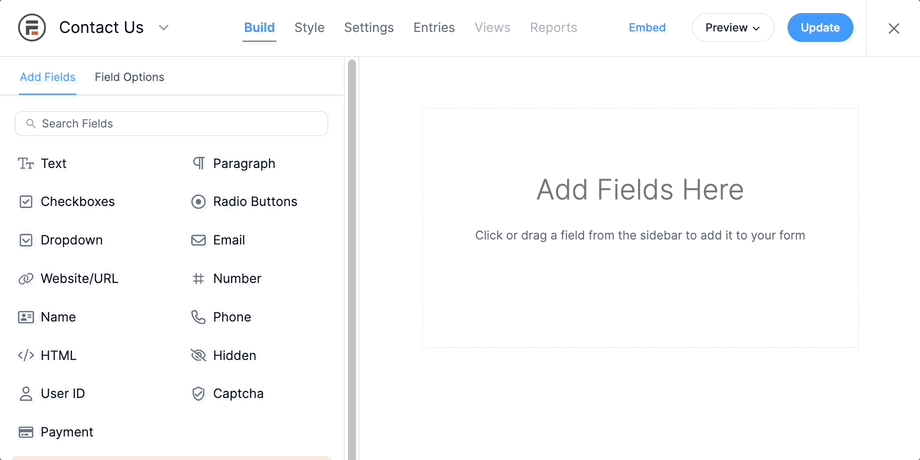 Could you use a little help? Check out this step-by-step guide on how to create a Stripe payment form.
Once you're happy with your form, hit Update to save your changes and then go to the Settings tab at the top of your screen.
Under Actions & Notifications, select the Collect a Payment option.
Configure the payment settings, then turn on the toggle Enable Stripe link and additional payment methods.
From this tab, you can redirect users to a checkout page or thank you page after submitting their form. Or, go one step further and email them an invoice following their purchase.
Click Update again to save your form, and you're done!
All that's left is to insert your payment form into your chosen WordPress post or page. If you aren't sure, here's how to publish a form in Formidable.
Ready to offer more payment options on your WordPress site?
Whether you're setting up a donation site or an e-commerce business, you've probably compared a lot of online payment processing platforms. WooCommerce, Stripe, PayPal — and then there are region-specific options too.
But with the Formidable Forms Stripe WordPress integration, all the confusion and complications go out the window 👋.
You no longer need to wonder, "Is Stripe better than PayPal?". It is now because you can process PayPal payments through Stripe directly without needing a separate PayPal account (and without having to pay those extra processing fees). 
And you can now create your payment forms and process 15+ Stripe payment options with just one WordPress plugin! For example, here's how to accept ACH WordPress payments or add a Cash App button to your website with Formidable.
For more help adding Stripe to your payment forms, check out this in-depth Knowledge Base article.
Follow us on Facebook, Twitter, and YouTube too for even more tips on earning more money from your WordPress website.
---
Did you know that Formidable Forms isn't only for payment forms? It's the most versatile WordPress form builder available, letting you make mobile-friendly contact forms, quizzes, and more.
Learn more about collecting Stripe payments on WordPress