Wondering if you can add Cash App to your website? Good news, you can! And it's really easy to set up too. Here's how to take Cash App payments on your site.
Approximate read time: 5 minutes
Cash App has made sending and receiving money easier than ever before. 💸 
Now with just a flash of a QR code, people can instantly reimburse friends, donate to charity, or deposit money to their bank account. Open the app, and your banking services are all right there! 📱
It's so convenient, no wonder Cash App has over 50 million active monthly users.
So why not capitalize on the popularity of this mobile payment app by accepting Cash App payments on your website?
On top of being sure to boost your bottom line, it also offers a streamlined checkout experience that's sure to please your visitors. 🤑 Oh, and did we mention it's super simple to make a Cash App button for your website too?!
In this post, we'll show you just how quick and easy it is to add Cash App to your website with Formidable Forms' Stripe Payments WordPress Plugin. No coding required!
All you'll need is the Formidable Forms plugin plus a Business or Elite plan.
Aren't using Formidable Forms yet? Pick up the best WordPress form maker now to start building profitable online payment forms.
How to add Cash App to your website
There are only three simple steps to add Cash App to a website on WordPress.
⚠️ Before we jump in, make sure that you have the Formidable Forms on your WordPress site. If you need help installing and activating the plugin, this guide to getting started in Formidable takes you through it step by step.
Got Formidable? Good, let's get started!
Step 1: Install and activate the Formidable Forms WordPress Stripe Plugin
From your WordPress dashboard, head to Formidable → Add-Ons.
Search for the WordPress Stripe payments plugin, then click Install and Activate.
Step 2: Connect your website to Stripe
To connect your site to Stripe, head to Formidable → Global Settings → Stripe in WordPress.
Choose whether to use Stripe in test mode or as a live site, then click Connect to Stripe. We recommend starting out in test mode to ensure everything's working right before it's out there on the internet! 😬
☝️ If you try test mode, note that you'll need to come back to this page later to turn it off and link your site to Live Stripe.
Next, it asks you to enter your email address to log into your Stripe account. If you don't have one yet, you can create an account on the spot.
It does take a few minutes, but all you have to do is follow the instructions on your screen.
Step 3: Activate Cash App payments in Stripe
From your Stripe dashboard, click the gear icon ⚙️ in the upper right corner to access your account settings.
Select Payment Methods to view the Stripe payment options available in your country.
Don't see the list? Pick your platform (Formidable Forms) from the dropdown menu, and it'll magically appear! 🪄
Scroll through the list of payment methods until you reach the Wallets section. Then Turn On Cash App.
And now we can say so long to Stripe! 👋
Time to return to WordPress to add a Cash App link to your website.
Step 4: Create a Cash App payment form
Back on your WordPress dashboard, go to Formidable Forms → Forms → Add New to make a new form.
Next, click to create a payment form from scratch by selecting Blank Form or use the Credit Card Payment form template to save time.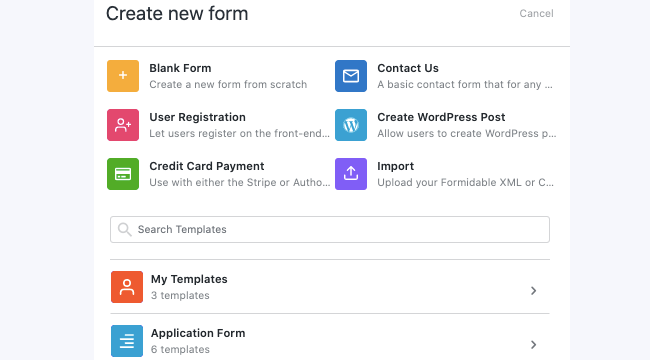 After you give your form a name, it's time to build your custom payment form. All you have to do is click and drag!
Make your way over to the form field tab on the left side of your screen, select a field, and drag it into your form on the right. Easy, isn't it? 😊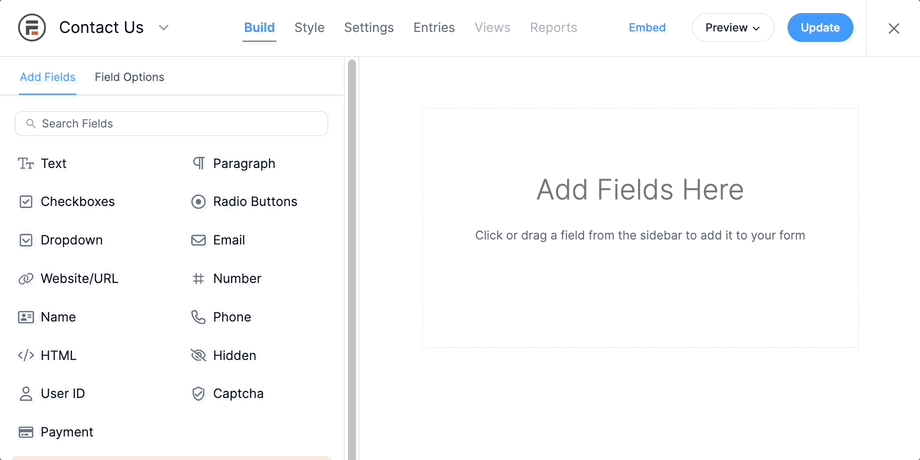 When you enable Cash App payments, an email field will automatically be added to your payment form. But you can also add additional fields such as phone number, address, and more.
And don't forget to add a Payment field to your form if you aren't using our payment form template. 💳
🤔 Need help making your form? Check out this post on creating a Stripe payment form in WordPress.
When you're happy with your form, hit Update to save your changes.
Next, go to Settings → Actions & Notifications and click the Collect a Payment option.
Switch on the Enable Stripe link and additional payment methods option, then hit Update one last time to save your form. 💾
All that's left is to publish your form on the post or page of your choice, and you're good to go!
The end result will look something like this 👀
Congrats! Your checkout page now has a Cash App button! 🎉
Users connect to their Cash App account by entering their email address, then they scan the code to make a Cash App Pay payment.
Cash in by adding Cash App to your website
And that's a wrap on how to add Cash App to your website! 🎬
Thanks to Formidable Forms Stripe / Cash App integration, not only can you now accept Cash App payments (letting users send money via Bitcoin, bank cards, or their Cash App balances), but you also get access to over a dozen different Stripe payment methods.
That includes debit cards, credit cards, buy-now-pay-later solutions, and bank transfers such as ACH payments in the US or SEPA payments in Europe. Plus, it works with WooCommerce too. 🤯
Wow, that's a lot of payment possibilities. And we added all these new payment methods while streamlining your payment process, making it faster, easier, and more secure for your customers. We'd call that a pretty darn powerful plugin. 💪
So are you ready to earn more by accepting Cash App payments on your website? Get started now by grabbing our form maker plugin today!
Be sure to follow us on social media for more online payment pro tips. You can find us on Facebook, YouTube, and Twitter (er, — we're not fans of the new name, how about you?).
Read more from the Formidable blog