Want to use WordPress to send automatic emails? Formidable's WordPress Automatic Email add-on lets you create, customize, and automate emails with ease. 
Whether you'd like to let a user know that you received their contact request with a quick auto-reply email 👋 or need to set up complex email marketing automation for a drip campaign 💧, Formidable makes it easy to send automatic emails from your WordPress site.
Here's what to know about our handy email automation feature:
✉️ Impactful Ways to Use Email Automation
There are so many ways to use email automation to engage your audience, delight your customers, and save you time.
These are just a few types of transactional emails you can send on WordPress with Formidable Forms:
Welcome emails
Appointment reminders
Anniversary or birthday emails
Internal email notifications to team members
Order confirmation emails
Failed payment emails proposing an alternative payment method
Post notifications for contributors
Thank you emails to subscribers
Downloadable PDF certificates, invoices, or signed agreements
Abandoned cart emails
Combining custom form fields with advanced form actions, the sky's the limit in Formidable! If you can imagine it, you can create it. No coding necessary! 😀
For email automation ideas, check out these steps to marketing automation with WordPress contact forms.
🤔 Why Use Formidable Forms for Email Automation?
What sets us apart from other WordPress plugins like Contact Form 7, WPForms, WP Mail, or MailPoet? So much!
Formidable Forms is not only the best WordPress autoresponder plugin; it also lets you do a lot more than simply send an email when a form is submitted.
Our plugin is an all-in-one WordPress form solution with some seriously powerful features including:
Formidable integrates with all the most popular email platforms too like Mailchimp and AWeber, so you won't have to worry about migrating your email list either.
And that's only the tip of the iceberg. Discover all Formidable Forms features.
Ready to automate your email campaigns? Get started with Formidable today. By the way, we offer a 14-day money-back guarantee ✅ so you can give it a try risk-free!
⚙️ How to Send an Automatic Email in WordPress
It can be tricky to get WordPress to send automated emails, especially if you're not an SMTP email expert. But if you've installed our Formidable Forms plugin, it only takes a few clicks to set up!
Here's a look at how it works:
To get started, you'll first want to download and install Formidable Forms on your WordPress website.
Then, from the WordPress dashboard, go to Formidable → Add-ons to install and activate the Form Action Automation add-on.
Got it? Great! 👍
The next step is to create your form in our drag-and-drop form builder. Short on time? ⏱️ Use one of our WordPress form templates to get going even faster.
Then, click the blue Update button to save your changes.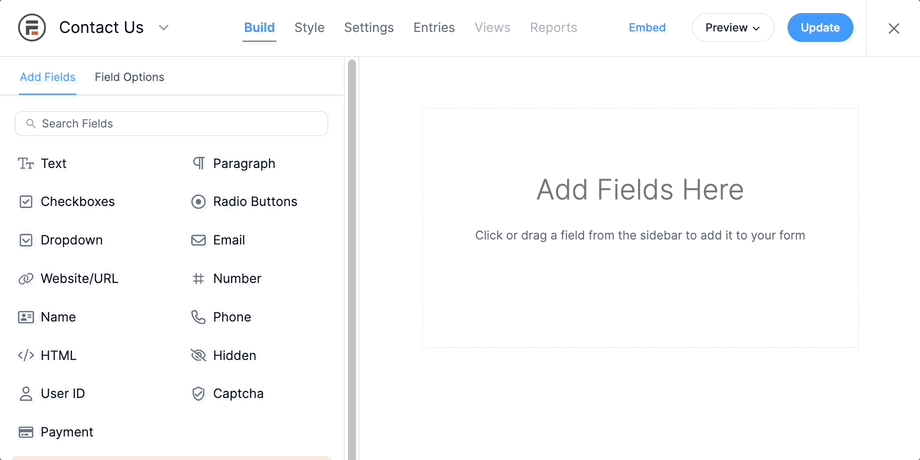 Easy, right? Almost done. Now, let's set up your email autoresponder ?.
From the Actions & Notifications tab under Settings, we can click the Send Email button to create and customize our email template.
We can then fill in the To, From, CC, BCC, Subject, and Message fields. You can use any of your form fields to personalize your email. You can also add an attachment to your email 📎 if you'd like. 
👉 Learn more: How to automatically send a custom PDF from form entries
To tell WordPress when to send your email, scroll down to SETUP AUTOMATION to choose the trigger action and schedule you want.
All that's left is to insert your form wherever you want on your site!
📬 Set Up Automatic Email Notifications from WordPress
Keep your co-workers, classmates, business partners, or subscribers informed by sending automatic email notifications whenever a form is submitted on your WordPress website.
Just add their email addresses in the CC or BCC fields of your automatic email template so they can stay in the loop without needing to manually send out hundreds or thousands of emails per month!
👉 Learn more: How to set up email notifications for WordPress forms
New Customer Offer
Save up to $200
on your first year of Formidable Forms!
Get the Deal
14 day money back guarantee