With the WordPress front end editor, your users can update form submissions and user-submitted pages or posts from the front end of your site. Make it easy for clients to delete and edit form submissions in a seamless and simple way.
From registration forms, membership forms, and email subscriber forms, to directory/classified listings forms, your logged-in site members can be allowed to edit them. Administrators also have powerful capabilities to edit entries submitted by others. Want users with another role to edit more than just their own submissions? Set form-specific editing permissions based upon the user role.
Create lists of entries with edit links, or automatically pull up a single entry for editing with the flexible power of a Formidable View. No other WordPress form builder plugin has this capability baked in.
Do you want a site with user-generated content? Our WordPress front end editor is a must-have. Build directory websites and much more with Formidable's front end editing capability.
? Discover new possibilities
Front end editing brings a boatload of new possibilities to your site. When users can generate content and keep it up-to-date with a Formidable form, you can do just about anything. Need some ideas?
classified ads
weight tracking
journaling platforms
newsletter subscriptions
employment applications
rating systems
crime reporting
goal tracking
project management apps
community recipes
auto part directories
school management systems
library catalogs
wedding RSVP's
order forms
ski club events
photo competitions
property management systems
real estate listings
job boards
workout planning
user directories
grant applications
data warehouse apps
distributor contact systems
membership directories
event calendars
The front-end editor / WordPress plugin with more!
Tons of cool stuff can be launched and edited in the front-end of your WordPress website! If you are looking for a WordPress plugin to allow users to post on the front-end - here it is!
With Formidable, you can effortlessly create post submission form pages. Allow users to edit guest posts from the frontend of your site with ease. That means you can use WordPress to edit posts in the frontend of your site!
Create a form to use as a content editor so users can submit content. Accept regular or even custom post types. A submitted post can then be reviewed on the backend or instantly published.
With Formidable's easy-to-use shortcodes, you can place your forms anywhere on your site. Our editor plugin works with any WordPress theme too.
With Formidable, you can collect whatever data you want to. Receive content from a simple text editor or use advanced fields to collect multimedia content with file upload fields.
Do you use a page builder like Visual Composer, Elementor, Beaver Builder, or WP Bakery? Here's a tip. Just copy and paste our shortcodes into a text box module. Instant forms wherever you want them on your pages!
And with Formidable's powerful form fields, you can let users submit everything they need in one form. No need for back and forth by email! Allow guests to upload featured images or whatever custom fields you want - not just WYSIWYG editors!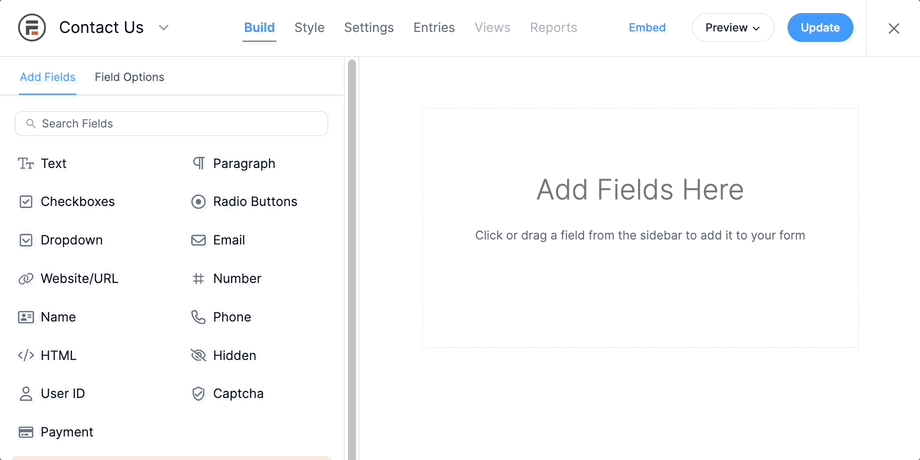 Building a submission form with our WordPress frontend plugin is easy. Start by dragging and dropping your fields, saving your work, and publishing it to a post or page. You can now start collecting user-generated content!
Our frontend editor for WordPress is included in the Formidable Premium plugin. User profile creation and editing require the WordPress User Registration plugin.
New Customer Offer
Save up to $200
on your first year of Formidable Forms!
Get the Deal
14 day money back guarantee