Create Beautiful WordPress Charts, Reports, and Graphs with Form Data.
WordPress charts and graphs are an easy way to class up any website and display data at the same time. The Formidable graphs and charts feature makes data visualization a stunning breeze.
Our form-building WordPress plugin creates simple and beautiful graphs and charts from complex data trends, comparisons, and relationships in your website form data.
Why Use Graphs in WordPress?
Displaying graphs and charts on your WordPress website is an excellent use of data. It's eye-catching, memorable, and more likely to be shared. In other words, creating reports with graphs and charts is a great way to boost conversions and enhance the UI for a better experience!
WordPress graphs can display information in a way that's much easier to digest, more interesting to look at, and therefore much more valuable for your website than plain text.
Tables and charts also help take the guesswork out of searching through your data tables and endless sheets of data. You set the report algorithms and advanced searches to customize what appears in the graphs, and the Formidable plugin takes care of the rest.
Create Charts & Graphs in WordPress With Ease
Our WordPress form builder plugin lets you create reports and graphs from your form entries that look as professional and clean as google charts. The best thing? You don't need to mess with a spreadsheet.
Formidable offers a seamless way to use the data you collect through any form on your website. Simply import the data or have site users submit or upload it, and formidable's plugin easily creates beautiful graphs and charts.
To put it another way, Formidable takes the guesswork out of analyzing complicated data trends.
There's no need to download a new WordPress chart plugin or sign up for another service to create your graphs. You don't even need design experience, our graphs for WordPress are designed to be easy to build.
No coding. No designing. No time wasted that could be better spent.
Best of all, Formidable keeps all your private data in one place. Let us do the heavy lifting so you can defy gravity. Soon enough, you'll be displaying chart data on any WordPress blog post, page, View, or widget.
What Types of Graphs and Charts Can I Build for WordPress?
Not sure we have the graph or chart you're looking for? Here is a list of the different graph and chart types you can use in Formidable:
Histograms, Column, and Horizontal Bar Graphs
Easily compare values between multiple form fields.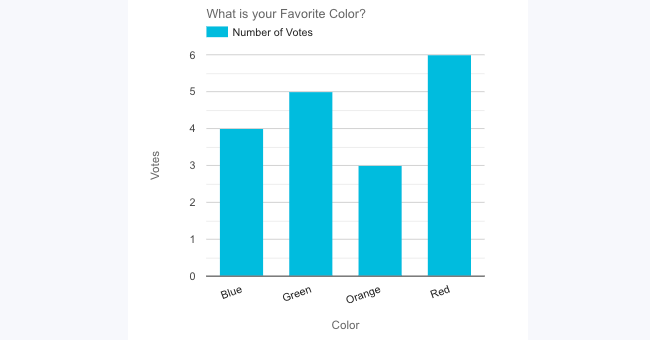 Pie Charts and Donut Graphs
View grouped responses in a single form field to see trends.
Geo Heat-Maps
Show a world map with commonly selected countries highlighted.
Line Charts, Area Charts, and Stepped Area Charts
Track changes over time, and compare changes across multiple data sets.
Scatter Graphs
Look for correlations between sets of data.
Online Graph Examples for WordPress Reports
Wondering what you could use a graph maker for? Our WordPress graph maker has a range of awesome applications:
Fitness and Health: Plot weight fluctuations, blood pressure levels, treatment frequency, & billing cycles.
Surveys: Use responses and results data to track patterns, relationships, and areas for improvement collected from customer service or other surveys.
Marketing: Turn tedious searches through dry data into colorful and easy-to-read charts and graphs so you can easily present marketing and financial trends to investors, clients, and bosses.
User Engagement: Combine with Formidable Views to give your users immediate results on how they compare when they submit a personality quiz, online test, or when they answer a poll.
These are just some of the applications you can achieve with graphs and charts. The possibilities are endless with our graphing customization options.
And you don't even need complicated page builders or spreadsheet editors.
Graphs and charts are included in the core Formidable Pro plugin.
New Customer Offer
Save up to $200
on your first year of Formidable Forms!
Get the Deal
14 day money back guarantee