Conversational marketing is a popular digital marketing strategy. But what are good conversational marketing examples? Here are some top examples!
Approximate read time: 4.5 minutes
The days of traditional marketing are gone.
Customers expect companies to be available 24/7, provide a personalized experience, and have support ready at a moment's notice. But how could a company meet these expectations?
Enter conversational marketing.
From sales to support, conversational marketing aims to take the customer experience to a new level. This post will detail what conversational marketing is and some excellent real-life examples.
Without wasting any more time, let's get into it.
What is conversational marketing?
Conversational marketing is a term coined by the company Drift.
Basically, it uses natural conversation-like experiences to connect with customers. By creating natural experiences, customers develop trust with a company.
And more trust means they are more likely to convert — through sales, support, or feedback.
These days, both chatbots and static forms can be used to initiate conversational marketing on your site. The latter was first popularized by Typeform (though now there are many alternatives).
What are the benefits of conversational marketing?
Conversational marketing is a superior form of marketing compared to traditional methods.
The trust you build alone is worth the payoff. But, let's highlight some benefits of using conversational marketing.
But, here are some of the top benefits you get with conversational marketing:
Improved customer experience. Customers want answers fast. So, having a chatbot or form to answer questions is a great for improving customer satisfaction.
Increased conversion rates. Conversational marketing converts better than traditional marketing. Customers want a more natural experience, and you get that with conversational bots or forms.
Frees up the support queue. Customers aren't always looking for complex answers. Let a chatbot handle the simple solutions, and free up your support staff to take the tough stuff.
So, those are just some of the benefits. Now, let's look at conversational marketing types used across the web.
Examples of conversational marketing
Conversational marketing extends to all areas of your business.
Chatbots, social media, customer support/service, and sales are just a few examples. And every day, people are inventing new ways to use it.
So, we've broken down the types of conversational marketing to show you all the ways you can use them:
Personalization
Lead Generation
Chatbots
Social Media Chat
Sales
Customer Service
Information
Enjoy!
Personalization — For Hims
For Hims has an excellent idea with their conversational marketing tools.
When you arrive on their website, they offer a quiz to find your perfect haircut. Then, using a few questions, it spits out a haircut for you.
And, to make this a great inbound marketing tool, they hint at some products of theirs.
This is an excellent example of using conversational marketing uniquely.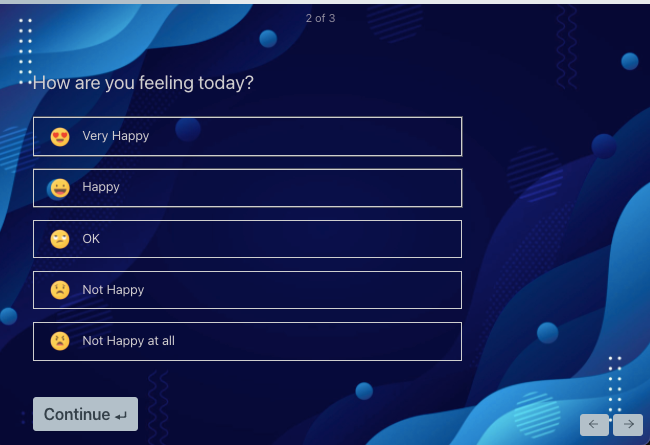 If you've ever filled out a standard form, you know how boring it is.
We're instantly transported to a doctor's office and start shuddering. But what if forms could be fun?
Conversational forms are perfect for replacing boring forms. It presents one question at a time and in a simple way. So, users complete your form more often.
Plus, you can turn a conversational form into a quiz and really ramp up the lead generation. How does making a viral quiz sound for getting visitors to your site?
Conversational forms are the future of online forms.
Get conversational marketing now!
Chatbots — Drift
Did you expect the company that invented the term 'conversational marketing' wouldn't use it on their website?
This little chatbot pops up to start a conversation as soon as you arrive on Drift's website. And it shows different messages to different visitors. So, you spread multiple messages from a small tool.
A proactive marketing strategy is best for lead generation, and chatbots are an excellent way to be proactive.
Social Media Chat — WHO + WhatsApp
Conversational marketing doesn't always have to be for a sales purpose.
Sometimes, you can use it to provide information in a natural and fun way. For example, WHO and WhatsApp paired up to get COVID information to people. Instead of reading like a news article, you ask questions as if you're texting someone.
You find a similar thing on Facebook Messenger.
Over time, people and companies find unique ways to use conversational marketing.
Sales — Amazon Echo
This piece of conversational marketing often goes overlooked but is right in our homes!
If you have an Amazon Echo and ask about a product, Alexa tells you about it. But, then Alexa asks, "Would you like me to add this to your Amazon cart?"
A genius idea by Amazon.
It's like having a small Amazon sales rep in your home. But, this minor feature leads to massive growth in sales for Amazon.
And that's one of the main goals of conversational marketing.
Customer Service — 1-800-Flowers
1-800-Flowers uses a flexible chatbot in this situation.
It welcomes customers and offers help. Based on the customer's response, it will lead customers down different paths.
For example, if a customer wants to buy flowers, it leads them down a sales path toward the sales team. If a customer has an issue with an order, it leads them down a path to fix it.
Chatbots are versatile, and they handle multiple responsibilities on your website.
Information — HubSpot
You can even present information with this method.
Which, we have to say, is a much more engaging. To teach by doing, Hubspot used conversational marketing to teach the visitor about…conversational marketing!
Kudos to Hubspot's smart conversational marketing strategy.
With a conversational-style page, the user sees how conversational marketing works. So, conversational marketing doesn't always have to be through chat or to get qualified leads.
Capturing a website visitor's attention is easy with this method.
Which one of the conversational marketing examples inspired you?
Conversational marketing will only get better.
In this post, you learned why it's an essential part of your digital marketing strategy. Also, you saw some great examples of how it's used on websites today to accelerate sales and support.
But, these aren't the only ways to use it. Companies use conversational marketing to book meetings, provide live support, and give customers a better experience.
Now, use conversational marketing on your website.
If you want an easy way to start, we recommend Formidable Forms to get some conversational forms on your website today!
Read more about conversational marketing