Are you looking for ways to generate more leads on your site? Look no further. This post will take you through the top 10 ways to get more out of your site and boost conversions
Pretty much anyone has the ability to create a website. However, not everyone can use their website to generate the number of leads and traffic that match their goals. Whether you're running a blog or an ecommerce store, it's important that your lead generation strategy is solid enough to bring you positive results.
Your website should do most of the work for you when it comes to attracting visitors and convincing them to take some sort of action. It should navigate them through different web pages with simplicity and answer users' questions. It'll also match the style and tone of your brand image to keep everything seamless and consistent. With the right tactics in place, you'll be able to boost your website for higher conversions.
Here are 10 ways you can generate more leads on your website.
1. Create buyer personas
It's impossible to create content that'll drive traffic and pique interest when you have absolutely no idea who your target market is. Knowing your audience means you get insight into what they need from you and how you can provide that to them. The purpose of your website is to give them value and you can't do that until you know what they want.
Create buyer personas of your ideal customers and include all the important details about them like their age, location, interests, hobbies, buying behaviors, and much more. Take advantage of existing customers by analyzing your site's data to determine what you can give them next. This information will help you understand your audience so it's easier to tailor your content, products, services, and other elements to their needs.
2. Capture emails prior to launch
Who's to say you can't get ahead of the game? If your website is brand new or undergoing any kind of maintenance, you may think it's important to continue generating leads, but this is a huge misconception. Just because your website isn't ready for the public eye doesn't mean you can't still capture emails and grow your list.
Make it possible for visitors to stay in tune with your site before its launch by putting up a beautifully designed maintenance page. Encourage users to sign up for your email list so they can count down to your launch, get notified when it occurs, and stay up-to-date with the happenings of your brand. WordPress' SeedProd is a handy plugin that lets you design your maintenance pages however you'd like and doesn't require any coding knowledge for your convenience.
3. Add forms to high traffic pages
You need reliable software that's going to attract the attention of your visitors and guarantee the safekeeping of their information. Your website is a dud without forms to collect email addresses and other information of your subscribers. If you have no way of getting in touch with them it'll be impossible to generate enough leads to meet your goals.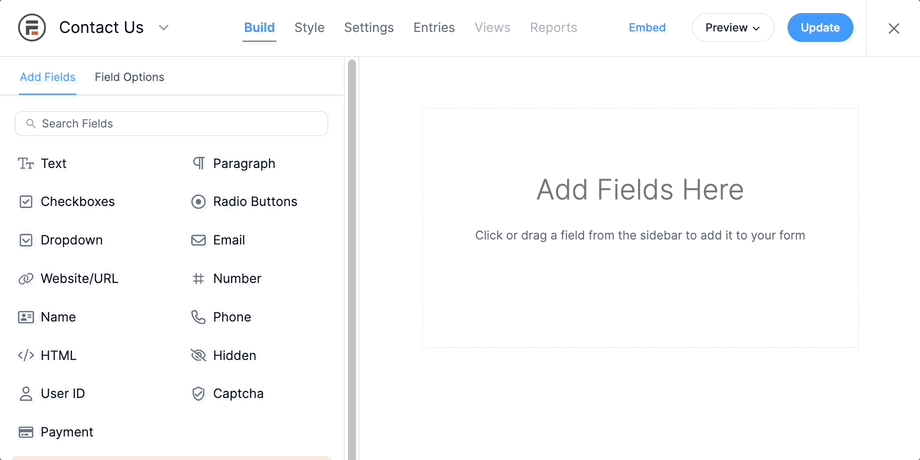 The answer is in the forms themselves. Formidable Forms makes it easy for even the most novice website owners to create forms that suit their brand image and collect leads. If you're not too keen on coding or building forms from scratch, Formidable Forms uses a drag-and-drop builder to make it easy and lets you track the progression of your forms to stay on top of their performance.
You can even offer something free in return for filling out a form. One high-performing example is an online calculator lead magnet. You get an email address, and your visitor gets a free calculation. You could even consider creating a pay per lead affiliate program for an extra push.
Read More: How to Improve Conversions with your WordPress Forms
4. Use exit-intent technology
Did you know that 55 percent of users spend fewer than 15 seconds on a web page? That's not a lot of time to attract their attention, keep it, and then persuade them to take action on your site. If you're going to generate the number of leads you want, you have to think of how you can reach that goal even when users are intent on leaving.
OptinMonster has exit-intent technology which tracks the movements of users on your site and determines when they're about to exit out without having taken any action. When users gravitate towards the exit button, it triggers a popup notification enticing them to sign up. It could be a lead magnet which many users gravitate towards or a simple nudge to convince them to subscribe. Once you have their email, you can get to work on turning them into paying customers.
Check out other exit intent popups for WordPress.
5. Implement live chat
The average response time from companies replying to customers is 12 hours. For many, this is far too much time to get a reply. With technology rapidly advancing and making it easier for businesses and consumers to connect, it's not a surprise that users expect faster response times.
Live chat can solve these irritating problems for your visitors and help you generate more leads by being readily available to help them out. If they have questions, they can get them answered right away rather than having to wait for a representative to get in touch. It saves time and annoyance and puts you in a positive light with users.
Phone service calls could also be a great alternative to live chat. This could be implemented with a simple request a call back form.
6. Revamp your content marketing
You can't generate leads with content that's stale and doesn't give users value or insight. In order to capture enough leads, you have to start out with high-quality content that users can't get enough of. Valuable content will also rank you higher on Google's SERPs so that you get increased organic traffic which Google favors.
Go back to your buyer personas and create content based on your findings. What are your customers' pain points? What problems do they need help solving and how can your content provide that for them? Use Google Keyword Planner or Buzzsumo to research keywords your audience is looking up frequently so you can create quality content around it.
7. A/B test your site
Your website will never kick off if you aren't evaluating its progress and optimizing it for conversions. There are psychological reasons behind why visitors might click a CTA with a green button but ignore the same button if it's red. By A/B split testing different elements like this, you'll be able to optimize your entire site so it's a lead generation machine.
It's important that you only test one element at a time otherwise it'll be impossible to tell exactly what caused higher or lower conversions. Common elements to split test are:
CTA copy
CTA colors
Website copy
Headlines
Placement
Images
8. Publish social proof
You need to present your website as a credible source of information they can rely on and a great way to do this is with social proof. Social proof can be anything from client testimonials to customer reviews to logo badges displayed on the homepage of your website. Its purpose is to gain the trust of your visitors so that the chances of them converting are higher.
A great way to take advantage of social proof marketing while including your visitors in the experience is by implementing user-generated content onto your site. This is anything your audience has created that represents your brand or shares thoughts on it. When positive, this could boost your credibility and help you generate those leads.
9. Create a seamless UX
Consider how users navigate through your website. Do they face any challenges while they're there? Does the design help them explore your site with ease or does it hinder the experience? In order to generate leads, you need to create a seamless user experience (UX) for visitors that makes navigating your website easy as pie.
If you have a solid UX strategy, your visitors will know exactly where to go on your site and when. It adapts to their behaviors and actions rather than the other way around. Make sure your website is mobile friendly since there are more than four billion mobile users worldwide according to Statista. Use Google's Mobile-Friendly Test to determine if your site makes the cut.
10. Put strategically-placed CTAs
Use calls to action (CTAs) to tell your visitors what to do next. They don't want to think too hard; don't make them. Give them the information they need by insisting they take some sort of action on your website. You want to make it as easy as possible for them to get from point A to point B like it's a no-brainer.
Tell your visitors what to do by inserting strategically-placed CTAs throughout your website. Don't make them guess what action they should take next. It's simpler for them to be told what to do on your website so they get the experience they want. If you want more leads, encourage your visitors to take that action. Always optimize your CTAs so they stand out and use the right language and colors to increase click-throughs.
Wrapping up
It's exciting to watch the number of visitors to your site increase every time you analyze your data. But if those numbers aren't meeting your expectations, it's time to do something about it. Think of different elements of your website that could be improved from the copy to the content to the UX and revamp your lead generation strategy. Consider how your website solves your audience's problems or gives them something insightful to chew on and set out to make it even more useful to them. How will you generate more leads to your website?