Conversational marketing is an inbound marketing technique you can use to improve customer relations. Here's everything you need to know to start a conversational strategy!
It's a well-known statistic that keeping a customer is cheaper than getting a new one. In fact, returning customers are 50% more likely to purchase a product whereas new customers are only 5% more likely! That's a huge difference!
Maintaining strong customer relationships is key to the success of your business. However, figuring out how to nurture and improve customer engagement can be difficult.
To make your interactions with customers more meaningful and effective, we recommend using conversational marketing. This method involves one-on-one, direct communication through multiple channels. It also helps make your approach to marketing more interactive, engaging, and productive.
In this post, we'll explain what conversational marketing is and how it can be helpful. Then we'll provide you with some tips for getting started. Let's jump in!
An introduction to conversational marketing
Conversational marketing is a relatively new consumer management technique. That's because it wasn't possible before. We've moved from horses carrying letters to light-speed internet.
This change in technology means businesses can be there for their customers whenever they need it. It involves interacting with customers directly through multiple channels. And it can be done through various forms of Artificial Intelligence (AI) technologies or with tools that leverage conditional logic.
The main focus? To deliver customer support as quickly and efficiently as possible.
Here are a few instances where you may encounter a conversational framework:
Live chats
Chatbots
Online forms and surveys
Messaging apps
Voice assistants (like Amazon Echo or Apple's Siri)
In other words, the conversational marketing trend is meant to go beyond traditional, cut-and-dry customer interactions.
That's because it involves a deeper level of engagement. It moves buyers through marketing and sales funnels by using the power of one-at-a-time, customized questions. When done right, it should feel similar to a real-time conversation.
These automated conversations and interactive forms are less intimidating than traditional alternatives, which may feel like filling out paperwork. Therefore, they can enable you to more efficiently gather information from your website's visitors. In turn, you can use this information to better understand the consumer's needs.
The benefits of conversational marketing
What's more, there are many benefits to conversational marketing. Here are just a few:
Conversations can be quick
One of the biggest benefits of conversational marketing is that it eliminates the need for your visitors to submit emails or lengthy forms and then wait for a reply. It also saves time for customer service teams to address customer needs.
Why make a customer wait on hold for twenty minutes to get to a customer service representative when they need to ask a simple question that an article link could answer?
Conversational forms and marketing make it so that the one-minute answer takes less than that to get.
Even better, conversational forms allow for customer support representatives to track information. No customer wants to have to repeat their order number a tenth time. Or worse, to have there be no record that they talked to Cindy seven times without success.
In other words, conversational context saves time and patience.
Conversations happen real-time
How quickly a customer can get answers leads to the next point. Online conversations give customers answers when they need them.
Today, shoppers live in a world of instant gratification. As a symptom, they want replies to their inquiries immediately. Live chats and other AI messaging platforms provide them with instant interaction. This can enhance customer experiences and engagement.
More importantly, the sooner your business can address a customer's need, the more likely they are to stick around. In short, conversational marketing improves customer satisfaction and makes loyal customers.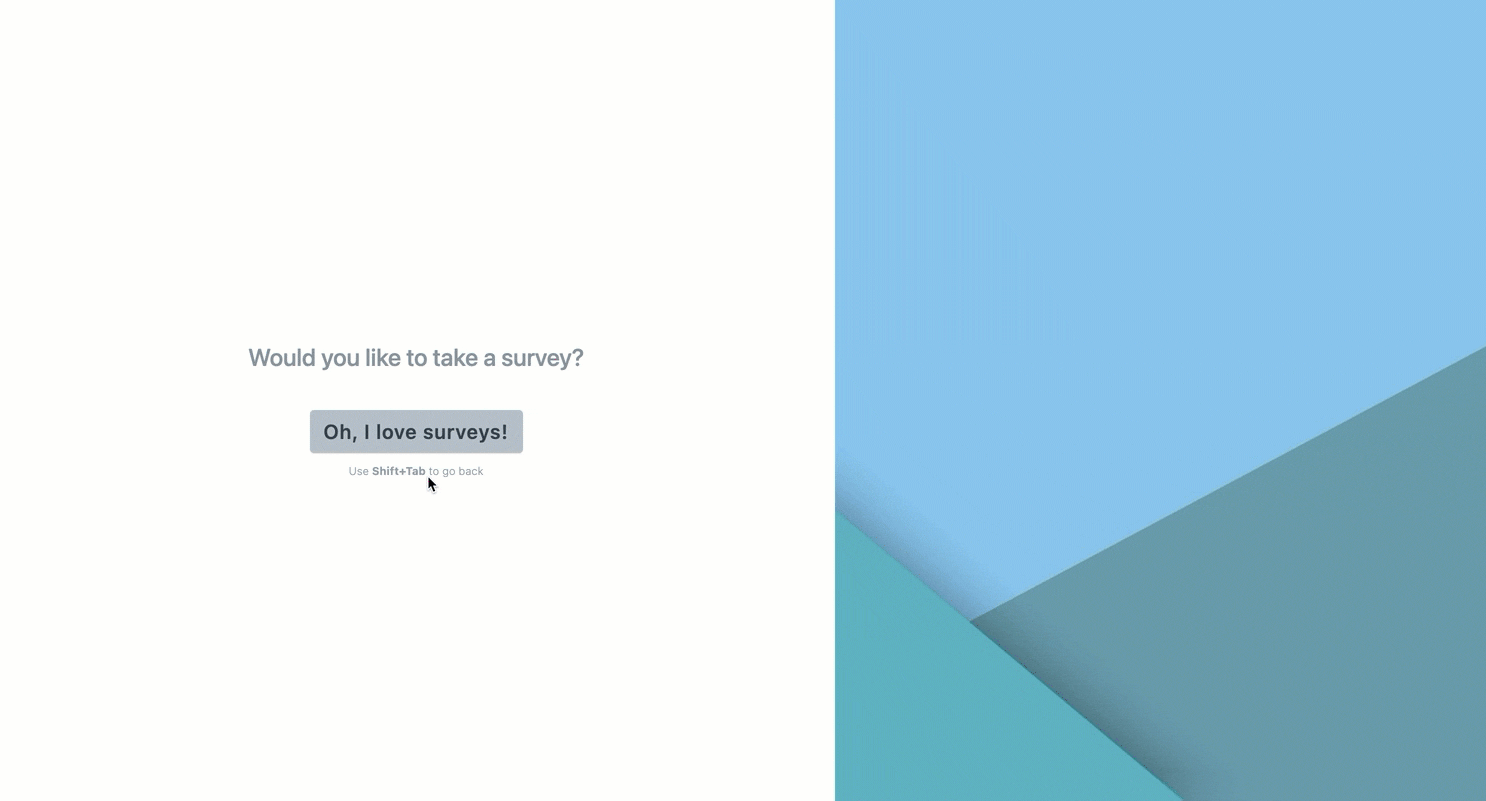 Conversations are about the customer
The most important aspect of conversational marketing is that it focuses on the customer, not the business. If the customer has a few moments to start a question over breakfast but can't respond until dinner, conversational marketing makes that possible.
The text isn't going anywhere, which means the customer isn't either.
Friendly conversations about business also make the customer feel safe. They don't feel like they're receiving a sales pitch or like their problems don't matter. Instead, they feel like they're getting individual attention. This is beneficial for business. That's because customer outreach is such a big part of business.
A conversational strategy keeps communication about the customer.
Conversations become conversions
Conversational marketing campaigns can also help your sales reps generate leads and improve conversions. You can use it to breathe life into your sign-up forms and surveys by making them more personable.
You can also leverage this type of marketing to point new visitors to certain products and services or to upsell existing customers. In this way, your sales team can qualify leads faster and move shoppers through the sales funnel more quickly.
And all without using more customer service hours. The smart forms and chatbots on Facebook Messenger etc. handle the bulk of the questions, which leaves your agents free to handle the more complicated problems and focus on conversions.
Conversational marketing examples
To get a better idea of how a conversational strategy can be used, let's take a look at some conversational marketing examples.
Big business example
Our first example is for a big chain company. In addition to an assistant bot on its website, Domino's Pizza uses text messaging to allow its customers to place orders by simply texting the pizza emoji:
This feature can be used from just about any messaging platform or app, including Facebook Messenger, Slack, and Twitter. To set it up, customers just need to enable text ordering on their Domino's profiles.
Domino's made it so ordering a pizza couldn't be easier. And that's the point. Conversational marketing is all about making transactions feel like a breeze.
Online store example
Our second example focuses on an online store that sells products. 1-800-Flowers is a flower delivery company that lets its customers order through Facebook Messenger or its virtual assistant chatbot feature:
The chatbot takes visitors through the entire sales process from start to finish and is programmed with complex conditional logic to be able to answer basic questions.
This conversational marketing example is about more than just ease, it's about giving the customer exactly what they want when they want it.
Service company example
Our third example is a company that offers many online services. Most mortgage firms require customers to fill out lengthy forms with a handful of fields. However, London & Country has simplified the process by using a chatbot that presents visitors with one question at a time:
The messaging format makes the task of filling out a mortgage finder form more approachable and less overwhelming. It also allows the company to guide buyers to only the product they need so they don't get overwhelmed or distracted.
Plus, it's an excellent way for London & Country to gather leads and customer data.
This form conversation makes finding the right product easy for the buyers. It also makes collecting leads easy for the company.
But now that you've seen some real-world marketing examples, what's the next step?
How to get started with conversational marketing (3 tips)
As with any type of marketing, it's important to develop a conversational strategy. Below are three tips you can use to get started with conversational marketing.
1. Determine which channels to use
Our first tip focuses on where you should offer online customer support.
To make your conversations successful, you need to make them accessible and convenient for your customers. Therefore, you'll want to select the channels that your customers use the most.
For example, if your target audience is active on social media, you will probably want to use a social platform for your outreach. These include Facebook Messenger, Instagram, Slack, or other social platforms. It's also smart to be strategic about where you place chatbots or forms on your website.
In most cases, it makes sense to place them as a popup on the home page. You can also add a form to a contact page. Alternatively, using an entire landing page can be especially effective. That's because it enhances the sense of a one-on-one conversation.
Whatever messaging channel you choose, make sure there is a way to contact a live person for customer support if needed. You always want the customer to feel like they can reach someone at the business.
2. Select your conversational marketing tools
Our next tip involves choosing the right tools.
There is a wide range of conversational marketing tools to choose from. If you want to add a live chat to your website, you can do so using a plugin such as LiveChat.
Or if you're not ready to commit to a full chatbot system yet, you can use form tools that include conversational features. For example, the Formidable Forms plugin includes conversational forms that let you incorporate an organic series of conditional questions into your surveys, lead capture forms, and more.
You can embed your conversational forms on any page using the Formidable Forms block within the WordPress Block Editor. Alternatively, you can use this conversational marketing tool to easily create a form landing page. Setting up conversational form features and conditional smart logic requires only a few clicks after that.
3. Personalize and optimize your messaging
Our third tip is all about how to present your forms and chats.
Once you have your platform and tools selected, the next step is personalization and optimization. It's important to base your messaging on your brand's style and voice.
We recommend creating a script that is friendly, personable, and consistent across your marketing channels. You may even want to leverage emojis.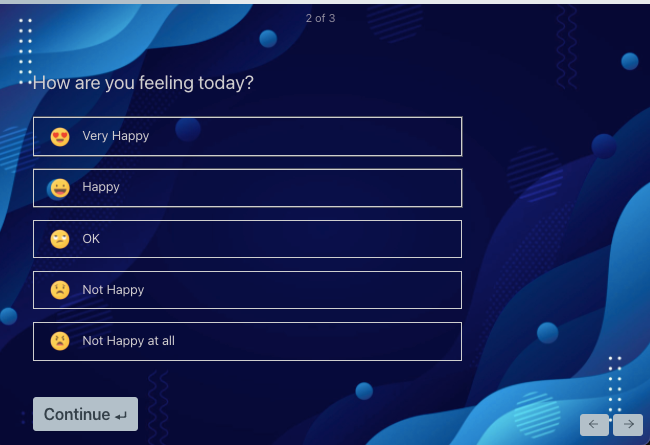 You can also improve your conversational forms to automatically send targeted responses based on specific triggers and conditional logic. For example, if you're dealing with a first-time visitor, you may want to offer them a special discount.
Conversely, you can use the guided survey to direct repeat customers toward new products they might be interested in.
Remember to keep your question and answer system simple and easy to follow. Use personable language instead of language that is stiff and formal. And last but not least, keep the focus on the customer. Sometimes, this means only asking the questions you need answers to.
You want your customers to feel like people not numbers. The questions in your forms should reflect that.
Conclusion
Finding new ways to connect with your customers can be challenging. Fortunately, a conversational marketing strategy can help enhance your communications and interactions via increased personalization.
As we discussed in this post, conversational marketing can be done using live chat, chatbots, interactive online forms, and more. These tactics can help you quickly and efficiently answer customers' questions. They can also help move customers through the sales funnel faster.
Are you ready to try out a conversational marketing strategy and improve conversion rates? Download our form maker plugin to start making custom interactive forms!
Start Your Conversational Marketing Strategy
More About Conversational Forms