Discover the power of conversational marketing with this guide covering strategies, benefits, tools, and real-world success stories for business growth!
Approximate read time: 11 minutes
Conversational marketing can supercharge your digital marketing strategy.
By using artificial intelligence (AI) or live chat, you connect with customers in a way that wasn't possible before.
And that's why we've brought you this guide. We'll cover the basics of conversational marketing and the benefits, strategies, and great examples to help you use it on your website today.
So, let's dive in.
What is conversational marketing?
Conversational marketing is a customer-focused approach to marketing that aims to create genuine connections.
And it has three main aims: Connect, Explore, and Direct.
AI or live chat connects with customers, explores their needs, and directs them to the correct solution.
And that means happier customers and higher conversation rates.
But that's not all. Here are a few conversational marketing fundamentals:
Real-time communication. Website visitors get immediate, personalized messages. And that makes your customers feel heard.
Two-way conversation. People value conversations. And removing the one-way style of traditional marketing is a refreshing change to what customers are used to.
AI-powered. AI is improving. And that helps it easily adapt to your and your customer's needs.
Personalization. You're missing out on an ample opportunity if you're not personalizing your messaging. Customers expect personalization in today's marketing. So give it to them.
Customer-first. The entire focus of conversational marketing is the customer. You create a more loyal customer by listening and adapting to their needs.
Focusing on these few areas can help your business develop its conversational marketing strategies quickly.
So, let's dive into the benefits of using these fundamentals.
What are the benefits of conversational marketing?
Conversational marketing has many benefits, like:
Customers are happier
Higher engagement
Conversations are quick
Data increases conversions
Scalable
Let's look at these in more detail, though.
1. Your customers are happier
You will receive a response in 2-3 days.
Raise your hand if you know this message from personal experience. People hate this response.
With conversational marketing, those days are gone. Customers get an immediate response and the dopamine hit that comes with it. And if the question or issue is too difficult for AI to handle, you can have it refer to one of your agents.
This is customer interaction done perfectly. And it fixes one of the biggest pain points for customers — not being heard.
2. Your customers have higher engagement
You know what customers do if they feel like a business is listening to them?
They continue to buy from that business! Customers are loyal to brands they feel are loyal to them.
Conversational marketing is the easiest way to listen to your customers but not overwhelm your entire staff simultaneously. It's like having a secretary always on standby to help your visitors.
Not to mention it's perfect for your customer journey.
3. The conversations are quick
Brief conversations are beneficial in two ways:
They reduce your response time, which makes customers happy
They free up time for more critical tasks, which makes your employees happy
Everyone benefits from reduced response times. And you'll always have a written record of the conversation in case you need to refer to it.
And with Formidable Forms, you can even convert it to a PDF!
In the end, quick conversations save time and patience.
4. The data it collects helps increase conversions
As a customer interacts with a chatbot, it adapts to their needs.
If they want a product or service, it directs them to the correct one. If they need customer service, it acts as a basic customer service rep having real-time conversations.
For example, if a customer arrives at a clothing store website, they can tell the chatbot they're looking for pants.
But it doesn't stop there.
They could tell the AI they're looking for a pair of "faded blue jeans in size 36x34 by Levi." And it filters out all other results, so the customer gets only what they're looking for.
That's excellent inbound marketing, and that increases your conversions MASSIVELY.
And as it learns more about your customers, it can continue providing better suggestions.
So customers are slowly moving down your sales funnel.
5. It's scalable
If you have ten employees to answer customer questions, you can only answer ten questions simultaneously.
You can answer hundreds of questions at a time with one chatbot.
As your business grows, you need your support and sales teams to grow with it. But that doesn't mean you have to hire more people necessarily. Instead, you can use your existing valued employees, and they can learn new skills and work in new roles.
AI doesn't have to replace people. It can help take over basic tasks, allowing employees to focus on more important things.
For example, let's look at customer support.
Many tickets can be answered with information you have on the internet already. So, allow your chatbots and AI to handle the basic requests and give your support team the more challenging problems.
Your employees will thank you, and so will your customers.
Strategies for effective conversational marketing
We know.
After that list of benefits, it's hard not to be excited about conversational marketing. But you don't want to dive in head first without a strategy.
You need to have a plan.
So, here are a few strategies to help you get started:
Identify your target audience. If you don't know your customers, you don't know anything. So, take the time to learn about them (even their language) and use them in your marketing.
Use AI. AI is advanced enough to handle your customers' basic questions or needs. Use it to your advantage by personalizing it to your customers.
Focus on personalization. We've said it several times, but customers engage with specifically personalized marketing.
Track your performance. Pay attention to what's working and what isn't. When you find something that is, double down on it and see where it goes.
Use different channels. Creating a seamless experience across your media channels is essential. Whether it's your website, social media, or emails, make them consistent.
Using these strategies, you can create genuine relationships with your customers, which help grow your business.
How to get started with conversational marketing (3 tips)
As with any type of marketing, it's important to develop a conversational strategy. Below are three tips you can use to get started with conversational marketing.
1. Determine which channels to use
Our first tip focuses on where you should offer online customer support.
To make your conversations successful, you need to make them accessible and convenient for your customers. Therefore, you'll want to select the channels that your customers use the most.
For example, if your target audience is active on social media, you will probably want to use a social platform for your outreach.
These include Facebook Messenger, Instagram, Slack, or other social platforms. It's also smart to be strategic about where you place chatbots or forms on your website.
In most cases, it makes sense to place them as a popup on the home page. You can also add a form to a contact page.
Alternatively, using an entire landing page can be especially effective. That's because it enhances the sense of a one-on-one conversation.
Whatever messaging channel you choose, make sure there is a way to contact a live person for customer support if needed. You always want the customer to feel like they can reach someone at the business.
2. Select your conversational marketing tools
Many tools have popped up to help fill the gap of live chat, messaging apps, or AI on your website.
Three main types are used: conversational forms, chatbots, and live chat.
But the list doesn't stop there!
Here are some of the top ones we recommend.
Formidable Forms
If you're working with WordPress, your best option is Formidable Forms.
It's the most advanced form builder for WordPress and has many conversational marketing tools to help you boost your website. The main feature of that is its Conversational Forms. You can turn any form into a one question at a time format!
You can also analyze your marketing campaigns using the User Flow feature.
Start Your Conversational Marketing Strategy
Drift
Drift is one of the top conversational marketing tools on the market.
It has AI-powered chatbots, live chat, and email, and it helps its customers create an engaging experience.
It can even automate lead qualification and schedule meetings, making your job easier.
HubSpot Conversations
Like Drift, HubSpot has its own chatbot and conversational marketing tools.
HubSpot provides a simple dashboard for your team or a bot to handle your messaging, so you can easily add these features to your website.
3. Personalize and optimize your messaging
Our third tip is all about how to present your forms and chats.
Once you have your platform and tools selected, the next step is personalization and optimization. It's important to base your messaging on your brand's style and voice.
We recommend creating a script that is friendly, personable, and consistent across your marketing channels.
You may even want to leverage emojis ?.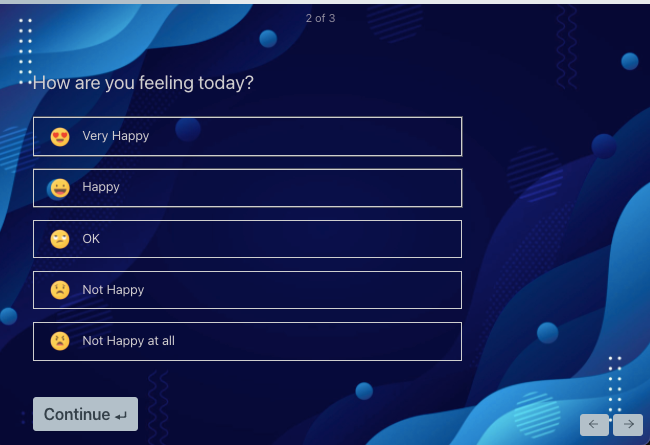 You can also improve your conversational forms to automatically send targeted responses based on specific triggers and conditional logic.
For example, if you're dealing with a first-time visitor, you may want to offer them a special discount.
Conversely, you can use the guided survey to direct repeat customers toward new products they might be interested in.
Remember to keep your question and answer system simple and easy to follow.
Use personable language instead of language that is stiff and formal. And last but not least, keep the focus on the customer. Sometimes, this means only asking the questions you need answers to.
You want your customers to feel like people, not numbers. The questions in your forms should reflect that.
Real-world conversational marketing examples
To better understand how to use conversational strategy, let's look at a few conversational marketing examples.
Big business example
Our first example is for a big chain company. In addition to an assistant bot on its website, Domino's Pizza.
The website uses text messaging to allow its customers to place orders by simply texting the pizza emoji:
You can use this feature from any messaging platform or app, including Facebook Messenger, Slack, and Twitter.
Customers need to enable text ordering on their Domino's profiles to set it up.
Domino's made it so ordering a pizza couldn't be easier. And that's the point.
Conversational marketing is all about making transactions feel like a breeze.
Online store example
Our second example focuses on an online store that sells products.
1-800-Flowers is a flower delivery company that lets its customers order through Facebook Messenger or its virtual assistant chatbot feature:
The chatbot takes visitors through the entire sales process from start to finish and is programmed with complex conditional logic to be able to answer basic questions.
This conversational marketing example is about more than just ease.
It's about giving the customer exactly what they want when they want it.
Service company example
Our third example is a company that offers many online services.
Most mortgage firms require customers to fill out lengthy forms with a handful of fields.
However, London & Country has simplified the process by using a chatbot that presents visitors with one question at a time:
The messaging format makes the task of filling out a mortgage finder form more approachable and less overwhelming.
It also allows the company to guide buyers to only the product they need, so they don't get overwhelmed or distracted.
Plus, it's an excellent way for London & Country to gather leads and customer data.
This form conversation makes finding the right product easy for the buyers. It also makes collecting leads easy for the company.
How will you use conversational marketing?
Conversational marketing is a powerful tool for making the customer experience better.
Using this guide, you're on your way to getting more potential customers and driving your business growth.
So, don't wait any longer. Get started on your conversational marketing strategy!
And follow us on Facebook, Twitter, and YouTube for more tips and tricks!
More About Conversational Forms
---
Did you know that Formidable Forms is one of the fastest WordPress form builder plugins available today? If you're not already using it, get started with our free plugin or the full-featured pro version!