We may not be therapists, but we can help you resolve (at least some of) your "abandonment issues". These WordPress form abandonment tracking solutions get to the root of your problems so you can say so long to lost leads!
Approximate read time: 7.5 minutes
Have you ever felt like your online forms suffer from some serious "abandonment issues"? 🥺 It's frustrating to see that site visitors aren't completing your forms, whether it's a payment form or a brand awareness survey.
Well, we're here to help! And we won't even ask you to lie on a couch and spill your secrets! 🛋️ 💭
Instead, let's talk about form abandonment tracking and two different ways to add it to your WordPress website.
First, we'll quickly cover how to use Google Tag Manager to track abandoned forms. Then, we'll show you an even easier option using Formidable Forms' form abandonment tracking feature.
Start Tracking Form Abandonment Now!
Let's get you more leads and help you convert more customers.
Understanding form abandonment
Before we dive into the nitty-gritty of implementing form abandonment tracking in WordPress, let's get a handle on what form abandonment is and how measuring it can make your site more successful.
What is form abandonment?
Form abandonment is when a website visitor starts filling out a form but doesn't complete it. It's like when someone walks into a store, picks up a couple of items, and then leaves without buying anything.
In the digital realm, it's the equivalent of users saying, "I'm interested, but not THAT interested." 😔
So, why aren't people finishing my forms?
Some of the most common reasons a user quits filling out a form include confusing questions, long forms, technical errors, and slow loading times.
Whatever the cause, web form abandonment can deal a big blow to your form conversion rates and, ultimately, your bottom line.
How can I reduce form abandonment?
The first step to decreasing form abandonment is to pinpoint where the problem lies. 📌
One of the fastest and easiest ways is to simply test your form so you can better understand users' experience.
Realizing your form takes forever to fill out? ⏳ Start by simplifying your form as much as you can. Here are a few guidelines to follow:
Make your form as short as possible: Only ask for information that's absolutely necessary. The more questions, the less likely users are to finish your form. Try using conditional logic, multi-page forms, and conversational forms.
Give clear and concise instructions: Make sure users know exactly how to respond to each form field.
Show their progress: Show users how far they've come and how much is left to fill out so the end is always in sight.
Use a clean and intuitive design: Keep things clutter-free and user-friendly for a smoother experience.
After you've streamlined your form and addressed other obvious issues, it's time to dig into the data! 🤓
Form abandonment tracking
If you really want to improve conversion rates, abandonment tracking should be next on your to-do list.
To measure form abandonment, you track and analyze user interactions with your forms. But don't worry, you don't have to do all the sleuthing yourself. There are some great tools out there that give you the clues you need!
How do I track form abandonment in WordPress?
In WordPress, you can use Google Tag Manager or a form builder plugin with built-in tracking features like Formidable Forms.
Both solutions automatically show you when someone starts filling out a form but doesn't submit it. And you can deduct a lot from this data, including motives for quitting forms and optimization opportunities to investigate. 🕵️‍♂️
But be prepared; these two methods are about as different as Sherlock Holmes and Dr. Watson.
One requires coding knowledge plus skills in Google Analytics and Google Tag Manager. For the other, you just need to know how to install a WordPress plugin.
Ready to solve the mystery of unfinished forms? 🔎 The game is afoot! Let's go!
Add tracking with Google Tag Manager & GA4
⚠️ To use Google to track form abandonment, you'll need to be able to edit the code of your website and configure event tags in Google Analytics. If you don't know how or simply don't want to, you'll want to use the Formidable Forms method instead.
Still a go for Google? Great, let's get started.
First, create a Google Tag Manager account (GTM) and set up a container for your site. Next, install the GTM container on your WordPress website by adding the code snippet in the site header.
Back in your GTM account, Add a new tag to your container, and then create a custom Trigger to detect when a form is started but not completed.
Now pop over to Google Analytics to create a GA4 event tag for tracking these abandonment events. Once your GA4 event tag is set up, go back to GTM to connect the GA4 Configuration tag.
Clear as mud, right?! 😳 Don't worry, we're almost done!
All that's left is to save your tag, then preview and debug in GTM. If everything's working, hit Submit to start collecting data!
Not exactly "elementary," is it? If you're still scratching your head, read on for a much easier way to get analytics tracking on WordPress forms. 👇
Add tracking with Formidable Forms
To track form abandonment on your WordPress site, you'll need a Formidable Business Plan or above.
Get Formidable Form Abandonment Tracking!
When you have your license, install and activate the plugin, and you're ready to go!
Step 1: Install the add-on
In your WordPress admin, go to Formidable → Add-Ons. Find the WordPress Form Abandonment plugin, then click Install, and finally, Activate.
Step 2: Edit a form or create a new one
Next, go to Formidable → Forms. Either Edit an existing form or hit the blue + Add New button.
If you're making a new form, you can choose from one of Formidable's 225+ online form templates to save time. Or build a form from the ground up by selecting Blank Form.
Now it's time to create or customize your form in the drag and drop form maker!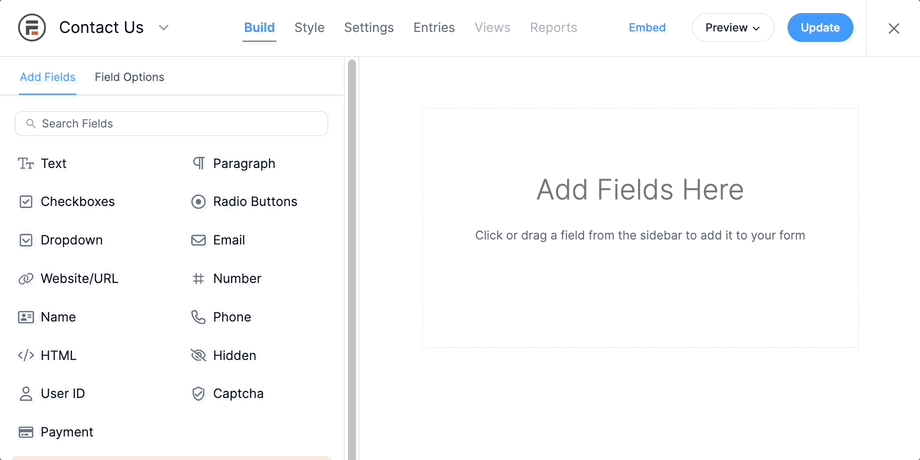 Double-click a field to add it to your form, or click and drag it exactly where you want it on the right side of the screen. To edit a form field, select it inside the form preview and adjust the settings on the left side of the screen.
When you're finished, click Update to save your form.
Step 3: Set up form abandonment
While still in the form builder, head to the Settings tab at the top of the screen. Scroll down and open the Form Abandonment tab.
Click Turn on form abandonment to capture partial form submissions. Yep, it only takes one click!
And you can also choose whether to capture all partial entries or Only save entries with an email address or phone number provided. Obviously, you'll need a phone number or email field in your form if you pick this option.
Step 4: Create a basic form recovery email
The last step is to set up an automatic email encouraging visitors who abandoned the form to complete it. All you have to do is click the Create a recovery email button and personalize the text.
Hit Update one last time to save your form settings, and then publish your form to start collecting partial entries.
Great going, gumshoe! You're all set to stake out those lost leads! 👀
See when users abandon your forms
Check the status of your WordPress form entries by going to Formidable → Entries. Then, select your form from the dropdown menu in the upper left of the page.
You should now see something like this:
View an abandoned entry to see where they stopped filling out your form. For even easier analysis, you can set up user tracking and use Formidable Reports to show charts and graphs of this data.
Ready to get rid of your WordPress form abandonment woes?
Thankfully, solving your form "abandonment issues" doesn't require a session with a shrink 🧠. And you don't need a detective to track form abandonment rates in real-time, either 🕵️.
You just need to configure Google Tag Manager + Google Analytics, or install the easy-to-use, all-in-one WordPress form plugin Formidable Forms. The choice is yours!
Ready to follow the trail of those lost leads and turn them into satisfied clients?
Read more from the Formidable blog