Adding an AI product recommendation engine to your website is surprisingly simple with Formidable Forms. And affordable too! Here's how to get started.
Approximate read time: 6.5 minutes
By now, we've all done our fair share of online shopping. 🛍️ And you've surely noticed how helpful relevant product recommendations can be.
In fact, an impressive 35% of Amazon's revenue is generated by its AI product recommendation engine.
You're probably thinking, "But that's Amazon. There's no way I can use AI-based product recommendations on my website like they do."
Wrong! 😮
With Formidable Forms' WordPress AI plugin, adding a personalized recommendation system to your WordPress website is incredibly easy. We'll show you step-by-step in this post.
Since we're conscious of the limitations of AI, specifically ChatGPT, we'll also cover two other ways to make product recommendations, with AI and without.
Ready to improve user engagement and skyrocket sales? Let's go! 🚀
Why use AI for product recommendations?
Adding an AI product recommendation feature to your site is a great way to send conversion rates soaring. 📈 And did you know that personalized product recommendations can drastically increase your average order value (AOV) too?
According to one study, 40% of consumers have purchased something more expensive than originally planned because of personalized product recommendations.
But AI product recommendations aren't only about boosting your bottom line. They also provide a personalized customer experience, which improves customer satisfaction. 🙂
With AI-based recommendations, you can give your customers highly customized suggestions. These aren't just random picks but related products or services based on their preferences, previously viewed products, and purchase history.
It's like having your own personal shopper right there in your online shopping cart! 🛒
So now that we know the "why," let's take a second to discuss the "how" of Artificial Intelligence.
How is AI used for product recommendations?
AI product recommendation engines sift through tons of data to uncover patterns and predict which products a customer might like based on their browsing and buying history.
🗃️ Data Collection: First, AI collects customer data. This can include users' browsing and purchase history, ratings or reviews they've written, and personal preferences saved to their profile.
👀 Pattern Recognition: Next, AI sifts through this data to identify patterns. For instance, it might notice that customers who bought product X often also bought product Y. This is the foundation of the product recommendation AI.
🪄 Prediction: Based on these patterns, the AI makes predictions about what other products the user might like. These recommendations are then shown to the user.
🧠 Continuous learning: True AI isn't static, though. It continues to learn and adapt based on new data. If a user doesn't respond to a certain type of recommendation, the AI adjusts its future suggestions.
☝️ But all tools aren't created equal, and it's important to remember that AI can't do everything yet. There are still some significant limitations to the AI systems currently available to the public.
Limitations of ChatGPT for product recommendation engines
Before we dive into adding an AI product recommendation widget with Formidable Forms, it's crucial to understand that the AI we're using, ChatGPT, has certain limitations. ⚠️
It currently does not have real-time browsing capabilities, meaning it can't access the internet and only has information up to 2021. You also can't train it from a specific product list or inventory.
But we know a way around this! More on that a little later. 😉
How to add AI-based product recommendations to your site
In this tutorial, we'll guide you through adding AI product recommendations to your website using Formidable Forms.
If you don't already have the best form maker for WordPress, click below to get the plugin. The AI feature is included in both the Business and Elite plans.
Once you have your license, we can get started! It's a straightforward, code-free process, so don't worry if you aren't a tech whiz. 🧑‍💻
Step 1: Install and activate Formidable Forms AI Add On
First things first, you need to install the Formidable Forms AI Add On.
From your WordPress dashboard, head to Formidable → Add-Ons. Find the AI Add-On, click Install, then Activate.
Step 2: Create your AI product recommendation form
In Formidable, go to Forms and click the + Add New button.
Now, you can start from a Blank Form or one of our pre-built AI WordPress Templates.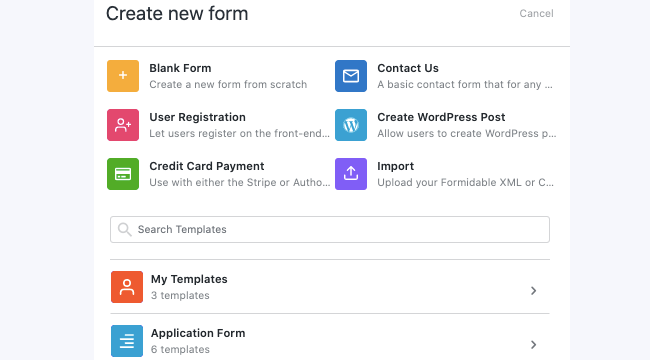 Today, we'll use the Book Buddy template so we can quickly start providing visitors with personalized recommendations of what book to read next. 📚
Next, name your form and click Create to open the user-friendly drag-and-drop form builder.
Add the fields you want and configure each one as needed by clicking on them in your form.
For your AI field, click to edit the prompt. 🤖
Aren't sure what to type? Check out these excellent AI prompt examples for inspiration.
Once you're done, click Update to save your form.
Step 3: Publish your form
You're almost there!
Now, open the WordPress post or page where you want to add your AI product recommendation tool. In the editor, add the Formidable Block and then select your form from the dropdown menu.
Update or Publish the page/post, and you're done! 🙌 Your site can now automatically provide AI product recommendations!
Recommend your own products or products from a particular site
As we mentioned earlier, AI-based product recommendations have certain limitations. 🚧
While you can't yet train ChatGPT on a live website or by searching your inventory, you can still use customer data to offer personalized product recommendations.
There are two different ways to offer automated recommendations with links to accomplish this goal:
Create a classic product recommendation quiz
Use Recommendations AI by Google Cloud
Create a classic product recommendation quiz
With Formidable Forms, you can create a multiple-outcome quiz with links to the posts, services, or product pages you recommend.
Not only is this perfect for ecommerce sites, but it's also great for affiliate marketing, as you can insert affiliate links to point visitors toward specific affiliate products. 🔗
And best of all, it's easy to do!
Just follow this step-by-step guide on how to create a product recommendation quiz in WordPress.
Use Recommendations AI from Google Cloud
If you want a powerful AI recommendation engine that's truly integrated with your online store, Google Recommendations AI may be your best bet for now. Especially if your site has a huge selection of products or runs on Shopify or Magento.
But be warned, it's pricey! 💰💰
This machine-learning service lets you import your product catalog and customer data. You customize your recommendations strategies, and then Google takes care of developing the recommendation algorithm and offering highly personalized recommendations.
Ready to offer AI-powered product recommendations on your site?
By adding an AI-based product recommendation system to your site, you aren't just adding a flashy feature. You're providing a powerful tool that understands and caters to your customers' needs.
And today, we showed you how you can bring the power of AI to your website to transform your customers' shopping experience while also increasing sales.
Add AI to Your Site Now with Formidable Forms!
So how will you use AI product recommendations on your site? Reply below and let us know! 💬
Read more from the Formidable blog
---
Did you know Formidable Forms is the most advanced WordPress form plugin on the market? Get started with our free form builder, or go for our full-featured online form maker to access our AI field!