We're excited to announce our new Formidable Conversational Forms: the best way to build a form conversation in WordPress. Reduce abandonment and drive conversions - one question at a time!
Form abandonment can be a major struggle when you're running a business website. There's nothing more frustrating than when users only partially fill out a lead form before leaving. And as the stats show: simplifying forms and reducing distractions increases conversions.
With that in mind, we're excited to announce our new Formidable Conversational Forms! Designed to work seamlessly with Form Landing Pages, you can use form conversations to engage users and drive conversions!
In this post, we'll discuss the benefits of using these interactive forms on your WordPress website. Then we'll show you how to build an automated form conversation easily in WordPress with Formidable Forms. Let's get started!
The benefits of using form conversations
Have you ever gone to fill out an application form, and it's so long that you don't even want to start? Imagine if a form could walk you through the application, one question at a time. Just like a real conversation.
Using form conversations on your WordPress site will give your visitors:
And best of all, you don't need to write a single line of code! While developers and designers can still customize these forms to their heart's content, anyone can use the form builder templates to put a conversational web form on their WordPress site or landing pages.
What better way to increase casual conversions than through a conversational contact form? With these versatile and fluent forms, you can collect email addresses, gain subscribers, and make sales one question at a time!
So, let's get started!
How to create a form conversation in WordPress
Now that we understand more about why conversational forms can improve conversions, let's explore how to make them in WordPress. Note that for the following tutorial, you'll need Formidable Forms and the Formidable Landing Pages plugins installed and activated on your website.
Step 1: Add a new Formidable Form in WordPress
To get started, you'll first need to create a new form in WordPress. You can do this by going to Formidable → Forms → Add New:

You can choose from any of the form templates. Alternatively, you can start from scratch by selecting Blank Form: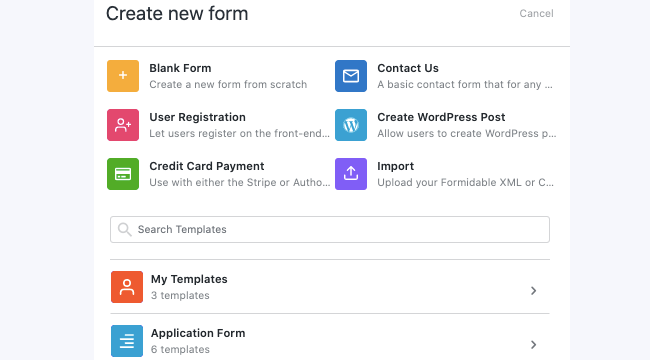 After naming your form and writing an optional description, click on Create. On the next screen, you can add any form fields you need by dragging and dropping them:
Next, you can click on any of the fields followed by Field Options to modify them. For example, you might change their labels or positions.
Keep in mind that you can turn any form into an attractive, high-converting conversation with users at any time. Awesome, right?
When you finish building your form elements and entry fields, remember to save your changes!
Step 2: Customize the form settings
Once you're happy with how your form looks, the next step is to configure its settings. To get started, click on the Settings tab at the top of the form editor:
Here, you will find a variety of setting categories, starting with General. Here, you can change the form title and description, locate the embed shortcode, and more.
Other settings include:
Form Permissions
Styling & Buttons
Form Landing Page
We won't go through each of these setting options, as they are pretty extensive. But we definitely recommend taking some time to explore all the super helpful features so you can get the most from your forms!
Step 3: Enable and configure your form conversation settings
When you're done with your settings, you're ready to enable a form conversation. To do this, click on Conversational Forms (located under Settings), then toggle the switch to turn on conversational form mode:
After you enable the feature, more options appear:
For example, you can include an arrow button in the navigation. You can also display a progress bar as a standalone element, text, or a progress bar with text. If you don't want to use this feature at all, leave the default setting on None.
Then you can also change the Continue Button Text and Start Button Text. When you're done making these changes, be sure to select the Update button. Here's an example of where the start button will be used:
Step 4: Add the form conversation to your website
Once you finish building your form and applying your form conversation template settings, the last step is to add it to your WordPress website. Before doing that, you can see how it will look on the front end of your site by clicking on Preview in the top-right corner:
You can view it on a blank page, within your current theme, or on a landing page. For the best results, we recommend using a landing page, to get a beautiful, distraction-free form:
If you'd like to embed the form on a page, you can also use the Formidable Form block in your WordPress editor. Simply click within the paragraph block, select the Add Block button, then search for 'Formidable':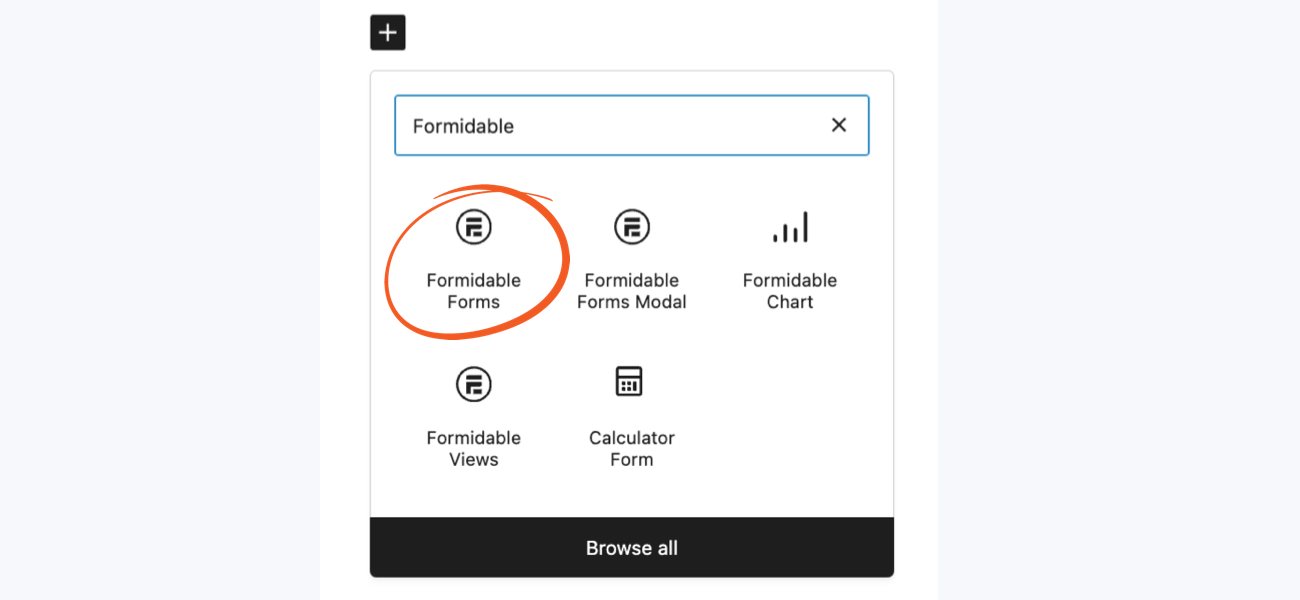 Then you can then choose your new form from the dropdown menu. That's it! Here's an example of an embedded conversational form with a progress bar and arrows:
Conclusion
If you want to boost form completion rates and drive conversions, providing an engaging, interactive experience is key! Form conversations can help you do that with any Formidable Form you create.
Now, you know how to create automated form conversations in WordPress in four simple steps:
Add a new Formidable Form in WordPress.
Customize your form settings.
Enable the form conversation settings.
Add the form conversation to your website.
So get started!
Formidable Forms is the best form plugin for WordPress. It makes creating interactive form conversations quick and easy. Check out this great new feature to provide a better customer experience, one question at a time!