Need a WordPress evaluation form plugin? Formidable Forms will help you create any kind of evaluation form: polls, surveys, and more!
Looking for a super-easy way to build any kind of evaluation form on WordPress sites? Here it is! Formidable Forms is one of the best WordPress survey plugins for WordPress websites.
Think of Formidable Forms like a contact form builder on steroids. In reality, it can help you build whatever kind of form you want.
In this post, we'll take you on a tour of the features that make this a great option for all kinds of evaluation forms. Put simply, an evaluation form is any kind of form where you collect feedback from your audience.
So if you want to create a survey in WordPress - Formidable Forms can help. If you want to create polls that display the results in real-time - Formidable can do that too!
If that sounds like what you are looking for, stick with us for a moment. Let's dig into the features that thousands of users rely on every day for their WordPress forms.
WordPress survey forms
Need a WordPress survey plugin with a ton of features? Give your audience the power to evaluation your business - all while collecting valuable data.
Formidable Forms has a free WordPress plugin with a lot of power. It's a great option if you want to get started for the generous price of forever free.
Text Question Field
Paragraph Question Field
Dropdown Field

Email Notifications
Checkboxes & Radio Buttons

With those free features, you'll make a powerful survey. But our premium plugin can help you create something even more powerful. When our free version isn't enough, check out form fields like these:
Our user-friendly plugin is loved by many. But even though it's easy to use, it still stands alone as the most powerful form builder for WordPress. Better than online form builders (like Google Forms). Better than other WordPress forms plugins (like Gravity Forms).
Plus, our plugin has dozens of add-ons and integrations. It can easily fit into your existing setup. You can even use it to create a modal survey on the front-end, then display the survey results on the back-end.
Learn more: How to Create a Popup Form in WordPress
WordPress questionnaire forms
Think that a questionnaire and a survey are the same things? We used to! But they actually have different purposes:
Surveys contain mostly closed-ended questions.
A questionnaire has more open-ended questions.
Despite their differences, the tools for creating a questionnaire in WordPress are the same as any type of evaluation form. So, the best questionnaire plugins should be able to create both!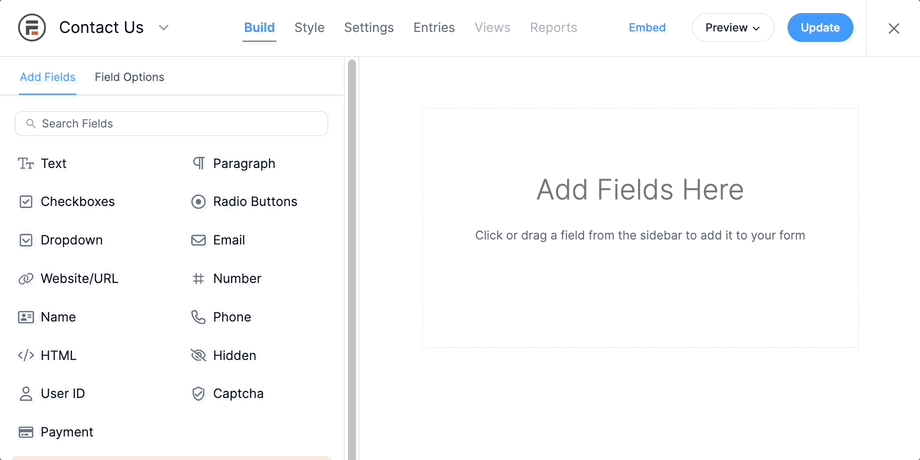 With Formidable's handy drag and drop form builder, you'll be able to drop in multiple-choice fields, Likert scales, and a lot more. There is no survey, poll, or questionnaire Formidable Forms cannot build!
With Formidable's visual form styler, you can make sure that your questionnaires match your website's style perfectly. Or you can choose to create unique landing pages for each questionnaire. The choice is yours.
Formidable also has several templates to get you started the super-easy way!
WordPress poll forms
If you want to compete with social media sites, you'll need polls. And why not, users love polls! They are perfect for engagement, providing the audience with real-time insights.
But of course, with Formidable Forms, all your poll data will be store safely for you to use too. Export all the data to a Google sheet, or get creative! Use Formidable's Views feature to feed the results into a single page.
Imagine a master article with all your poll results updated in real-time! Used in this way, your form data can become an interesting type of content for your audience.
Here's another idea: create a multi-page form and collect email addresses after users vote. You'll be able to build your email list and send users a notification when the polls close.
And by the way, if you are polling... well you are only one step away from voting. And guess what? We're billing Formidable as one of the best voting plugins for WordPress too!
WordPress customer feedback forms
When we think about user feedback, we think about some key elements:
One of the best things about Formidable Forms is our dedication to knowledge and support. We've put together dozens and dozens of blog posts to help our audience. If you are focused on feedback forms, these may tickle your fancy:
And our knowledgebase cuts straight to the point with articles like this: How to add star ratings to post and forms. Of course, you can expect to find hundreds more useful docs there too!
By the way, you don't need to use stars if you don't want to. You can easily build an emoji rating scale using Formidable too!
And if that's not enough, we also have a stellar support team ready to help you whenever you need it. All you need is a premium plan, and you'll never be alone when building your evaluation forms.
Form build features galore
So yes, you can create evaluation forms with Formidable. But what else can you do?
Whether you love to tweak settings endlessly or want to set it and forget it, Formidable Forms has you covered. Here are a few of the best things to look forward to:
Formidable Forms has over 100 different templates to get your data collection project going fast. There are even 10+ evaluation style templates. Load up a few templates and see just how easy it is to customize our forms.
If you are launching evaluation forms that are a bit on the longer side, consider using a mult-step form. With this feature, you'll be able to split your forms into digestible chunks. This will make things much easier for the user, resulting in dramatically higher form conversion rates.
With Formidable, you can trigger email notifications to launch as soon as a user fills out a form. But that's not all though. You can also trigger a form automation so that the user gets a notification based on other conditions too (like time for example).
Already have an email platform? Formidable has email platform add-ons that connect your account to Formidable effortlessly. MailChimp, ActiveCampaign, Constant Contact, and many more email add-ons are all included and supported in Formidable.
When it comes to collecting data, the next step is to use it. Visualizing success is a whole lot easier when graphs, reports, and charts are an option. With Formidable's stored form data, you can create charts at any time... even in real-time!
Wrapping up
With all these features, it's no wonder Formidable is used by tens of thousands of users across the world. We hope this rundown has inspired you to get started! In the meantime, keep it locked to the Formidable blog for all the WordPress tips you can handle. Adios!
Read more survey & poll articles
---
Formidable Forms can do a lot more than create an evaluation form. It's a total WordPress form building solution! Take advantage of our 14-day money-back guarantee today.