Looking for a WordPress voting plugin you can rely on? Create a voting system on your WordPress website the easy way with a drag-and-drop form builder!
Approximate read time: 7.5 minutes
If you want to build a voting system on your WordPress site, you'll need a WP voting & poll plugin. But with so many choices on the WordPress.org plugin directory, how do you know which one is best?
The best WordPress plugins are usually the ones with the features you want. But when it comes to voting plugins, it's complicated.
Before we show you the best WordPress voting plugin, let's figure out if you actually need a voting plugin. To find out, we need to look at the difference between elections (voting) & polls.
The difference between voters & poll-takers
The truth is there are several plugins you can find that allow you to collect people's opinions very easily.
There's only one problem. A vote is not an opinion. It's an endorsement.
Votes require registered users. Otherwise, you're just running a poll. Not that there is anything wrong with polls — they're just different than elections.
If we take the example of democracy, polls only give us a clue about who might win an upcoming election. They don't decide who wins in the same way that a democratic vote does.
With all that in mind, if you're looking for a WordPress election voting plugin, it needs to have user registration features. That means you need to create a registration form, verify the users' identity, and give them the right to vote. After they prove they meet the voting criteria, of course.
To be clear, elections and polls are not interchangeable concepts!
But most WordPress poll plugins don't treat voters and poll-takers differently. Want a WP poll plugin that can collect poll results? That's easy.
Want a voting plugin? That takes a bit more.
Are there exceptions?
If we pause for a moment and stop being so picky, there are maybe a couple of exceptions. For example, you probably don't need voters to register for something like a photo contest. All you need is a place where users can vote for their favorite photos. Then it might not matter if they are registered or not.
In that case, you'd just be qualifying voters based on how you direct traffic. Still, there would be issues like voter fraud for example. If users aren't required to register before voting, there are many ways that a single person could vote multiple times.
Another issue: most WordPress voting / contest plugins don't have systems where users can upload images or photos by default. So if you wanted to fully manage a photo contest, you'd need a plugin with a few more options. More on that later!
Another example where people use the word vote: mobile voting (voting by SMS text message). When you vote via text for your favorite singer on American Idol, your text vote goes to an app like Twilio. A great WordPress voting plugin offers the option to connect to Twilio to send and receive votes by SMS text messages.
Now that we know the difference between votes and polls, let's look at the key features of a WordPress voting plugin. Then we'll show you a plugin that can do it all, right from your WordPress dashboard.
? Read more: How to RSVP via Text With a WordPress Plugin
Key features of a WordPress voting plugin
If you are looking to collect votes on your WordPress site, you'll want a plugin with the following features:
The WordPress voting plugin you can trust
By now you probably realize that a "one trick pony" sort of plugin isn't going to do much. Want an election plugin that can also create responsive polls, surveys, and any kind of form you need? You need Formidable Forms.
Formidable is a form plugin that works with all versions of WordPress (especially the most updated one). It is compatible with any WordPress theme. It integrates with popular platforms (like WooCommerce) and it even has a free version you can try out.
Note: The free WordPress plugin by Formidable can create polls, surveys, and many other types of form. However, the free version does not include the user registration system. This would be needed to truly collect votes and run any type of official election on your WordPress site.
The thing about Formidable? It's an all-in-one plugin. It's your WordPress idea voting plugin, image voting plugin, election plugin, and of course, form-building plugin!
There's a lot that goes into any voting process to make it run flawlessly. Let's find out why Formidable Forms really is the best voting plugin for WordPress:
User registration
To make your election or voting process official, you'll need to register voters. Formidable Forms has a user registration add-on that turns adds everything you need to let users register on your site. After users register, you decide what level of access they have to your site.
The beauty of Formidable is that everything revolving around users can happen on the frontend of your site. If you use the default WordPress user system, this isn't possible. Once a user is registered via your registration form, they will be able to log in.
Then, users can submit their votes. Simple.
? Learn more: How to Add a Registration Form in WordPress
Form building
This one might not be obvious, but if you are running a vote... it will happen on a form! An online ballot is, after all, the same thing as a form. A similar system is at the core of its user experience.
You can bet that a form builder is great for building forms. Formidable is no exception. Our drag-and-drop form builder is one of the best out there. You'll be able to create your voting forms, registration forms, and everything else you need for your site.
Formidable also has a lot of additional form fields that make anything possible. Add a star rating field to collect reviews. Replace radio buttons with images to create an emoji rating scale.
The possibilities are endless!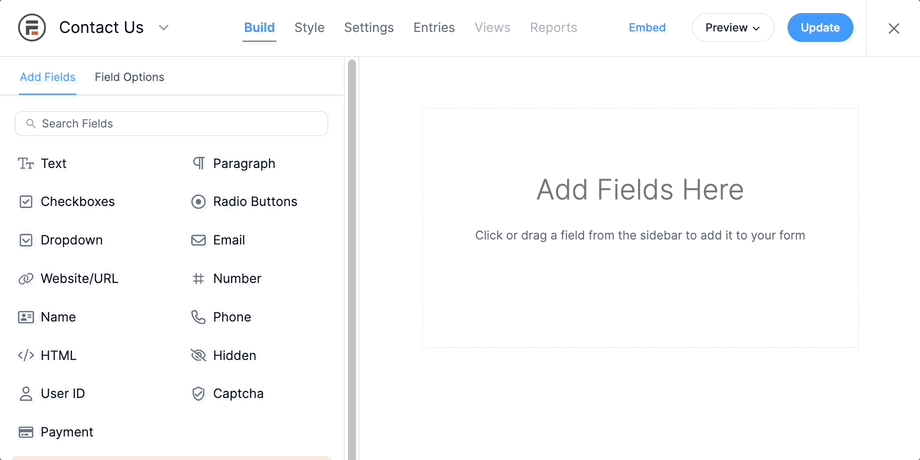 Visual form styling
If you are running any kind of serious website, design matters. Ever seen a website that looks great — except for its online forms? Yikes!
Formidable's visual styler makes this issue a thing of the past. You don't even need to know how to code CSS. Just select the colors and customization options you like and apply the style.
Email notifications
Want to send newly registered users an email to let them know they are registered? A reminder email to let people know it's time to vote? Nice — how about a confirmation email when they place their vote? Even better!
With Formidable's email notifications and automation features, your audience will never be left in the dark. You can trigger immediate email notifications that are automatically populated with form data from the user who filled out the form.
What's more, you are able to trigger a series of emails based on a variety of conditional factors. These include time, date, user data, and more.
Integrations
If you use another platform for email, CRM, or payments, there's a good chance that Formidable has an integration. Our WordPress plugin is over 10 years old. We listen to our audience. Heck, we even use our own add-ons.
Even if we don't have the exact integration you need, we have a flawless Zapier add-on. So you really can connect whatever you want! If you are a developer, we also have a series of webhooks that can help you connect everything together like magic.
So how do you create online polls on WordPress?
Once you install Formidable and are ready to get started, we've got more tutorials ready for you. Next up, learn more about how to create a poll in WordPress.
More than a WordPress voting plugin
The best thing about Formidable is that it can do almost everything you would need to do on a WordPress site.
Web forms power every aspect of almost every site. Contact forms, sign-up forms, and all the automation in between — Formidable Forms makes it happen.
You don't have to explore tons of plugins to add these features to your site, like YOP Poll or WP-Polls. Formidable covers it with tons of functionality.
Display vote stats on your WordPress dashboard in real-time!
---
With Views, you can automatically display vote form data as soon as forms are submitted. You can show the vote stats on your private dashboard in real-time (or poll data publicly). No manual calculation and editing required!
If you are running any kind of election or contest and need to collect votes, Formidable Forms is ready when you are.
To get started with a risk-free trial for 14-days, visit the pricing page. If you don't love the Formidable Forms plugin, we'll give you your money back.
Thanks for stopping by — and good luck!